'Never Again' has rarely rung so hollow
From an airport in Dagestan to the streets of London, anti-Semitism has made a horrifying comeback.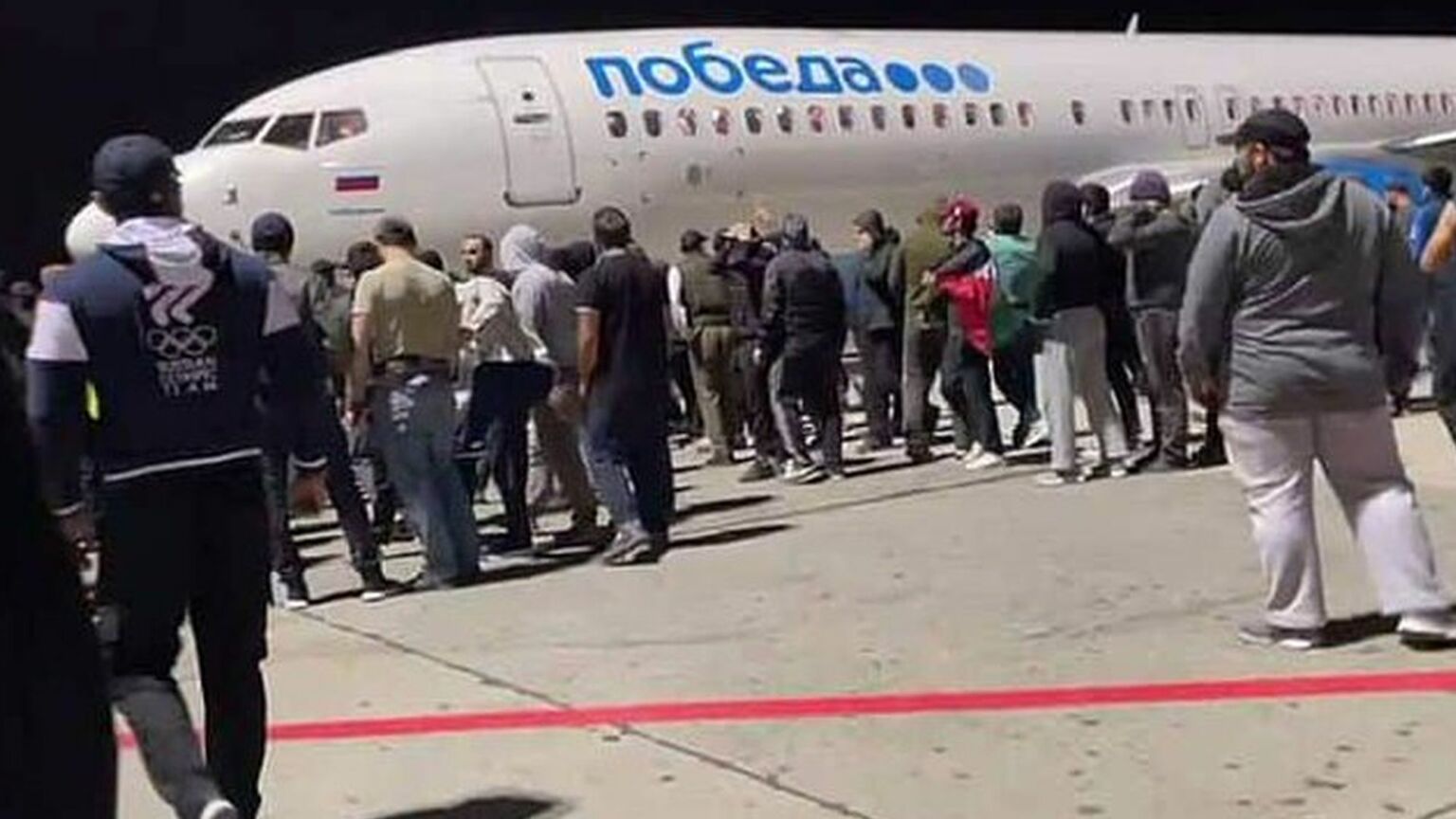 Watching footage of a lynch mob storming an airport in Dagestan in the Russian Federation, in search of Jewish passengers disembarking a flight from Tel Aviv, I had a terrible sense of foreboding. We have seen this too many times before. A blood-thirsty rabble once again hunting for Jews to kill. If those involved had had their way, Makhachkala airport would have been the site of another pogrom.
Suddenly it feels as if a very dark history has returned with a vengeance. One video from Makhachkala airport featured angry civilians surrounding one of the Tel Aviv flight's passengers. It could have come straight from a 1930s newsreel. The passenger protests that he is Uzbek and not Jewish. But the mob refuses to let go of its prey. Those harassing him insist on looking at his passport and his telephone. At this point, he is literally fighting for his life. The desire of these people to kill more Jews is palpable.
It is not an overstatement to say Dagestan is no longer safe for Jewish people. In Nalchik, another Dagestani city, a planned Jewish centre was set on fire on Sunday. And in Khasavyurt, a mob besieged a hotel and searched rooms for Jews. A former chief rabbi of Moscow, Pinchas Goldschmidt, tweeted last night that, 'We are receiving reports from four different cities in Dagestan… of mobs demanding to kill the Jews'.
It is likely the prompt for Sunday's anti-Jewish riots was a Telegram post claiming that the passengers on the flight from Tel Aviv were refugees from Israel. Some of the mob were waving placards stating, 'We are against Jewish refugees'. Goldschmidt blamed the riots 'on the Russian government's siding with Hamas in this conflict and the lack of condemnation of the massacre [on 7 October]'.
Whatever the immediate cause, it is clear that anti-Jewish hatred has become truly globalised. The behaviour of the Dagestani mob, itself inspired by Hamas's videos of its atrocities on 7 October, exposes the raw hatred fuelling 21st-century anti-Semitism.
The Russian government's pro-Hamas stance will obviously not have helped. But Moscow's craven position is not the cause of this eruption of anti-Jewish hatred. The Kremlin is, in part, only trying to appease the already existing loathing of Israel among Russia's Muslim populations.
Indeed, hatred of Israel plays a key, unifying role within the Muslim world. Since the decline of pan-Arabism and Arab nationalism in the 1970s, opposition to Israel has become the one cause that different Muslim sects and nations could agree on. This anti-Israeli consensus had appeared to be unravelling recently, with Gulf states and Saudi Arabia seeking a modus vivendi in Israel. The outbreak of the war on 7 October – which was likely encouraged by Iran – has put paid to any rapprochement between Israel and the Muslim world, at least for now.
The current wave of anti-Israeli sentiment sweeping the Muslim world is being mirrored in Western societies. The rabble waiting for a plane from Tel Aviv to land in Dagestan is merely a less inhibited and less restrained version of the 'pro-Palestine' marches on the streets of London or Berlin. They may present their visceral loathing of Jews as anti-Zionism and dress it up in the seemingly civilised discourse of 'decolonisation'. But beneath the surface, their hatred of Jews is just as strong as it is among the mobs in Dagestan.
Indeed, while walking down a side street in central London on Saturday night, my wife pointed to a poster that had been stuck on a bagel shop. 'Blood on your hands', it read. My wife, full of anger, tore down the sign, and we continued on our way, dumbstruck by what we had just seen.
Two days later, I woke up to the news of the anti-Jewish riots in Dagestan. Suddenly, the words 'Never Again' have rarely rung so hollow.
Frank Furedi is the executive director of the think-tank, MCC-Brussels.
To enquire about republishing spiked's content, a right to reply or to request a correction, please contact the managing editor, Viv Regan.