How the arts turned a blind eye to Islamism
Too much British drama and comedy has shied away from the darker side of multiculturalism.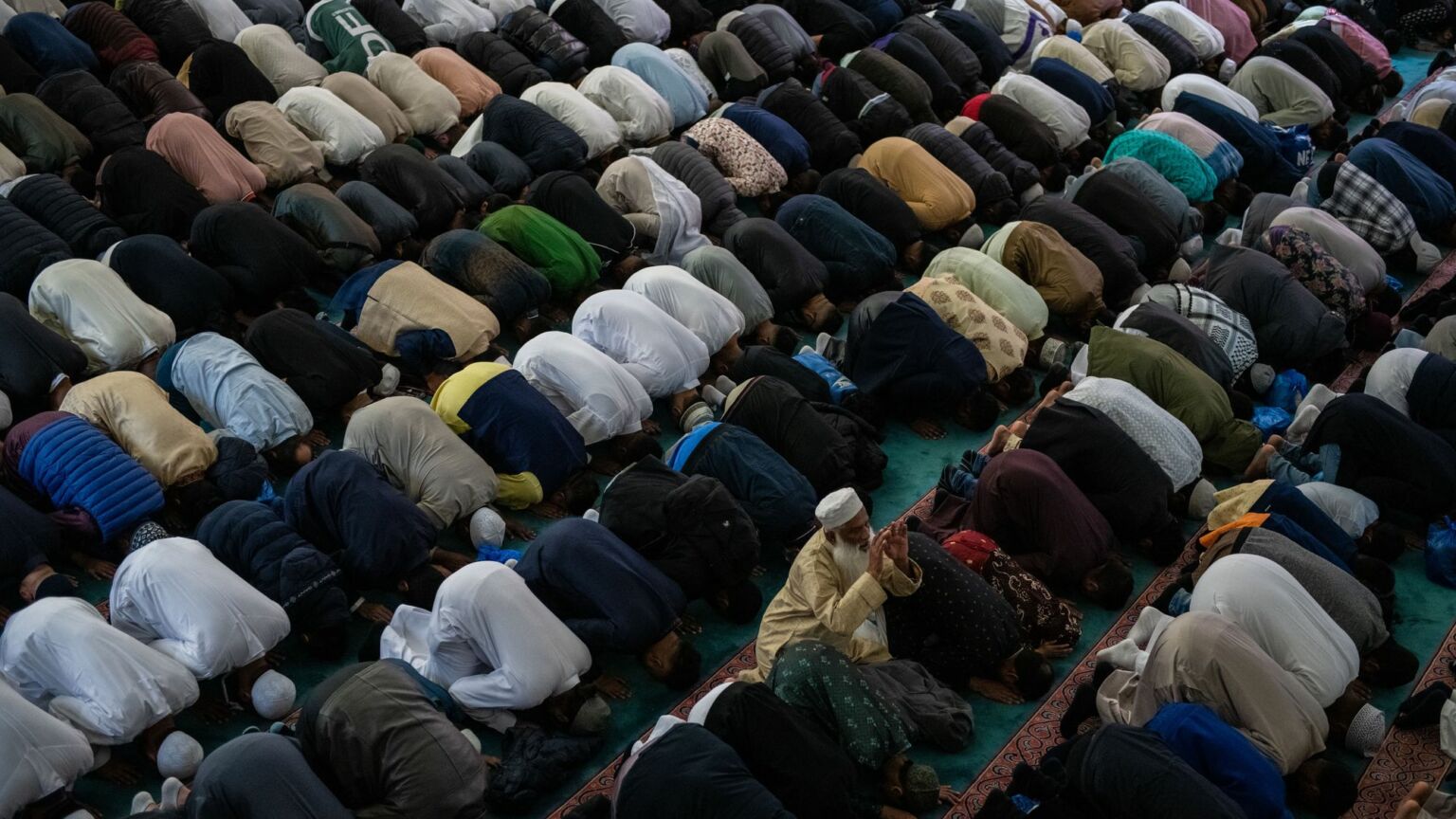 Amid the grim, blood and tissue-spattered news from Israel and Gaza, many of us have also been having some trouble processing the reactions to the slaughter closer to home.
We've seen countless celebrities and other public figures express regrets about Hamas's massacre of Jews on 7 October. But they have also been keen to freight their public statements with so many caveats and qualifications about Israel that these have started to look like justifications for the slaughter. Above all, those ready to share their word clouds about Middle Eastern politics say they want to provide 'context' – the preferred phrase for many who seem perilously close to shrugging at murder.
Worse still, we've witnessed nominally pro-Palestine protesters actively celebrating Hamas's atrocities as an act of resistance on the streets and on social media. And we've had to watch videos of people tearing down or vandalising posters of the Israeli children currently being held hostage by Hamas.
The extent and intensity of this animus from certain sections of our society towards Israel and Jewish people has taken many of us by surprise. But it shouldn't have done.
Certainly, it wouldn't have done if those working in the arts and culture – those, that is, now demanding we put Hamas's atrocities 'into context' – had dared at any point over the past few decades to put 'into context' the multicultural tensions we're now seeing erupting all around us.
We have had ample time to do so over the past couple of decades. Ample time, long before the dreadful events of 7 October, to explore these frictions within our midst in screenplays, theatre, novels and, in my own humble trade, live stand-up. And that opportunity has been spectacularly missed.
Certainly since 9/11, and arguably since the Rushdie fatwa in 1989, few of the difficult and less palatable aspects of multiculturalism have been explored in any popular medium. None less so than the migration of the Israel-Palestine conflict to our shores. Perhaps if it had, we might not be reeling from what has revealed itself these past few weeks on campuses, social media and the streets of London.
Yes, many scholars and commentators have attempted to look at the problems of our multicultural society. But the arts and entertainment industries have done perilously little to hold a flat mirror up to the darker corners of contemporary Britain. And, as a result, they have failed to observe that sectarian disputes and ancestral loyalties were not always left behind at Folkestone and Dover. Many of these are now embedded in our own sharply divided communities.
There have been a few comedians who have at least acknowledged the possibility of tensions and distrust. Muslim stand-up Guz Khan joked on the BBC's Live at the Apollo in 2019 that 'one of the worst things about terrorism is how it's got people doubting my credibility'. He told an amusing story about his neighbour politely asking him for a tip off if he heard there was going to be a terrorist atrocity. 'We don't all have a Big WhatsApp group', he laughed.
But I cannot think of a single white British stand-up willing to so much as glance at any social phenomenon to which his ethnicity did not grant him the full AAA pass. This level of respect might be an improvement on Bernard Manning's clod-hopping indifference to ethnic sensibilities. But is it not possible to seek a middle path?
Stewart Lee had a routine 10 years ago about soi-disant Muslim community leaders being frauds and cranks, elevated by 'misguided New Labour bridge-building initiatives'. This was fine, as far as it went. But his main aim was to scorn those who demanded he show Islam the same irreverence he did Christianity in Jerry Springer: The Opera.
Serious drama, meanwhile, has consistently evaded exploring the tensions caused by the rise of radical Islam in Britain's midst. Typical and perhaps most tiresome in recent memory was last year's Apple TV spy-thriller, Slow Horses. In the very first episode, the woe-begotten MI6 outcasts must track down some bloodthirsty terrorists that are threatening to behead a student they have taken hostage. It sounded like a fruitful premise. Except the baddies were white nationalists, of course, and the hapless victim was a popular, hardworking Pakistani lad. Happens all the time.
Perhaps there is no point complaining about things that haven't been written. Sins of omission are notoriously hard to assign to individuals. They are systemic. Perhaps out of a well-intentioned desire to reassure and kindle optimism, or simply out of fear, commissioners have very rarely acknowledged let alone ridiculed the kind of simmering Islamist discontent we have seen marching through Whitehall on recent weekends.
But I can't help thinking the great, broad comedy of the golden age of the sitcom in the 1970s would have allowed us to face up to reality. That it would have allowed us to register and frame the world around us. Imagine the traction a Rising Damp remake would have, but this time Rigsby is a Sikh, Alan a Muslim and Philip a Hindu prince. These are the new households we need to understand. We need to be able to laugh at ourselves, ideally before the next outrage.
Or how about a Citizen Smith. Twenty-first-century Wolfie wants to be a suicide bomber, but hasn't got the nerve. Or Dad's Army, but this time they're preparing for jihad. The demographic fits, too. The old men bracing themselves for a fight with the young.
I remember the promise of Goodness Gracious Me. So funny, so genial yet sharp and universally loved. Everyone, young and old, brown, black and white, laughed. It ended over 20 years ago and I can't help feeling we have gone backwards since.
We have had Citizen Khan, of course, a pretty entertaining comedy starring Adil Ray. And then there's Home, a kind of update of Paddington, with the main character recast as Sami, a gentle Syrian refugee, who is discovered in the boot of a family's car after they arrive back from holiday in France.
Sami confounds what are presumed to be our expectations. He turns out to be a schoolteacher, not a jihadi. A Christian, not a Muslim. And considerably more emotionally intelligent and civilised than Peter, the truculent, childish British father, played by the writer, Rufus Jones. Home was, again, enjoyable, good natured and well played. But it left a lot of contemporary Britain unexamined.
Just imagine if someone did have the nerve to lampoon a virulently anti-Semitic, or indeed Islamophobic, man of Middle Eastern origin, as PG Wodehouse did with Roderick Spode? Imagine the conversations it might start. Imagine the issues it might start to address.
Sunlight is the best disinfectant, but laughter runs it a close second. If diversity really is our strength – and we had better hope that it is – one might think it could more easily bear the scrutiny of a searchlight, the weight of a little mockery and stress-testing, in any medium from literary fiction to sitcom.
Yet to watch or read most of our nation's cultural output over the past two decades, you would think the UK had barely changed since the election of Tony Blair. That the only grit in the oyster of Britain's present and future harmony was the occasional cringe-worthy low-status white racist – the kind of person you really wouldn't want moving in next door.
It is beginning to look like wilful ignorance. A refusal to face up to what's happening in British society today. And now, as open anti-Semitism surges around us, we are paying the price.
Simon Evans is a spiked columnist and stand-up comedian.
To enquire about republishing spiked's content, a right to reply or to request a correction, please contact the managing editor, Viv Regan.