Why is the UN making excuses for Hamas?
António Guterres's Israel-bashing is out of control.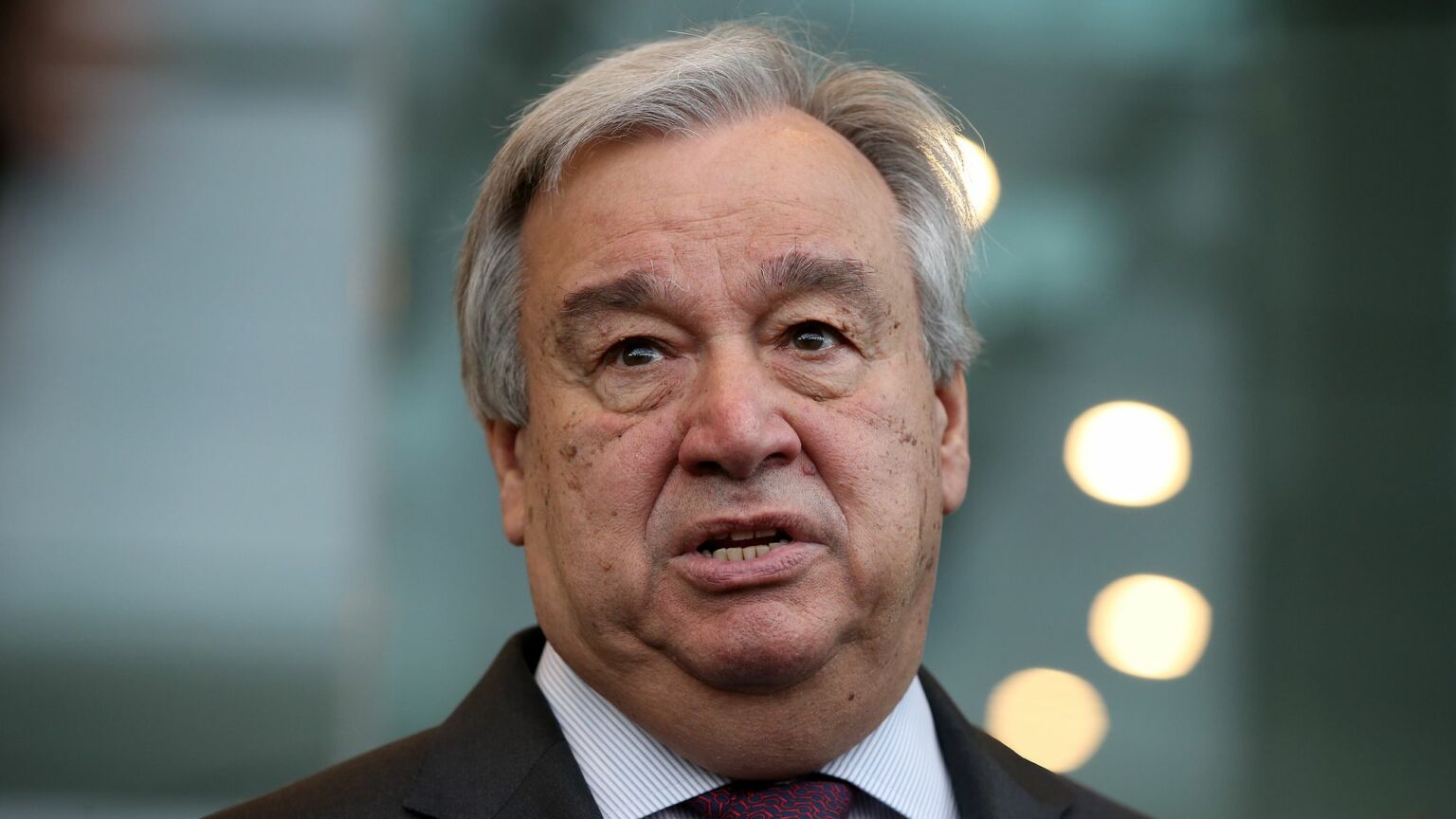 What United Nations secretary-general António Guterres said this week about Israel is a disgrace, a calumny and a lie, all rolled into one.
Speaking at a UN Security Council meeting, Guterres stated: 'It is important to also recognise the attacks by Hamas did not happen in a vacuum. The Palestinian people have been subjected to 56 years of suffocating occupation.'
Guterres went on to list a litany of supposed Israeli crimes against Palestinians, including how their land had been 'steadily devoured by settlements and plagued by violence', how their economy had been 'stifled', how their people had been 'displaced' and how their homes had been 'demolished'. Though Guterres added that these grievances could not justify the 'appalling attacks by Hamas', he went on to effectively deny that Israel had any right to self-defence.
Guterres was right that the attacks did not happen in a vacuum, but he could not have been more wrong in his explanation.
The attacks happened because Hamas wanted to express its Nazi-like blood lust for Jews. These 'jihadi Einsatzgruppen' swarmed into villages and kibbutzim on 7 October, slaughtering all who crossed their path. Jews, and some non-Jews, were butchered, raped, beheaded and burnt alive with an intensity not seen since the Holocaust.
The Hamas terrorists made sure to document these sadistic crimes so that the results of their Jew hate could be recorded for posterity. This was anti-Semitic slaughter for a social-media age.
Contrary to what Guterres seems to think, this barbarous pogrom had nothing to do with Israeli 'occupation' or settlements. After all, Israel withdrew from Gaza back in 2005, uprooting all its settlers in the process. For Hamas, the only casus belli is Israel's existence on land that it deems to be part of an Islamic Caliphate.
If Guterres had bothered to read the Hamas charter, the terror group's founding document, he would know that the jihadists rage not at the real or imagined misdeeds of Israel, but at the fact that the Jews have sovereignty over even one square inch of the Middle East. To argue that Hamas is only motivated by Palestinian hardship is as absurd as claiming that Hitler merely wanted a redress of the Treaty of Versailles. Such ignorance is painful to behold in a world leader.
Guterres also accused Israel of subjecting the Palestinians to a 'collective punishment' in its response to Hamas's terror attacks. But this is a gross misrepresentation of Israel's attempts to defend itself. The tragic fact is that Hamas chooses to place its terrorist infrastructure (such as rockets, tunnels and command control centres) in civilian areas, reflecting its longstanding policy of using the population as a human shield. Hamas even steals fuel and medical supplies from Palestinian civilians. Does Guterres really believe that such 'assets' should be immune from attack because of where Hamas has deliberately placed them?
Hamas's atrocities may not have come from a vacuum, but neither did Guterres's comments. They reflect five decades of the UN's deep-seated obsession with Israel. During this time, the UN General Assembly has fixated on the Jewish State with a truly disturbing hatred. It has expended more effort in demonising and delegitimising Israel than nearly the rest of the world's nations combined.
In the process, the UN has become a forum for spreading noxious anti-Semitic lies. In 2001, in Durban, South Africa, the UN sponsored the now-infamous World Conference Against Racism, which equated Zionism with racism and played host to some truly horrific scenes of anti-Semitism. In recent decades, UN delegates have repeatedly propagated the blood libel – the myth that Jews killed Christian children for their blood. They have also falsely accused the Israeli government of injecting Palestinian children with HIV, such is their desire to portray Israel as irredeemably evil.
Multiple UN agencies have single-agenda items that issue endless calumnies against Israel. The UN Human Rights Council, for example, has its notorious Item 7, which mandates that the 'human-rights situation in Palestine and other occupied Arab territories' be debated at each one of its sessions. No other nation is singled out in this way.
Then there is the UN Relief and Works Agency (UNRWA), which demands a 'right of return' for millions of Palestinians to what is now Israel. And there's UNESCO, which has tried to downplay the historical Jewish connection to holy sites in Israel. Perhaps it is little wonder that such a biased and morally tainted organisation cannot bring itself to fully condemn Hamas.
Guterres's comments on the Hamas attacks make a mockery of the truth and morality. They are a heinous insult to the victims of terror. For shame.
Jeremy Havardi is a London-based historian and journalist. His most recent books include A Persistent Prejudice and Refuting the Anti-Israel Narrative.
To enquire about republishing spiked's content, a right to reply or to request a correction, please contact the managing editor, Viv Regan.