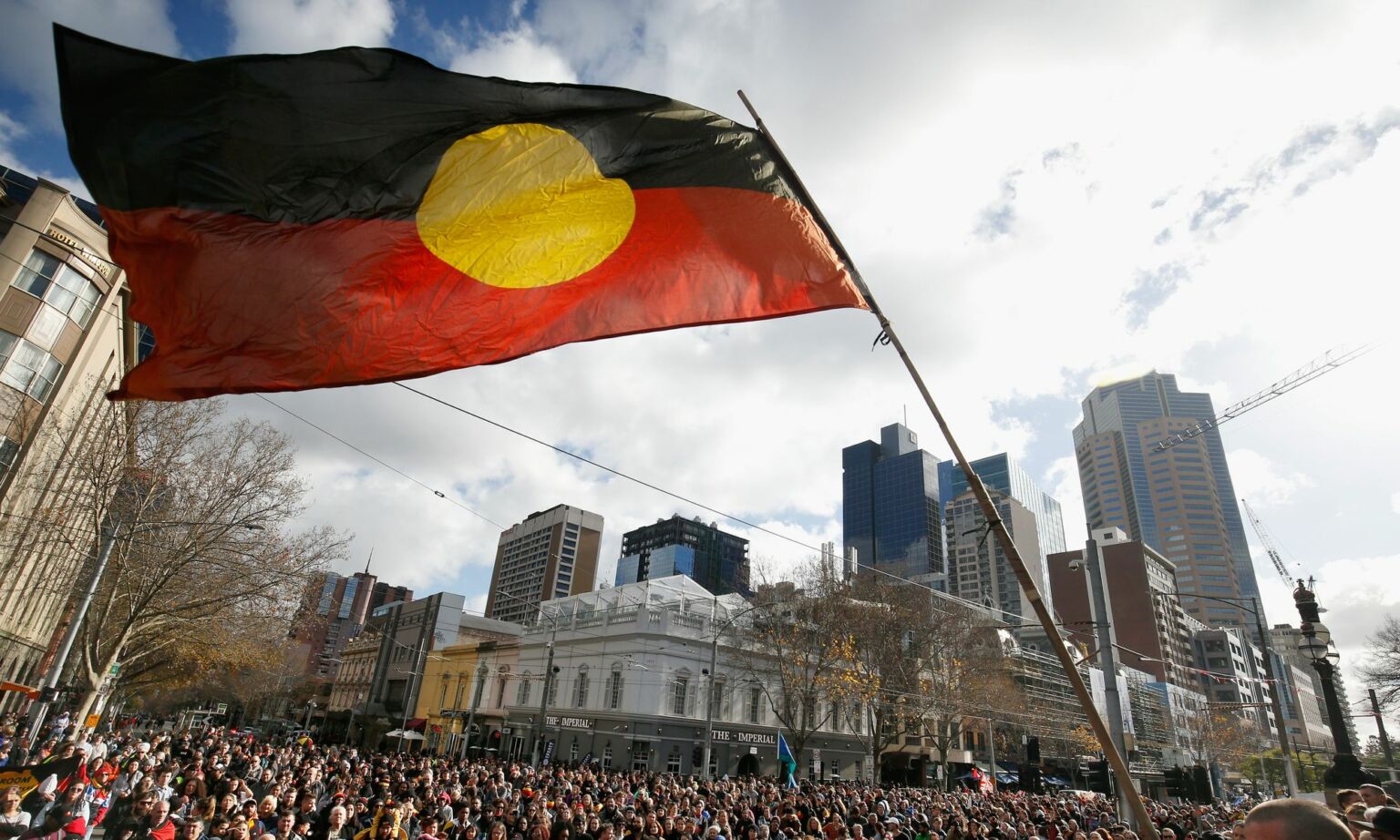 Long-read
Why Aussies must reject the Voice to Parliament
This identitarian proposal will do nothing to help Aboriginal Australians.
Australian prime minister Anthony Albanese was in the middle of a live TV interview this week when a fly landed briefly on his lip, before disappearing into his mouth.
It won't be the worst thing Albanese will have to swallow this week. When polling closes on Saturday 14 October, the referendum to establish a body giving Aboriginal Australians a privileged 'Voice to Parliament' faces defeat by a substantial margin. A poll published last week showed that 58 per cent of Australians were planning to vote No to the Voice.
Having failed to persuade Australians of the practical benefits of the Voice, the prime minister resorted to sentiment. By giving indigenous people a Voice to Parliament, 'The burden of colonialism that sits on our shoulders will be just lifted off a little bit', he told a gathering last Saturday. Non-indigenous Australians should 'grasp that hand of friendship in the spirit of reconciliation… so we can all move forward together to a better future', he said.
Albanese's words failed to gain traction. This week's polling showed a rapid fall in support among young, university-educated voters. Up to now, these have been the Voice's strongest supporters.
Few opponents of the Voice would have predicted such a decisive result this time last year, when support in some polls was at 65 per cent. As recently as January, Voice opponents were bracing for defeat. The Yes campaign had tens of millions of dollars in corporate largesse sitting in its collection plate, with tens of millions more to come.
Australia's biggest banks, biggest accounting firms, largest supermarket chains (Coles and Woolworths) and mining giants (BHP, Rio Tinto and Woodside) ostentatiously pledged their support for the Voice. Airline Qantas announced that promoting Aboriginal culture would become part of the 'customer experience'. It even went as far as to paint the symbol Yes 23 on the sides of its planes.
Yet the majority of Australians have resisted the wagging fingers urging them to stand on the 'right' side of history. They have refused to shoulder the burden of ancestral guilt. They have spurned Albanese's encouragement to vote Yes because it 'will make us feel better about who we are as a nation'.
Albanese completely misses the point. Most Australians already feel good about the place they live in. What worries them is that the Voice will make a great country a great deal worse by dividing it according to race.
In the unlikely event that the Yes campaign wins, 27 unelected representatives of indigenous descent will form a constitutionally sanctioned lobby group. This group would have extraordinary powers to influence political decisions. While its views will not be binding, Albanese has said in an unguarded moment that it would take a 'very brave' government to reject its advice.
However, the defeat of the referendum would signal much more than the rejection of this particular proposal.
Firstly, it would overturn the doctrine of indigenous exceptionalism and 'systemic racism' that has been unchallenged in Australia for the past 50 years. Since the 1970s, Australia has been dominated by the overwhelmingly negative 'black armband' narrative of history, as former prime minister John Howard famously described it. This narrative characterises Australia's past solely in terms of oppression and discrimination.
A No victory would also be a rejection of the long-standing policy of Aboriginal separatism, launched by Labor prime minister Gough Whitlam in the 1970s. Whitlam framed indigenous Australians as noble savages who existed in a blissful state of nature. Meanwhile, the white colonisers were characterised as the despoilers of their earthly paradise.
A 'self-determination' policy was adopted by Whitlam's Labor government in 1972, empowering Aboriginal and Torres Strait Islander peoples to claim land and take control of settlements where they could practise their traditional customs.
Tragically, almost immediately, these would-be idylls descended into welfare sinkholes riddled with social dysfunction. The biggest mistake was the assumption that Aboriginal people held particularly strong communal values, which rose above the wishes of any individual.
The consequence of this thinking is that the free market and individual property rights in the Aboriginal settlements have practically ceased to exist. Land ownership is held in common under the control of unrepresentative, unaccountable Aboriginal corporations. Outside of the large towns, the only legal form of accommodation is government rental housing. Adopting capitalism may have brought billions of people out of poverty in the past 30 years across the world, but in large parts of rural Australia, it is effectively banned.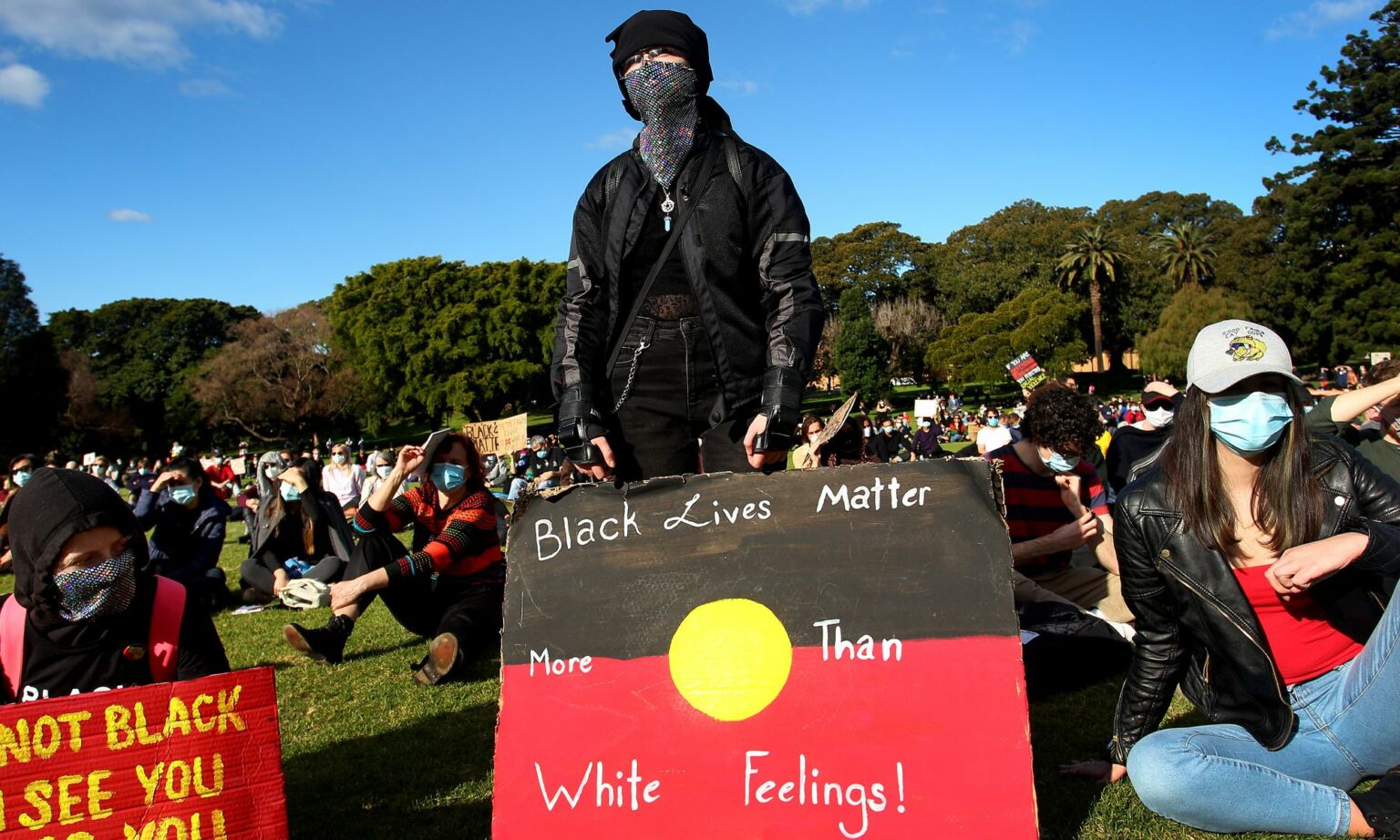 Activists gather to rally against Aboriginal and Torres Strait Islander deaths in custody in July 2020, Sydney, Australia.
The complete and utter failure of virtually every social-justice initiative over the past half century has failed to dull the vision of the anointed. The response to failed programmes is to increase spending. Yet the gap between indigenous and non-indigenous Australians in health standards, education, incarceration rates and employment has barely closed at all.
Understandably, then, the prime minister's claim that the Voice will lead to practical improvements in the lives of Aboriginal Australians has been met with deep scepticism. The implicit assumption of the Yes campaign is that high poverty rates among indigenous Australians can be blamed on lingering racial discrimination and a failure to listen. Yet this argument lacks any supporting evidence.
The tendency of Australian social-justice advocates to categorise Aboriginal and Torres Strait Islanders as a homogenous group is also misleading. The disparities between indigenous and non-indigenous Australians at an aggregated level are far smaller than those between urban-dwelling Aboriginal people and their counterparts in remote settlements.
There is no apparent difference between the incomes of the metropolitan Aboriginal middle class and the general population. Sixty per cent of urban Aboriginal Australians sit in the middle three income quintiles. The real disparity, however, occurs in remote communities (where 49 per cent are in the bottom fifth of incomes) and the very remote (69 per cent). Isolation and the absence of a culture that provides jobs would seem to be the most obvious proximate causes of this misery.
There are also strong disparities between states and territories. In the Northern Territory, 66 per cent of indigenous people are in the bottom quarter of earners, compared with 28 per cent in Victoria.
In the Australian Capital Territory (ACT), Aboriginal and Torres Strait Islanders are underrepresented among the lowest fifth of earners (17 per cent) and overrepresented in the highest fifth (29 per cent) and second-highest fifth (26 per cent).
Which of these many, disparate groups of Aboriginal Australians the Voice would supposedly speak for is unclear. The ACT's Aboriginal and Torres Strait Islander population is virtually indistinguishable in demographic terms from their non-indigenous neighbours. Yet the social-justice narrative insists that people be considered as categories rather than individuals and compels us to consider them as victims.
The claim that the Voice will lead to social and economic progress is nothing more than window dressing. The Yes campaign has done nothing to dispel the well-founded fear that the Voice is a Trojan horse for a more radical agenda, culminating in separate sovereignty for Aboriginal people and reparations.
Evidence for this can be found in the Uluru Statement from the Heart, a communique issued in 2017 after a meeting of Aboriginal and Torres Strait Islander leaders. The Uluru Statement laid out demands for the Voice, declaring that 'with substantive constitutional change and structural reform, we believe this ancient sovereignty can shine through as a fuller expression of Australia's nationhood'.
This suggests that the Voice would be the first step towards a process of negotiating a treaty, which could in turn lead to further separatism and reparations. Some leading Yes campaigners have been bold enough to say as much.
Thomas Mayo, a prominent Yes campaigner, says the Voice will be a step towards getting non-indigenous Australians to 'pay the rent' for living on stolen land. In a series of tweets in 2020, Mayo claimed the 'Blak rep body' (sic) would have the resources to demand 'Reparations, land back, abolishing harmful colonial institutions, getting all our kids out of prisons and into care, respect and integration of our laws and lore… wages back – all the things we imagine'.
Prime minister Albanese, on the other hand, insists that the Voice is a modest proposal, a simple gesture of respect. 'Nothing to fear here', Albanese told a crowd last Saturday. The Voice would be 'simply a non-binding advisory committee'.
Australians aren't buying it. Enshrining a non-binding committee into the constitution makes sense only if it has a deeper intent. The argument is no longer about equal rights or opportunities for Aboriginal people.
Equality before the law was established in Australia from the beginning of British settlement in 1788, born out of the Enlightenment liberal philosophy of early settlers. There was no slavery at the time and, therefore, no Australian equivalent of Jim Crow. The lingering vestiges of officially sanctioned discrimination were closed in a 1967 referendum, approved by more than 90 per cent of the Australian population.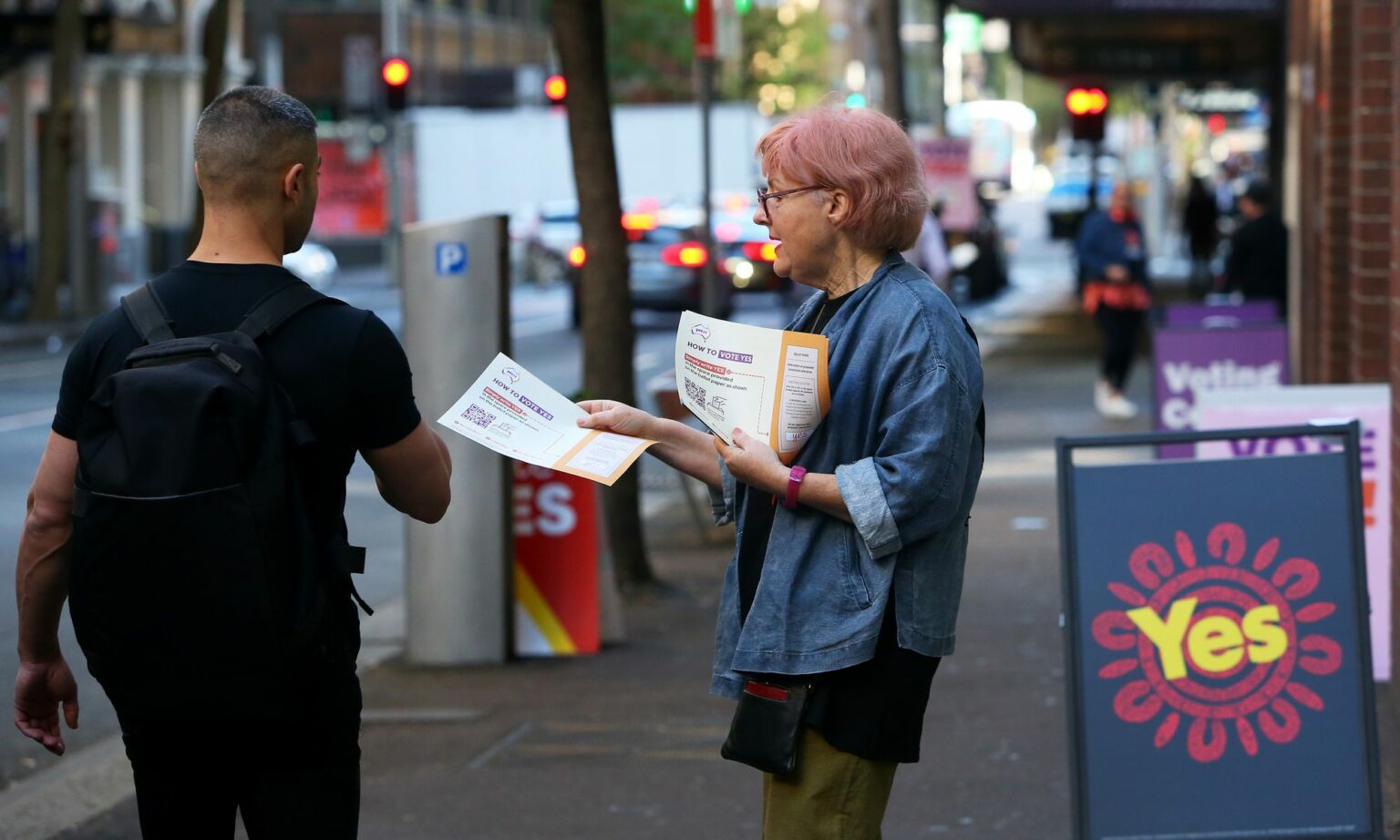 A Yes23 campaigner hands out pamphlets outside a polling centre in October 2023, Sydney, Australia.
The Voice proposal crosses a threshold by conferring special rights on a subset of Australians based on race. It is justified by the assumption that one group of Australians has a special status as descendants of the first known human occupants of the land. They are awarded the privileged status of 'First Nations people', even though pre-settlement Australia was populated by warring hunter-gatherers and had none of the characteristics of a nation.
This vision of Australia will be comprehensively rejected by a democratic vote should the No camp win the Voice referendum. The primacy of national identity over group identity will be asserted by popular acclaim. To stigmatise or reward a person in perpetuity by virtue of his or her race will be declared unjust.
The rejection of the referendum proposal would further serve as a popular declaration of the end of the 50-year national guilt trip that has been periodically punctuated with self-flagellating speeches and national apologies. It would be a refusal to divide citizens into victims and oppressors. It would highlight the injustice of attributing that status at birth.
Those found guilty of the sins of their fathers will be absolved. And the descendants of those who were once colonised will no longer be able to lodge an automatic claim of harm from ancient and distant misdeeds.
The rejection of the Voice will cut across the grain of modern conventional wisdom by declaring that not everything boils down to racial prejudice. It will liberate Aboriginal Australians from the debilitating assumption that they were victims from birth. Rejecting the Voice will declare that they have the capacity to alter the course of their lives – for good or ill.
Above all, it will be a rejection of the insufferable arrogance of the anointed. It will disprove the elites' presumption that they have a better grasp of knowledge, superior wisdom and morality than their fellow citizens. The rejection of the Voice amounts to an act of resistance to the woke establishment.
Despite this, the chances that the intelligentsia will concede defeat on anything more than a technical amendment to the constitution are slim. The motives of those who vote against the proposal have been grievously misinterpreted from the beginning. 'The referendum process taps into a deep well of historical racism', Aboriginal-justice campaigners Marcia Langton and Tom Calma wrote in the Lancet earlier this month. That racism, they claim, 'originated on the Australian frontier when indigenous peoples "were violently dispossessed from their lands by the British"'.
One of the Voice's chief architects, Megan Davis, has preemptively blamed the rejection of the Voice on misinformation, clickbait and 'bothsidesism' in the media. In other words, Davis does not believe that we should give credence to both sides of the debate, because the No campaign lacks credibility in her view.
The electorate's intelligence has been continuously insulted throughout the campaign. Most notoriously, TV veteran Ray Martin ridiculed the No campaign's slogan – 'If you don't know, vote No' – at a rally in Sydney, where he shared a platform with the prime minister. 'What that slogan is saying is, "If you're a dinosaur or a dickhead who can't be bothered reading, vote No"', Martin said.
Like Hillary Clinton's characterisation of Donald Trump's voters as 'deplorable', this tactic has been counterproductive. The Yes side has succeeded only in firming up the resolve of the refuseniks. Personal criticism of one's opponents is so obviously a bad tactic that it begs the question: do Voice supporters secretly want to lose? Why else would they choose such intemperate language to describe the 'dinosaurs' and 'dickheads' who populate the other side of the argument?
We must conclude that the main goal for the Yes campaigners is not a victory for Aboriginal and Torres Strait Islander people, but a victory for themselves. The prize is a dividend of virtue that will increase their moral stature. As Thomas Sowell perceptively observed, the vision of the anointed is not just a vision of how social-justice crusaders want the world to be, it is also about how they see themselves as standing above the rest.
Albanese's arguments for the Voice are sentimental rather than political. He promises Yes voters the joy of feeling warm and fuzzy inside. 'It will make us feel better about who we are as a nation', he told Kieran Gilbert on Sky News in July. 'It will send a signal to ourselves and to the world that we're a mature nation that is coming to terms with the fullness of our history, and that we're proud of sharing this great continent of ours with the oldest continuous culture on Earth.'
Voice campaigners seem less interested in changing the world than in being seen as the kind of people who want to change it. The Yes symbol is a badge of honour, the medal proving that you are more intelligent, compassionate and selfless than everyone else. When Ray Martin excited the crowds by sneering at the supposedly brainless idiots in the No camp, he and his audience luxuriated in the joy of reaffirming their superior moral worth. They see themselves as blessed with the intelligence that allows them to order other people's affairs.
A victory in the referendum – especially anything close to the 90.77 per cent Yes vote in the 1967 referendum – is the last thing Yes advocates actually want. It would deprive them of the joy of condemning others as racist and ignorant, instantly devaluing the moral currency they have accumulated. A Yes victory would erode the margin of virtue between themselves and everyday Australians.
This also explains why the Yes campaign does not feel a need to set out how the Voice will work, what powers it will have or how it might go about achieving its proponents' ends. 'At this stage of the game, the details simply don't matter', Martin told his audience. 'They never did matter, honestly. They're irrelevant.' It has never been about the policy itself.
If No beats Yes by the margins that polls are suggesting, it will do nothing to deter the social-justice adventurists. On the contrary, it will only reinforce their belief that most Australians are further down the evolutionary chain than they imagined.
In the minds of woke activists, the defeat of the Voice will mark the end of one movie script in a never-ending franchise. They see themselves as bravely confronting giant prehistoric beasts in a dark and threatening world. They will not suffer their loss quietly. In the words memorably delivered by Samuel L Jackson in Jurassic Park: 'Hold on to your butts.'
Nick Cater is executive director of Menzies Research Centre and a columnist with the Australian.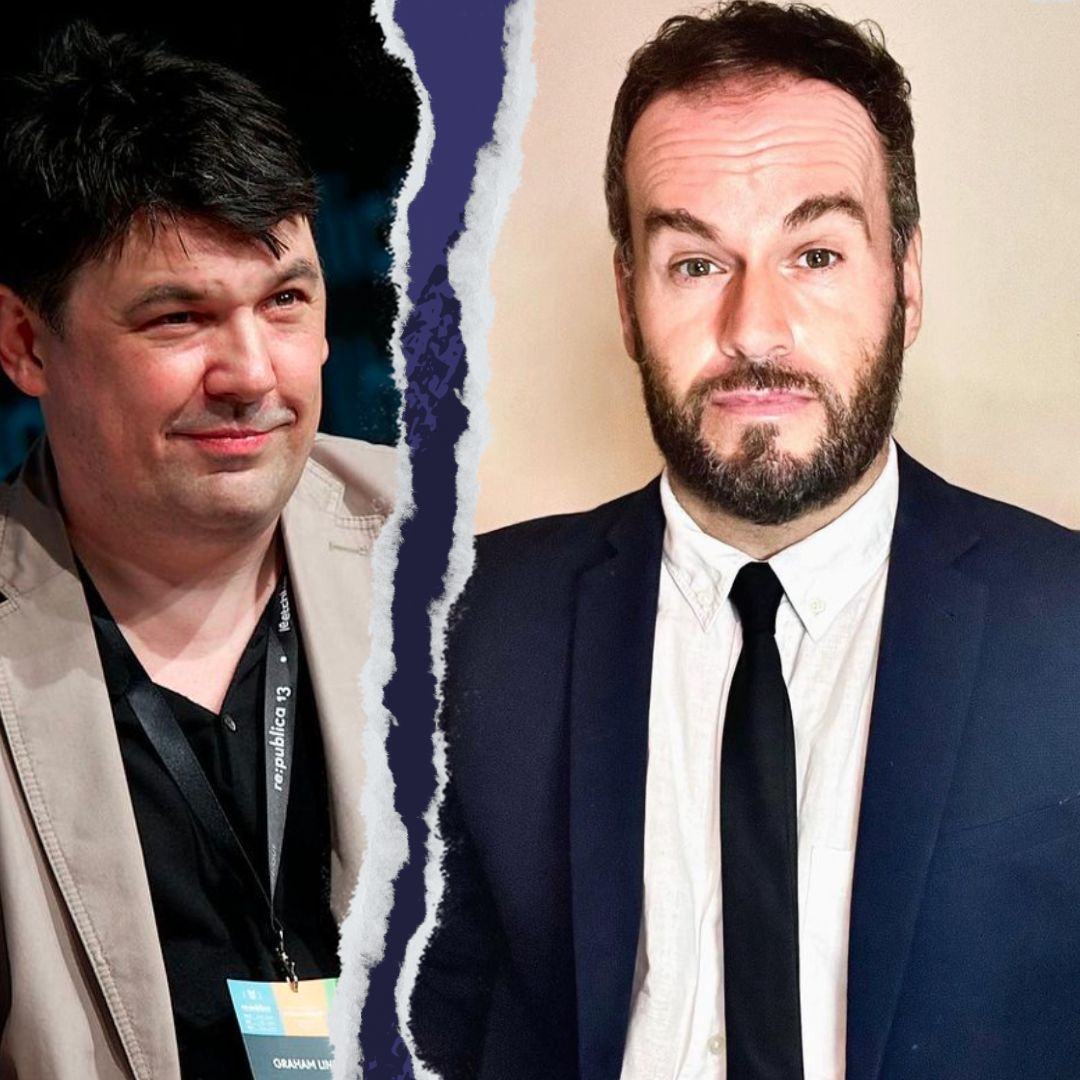 Graham Linehan and Brendan O'Neill – live and in conversation
ZOOM EVENT
Tuesday 17 October – 7pm to 8pm BST
This is a free event, exclusively for spiked supporters.
To enquire about republishing spiked's content, a right to reply or to request a correction, please contact the managing editor, Viv Regan.