Nagorno-Karabakh and the long death of the Soviet empire
Azerbaijan's takeover of the Armenian enclave signals the decline of Russian influence in the region.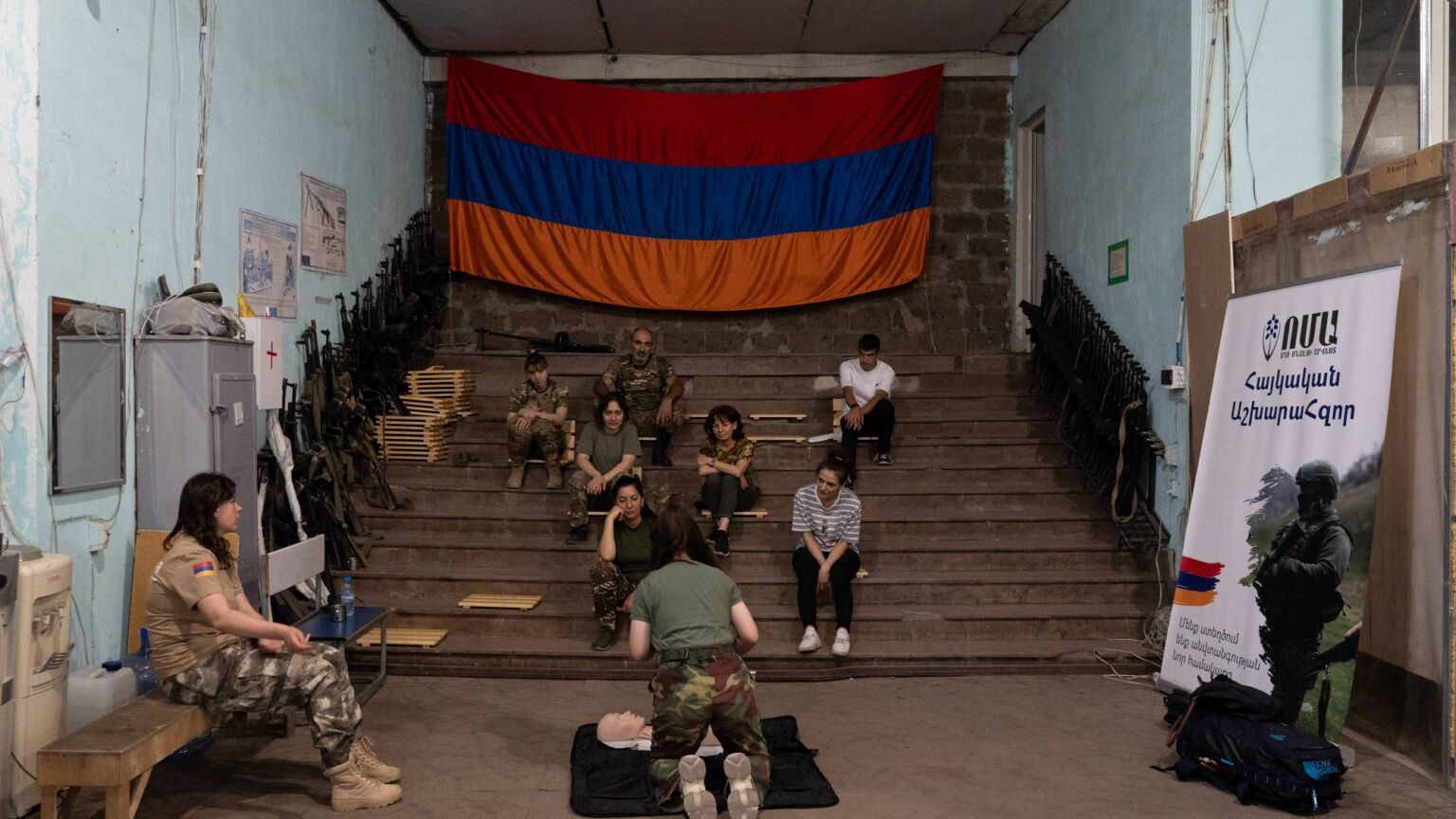 One conflict that has alternately simmered and flared since the last years of the Soviet Union is over. The predominantly Armenian enclave of Nagorno-Karabakh is in the process of being completely absorbed by Armenia's neighbour, Azerbaijan. Many if not most of its over 140,000 inhabitants have either left or are preparing to leave. Since last week, convoys of cars, lorries and buses have been making their way to the Armenian border, with many of those onboard sorrowfully – and probably correctly – lamenting that they will never see their homes again.
Nagorno-Karabakh had become an archetypal frozen conflict – a long-standing dispute reopened by the weakening of Soviet power and left unresolved after the Soviet collapse. The territory was populated mainly by Armenians and was regarded by Armenia as ancestral land. Although quasi-autonomous since the Soviet break-up and administered by Armenians, it had one crucial vulnerability. It was inside Azerbaijan and recognised by the UN as part of Azerbaijan. Just a narrow corridor linked it to Armenia.
The end, when it came, came suddenly. Two weeks ago, Azerbaijan launched what appeared to be an opportunistic attack on Nagorno-Karabakh's capital, Stepanakert, and seized power. There was little resistance; there was no point.
Armenia was taken by surprise. And Russia stood aside, despite having mediated a ceasefire and supplied peacekeepers after the last serious clashes there in 2020. Those Russian peacekeepers are now reported to be assisting the evacuation – which some have described as an 'ethnic cleansing' – by protecting the refugee convoys making their way to Armenia.
Azerbaijan's swoop on Stepanakert and the failure of Armenia and Russia to prevent it have been widely seen as evidence of a distracted Moscow. Russia, so it seems, is preoccupied with Ukraine and is now paying the price for launching that war.
Russia's invasion of Ukraine 18 months ago discredited any ambitions it might have had to being a mediator or a peacekeeper anywhere, including in Nagorno-Karabakh. And when what Moscow had clearly intended as a lightning takeover of Ukraine became instead a protracted conflict, Nagorno-Karabakh could not help but fall down Russia's order of priorities.
But Ukraine is not the only reason why Nagorno-Karabakh has been lost – as Armenia would see it – to Azerbaijan. Other forces were also at work.
One of these was Armenia's shift towards the West, and in particular towards the US, on the part of Nikol Pashinyan's government. Pashinyan came to power in 2018 and, like his predecessors, managed for the most part to walk the narrow line between preserving long-standing economic ties with Russia and stable relations with the West, including through the large Armenian diaspora. Recently, however, this balance has started to tilt westwards.
It is hard to judge how far this reflected disapproval of Russia's invasion of Ukraine and how far it reflected internal political dynamics. It is hard, too, to discern which came first. Was it Pashinyan starting to look West that prompted Russia's disengagement? Or was it Russia's disengagement that triggered Armenia's tilt?
Regardless, one very visible result of Armenia's renewed relationship with the West was the joint military exercises that Armenia held earlier this month with the US. Russia, obviously, took a dim view of US military involvement in the region. This could help to explain why Russia, previously playing the role of peacemaker, did not rush to Armenia's aid when Nagorno-Karabakh came under its latest attack from Azerbaijan.
Russia, for its part, had been busy mending fences with Turkey – Azerbaijan's chief regional backer – after Recep Tayyip Erdogan's re-election in May. As a result, the alignment with Armenia had become less convenient for Russia. Seen from this perspective, what would appear to be Armenia's definitive loss of Nagorno-Karabakh is actually part of a bigger geopolitical realignment. It can be explained not just by the distraction of Russia, but also by a new US interest in Armenia and Turkey's growing assertiveness as a regional power.
A shift from Armenia and towards Turkey certainly suits Russia. Turkey has been if not an ally then certainly a useful interlocutor for Putin over Ukraine. Erdogan has helped save him from the international isolation the US and EU tried to impose. In a highly symbolic move, and another blow to Armenia, Erdogan marked the takeover of Nagorno-Karabakh by visiting Nakhchivan – an enclave recognised as belonging to Azerbaijan, but claimed by Armenia. 'Hands off' might have been the message here.
What is now playing out, however, may not be just a regional realignment. It could also be the product of a longer historical trend, dating back to the disintegration of the Soviet Union and beyond. It is often observed that the collapse of the USSR was surprisingly peaceful. There was no repeat of the civil war that followed the Bolshevik Revolution, no great refugee crisis and no famine – even though all of these had been feared and, to an extent, planned for in the West. The relatively few armed conflicts that broke out were in parts of the Caucasus and Central Asia, where there had been long-standing territorial and ethnic disputes. Nagorno-Karabakh was one of these.
The violent end of this conflict more than 30 years on can be seen both as the latest spasm of the Soviet collapse and as the next stage of Russia shrinking into its post-Soviet, post-imperial border. The war in Ukraine is the biggest and most significant by far of these post-imperial wars and it is part of the same phenomenon. Whatever the short-term outcome in Ukraine, Moscow's reach is destined to decline.
This does not mean that Russia itself will collapse. It does mean, however, that Russia's power will shrink to match the state borders as they have stood since 1991.
Those borders took time to solidify. And some of the newly established or reestablished states needed time to assert their sovereignty, too. This is essentially what Azerbaijan has now done in seizing Nagorno-Karabakh. Indeed, it called its military takeover an operation to 'restore the constitutional order'.
The context of Nagorno-Karabakh is not only the Ukraine war, nor is it only the growing influence of Turkey. It is also the end of both the Soviet and Russian empires – the reverberations of which are not yet over.
Mary Dejevsky is a writer and broadcaster. She was Moscow correspondent for The Times between 1988 and 1992. She has also been a correspondent from Paris, Washington and China.
To enquire about republishing spiked's content, a right to reply or to request a correction, please contact the managing editor, Viv Regan.