The creeping criminalisation of everyday life
The British state's ever-growing use of behaviour-control orders is an affront to liberty.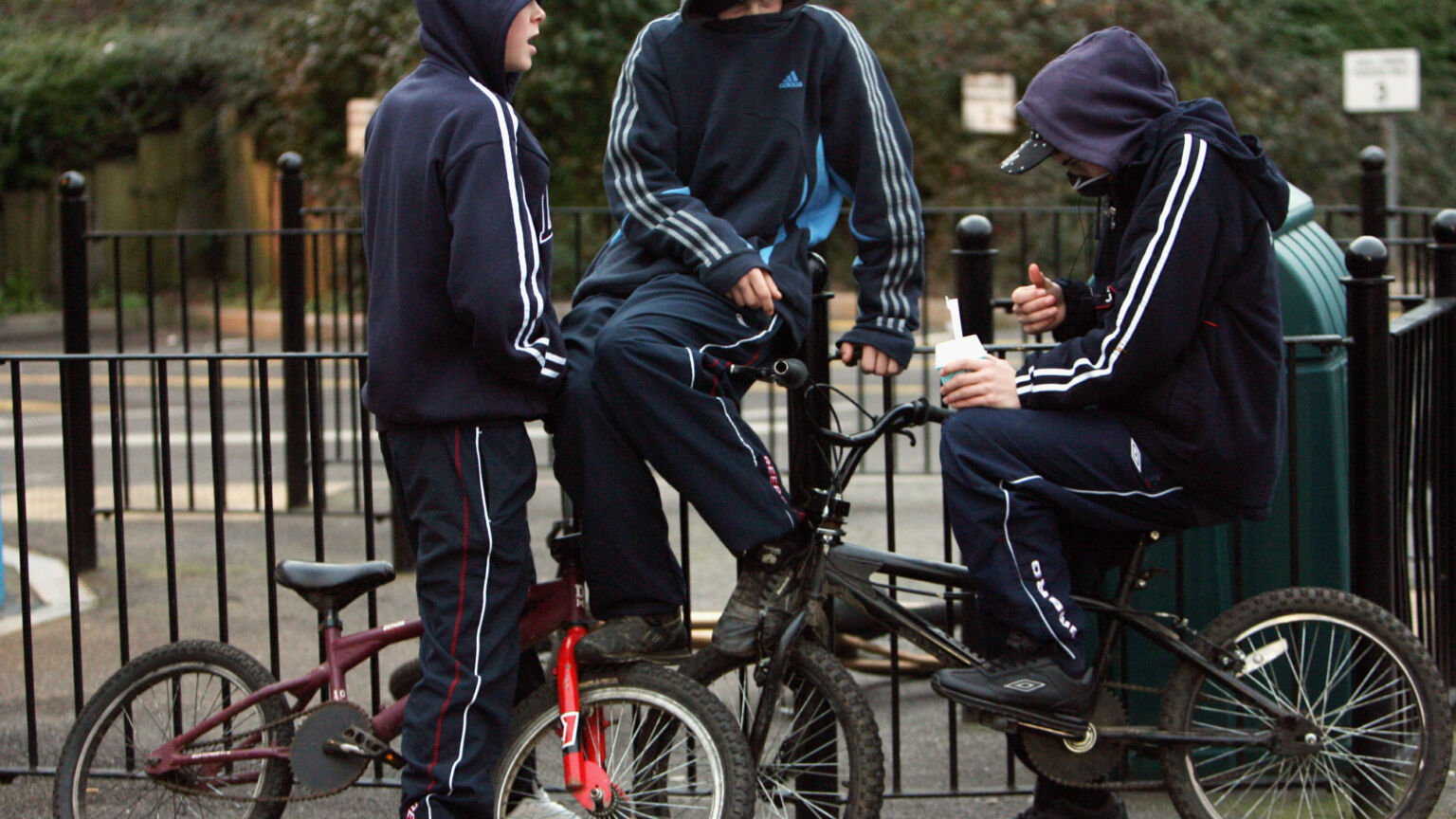 Traditionally, states controlled the behaviour of their subjects through the creation of crimes. This often took the form of a prohibitive 'thou shalt not' or 'if someone does X, they will get Y punishment'. From the earliest laws and codes, a crime was a prohibited act with a resulting punishment.
Around 20 years ago, the British state started moving towards a different approach. This involved giving officials powers to issue particular orders to specific people about how they should behave. The model for this approach was the Anti-Social Behaviour Order, aka the ASBO, which New Labour introduced in 1998. Under the terms of an ASBO, a recipient was forbidden from engaging in legally permitted, often perfectly acceptable behaviour. Any breach of the order was deemed a criminal offence, despite the behaviour itself being non-criminal. Indeed, people received ASBOs preventing them from singing particular songs, shouting at the TV or gardening in the nude.
The ASBO appears restrained compared to what has come since. Ever since the Anti-Social Behaviour, Crime and Policing Act 2014, people who used to get ASBOs now generally get a Community Protection Notice (CPN), which comes with almost no procedural safeguards. Whereas the ASBO had to be obtained from a court – and the defendant had a right to legal aid – the CPN can be issued on the spot by police officers and a range of local-authority officers, including county-park guardians, street-scene officers, community-wellbeing service officers and neighbourhood-pride managers. People have received CPNs ordering them to close their front doors more quietly, not to wear a bikini in their front garden or not to look at their neighbours.
As outlined in a new report by the charity JUSTICE (to which I contributed as a member of its working party) last week, there are over 30 types of these behaviour-control orders. They have resulted in a worrying fall in legal standards and a 'criminalisation creep'. Orders include dispersal orders (which give police officers powers to bar you from a particular public space); closure orders (which give police and council officers powers to 'close' residential or business premises); knife-crime prevention orders (the power to issue instructions to a person who has carried a 'bladed article' in a public place); public-spaces protection orders (allowing councils to ban particular activities in public spaces); and a range of orders covering sexual harassment and stalking, as well as new protest-related serious-disruption prevention orders, from the Public Order Act 2023.
Over time, these orders have become broader and the standard for issuing them has become lower. To issue an ASBO, it had to be shown that an individual's conduct was causing 'harassment, alarm or distress'. To issue a CPN, it merely requires showing that an individual's conduct is having a 'detrimental effect on the quality of life' of those in the locality. Whereas closure orders used to apply to premises that produced or supplied Class A drugs, now they can be imposed on premises where there is merely disorderly behaviour or serious nuisance.
Almost anyone could find themselves subject to one of these orders, so flimsy are the grounds for issue. The JUSTICE report describes how sexual-risk orders can be applied where an individual has been found, upon a civil standard of proof, to have carried out an 'act of a sexual nature'. Acts 'of a sexual nature' are not defined in either the legislation or the accompanying guidance. The guidance states that 'the term intentionally covers a broad range of behaviour. Such behaviour may, in other circumstances and contexts, have innocent intentions. It also covers acts that may not in themselves be sexual but have a sexual motive and / or are intended to allow the perpetrator to move on to sexual abuse.'
Moreover, unlike ASBOs, these new behaviour-control orders increasingly allow positive as well as negative conditions, which can be potentially more coercive. So knife-crime prevention orders, which in most cases are imposed on black males, do not only ban someone from carrying a knife; they also lay down a swathe of positive behavioural conditions. Here are some recent Met Police KCPOs:
'The defendant must engage with [organisation – name redacted] within seven days of this order being granted to take part in a diversionary course called [name redacted]. A five-session course involving drug awareness, grooming and exploitation awareness. Details of attendance dates will be provided on first contact. Contact details to be provided at court.'
'The defendant must attend and engage with a [charitable-provider name redacted] foundation programme to help find work within the painting and decorating trade.'
'The defendant must attend constructive leisure as directed by the professional network.'
Orders are being used to direct individuals' behaviour towards what officials think is a 'good' course of conduct. And so it becomes an offence for a particular person not to seek employment in the painting and decorating trade, or to fail to attend a series of awareness courses.
Whereas behaviour-control orders used to be monitored and assessed – both ASBOs and dispersal orders were subject to regular data collection and government assessment – now officials often don't bother with basic data collection. I have personally collected the only national data on the use of PSPOs and CPNs for the past nine years. The Home Office shows only a very vague interest in any information about the use of the powers it is in charge of. The Civil Justice Council criticised this bureaucratic negligence, recommending in 2020 that the Home Office and courts service collect data on the use of these powers, and that legal aid be expanded to ensure that no one faces the prospect of being sent to jail without proper legal advice.
The increase in behaviour-control orders appears to be an irresistible trend, with everyone doing their bit to add more powers to the list. There is an official delusion that every social problem can be solved with the addition of one more 'proper' power. Labour recently suggested bringing in new 'respect orders', while the Conservatives proposed to amp up PSPOs and CPNs, and create new powers to move homeless people on – yet again, lowering legal standards, widening use, and increasing penalties.
While the Bank of England always prints more money, the Home Office is always printing more powers. A candid official once suggested to me that powers are often created to give the impression of 'doing something', while avoiding responsibility for whatever is done. New powers appear to be 'cheap', involving no substantial investment and no personal accountability. While a new crime is a state-ordained line in the sand, a new power is a means for officers to give personalised instructions as they see fit. Central government gets to 'do something' then wash its hands of the matter.
Indeed, the passing of responsibility goes down the lines of command, so that some councils are using PSPOs to give their officers open-ended powers to issue personal instructions to people about how they should behave. Rather than ban busking, the PSPO says 'no busking after an official has asked you to stop', or no swimming or cycling or drinking after an official has asked you to stop.
Ancient crimes and legal codes, though often harsh, were a means of ordering society, so that everybody knew where they stood. By contrast, the current move towards behaviour-control orders undermines all stable rules. Nobody knows if they will be subject to an order, or what will be on it. The behaviour-control order creates what charity Liberty has called a 'personalised legal code'. Crime amounts to nothing more than the disobedience of instructions from an official as to how you should behave.
In the name of tackling 'disorderly behaviour', the whim of officials is fast becoming the law of the land. This is a dangerous affront to liberty and democracy.
Josie Appleton is director of the Manifesto Club. The views expressed in this article are her own and not those of the JUSTICE working party. The JUSTICE report on behavioural control orders is here.
To enquire about republishing spiked's content, a right to reply or to request a correction, please contact the managing editor, Viv Regan.