The Lib Dems: a party of reactionaries
Ed Davey's party is desperate to jump on every daft, illiberal bandwagon going.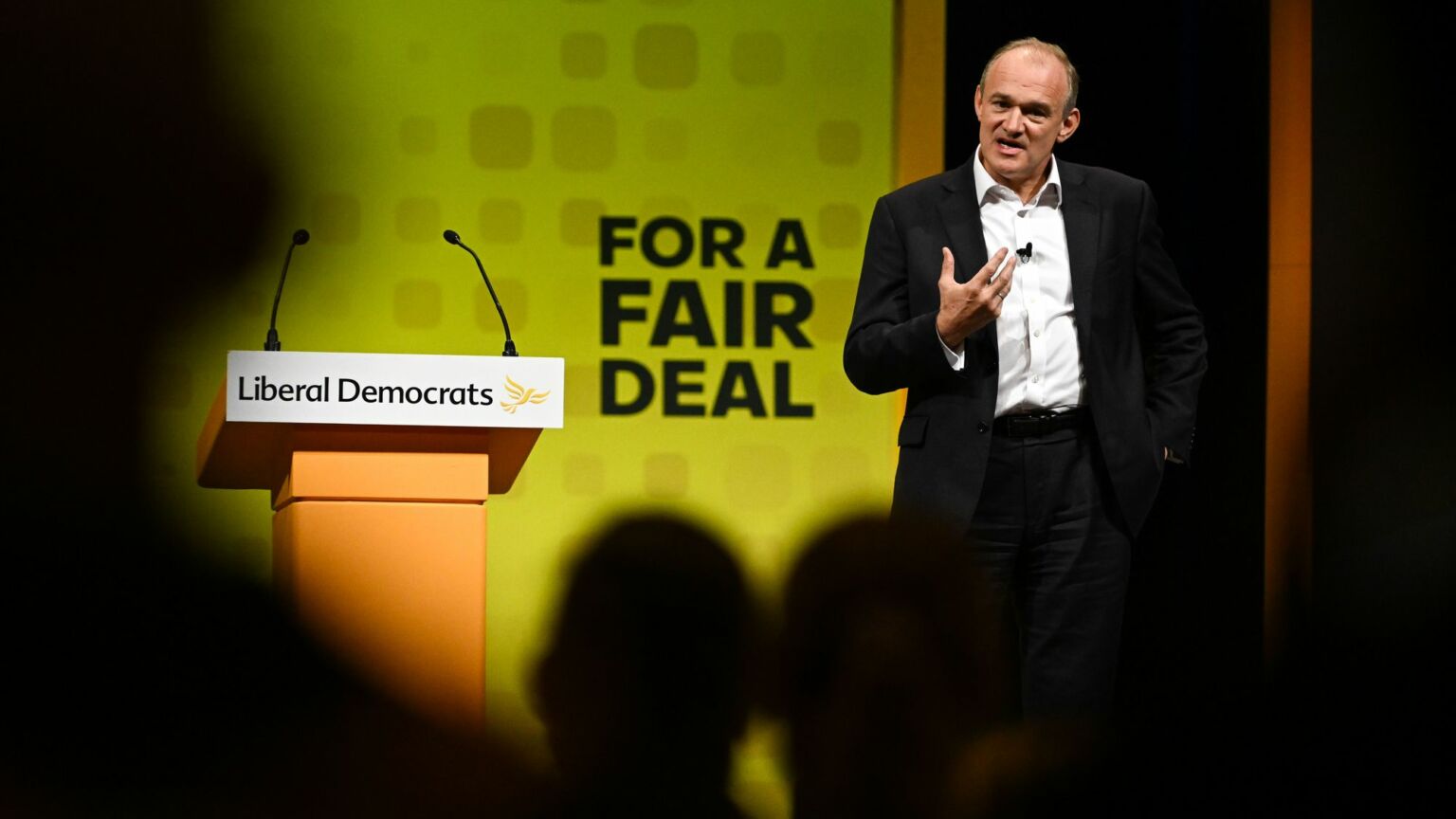 There is a party in the UK that is committed to rolling back the rights of women, overruling the democratic will of the people and blocking new development. No, this is not the whacky new electoral project of some online, right-wing reactionary. I'm talking, of course, about the Liberal Democrats, who are currently holding their autumn conference in Bournemouth.
Of course, the Lib Dems don't tend to think of themselves as a party for reactionaries. They like to pose as a more principled, civil-libertarian alternative to Labour. In practice, however, in their attempts to appear 'modern' and 'progressive', they have ended up jumping on some of the worst political bandwagons of our time.
The Lib Dems' dedication to trans ideology is a prime example of this. Gender-critical feminists have long warned that the erasure of biological sex in public life threatens women's hard-won, sex-based rights. Yet the Lib Dems have gone further down the trans rabbit hole than any other UK-wide party. At this year's conference, for instance, members voted for an absurd motion that stated 'Menstruation is not just a women's issue' – the implication being that men, too, can have periods.
As well as parroting the talking points of gender ideologues, the Lib Dems are also shutting down debate on the trans issue. A Lib Dem gender-critical group called Liberal Voice for Women (LVfW) claimed that it was banned from advertising its event at the conference, despite previously being given permission. These gender-critical liberals have also accused the Lib Dems of 'active suppression' and using 'censorious forces' to silence them, as LVfW has never been allowed to host a fringe event on the party-conference site or even to have a conference stall. This stance is hardly surprising, given that Lib Dem leader Ed Davey declared only a few months ago that a woman can 'quite clearly' have a penis.
As well as going all in for gender-identity ideology, the Lib Dems have also embraced a strict, almost Malthusian environmental agenda. There has been much focus at this year's conference on green issues – cleaning up the UK's rivers has been a key focal point, for instance. But the biggest threat to the environment, as far as the Lib Dems are concerned, is new, affordable homes.
Earlier today, Davey supported a motion at the conference to drastically reduce housebuilding targets for England – from 380,000 new homes a year to a measly 150,000 council houses. Although members rejected the miserable proposal, the party leadership has put opposition to housebuilding to the forefront of its campaigns in recent local elections and by-elections. In a recent local-election leaflet, for instance, the Lib Dems actually boasted of their plans to build fewer homes than the Tories. Davey and Co are seemingly proud to contribute to the national housing crisis.
And just to put the cherry on top of this reactionary cake, the Lib Dems have spent a large part of the conference bashing Brexit. Although leader Ed Davey has finally accepted the public's decision to leave the EU – seven years after the referendum result – other senior figures seem less sure. Layla Moran, the party's foreign-affairs spokeswoman, told a fringe event that regaining EU membership is a no-brainer – it is just a matter of working out how to 'talk about it' without angering the voters too much.
This was followed by a toe-curling karaoke session, in which Lib Dem members and MPs sang along to a Brexit-themed parody of the England football anthem, 'Three Lions'. The Lib Dems' new lyrics described the Brexit vote as a 'referendum of hate', replaced references to the England team's three lions with the words 'gold stars', and sang 'we'll go back in' instead of the familiar, 'it's coming home'. Clearly, the Lib Dems are still determined to rejoin the anti-democratic EU.
The autumn conference has at least made one thing clear – the Lib Dems are as clueless and out of touch as ever. Most ordinary voters know that women can't have penises, would like an end to the housing crisis, and have no desire to relitigate the Brexit referendum.
The Lib Dems are a liberal, democratic party in name only. They would be a disaster in office.
Lauren Smith is an editorial assistant at spiked.
To enquire about republishing spiked's content, a right to reply or to request a correction, please contact the managing editor, Viv Regan.