'It will be almost impossible for Russell Brand to get a fair trial'
Harvey Proctor, the former Tory MP who was falsely accused of child abuse, talks to spiked about why we must defend the presumption of innocence.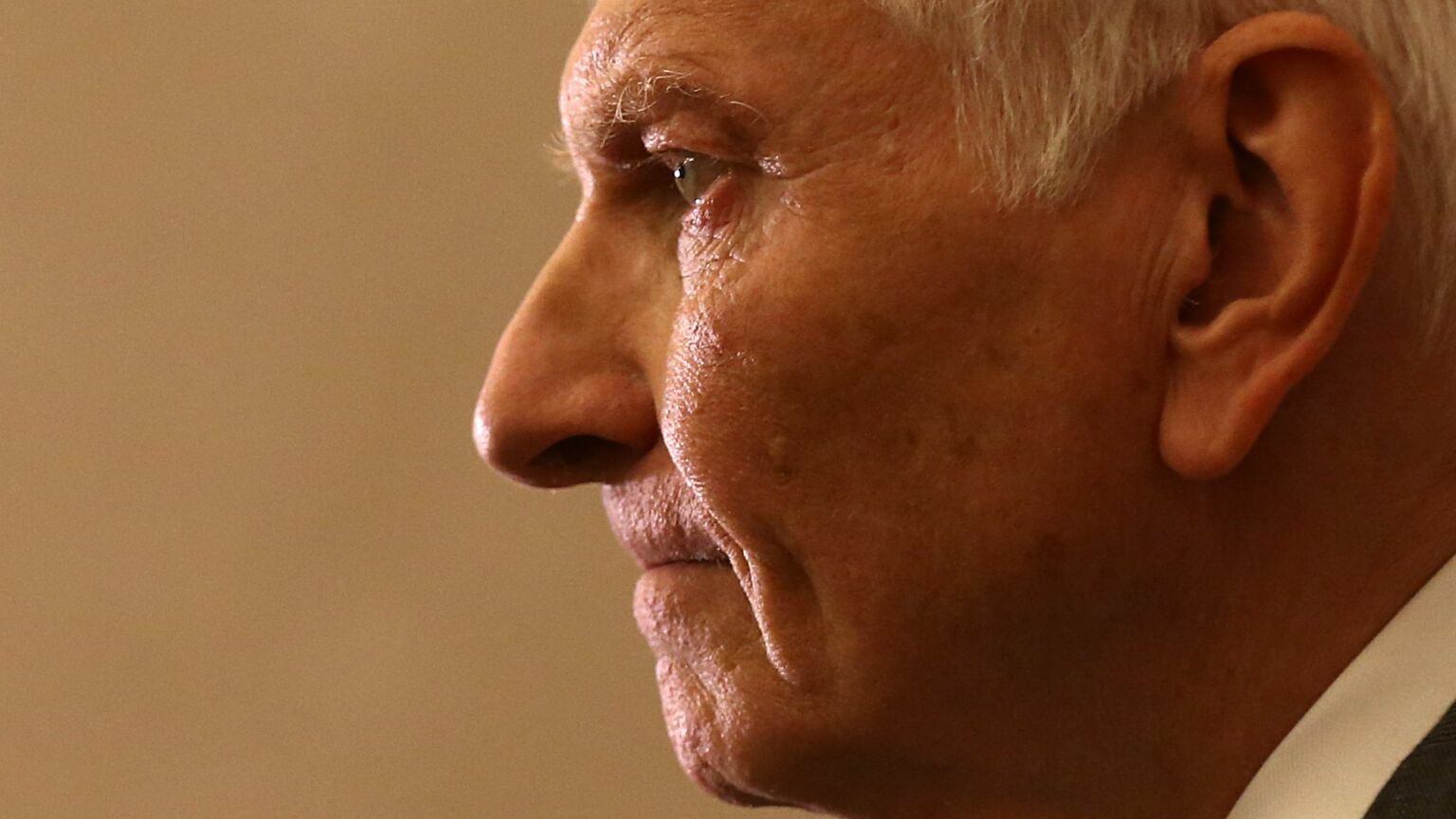 Russell Brand now faces several serious accusations of rape and sexual assault. An investigation by The Sunday Times, The Times and Channel 4's Dispatches has uncovered multiple allegations from multiple women. Currently, these accusations remain just that – accusations. Brand has not yet been arrested, charged or found either guilty or innocent in any court of law. So why have so many in the public eye, including journalists and MPs, rushed to believe Brand's accusers and proclaim him guilty? And why are there so few voices out there defending the presumption of innocence?
This is particularly troubling given that in the UK, there have been a string of cases in recent years where prominent men have been falsely accused of sexual crimes, and had their names and reputations dragged through the mud and the courts as a consequence. Harvey Proctor, a former Conservative MP, was falsely accused of child sexual abuse and murder, as part of the now infamous Carl Beech scandal. Here, he explains why we junk the presumption of innocence at our peril.
spiked: What is it like to be presumed guilty of committing serious crimes?
Harvey Proctor: I was one target of Operation Midland, an investigation conducted by the Metropolitan Police between 2014 and 2015. A man called Carl Beech, operating anonymously as 'Nick', made allegations to journalists that there was a paedophile ring operating within Westminster that included former prime minister Edward Heath, among others. This list also included me. Beech accused me of sexually and physically abusing children. He also alleged that I had murdered three children. The Metropolitan Police opened an investigation towards the end of 2014 and declared that Beech's claims were credible and true. They were later proven to be based entirely on lies.
In 2015, police officers raided my home and searched it for 15 hours. They stated they would not reveal my identity. However, I woke up the next morning to see my face staring back at me from the television. I was then at the forefront of a major police operation and accused of the most heinous of crimes. My name was in the public arena. And while I was never charged, I was under the cosh of the Metropolitan Police for a year.
spiked: What have you made of the response to the allegations against Russell Brand? Is his right to be presumed innocent being respected?
Proctor: I am not here to defend Russell Brand. But he, like everybody else, is entitled to the presumption of innocence. That is a very important principle in British criminal jurisprudence. It goes back to Magna Carta, perhaps even before. Paragraph 39 states: 'No free man shall be seized or imprisoned, or stripped of his rights or possessions, or outlawed or exiled, or deprived of his standing in any other way, except by the lawful judgement of his equals or by the law of the land.'
There can be no exceptions to this. Conservative MP Caroline Dinenage, chair of the Culture, Media and Sport Committee, recently came forward and demanded that Brand's presence be struck off a video-sharing site called Rumble. We could say that, in doing so, she is in breach of Magna Carta. That's certainly not a great honour.
spiked: Why is nobody standing up to defend this fundamental principle of innocent until proven guilty?
Proctor: It's extraordinary that not a single MP, as far as I'm aware, has taken to the airwaves to defend this principle. It is truly the golden thread of our criminal-justice system. I suspect it might be because many think Brand is a bad example. They may themselves have concluded, in their own minds, that Brand is guilty. Yet it is in these difficult cases where the presumption of innocence should shine through.
Knowing myself and knowing my colleagues at the time, they would have been jumping into the fray to defend this principle. It is down to the calibre of our MPs today that they dare not do so.
spiked: What will it take to get us out of this unprincipled culture we find ourselves in?
Proctor: The mainstream media have a lot to answer for. You would normally look to The Sunday Times, The Times and the media generally to uphold this principle of innocent until proven guilty. They are currently doing the opposite. As soon as the media received allegations of a crime, they should have gone to the police. Why did they not do so? I'd like the journalists involved to be transparent about this. And I think that anyone who goes to the police now should explain why they didn't do so before.
We have to look to our leaders and politicians and demand they stand up for principles in these difficult cases. Rishi Sunak should immediately issue a statement defending the presumption of innocence. He should disown Dinenage and her attempts to deprive a currently innocent man of his livelihood.
After what the media have done to Brand, it will be almost impossible for him to get a fair trial.
Harvey Proctor was talking to Lauren Smith.
To enquire about republishing spiked's content, a right to reply or to request a correction, please contact the managing editor, Viv Regan.