The casual authoritarianism of Caroline Dinenage
Why is the head of parliament's culture committee calling on tech firms to unperson Russell Brand?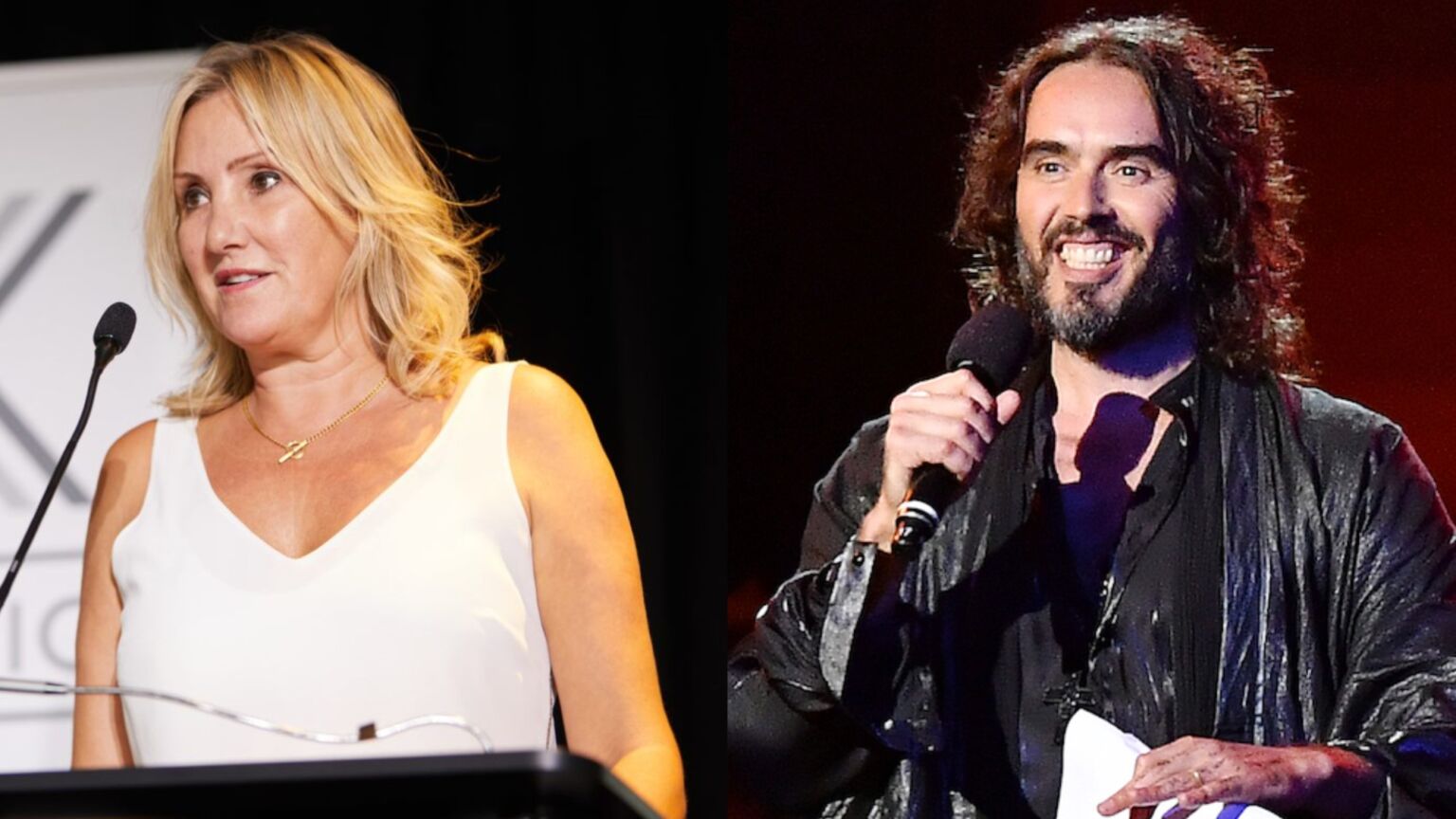 The accusations against Russell Brand of rape and sexual assault are increasingly being treated as cut-and-dried evidence of guilt.
Just days after these incredibly serious allegations were made public by Channel 4's Dispatches and The Sunday Times, YouTube decided to punish Brand by demonetising his content on the video-sharing platform, where he has built a large following with his videos about wellness and conspiracy theories. As Tom Slater wrote on spiked earlier this week, whatever one thinks of Brand or the views he promotes on his channel, for Big Tech to act as judge, jury and executioner in response to these allegations ought to worry anyone who cares about due process.
Now British MPs want to punish Brand, too. Last night, Dame Caroline Dinenage, Tory MP and chair of the UK parliament's Culture, Media and Sport Committee, sent a letter to the CEO of Rumble, a video-sharing platform based in Canada, which prides itself on its refusal to censor creators. Dinenage wanted to know why it hasn't demonetised Brand's content like YouTube has. She also sent similar letters to TikTok and other social-media platforms demanding they take action against Brand.
The letter reveals Dinenage and the committee she chairs to be both clueless and authoritarian in equal measure. It explains that the committee is 'looking at [Brand's] use of social media, including on Rumble where he issued his preemptive response to the accusations made against him' on Friday, in which he denied the criminal allegations. 'While we recognise that Rumble is not the creator of the content published by Mr Brand', Dinenage writes, 'we are concerned that he may be able to profit from his content on the platform'.
Dinenage seems to have forgotten that she is an MP in a liberal democracy, not a commissar of a totalitarian state. What business is it of an MP whether a private citizen is profiting from posting videos on a social-media channel? What's more, however serious the allegations against Brand may be, he has not yet been arrested or charged, let alone convicted, of any crime. Nevertheless, Dinenage makes clear that she expects Rumble to 'join YouTube in suspending Mr Brand's ability to earn money on the platform'. In other words, she expects Brand to be digitally unpersoned.
Strikingly, the letter also asks 'what Rumble is doing to ensure that creators are not able to use the platform to undermine the welfare of victims of inappropriate and potentially illegal behaviour'. Presumably, the word 'victims' here refers to the alleged victims of Brand's alleged crimes. And presumably, the videos that have the potential to 'undermine [their] welfare' are those in which Brand denies the accusations against him. In other words, for Dinenage, Brand should be punished financially for seeking to defend himself – for exercising a right to which all accused persons are entitled in a civilised liberal democracy.
What kind of precedent is Dinenage trying to establish here? Must someone be immediately demonetised by every social-media channel, as soon as they are accused of a crime? How can someone who has not been arrested, charged or faced a court of law be expected to appeal this punishment? It seems unlikely that Dinenage has really thought this through. She seems to have let her eagerness to join in with the mobbing of Brand get ahead of her.
Thankfully, Rumble has not complied with Dinenage's authoritarian demand. Last night, Rumble CEO Chris Pavloski responded with a blistering letter of his own. He begins by noting that, while the allegations against Brand are serious and must be investigated, they are entirely unrelated to Brand's video content on Rumble. And while YouTube may have dumped Brand on the basis of these allegations alone, Rumble stands for 'the vital cause of defending a free internet… where no one arbitrarily dictates which ideas can or cannot be heard, or which citizens may or may not be entitled to a platform'.
Pavlovski slams Dinenage's demand for Rumble to punish Brand as 'deeply inappropriate and dangerous'. 'We don't agree with the behaviour of many Rumble creators', he explains, 'but we refuse to penalise them for actions that have nothing to do with our platform'. 'Although it may be politically and socially easier for Rumble to join a cancel culture mob, doing so would be a violation of our company's values and mission', he adds.
How cheering it is to see a platform stand up for its creators against the demands of would-be censors. After all, as platforms like YouTube become increasingly censorious, creators the world over are having to turn to smaller, independent platforms like Rumble – either to be able to monetise their videos or simply to be able to publish them at all. For Dinenage to go after one of the few remaining vestiges of free speech online is truly shameful.
Dinenage's intervention may have backfired this time. But her row with Rumble has made it clear that our politicians are utterly indifferent to both free speech and due process. Neither is safe in their hands.
Laurie Wastell is a writer.
To enquire about republishing spiked's content, a right to reply or to request a correction, please contact the managing editor, Viv Regan.