Jordan Henderson and the shallowness of the virtue-signallers
The former Liverpool captain and 'LGBT ally' is struggling to defend his move to Saudi Arabia.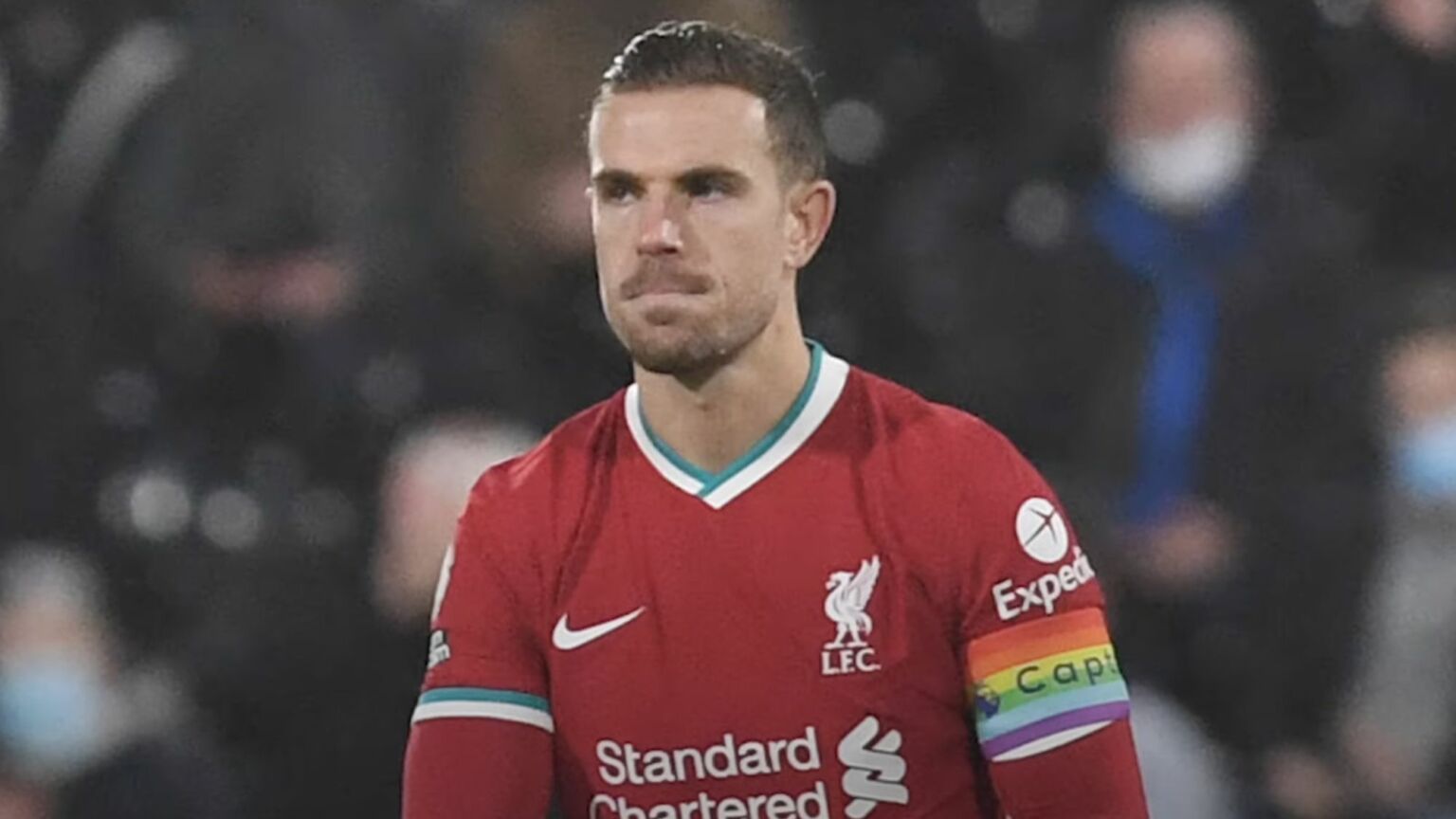 Embattled footballer Jordan Henderson has finally broken his silence on his controversial decision to swap the English Premier League for the Saudi Pro League. The England midfielder and former Liverpool captain announced his move to Al-Ettifaq in Saudi Arabia back in July. But he has waited until now to explain his decision.
In a toe-curling interview with the Athletic, Henderson is at pains to defend his status as an 'LGBTQ+ ally' – a reputation he has studiously built up in recent years with various acts of ostentatious virtue-signalling, both online and off.
As everyone knows, Saudi Arabia can be pretty intolerant of gay people. Homosexuality is a crime that can attract imprisonment and corporal punishment. And so Henderson, quite understandably, stands accused of rank hypocrisy – of abandoning his 'LGBT activism' for large dollops of Saudi Arabian cash.
While Henderson denies reports that he will be earning £700,000 per week out there, it will undoubtedly still be an eye-watering sum, as Saudi Arabia attempts to build itself an elite football league by throwing vast amounts of cash at big players and managers.
Henderson's attempts to justify the move have been torturous. He argues in the Athletic that he has gone 'above and beyond' in the past for the LGBT community, and so he should really be cut some slack. 'I've worn the laces. I've put on the armband', he says, referring to the rainbow paraphernalia that has now become ubiquitous at sporting fixtures in the West. 'All I ever tried to do was help', he says. Move over Harvey Milk. Pipe down Peter Tatchell. A new defender of gay rights is here to put those pretenders in the shade.
More absurd still, Henderson even tries to present his well-remunerated Saudi Arabian move as itself an act of LGBT allyship. 'Having someone with [my] views and values in Saudi Arabia is only a positive thing', he claims, even though he admits that he is not planning to say or do anything to advance the gay-rights cause at Al-Ettifaq. 'I wouldn't disrespect the religion and culture in Saudi Arabia', he concedes. It's as if the persecuted gays and lesbians of Saudi Arabia should be grateful for Henderson's mere presence.
What the Henderson debacle reveals is the shallowness of sporting virtue-signalling. Players and pundits love to flaunt their fealty to fashionable causes at home, where there is no personal or professional penalty for doing so. What counts as 'activism' often amounts to little more than symbolic gestures – wearing the laces and the armbands, as Henderson puts it – or mouthing bland, PR-edited platitudes. (As Henderson once said of his decision to wear rainbow laces in support of LGBT causes: 'I could not be stronger in my belief that the values we are celebrating – unity, togetherness, inclusion – could not be more in keeping with those of our club and our city.') This is an exercise in moral preening, not a radical demand for change.
What's more, this sporting virtue-signalling is aimed not at unsettling the powerful, but at lecturing football fans, who are contemptuously presumed to be unreconstructed bigots. Henderson's stunts in recent years were not an attempt to change the law or challenge a homophobic state. The big battles for gay rights were won decades ago in the West. Rather, they were an attempt to instil in the supposedly incorrigible plebs the correct way to act and think.
Of course Henderson is under no obligation to boycott Saudi Arabia. Despite all his claims to the contrary, he's a professional footballer, not a human-rights activist. Nor should he be expected to challenge its theocratic rule when he's there. The sight of Henderson hectoring a Saudi sheikh on matters of sexual liberation would indeed be ridiculous. But it would be no more ridiculous than Premier League footballers endlessly lecturing fans here at home. And it would be a hell of a lot braver, too.
Jordan Henderson offers a cautionary tale to all the other knee-taking, armband-wearing sportsmen and women out there. Those who live by vapid virtue-signalling can quite easily die by it, too.
Fraser Myers is deputy editor at spiked and host of the spiked podcast. Follow him on Twitter: @FraserMyers
To enquire about republishing spiked's content, a right to reply or to request a correction, please contact the managing editor, Viv Regan.