Anthony Fauci: how the mask slipped
His promotion of mask mandates has made a mockery of science.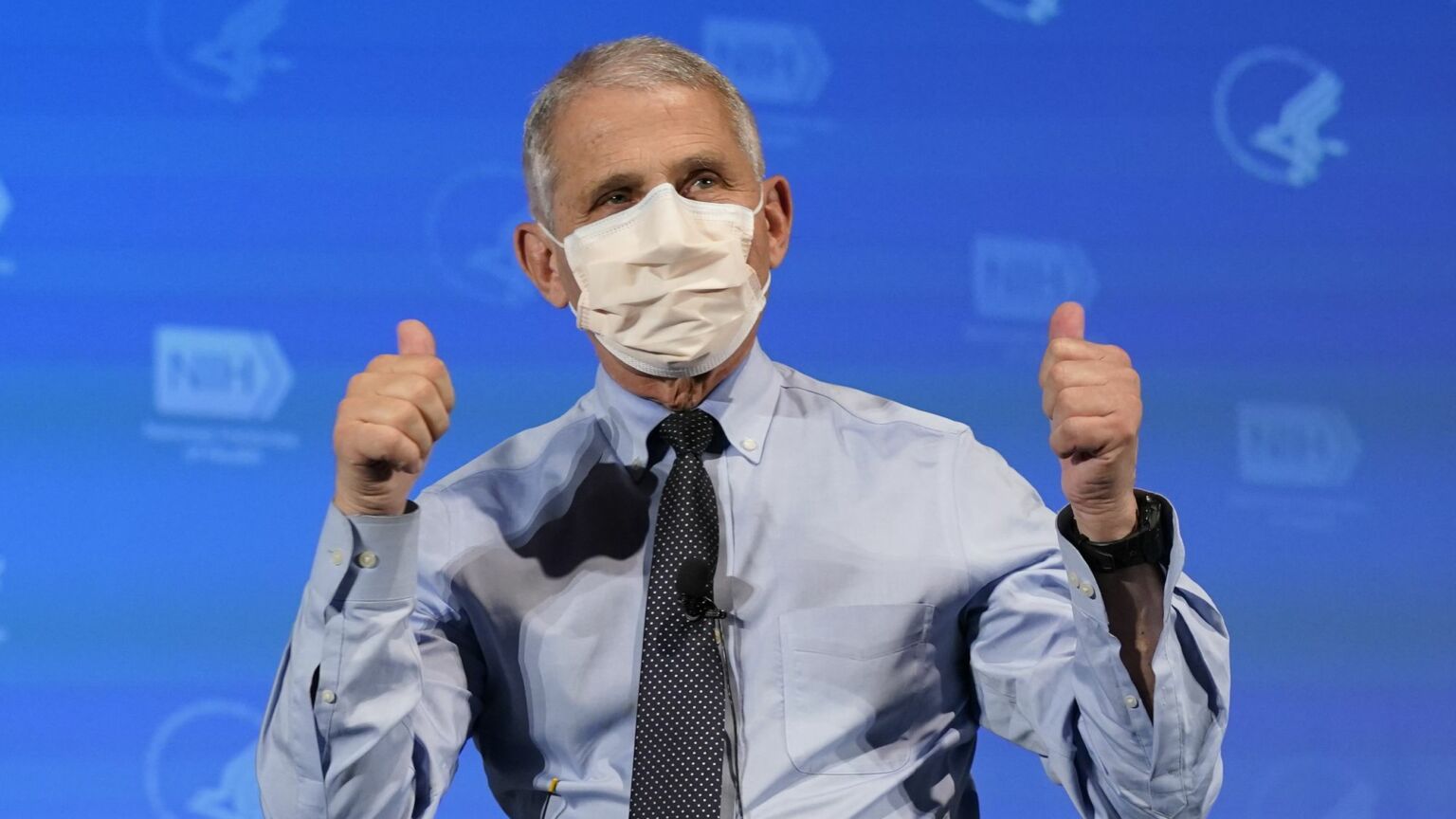 Dr Anthony Fauci was the public face of the US response to Covid-19 throughout the pandemic. When he retired last year, aged 81, we might have thought we'd heard the last of him. But apparently not.
With autumn coming and the 'Pirola' SARS-CoV-2 variant proliferating, Fauci was back on CNN last week. He expressed his 'concern' that people would no longer accept government recommendations on Covid, including masking.
The host challenged Fauci, citing the recent Cochrane review into the efficacy of masking. This study analysed gold-standard evidence from randomised trials and found that masks, including more sturdy N95 masks, offer no convincing protection from Covid. Fauci's first response was to equivocate, saying that there are 'other studies' that say otherwise, while omitting the fact these are of lower quality than the randomised trials included by Cochrane.
Next, Fauci accepted Cochrane's conclusions at the population level – agreeing that masks don't slow the pandemic, but said that they do provide individual protection. Of course, this makes no sense. If a mask works to protect an individual, then surely a whole population of mask wearers would be better protected?
Leaving aside the faulty logic of these claims, Fauci's reluctant recognition of the lack of community protection offered by masks is utterly at odds with some of his own previous assertions. In fact, Fauci's position on masks has always been inconsistent.
Back at the very start of the Covid outbreak in 2020, Fauci became a leading member of the White House Coronavirus Task Force under President Trump. At the time, Fauci wrote to advise an unnamed former US health secretary that 'Masks are really for infected people to prevent them from spreading infection to people who are not infected, rather than protecting uninfected people from acquiring infection'. He added that masks that are available in shops are 'not really effective in keeping out [the] virus, which is small enough to pass through [the] material'. In March 2020, he even told CBS's 60 Minutes that 'There's no reason to be walking around with a mask'.
This early advice was in keeping with the accepted science. Since as far back as the 1918-19 Spanish Flu pandemic, it had been widely agreed that masks were of little benefit. Community mask use in respiratory-virus pandemics was discouraged by the WHO, and by health authorities in the US and UK.
Nevertheless, when Covid hit, mask advocates – many with no medical knowledge – spread like Japanese knotweed across social media, catching the ear and eye of politicians. It suddenly became 'common sense' that a mask would stop virus-laden droplets. No one mentioned the fact that smaller virus-laden aerosols would pass straight through masks of every type, or escape around the sides.
The pro-mask lobby pointed to countries that recorded falls in Covid cases after imposing mask mandates in spring 2020. In doing so, it completely missed the point that incidence was similarly falling in Sweden, which had no mask mandate. The WHO was minded to stand by its earlier discouragement but, according to the BBC, it flipped under political pressure.
Fauci flipped, too. He said that his previous advice was intended to conserve masks for hospitals – though that doesn't explain why he told the health secretary in private that masks were pointless. Fauci's new argument was that masks could slow the spread of Covid in the community. In April 2020, he told PBS's Judy Woodruff: 'If everybody [wears a mask], we're each protecting each other.' He added only a month later, perhaps more truthfully, that a mask is a 'symbol' – demonstrating commitment to defeating Covid, though that's hardly a medical argument.
In October 2020, Fauci then moved to backing mask mandates. Once Biden became president in September 2021, with Fauci as his adviser, these were enforced in federal jurisdictions, including on public transport.
By February 2021, Fauci was recommending that people wear two masks, one on top of the other – something that Joe Biden had already been doing since 2020. There was, of course, no evidence at all that this helped stop infection.
Vaccine deployment in 2021 led to some relaxation of mask rules, but the Delta variant multiplied, causing vaccine-breakthrough infections. So, in June 2021, Fauci said masks should be worn again, even by the vaccinated. In July, he even supported the masking of small children, a uniquely cruel policy.
All the while, the evidence against masks was ignored. Observations showed that Covid waves followed near-identical trajectories in adjacent US school districts, regardless of whether mask rules were in place or not. Also ignored was the one properly controlled pandemic-era study to evaluate mask efficacy – known as 'DANMASK-19'. Performed in Denmark in April and May 2020, the study found no significant reduction in Covid infections among mask wearers. This essentially confirmed what was believed before the pandemic. A later study in Bangladesh did claim a small benefit to masking, but it was statistically flawed.
The science for masking is flimsy at best. And even if masks only benefitted the individual, as Fauci claimed on CNN last week, then the case for mandates still falls apart. Individuals should be free to choose at their own risk. Whether they want to cross the Atlantic in a bathtub, climb Everest or not wear a mask ought to be their own choice.
All this would matter less if Dr Fauci hadn't worn a second hat as director of the National Institute of Allergy and Infectious Diseases (NIAID), while he was heading the Coronavirus Task Force. NIAID is part of the National Institute of Health (NIH), which annually disburses over $40 billion in research grants, largely to hospitals and universities.
This makes it particularly egregious that, during the pandemic, Fauci went from studio to studio claiming that he represented 'science'. He told us that mask mandates were effective and necessary. And that anyone who criticised him was actually attacking science itself.
Given how much funding Fauci controlled, and how critical an NIH grant is to the careers of researchers in the US, few dared to speak out against him. Leaked correspondence between Fauci and NIH director Francis Collins revealed the chilling effect this had. A series of emails were released in December 2021, in which the pair coordinated a 'quick and devastating takedown' of the authors of the Great Barrington Declaration, which advocated for an end to lockdowns and for focussed protection of the most vulnerable. This made it clear that alternative suggestions for managing the pandemic were out of the question. Anyone criticising lockdowns or masks could say goodbye to their funding and reputation.
Public-health panjandrums everywhere enforced mask policies, despite having no evidence of benefit and considerable evidence of harm. Ultimately, masks impeded communication and caused undue stress (especially to children).
Among the masking advocates, Fauci is unique. He controlled both the pandemic response from his position within government, as well as a high-prestige national research-funding stream. He had a stranglehold over policy and promoted himself ruthlessly. His arrogance and dishonesty stifled science and encouraged the adoption of an entirely pointless policy. He should never have been allowed to do this in the first place. We certainly shouldn't indulge his fear-mongering again now.
David Livermore is a retired professor of medical microbiology.
To enquire about republishing spiked's content, a right to reply or to request a correction, please contact the managing editor, Viv Regan.