We need to calm down about the World Cup kiss
Luis Rubiales's overexciteable behaviour has unleashed a tidal wave of hysteria.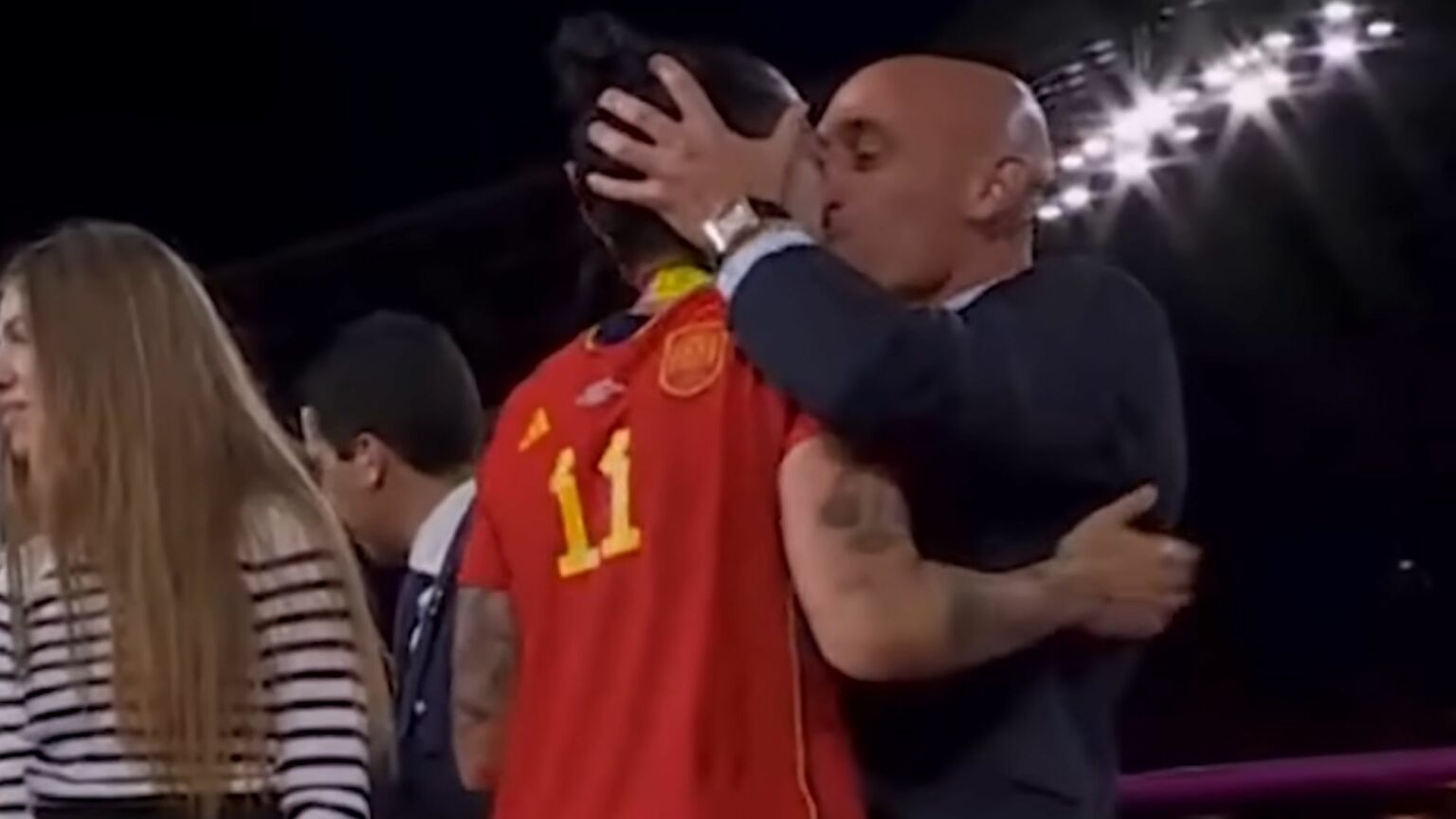 Have you seen the kiss? Most people commenting on Luis Rubiales kissing star footballer Jenni Hermoso cannot possibly have watched the pitch-side interaction that took place just after Spain's World Cup victory over England's Lionesses earlier this month. There can be no other explanation for the global hysteria surrounding the don't-blink-or-you'll-miss-it lip-on-lip contact. Footage of the moment lasts for a total of 11 seconds. This includes not just a preliminary embrace between Rubiales and Hermoso, but also him slapping her on the back as she walks away. The actual kiss lasts for a second, two at most.
Yet the fallout from these two seconds has dominated news headlines, in Spain and elsewhere, for over a week now. No matter the rights or wrongs of the behaviour of the president of the Royal Spanish Football Federation, there is something decidedly odd about this brief, exuberant peck leading British news bulletins day in, day out. For one thing, there's what we're not talking about. Rather than insight into complex political issues like war in Ukraine, housing shortages, inflation and immigration, we've had 24-hour rolling news coverage of Luis Rubiales's refusal to resign. Even for the August silly season, this is bizarre.
Our media are not just obsessed with trivialities, but also with the pursuit of simplistic moral messages. 'Man kisses woman without her consent and is punished' is clearly the story they expect. Rubiales's refusal to stick to the script, as much as the kiss itself, has fanned endless news coverage. And as the story has taken on a life of its own, it has grown further removed from what actually happened on the pitch.
Football has been completely lost in the kissing scandal. That the Spanish women's team played an amazing game, which was watched by a global audience of millions, has been forgotten. This is tragic, not just for the players who spent years in training for the World Cup, but also for girls watching at home who could have been inspired by this big event. Hermoso should be feted as a hero for her footballing prowess. Instead, she has been labelled a victim because of what happened to her after the final whistle. Her 90 minutes on the pitch have been entirely overshadowed by two seconds off the pitch that she had little control over.
This is not to let Rubiales off the hook. His response to Spain's victory was childish and inappropriately excitable. He grabbed his crotch as the final whistle went. He hugged players – some in an overly sexual way – and lifted them off the ground, before kissing Hermoso on the lips. She said she 'didn't like' the kiss and the following day Rubiales apologised. That should really have been the end of the matter.
Instead, Spain's prime minister, Pedro Sánchez, said the apology was 'not enough' and his deputy prime minister called for Rubiales to resign. Hermoso released a statement defending Rubiales but later declared that Spain's footballing union would speak on her behalf – and the union wanted Rubiales punished. Stupidly, the Spanish football federation then said it would take legal action over Hermoso's 'lies'.
Since then, FIFA, football's world governing body, has launched disciplinary proceedings against Rubiales and suspended him. There have been mass resignations among Spain's football coaching staff and women players have refused to represent their country until Rubiales goes. The Spanish football federation, having initially backed its president, is now demanding his resignation. Prosecutors have even opened a sexual-assault investigation into the kiss. To top it all, Rubiales's mother has now locked herself in a church and gone on hunger strike in protest at her son's treatment. The British media are heralding a Spanish social-media 'tsunami' which, along with street protests against Rubiales, is said to represent Spain's long-awaited #MeToo moment. But what's really going on in Spain right now is not the reckoning with misogyny it's being painted out to be.
Spain's minister for equality, Irene Montero, was among the first to call the kiss a 'form of sexual violence'. But to describe a two-second smack on the lips as an act of 'sexual violence' beggars belief. Worse, it trivialises the suffering of women who have actually experienced sexual assault. But then, we have to ask: does Montero truly care about victims of sexual assault or is she more interested in woke messaging?
Back in January, Montero oversaw the introduction of a new consent law, also known as the 'only yes means yes' law. The law, which came into effect last October, did two seemingly contradictory things. By placing consent at the heart of the law, it criminalised a wider range of sex acts than the existing laws against rape. But, at the same time, by widening and diluting the definition of sexual assault, it has also inadvertently led to more than 130 convicted sex offenders having their sentences reduced or being freed early from prison. Perhaps Montero hopes for redemption in leading the crusade against Rubiales.
There's also the broader issue of women's sport. In February of this year, Spain introduced a 'trans equality' law which made gender a matter of self-identification. This means that Spanish citizens can legally change gender with just a simple declaration. Amid all the bluster about Rubiales, this new law could effectively spell the end of women's sports. Female footballers could find themselves losing to physically bigger and stronger men who say they are women. Last week, in an ill-judged press conference, Rubiales refused to resign and criticised the 'false feminists' demanding his head. When it comes to the Spanish political class, which is eroding women's rights in the name of trans rights, perhaps he has a point.
Yes, Rubiales behaved like an idiot after the World Cup. But the reason we've talked about his inappropriate kiss for more than a week is not because it traumatised Jenni Hermoso, but because it has suited Spain's political, media and sporting elite for us to do so. Woke British journalists have joined in, outraged that when someone is called upon to resign they don't immediately comply.
Everyone needs to calm down. Sometimes a kiss really is just a kiss.
Joanna Williams is a spiked columnist and author of How Woke Won, which you can order here.
Picture by: YouTube / El Independiente.
To enquire about republishing spiked's content, a right to reply or to request a correction, please contact the managing editor, Viv Regan.