The trans movement is becoming more violent
Joanna Cherry should not need airport-style security just to speak at the Edinburgh Festival.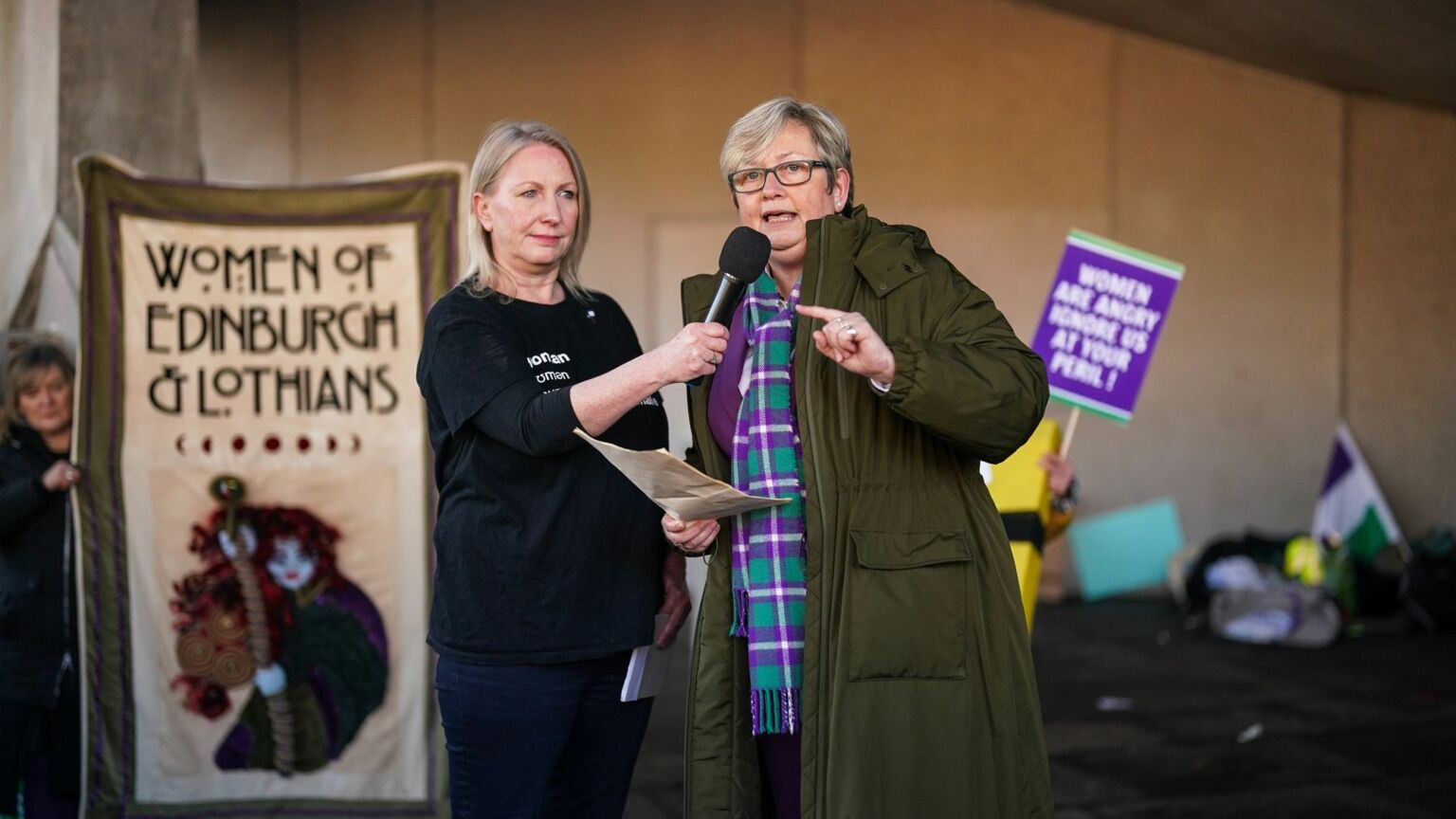 Apparently, knife-wielding criminals are coming for our comedy venues. At the weekend, the Stand announced there will be bag searches and metal detectors at one of its sell-out events during the Edinburgh Festival later this week. The venue is also taking the unprecedented step of for the duration of the show.
So what has put the frighteners on this venerable comedy club? Why does this Edinburgh Fringe show need all this beefed-up security?
Regular spiked readers may not be astonished to learn that the star turn on Thursday is actually a prominent gender-critical feminist. In this instance, it's SNP MP Joanna Cherry. Nor will you be surprised to learn that the threat of violence comes from her opponents in the trans-activist movement.
Earlier this year, this planned in-conversation event with Cherry was cancelled on the grounds that her gender-critical views might have made venue staff feel 'uncomfortable'. But after Cherry threatened to sue the Stand for breaching equality law, the show was put back on. Now, having survived an attempt at cancellation, it faces an altogether more sinister threat.
There is only one strand of mainstream grassroots activism today that threatens intimidation and violence against its political opponents. While Just Stop Oil and other eco-activists are willing to break the law by blockading roads and disrupting cultural events, only the trans mob poses a violent threat. Needless to say, this is a threat aimed almost exclusively at women.
The very fact that there is now a credible threat of violence against Joanna Cherry's Edinburgh appearance amply demonstrates the dark turn that has been taken by trans activism. There was a time when trans activists would have been satisfied with merely silencing and shaming women for having the temerity to talk about their rights. Those days are long gone.
To take just one example, in 2020, I was stewarding at an event called 'Expel Me!', which was held in response to Labour MPs calling for gender-critical party members to be banned. Trans activists were there in force. They waved their flags, sounded klaxons and set off smoke bombs. They thumped on the walls of the hall where the women had gathered. Inside, the noise was deafening. The audience struggled to hear the speakers. But it was when the meeting finished that the real intimidation began. As attendees ran the gauntlet of blue-haired protesters, an activist photographer tried to take pictures of every woman filing past. The intention was to publish their faces on social media in order to publicly shame them – and to out them as thoughtcriminals to their employers.
In light of recent events, such tactics now seem quaint. Today, the threat of physical violence is an ever-present concern for women's rights campaigners. Back in March, an elderly woman was headbutted at a Let Women Speak event in Auckland, New Zealand. In July, Julie Marshal was punched twice at a Women Won't Wheesht meeting in Aberdeen, leaving her with bruising to her arm and eye. Earlier that month, Sarah Jane Baker, a trans activist who has been convicted for kidnapping and attempted murder, called on a crowd in London to 'punch' TERFs (ie, gender-critical women) 'in the fucking face'.
Seasoned feminists like Maria MacLachlan, who was assaulted by a trans activist at Speakers Corner in 2017, will tell you that threatened or actual violence has long loomed over gender-critical events. But these incidents are clearly becoming increasingly regular and severe.
So what's driving all this? It may have something to do with the fact that, over the past year or so, trans activists have suffered a succession of defeats. Sporting bodies are increasingly putting a stop to males' participation in women's sports. Gender self-identification – the trans activists' No1 demand – now appears to be dead in the water in the UK. It seems the more that ordinary people get exposed to the trans movement, the more they dislike it. (This fact is best signalled by that eternal weathervane Keir Starmer's backtracking on the core trans-activist mantra that 'transwomen are women'.)
The downside is that these defeats for the trans movement only seem to have ratcheted up the danger women face. Like a wounded animal, the trans lobby is most dangerous when it is cornered. Tragically, until its full defeat, and maybe for some time thereafter, knife arches and metal-detecting wands could well be a fixture at events where women meet to discuss their rights.
Robert Jessel is a communications consultant working in the charity and campaigning sector. Follow him on Twitter @bruernrob.
To enquire about republishing spiked's content, a right to reply or to request a correction, please contact the managing editor, Viv Regan.