Poland, Germany and the fight for the soul of the EU
The face-off between these two nations will shape the future of the continent.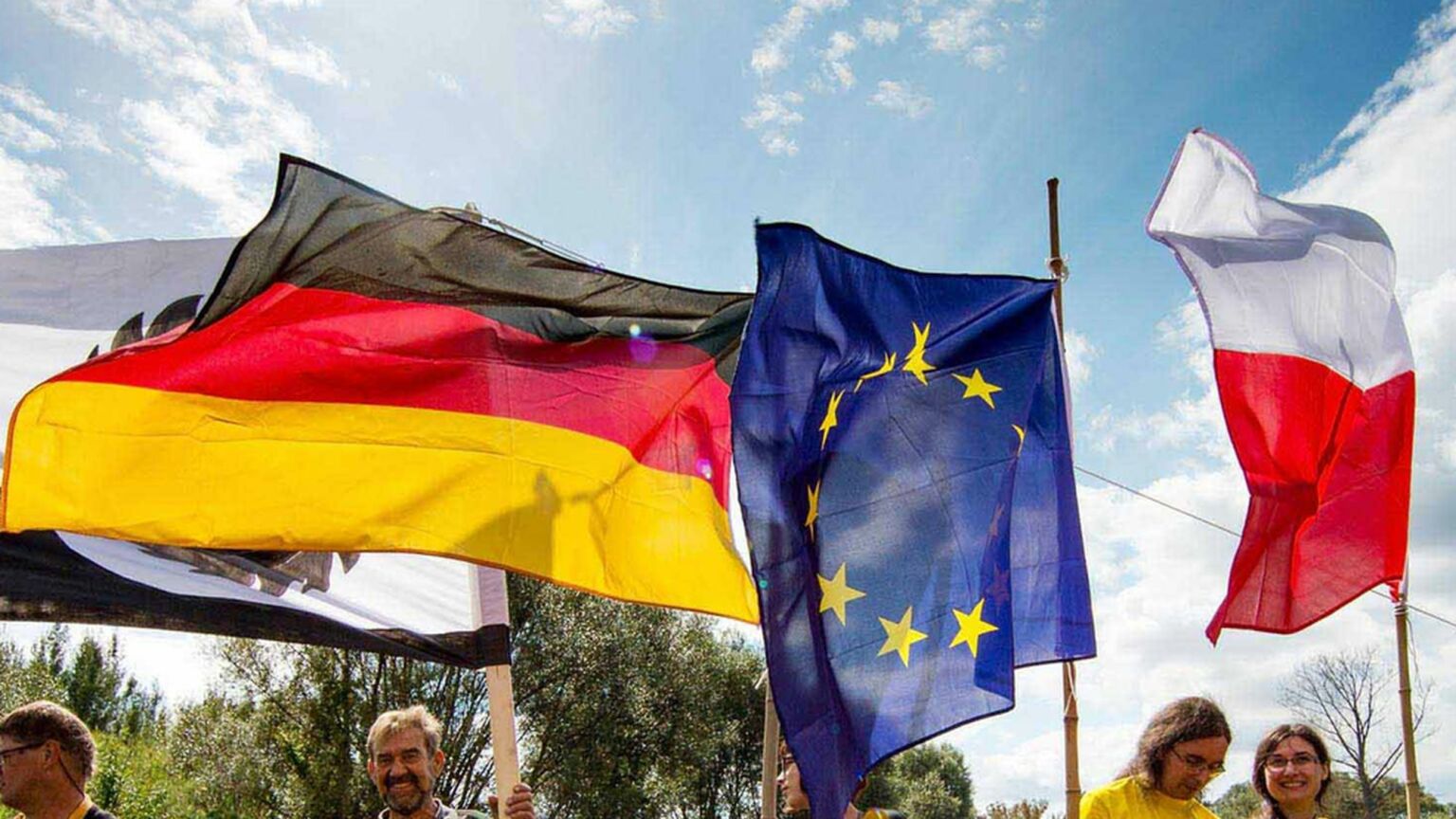 You might have heard that there is something wrong with Poland at the moment. This pretty big and important nation – the fifth-most populated and sixth-biggest economy in the EU, sat on NATO's eastern frontier – used to be a poster child for European integration. But lately, for some mysterious reason, it has apparently gone crazy, becoming 'anti-European', 'populist' and even 'autocratic'.
At least, that's the story according to the western European media, who have turned Poland into something of a punching bag. But to explain how this happened we need to add one more character: Poland's nextdoor neighbour and big brother, Germany – the most important European economy and the uncrowned monarch of the EU.
Things are tense right now between Poland and Germany. It used to be so different. After 1990, the freshly reunited Germany played a decisive role in introducing Poland into NATO and the European Union. Berlin likes to paint this story as a Biblical parable of a Good Samaritan helping his weak and wounded neighbour back on to his feet again. But it was always far more complicated than that.
Germany needed Poland as a buffer against the unpredictable post-Soviet zone. And German business was eager to profit from Poland's economic resources. A well-educated and relatively cheap Polish labour force was easily incorporated into the German production chain. And the vast Polish internal market (40million people) was filled up with western (mostly German) products, from banking services to retail and telecommunications.
At first, Poland was more than happy to collaborate with its powerful neighbour. Nobody wanted to stay in the no man's land between East and West. But nothing can last forever. And Poland's successful integration into Europe soon threatened to complicate its 'little brother' relationship to Germany.
In 2004, the year that Poland joined the EU, the ratio between Polish and German GDP per capita was 1:5. Now it is more like 1:3. And the catch-up process is far from over. The German economy is stalling, while Poland's is still growing. Now, you would think, would be a good time to put relations between the two countries on a more equal and sustainable footing.
Indeed, the quest for more equitable relations has become a key part of the Polish political agenda since 2015, when the Law and Justice Party (PiS) came to power. The western European media tend to call PiS a right-wing party. But that's way too simplified. In fact, its political modus operandi is a mixture of left-wing populism and a marked lack of enthusiasm for Western wokism (which is enough to have you labelled right-wing or even 'fascist' nowadays).
If you look more closely, and try to figure out who started labelling PiS as dangerous, anti-democratic right-wingers, you will find the German mainstream media. But this has little to do with PiS's actual domestic policies and everything to do with Poland's changing stance towards Germany.
Poland, under PiS, has abandoned the fundamental European dogma: namely, that Germany is the natural leader of the EU and that smaller countries' role is to obey. What's more, PiS dares to have its own ideas and dissents on key topics, clashing with well-established German positions. Since 2015, this has been particularly vivid in areas such as relations with Russia, securing energy supplies for Europe, and the pace (and costs) of the green transition.
Berlin has taken every opportunity to show that the queen is not amused. This has come to the fore since the appointment of Ursula von der Leyen – a minister under former German chancellor Angela Merkel – to the top job at the European Commission. Poland has been grilled and intimidated by Brussels ever since, for allegedly breaking with 'European values', especially the rule of law. This is despite the fact that the recent judicial reforms in Poland, the very ones that have so enraged Brussels, are based on regulations that already exist in the German legal system.
In response to the reforms, von der Leyen has withheld Poland's share of EU Covid recovery funds. And Warsaw has retaliated with its own ultimate weapon: it has made a formal reparations claim for the atrocities committed by Germany against Poland during the Second World War. Warsaw has even put a figure – $1.3 trillion – on it.
You would be wrong to assume that this is only a struggle between two neighbouring countries with a difficult mutual history. There are good reasons to believe that the Polish challenge to Germany's rule could be a good thing for Europe as a whole.
After all, Berlin's leadership of Europe is hardly an optimal one. On 24 February 2022, the day Putin began his invasion of Ukraine, this became obvious. The German policy of fuelling the green transition with Russian natural gas was exposed as fatally flawed.
For many years, Germany didn't want to hear any objections. Berlin ignored or actively fought anyone who argued that this kind of naive policy towards Russia was luring Europe into the trap, giving Vladimir Putin huge leverage over European nations.
This was the very same type of deafness that Berlin showed during the Eurozone debt crisis, or during the first migration crisis in 2015. For many years, there has been this peculiar type of panzer leadership. The German elites set the goal and go for it like a tank. If someone gets in their way, they ignore, bully or intimidate. No matter the consequences.
European integration has always been built on the ruling principle of unanimity. It may make Europe look weak at times, but it smooths internal tensions and strengthens integration. But for many years now Germany's goal has been to lay unanimity into the grave and replace it with a majority system, where dissenting states can be sidelined.
The Germans argue this will make Europe more effective. But is this really the best solution? What about dissent and a diversity of perspectives inside the EU? What about the interests of smaller countries? Won't this disconnect them from the European idea? Isn't overriding the wishes of smaller states bound to fuel internal tensions within the EU?
These are valid questions. And Poland (or any other who dares) has every right to ask them. Even if Berlin doesn't like it.
Rafał Woś is a Polish journalist and commentator.
To enquire about republishing spiked's content, a right to reply or to request a correction, please contact the managing editor, Viv Regan.