How the Lia Thomas scandal could save women's sports
The sight of a hulking great male winning a women's trophy exposed the insanity of the trans ideology.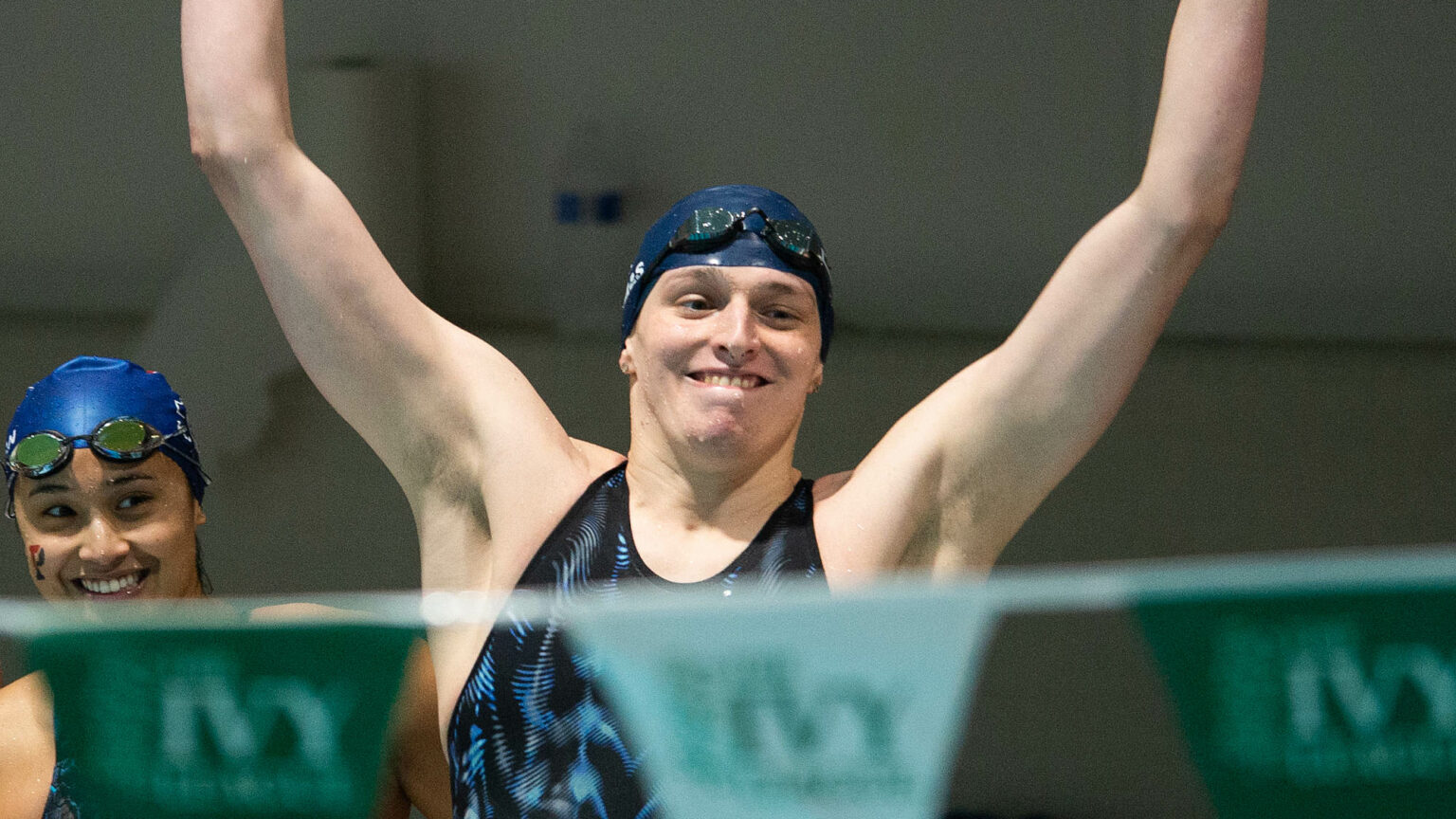 Sane people across the world owe a debt of gratitude to American swimmer Lia Thomas. This is the six-foot-one man who was first allowed to compete on the University of Pennsylvania women's team in March last year. The sight of this hulking male, standing in first place on the winning podium at a top-level college competition, forced pundits and politicians to face the consequences of the lie that 'transwomen are women'.
The spectacle also inspired many athletes to speak out about the madness of allowing men to identify into women's sports. This is not just a question of sporting injustice, either. As Paula Scanlan, one of Thomas's teammates, explained in her testimony to the US congress last week, she and her fellow female swimmers were expected to get changed alongside Thomas 18 times per week. University officials refused to hear any complaints about this from the female swimmers, telling them instead that they needed to be 're-educated'.
The cruelty of this is hard to understate. Speaking to the New York Post earlier this week, Scanlan said swimming had previously helped her recover from the trauma of a sexual assault that she suffered in a bathroom as a 16-year-old. But being forced to share a changing room with the obviously male Thomas gave her 'nightmares for weeks about men being there while we were dressing'.
It's not just the experiences of Thomas's former teammates that have caused a splash. When college champion swimmer Riley Gaines tied in a race with Thomas last year, he was given the women's trophy and she wasn't. Infuriated by the injustice, she has since become an advocate for single-sex sporting categories.
Fighting for fairness in women's sports is not easy, however. In April, Gaines was forced to barricade herself inside a room for around three hours at San Francisco State University. A mob of around 100 trans activists had ambushed her in order to prevent her from delivering a speech.
Thankfully, the sporting world is starting to wake up to the problem. In June 2022, FINA, the governing body of world swimming, announced that to compete in the women's category, athletes must prove they 'have not experienced any part of male puberty'. FINA president Husain Al-Musallam said he understands 'why transgender athletes would like to compete in a category of their choice', but he also has an obligation to 'protect competitive fairness'.
Concerns about basic fairness don't seem to bother trans activists, though. Yesterday, when defending the right of men who identify as trans to participate in women's sporting categories, LGBT campaigner Peter Tatchell tried to argue on GB News that 'non-trans' athletes can also have biological advantages, such as 'large hearts and lungs'. He then asked why these athletes are 'not banned' as a result. This argument, to be polite, is nonsense.
First, trans people have not been 'banned' from sporting competitions at all. Males like Thomas are still free to compete against other men. And second, going through male puberty confers significant physiological advantages on athletes in almost all cases. These include increases in upper-body strength, bone density, muscle mass, lung capacity, hand size and height. This is why male athletes will almost always beat their female counterparts.
Still, while sporting bodies like FINA are starting to stand up for biological truth and fairness, the battle to preserve single-sex spaces continues. Some might dismiss this as a storm in a changing room, but there are many women who will simply stop going swimming or trying on clothes if they are faced with the prospect of sharing an intimate space with men.
Lia Thomas has made it all too clear why men do not belong in women's sports. It's time we recognised they don't belong in women's spaces, either.
Jo Bartosch is a journalist campaigning for the rights of women and girls.
To enquire about republishing spiked's content, a right to reply or to request a correction, please contact the managing editor, Viv Regan.