This is not the apocalypse
The fear-mongering over the Rhodes wildfires is irrational and dangerous.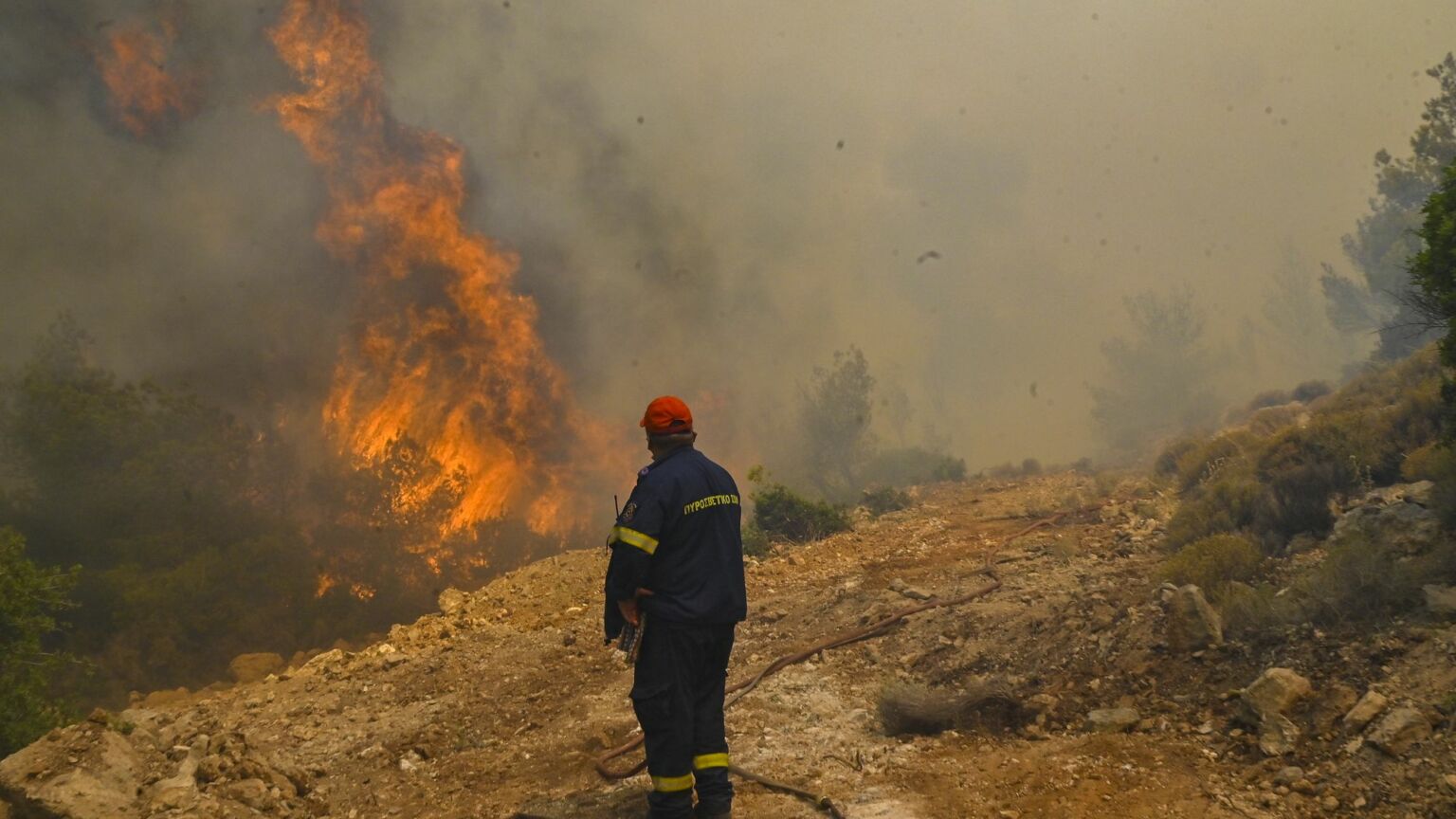 The End Times have arrived. 'Hell on Earth' is a reality. Mankind has sinned, and here is the punishment. That is what we're expected to conclude from the wildfires that have been raging through Rhodes and other Greek islands over the past few days.
Few recent events have captured the apocalyptic imagination like these wildfires. 'Brits escape inferno with seconds left', roars the Sun. Front-page photos show long lines of families walking down dirt roads, beneath ominous orange-smoked skies. The broadcasters show fires consuming buildings, as landscapes are turned to ash. In countless vox pops, displaced tourists describe their 'terror' and liken their experience to a 'disaster film'.
A familiar culprit has already been identified. It's climate change. What else? 'The climate crisis is already here, it will manifest itself everywhere in the Mediterranean with greater disasters', warned the Greek prime minister Kyriakos Mitsotakis earlier today.
Of course, whenever the elites blame climate change, they're really blaming us. We, the people, and our temerity to want to heat our homes, to drive our cars and travel for foreign holidays. All of which require fossil fuels. One climate scientist, responding to the Rhodes fires, professes himself baffled by the 'the stupidity of people who still travel by plane on vacation, contributing to the very climate carnage they are complaining about'.
Others have even used the Rhodes fires to attack those pesky voters in Uxbridge – the 13,965 people who rejected the ULEZ clean-air scheme in Outer London in last week's by-election. They have forced the UK government to rethink its punishing plans for Net Zero. Now Rishi Sunak is, in the words of the i's front page, 'Fiddling while Rhodes burns'.
The fact that arson is suspected to be the root cause of the fires doesn't seem to matter much. A fire chief in Rhodes has said that whether through malice or negligence, these fires were 'set by human hands'. He has also suggested that suspects have been identified and that arrests are imminent. In Corfu, where the fires are now under control, officials have also blamed arsonists.
Still, for the climate alarmists, extending your carbon footprint by taking a short flight to the Med is 'a kind of arson in itself'. And we deserve whatever punishment is coming for us. After all, we are, as comedian Stewart Lee puts it, 'The foolish crowd, idly accepting the collective suicide of their species and the death-by-negligence of their planet'.
These apocalyptic tones, the disaster-movie framing, the finger-pointing at wicked humans, have clouded any sense of perspective about these wildfires. Yes, they have been disruptive and destructive. Some 19,000 people were evacuated from Rhodes, making this one of the largest rescue efforts the Greek authorities have ever attempted. Many Greek locals have lost their property and, in a tourist-heavy area, their livelihoods, too. In many cases, tourists were forced to flee their hotels, abandon their belongings and sleep in grim conditions in evacuation centres. But, thankfully, at the time of writing, there have been no reported fatalities. Six people were briefly hospitalised and all six have been released. The apocalypse this isn't.
Nor is it right to see deadly wildfires as an inevitable consequence of climate change – as part of our 'apocalyptic "new abnormal"', as two climate writers describe it. It is true that rising temperatures can create the conditions for wildfires to spread and multiply. But overall, on a global scale, there is no evidence to suggest we're being consumed by fire. Advances in fire-suppression techniques have actually led to dramatic reductions in fires over the years. In the early 1900s, in the era before global warming, around 4.2 per cent of land worldwide was burned every year. Today, just three per cent of the world is burned each year. In fact, NASA satellites show that even in just the past two decades, the global burnt area has shrunk by up to a quarter. The year 2023 has, so far, been an average year for fires in Europe.
There is similar good news across the board when it comes to other climatic disasters. Over the past 100 years, deaths from climate-related incidents have plummeted by 96 per cent – even as the world population has quadrupled. Our risk of dying from an extreme-weather event is 98 per cent less than it would have been before the Industrial Revolution – the moment that kickstarted the burning of fossil fuels that are so demonised today.
Alarmists claim that humanity has unleashed hell. That our evil and selfish behaviour has upset the planet's delicate natural balance. But nothing could be further from the truth. In reality, humans are taming a wild and unforgiving planet. The expansion of the human footprint is making Earth a safer and better place to live.
The apocalyptic fear-mongering, this medieval urge to chastise us for our eco-sins, is irrational and dangerous.
Fraser Myers is deputy editor at spiked and host of the spiked podcast. Follow him on Twitter: @FraserMyers
To enquire about republishing spiked's content, a right to reply or to request a correction, please contact the managing editor, Viv Regan.