The perversion of anti-fascism
Anti-fascists used to fight the likes of Franco. Now they threaten to punch women in the face.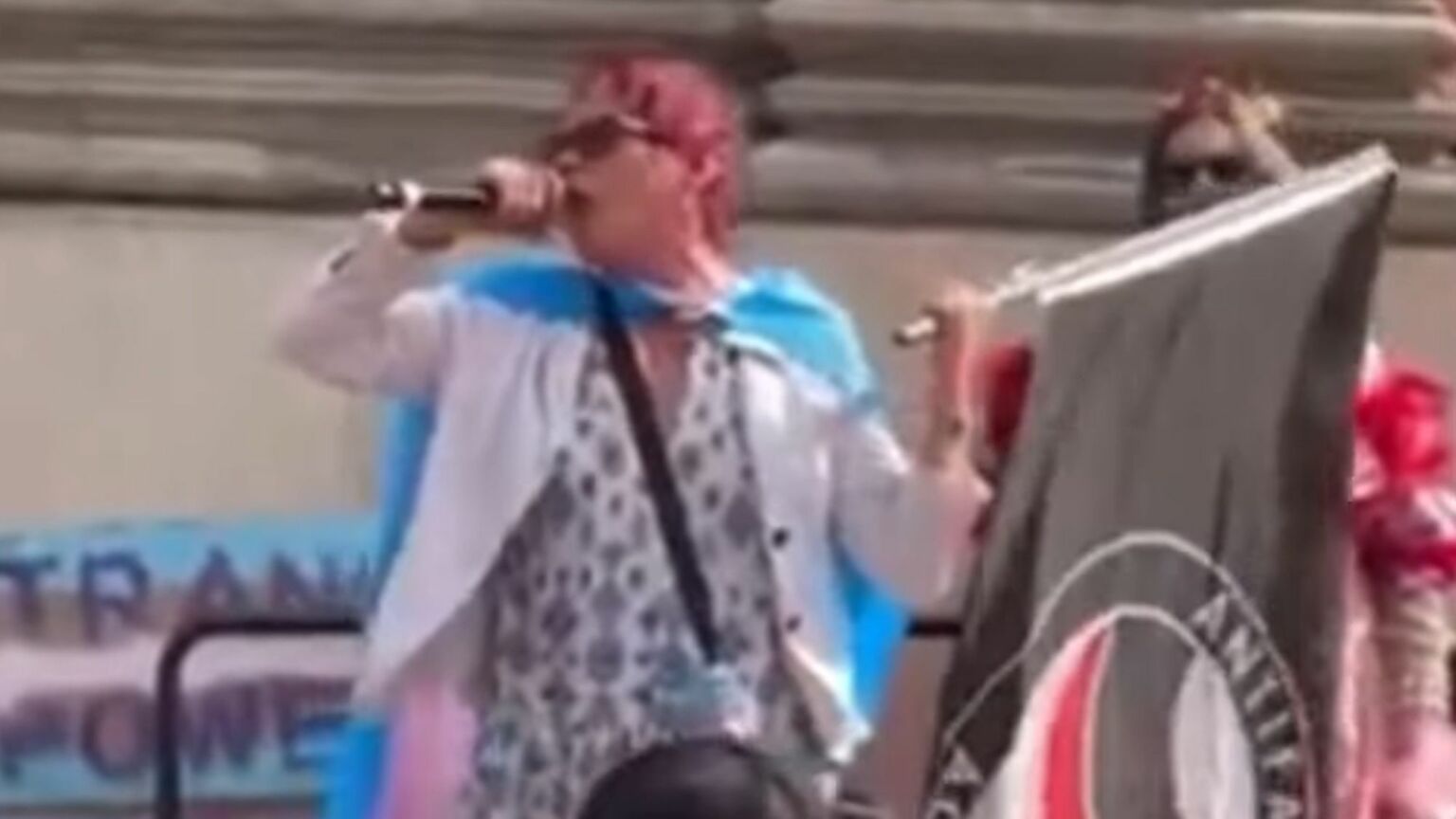 Over the past few years, I have become dismayed by identitarian leftists misappropriating the symbols of radical working-class history. You can often see them waving the red and black flags of the anarcho-syndicalist and anti-fascist traditions on anything from pro-EU rallies to trans-rights demos. They clearly have no understanding of the history or the context of those symbols or the struggles and ideas behind them.
Perhaps the most egregious example of this came at the Trans+ Pride event in London earlier this month. Transwoman Sarah Jane Baker could be seen waving the anti-fascist flag while telling the crowd, 'If you see a TERF, punch them in the fucking face'.
Trans activists use TERF, an acronym for 'trans-exclusionary radical feminist', as a slur for women who hold gender-critical views. It effectively dehumanises any woman who doesn't agree with all or parts of gender ideology. At Trans+ Pride, Baker was essentially telling the crowd to mete out violence to these women – all while waving a flag associated with a radical working-class struggle.
The red and black flag of anarcho-syndicalism was first used in the Spanish Civil War by the Confederación Nacional del Trabajo (CNT). The CNT was a group of mostly working-class people, peasants and trade unionists. They had taken up arms in an attempt to stop General Franco's far-right takeover of Spain in the early 1930s. Many were killed by the Franco regime during this period. Some trade-unionist and working-class families disappeared completely.
At the same time, an anti-fascist movement was emerging elsewhere in Europe that also used a red and black flag. In Italy, Austria and Germany, people were fighting back against the fascists under its banner.
Both the anarcho-syndicalist and anti-fascist flags share a similar symbolism. The red represents communism. It invokes the principle of material equality, 'from each according to their abilities, to each according to their needs'. The black represents anarchism or social freedom – the freedom, that is, of each individual to do as they please so long as their actions don't cause harm to others. Together, the red and black symbolise a radical political vision. Or at least they did.
Today we see trans activists appropriating these flags and distorting their meaning. This is an absurd attempt to arrogate a working-class, left-wing tradition for their own ends. After all, what have the struggles of the 1930s – of fighting Franco or the Nazis – got to do with punching women in the face?
I am not anti-trans. I believe that all trans people have the right to exist and to be called whatever pronouns they want. But women have quite rightly raised concerns that their hard-won rights are being eroded in the name of trans rights. So for trans activists to try to silence those raising concerns with threats, and to dress this up as part of a radical tradition of working-class resistance, is grotesque.
Those who consider themselves to be radical or on the left need to speak out against this. Activists are exploiting the struggles of the past to lend their identitarian movement a radical sheen it does not deserve. Fighting fascism in the 1930s was a noble cause. Wanting to punch women in the face because they do not agree with you most definitely is not.
Dr Lisa McKenzie is a working-class academic.
Picture by: YouTube / the Telegraph.
To enquire about republishing spiked's content, a right to reply or to request a correction, please contact the managing editor, Viv Regan.