The shameless hypocrisy of Huw Edwards' defenders
Those who would cancel you for an off-colour joke think it's outrageous to expose Edwards' alleged misdeeds.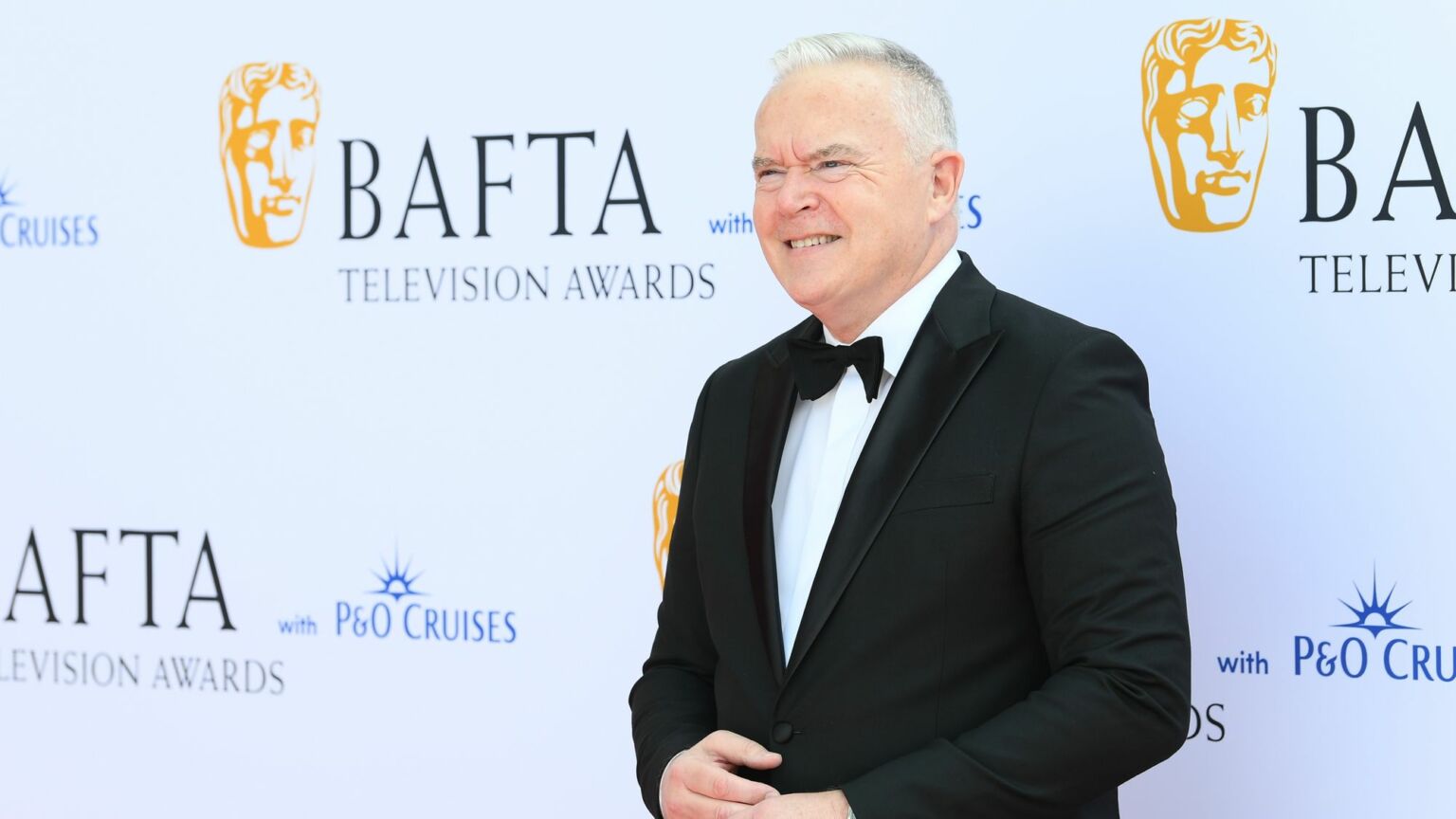 So now we know… what we already knew. The mystery 'BBC presenter' has been revealed to be Huw Edwards – the man accused by the Sun newspaper of sending thousands of pounds to a crack-addicted youngster in exchange for sexual images. Even though everyone in the media, and much of social media, had already worked out who it was, not least given the top BBC man's absence from our screens, it at least puts an end to the farcical – not to mention legally perilous – game of Guess Huw that had been rumbling on online and in the media for the best part of a week.
Last night, Edwards' wife, Vicky Flind, confirmed in a statement that her husband was the man in the frame. She appealed for privacy, revealing that Edwards has been hospitalised with mental-health issues. Notably, she didn't deny the allegations, which now include claims that Edwards sent 'inappropriate' messages to BBC staff, but said her husband would be responding to them in due course. Before he went into hospital, Edwards liked a tweet suggesting the Sun could face 'the mother of all libel actions', giving an indication of what that response might look like.
The airwaves are awash with Edwards defenders saying now is the time to draw a line under it. And that's understandable, in a sense. We're all desperate to talk about something else and happy to give a clearly troubled – and now disgraced – man his space. The Sun, for its part, says it will refrain from publishing more stories about him for the time being and will cooperate with the BBC's internal investigation. But it has become abundantly clear that by 'drawing a line under it' Edwards' defenders mean accepting that the story was bullshit to begin with, that this scandal was confected by the Sun as part of some crusade against the BBC, and that here ends another sorry chapter in the history of press intrusion. Edwards' outing has prompted another spasm of tabloid-bashing among the supposedly respectable media.
Jon Sopel, former BBC man and friend of Edwards, has been leading the charge. 'There are a number of people in the tabloid press and, dare I say it, in BBC News who need to give themselves a good, hard look in the mirror', he told Good Morning Britain today. He was furious last night when the BBC dared to report that BBC staff had also accused Edwards of misconduct. 'Well done on handling the breaking news about Huw Edwards and the fact that he's now being treated in hospital', he said, 'but to then straight off [the] back of that [go] into a report on him facing fresh allegations of misconduct? That was just terrible.' (Should those staffers have just kept their mouths shut, Jon?)
The Guardian's Owen Jones has also been spitting feathers, as is his wont. Jones, like Sopel and the rest of Team Huw, seems to have drawn the conclusion that because Edwards hasn't been charged with any crime – the Metropolitan Police have said 'there is no information to indicate that a criminal offence has been committed' – the story is now exposed as nonsense. 'The Sun is a disgusting rag and they have to pay for what they've done to Huw Edwards', Jones tweeted last night. 'They tried to destroy someone's life with false claims of illegality involving a minor. We know now there was no criminality, and the Sun has driven a vulnerable man into medical care.' This is all despite the fact that the original story made no claims of illegality, only alleging that the 'sleazy messages' began when the youngster was 17. The Sun only really began discussing the potentially criminal nature of the case when the BBC called the police in to investigate. Otherwise, its reporting has predominantly focussed on the young person's parents' complaints that the BBC, rather than the police, hadn't intervened in the case.
It is hard to know where to start with all this. First off, if you genuinely believe that the Edwards thing is not a story – if you think that allegations that a powerful man used his taxpayer-funded wealth to pay a crack-addicted young person for sex pics amount to a big fat nothing – then you do not belong in journalism. Edwards should not be condemned by allegations alone. He has every right to defend himself robustly, and we should give him a fair hearing. Even if he is proven to have made some terrible mistakes, he shouldn't be written off because of them – society has become far too vengeful in that regard post-#MeToo. But the 'it's not criminal, so leave him alone' defence is moronic. If that's the standard going forward, press freedom is in real trouble – and the rich and powerful will be able to rest very easily indeed.
Of course they don't really think that. They just want a different standard to apply in this case, because they're mates with Edwards and feel sorry for him (Sopel) or they have a white-hot hatred for the tabloids (OJ). Indeed, could you imagine the response if the man at the centre of this story had been a similarly sized star from the right-wing media – or a Tory MP? We don't need to imagine, because we've been there before. When #MeToo hit Westminster, a string of Tories were put through the wringer for, frankly, much less serious allegations – like when then deputy prime minister Damian Green was splashed across the papers for 'fleetingly' putting a hand on a journalist's knee. Where was all this talk of Green's 'private life' then?
Or what about all the times Owen Jones has set about trying to 'destroy someone's life' (to use his phrase), usually because of things he or she has said, rather than things he or she has actually done. He led the successful campaign to get conservative commentator Toby Young sacked from a position at the Office for Students, over a series of off-colour jokes Young made on Twitter. Jones also pushed outrageous smears that Young is a supporter of eugenics. He is also fond of accusing Spectator columnist Rod Liddle of wanting to rape children, based on a joke Liddle once made in a column. (Detecting humour seemingly isn't OJ's strongpoint.) Jones also once demanded that Oxford University fire one of its employees, because the man in question had tweeted something unpleasant about his mate, Ash Sarkar.
The hypocrisy of these people is staggering. For all the talk of the Sun hopping on the Huw Edwards things to pursue some demented vendetta against the BBC, it is clear who has a broader agenda here. Sections of the broadcast and broadsheet media have long loathed the right-leaning tabloid press, because they disagree with it politically and they loathe the working-class people it caters to. They have long dreamed of shutting these titles down or bringing them to heel via state regulation. What's more, for all this talk of the Sun ruining lives, and taking upon itself the role of great 'moral arbiter', it is hard to think of a better description of some of these people's social-media activities in recent years, as they've run around trying to cancel those who disagree with them.
So yes, let's all move on from Huw Edwards and his (alleged) collection of very expensive snaps. But let's not take any lectures from his censorious, snobbish defenders, either. And let's not let them turn this into yet another crusade against the freedom of the press.
Tom Slater is editor of spiked. Follow him on Twitter: @Tom_Slater_
To enquire about republishing spiked's content, a right to reply or to request a correction, please contact the managing editor, Viv Regan.