Why Remainers are still furious about Brexit
The liberal elites will blame literally anything on our decision to leave the EU.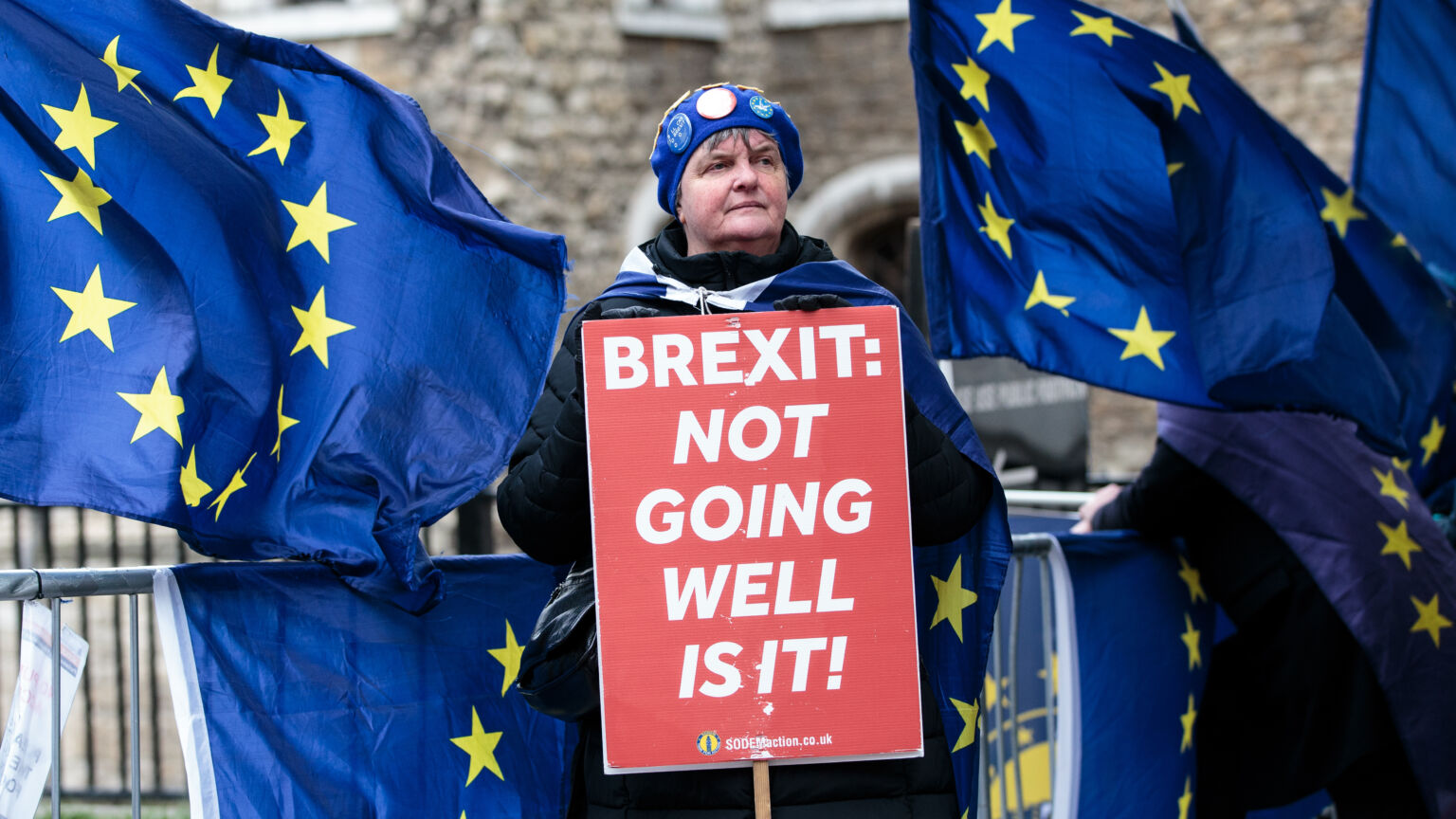 In case you weren't aware, Brexit has been a 'disaster'. This, at least, was the clamorous verdict last week upon the seventh anniversary of the vote to leave the European Union. According to recalcitrant Remainers, Brexit has given us nothing but economic stagnation, inflation, trade impediments and, most unforgivable of all, queues at airports. 'Brexit has ruined my holiday', the resentful Remainers keep repeating and bleating.
For Remaniac types in this debate, Brexit is entirely about the economy. Democracy, sovereignty and community cohesion matter little or nothing to these money-worshippers. So let's talk about the economy. Has Brexit really been an economic calamity?
It's true that since Britain finally left the EU Single Market and Customs Union in December 2020, extra paperwork has been needed for cross-border trade. This has reduced business investment, increased uncertainty and affected small businesses. The UK has also suffered a retreat of EU labour, which has had a deleterious effect on certain industries, such as seasonal fruit picking. Sure, contrary to the breathless speechifying of the Leave campaign's utopian fringe, there was always going to be some economic disruption – albeit mainly as a result of the EU's fortress mentality.
Yet the benefits of Brexit are still there to be seized. There is still huge potential for expanding and deepening our democracy – and for remaking our broken economic model. Brexit remains a work in progress. It's therefore too early to pass a verdict. Not least as so much time has been wasted in the past seven years thanks to the government's prevarication and Remainer foot-dragging. As Mark Littlewood, director-general of the Institute of Economic Affairs, wrote in The Times on Monday:
'A swift and decisive move to either get on with Brexit – or to agree to cancel it – would have had the benefit of clarity. Instead, we got a morass of constitutional confusion… I still don't think that Brexit was the wrong decision, but it's frustrating to see how little we have done with it.'
What certainly hasn't transpired, as many Remainers forecast with unshakeable certainty in 2016, is a Brexit-induced collapse of the UK economy. Yes, we faced an enormous recession during the Covid crisis. And we have faced mounting inflation when coming out of lockdown, especially since the invasion of Ukraine in 2022. But to blame Brexit on our current economic woes is simplistic and wrong. As Ryan Bourne of the Cato Institute wrote last Thursday: 'Brexit… is a marginal issue for inflation compared with the pandemic, Ukraine war shocks and monetary errors seen since 2020.'
The 'Blame Brexit' narrative really does not wash when you compare the economic fortunes of the UK to our erstwhile EU partners, especially Germany – a country now in recession and which is also beset by inflation and a slump in wages. Since 2016, the UK's GDP has grown by 5.9 per cent, while Germany's GDP has increased by five per cent. The rest of the EU remains just as economically troubled.
So why all the relentless invective from the Remainers? Much of it owes to resentment at having lost in 2016. The elites had it all their way until then. They still can't stand it that the uppity masses, 52 per cent of them, took control. Hence the shameless snobbery we see on social media. As one all too typical tweet had it recently:
'It's beyond doubt, sir, that education and class had big effects on voting. The dogs in the street know that this bastard thing was heavily influenced by not-too-bright, working-class, northern-English types. Your Middlesborough- or Lincoln-type man. Poor souls that they are.'
The defeat of 2016 wounded the pride of our Remainer overclass. They were wrongfooted by the savvy working class and by an unsophisticated but well-informed lower middle class. Worse still, their forecasts of woe proved to be totally wrong, which has only made their mood of rancour and discontent even more acute.
Brexit has since spawned a new, angry tendency among centrist types, epitomised by the likes of James O'Brien and Alastair Campbell. They constantly fume with exaggerated rhetoric about 'disaster'. They endlessly deprecate the impudence of the peasants. And most of all, they just won't shut up about their holidays being ruined.
Will the Remoaners ever give it a rest?
---
The problem with 'inclusion'
According to James Jordan, star of Strictly Come Dancing, there will soon be no straight white men on television. The ballroom dancer's comments came after he was asked who should be the new co-presenter of ITV's Dancing on Ice, now that Phillip Schofield has left. He was asked whether it should follow Strictly's example of having an all-female presenting duo. 'I like to see men present as well, otherwise we're going to see no white, heterosexual men on TV anymore', Jordan replied.
He has a point. Following Schofield's departure from This Morning last month, his former co-anchor, Holly Willoughby, returned to the programme with a female co-anchor, Josie Gibson.
And there is a broader pattern here. When David Dimbleby departed Question Time, he was replaced by Fiona Bruce. When John Humphrys left Mastermind, he was replaced by Clive Myrie. Now that Jeremy Paxman has left University Challenge, the new presenter is to be Amol Rajan. Meanwhile, the new criterion of eligibility for the role of the Doctor in Doctor Who is that she or he must be anything but white and male.
So-called diversity and inclusion is just woke-speak for exclusion – at least where white men are concerned.
---
Class is still the key conflict in Britain
This month, we have been celebrating the 40th anniversary of Blackadder, with its pilot being broadcast for the first time on UKTV channel Gold. And Lee Mack's entertaining comedy, Not Going Out, has just returned to our screens on BBC One.
Both programmes epitomise a British obsession with class. Edmund Blackadder, at least from the second series onwards, was a frustrated middle-class type surrounded by brainless royals and toffs, as well as a braindead prole in Baldrick. Meanwhile, Lee Mack's protagonist is an earthy northerner, forever struggling to get to grips with life in bourgeois London.
Class divisions continue to demonstrate their ugly side in Britain. Class divides us when it comes to Brexit, immigration and environmentalism. Witness, for instance, the unmistakable class conflict between Just Stop Oil activists and working men. So it's nice to see that matters of class can still have a benign aspect.
To enquire about republishing spiked's content, a right to reply or to request a correction, please contact the managing editor, Viv Regan.