Matt Hancock would lock us down forever
Lockdown turned political pygmies into would-be tyrants.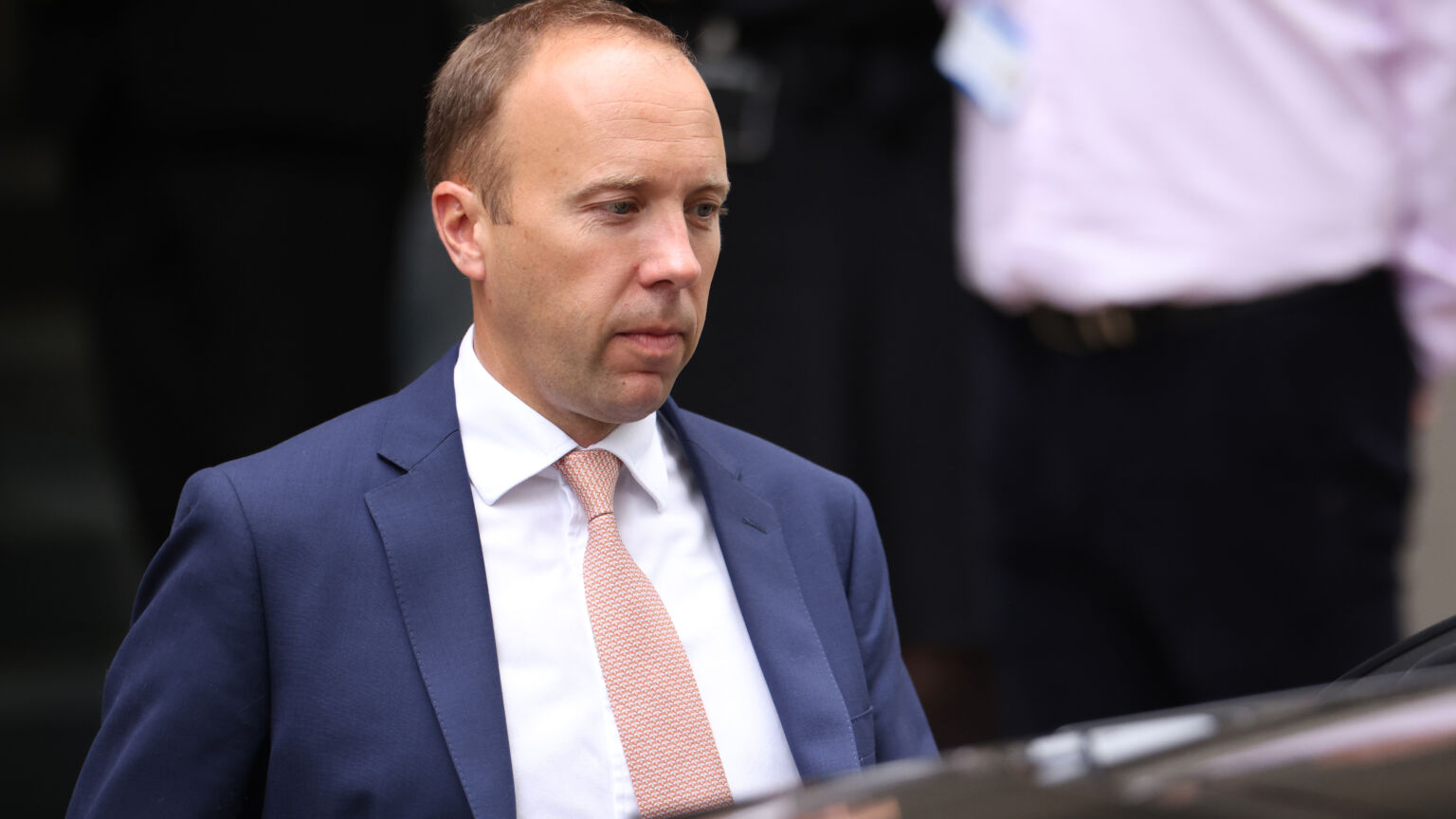 If you want a picture of the future, just imagine Matt Hancock forcing the nation into house arrest – for ever. At least, that was the dystopian vision painted by the former UK health secretary during his turn at the Covid inquiry earlier this week.
Reflecting on early 2020, when Covid first hit, Hancock slammed the UK's 'woefully inadequate' preparations for the pandemic. By this, he didn't mean his department's failure to stockpile PPE, or the NHS's relative lack of beds, doctors and nurses compared with other European countries. He wasn't even referring to the fact that the UK had based its pandemic plans on a flu virus rather than a coronavirus. No, he was slamming the public-health establishment's failure to consider lockdowns before March 2020. It was an 'oversight', he said, that we did not plan for a lockdown and build it into our pandemic plans. The great scandal of the Covid years, according to Hancock, was not the unprecedented, wholesale destruction of our civil liberties, but the fact we didn't plan to do it beforehand.
It gets worse. Hancock also thinks that the brutal restrictions we endured in 2020 and 2021 were not nearly restrictive enough. The next time a virus hits, he said, we need to take 'action' that is 'wider, earlier, more stringent than feels comfortable at the time'. Essentially, he seems to believe that with a bit more lockdown, by '[hitting] the pandemic hard' and early, the UK could have escaped the ravages of Covid.
This is deranged. Wuhan in China tried to control the virus with a sharp, harsh lockdown in January 2020, soon after Covid first emerged. Citizens were not only ordered to stay at home by law, as we were in the UK. In some cases, they were also welded and barricaded into their apartments. This being CCP-led China, the strictness, enforcement and surveillance was on a different scale. Is this the 'more stringent' type of measure that Hancock has in mind for next time?
These restrictions were not only so onerous that the Chinese government eventually had to change course, but they also didn't stop the virus. The so-called Zero Covid policy, which aimed to eliminate Covid in China, had to be abandoned in December 2022. By January 2023, an estimated 80 per cent of Chinese people had been infected with Covid. Lockdown was tested to destruction in China. And it failed miserably.
Hancock's testimony also ignored the experience of Sweden, where there were never any lockdowns. Schools remained open, as did bars and restaurants, albeit with social-distancing rules and limits on group sizes. Yet despite this, three years on, Sweden has emerged with some of the lowest excess deaths in Europe. By avoiding the extraordinary harms associated with lockdown, it saved more lives in the longer run.
Perhaps even more alarming than Hancock's call for more stringent lockdowns is his call for 'earlier' ones. Essentially, this is a call for pre-emptive lockdowns – a call to shut down society at the merest hint of a threat. This would be a recipe for semi-permanent restrictions.
After all, there have been numerous public-health scares in even the recent past. In 2005, Professor Neil Ferguson, whose Covid models bounced the UK into its first lockdown, warned that 200million people could die from bird flu worldwide. Thankfully, no restrictions were implemented and fewer than 300 people died. In 2009, the UK government's 'reasonable worst-case scenario' for swine flu predicted 65,000 deaths. In the end, just 457 Brits died. Even monkeypox – a disease seemingly spread primarily by anal sex among gay men – prompted demands for school closures from some US public-health experts when it flared up last year.
Should we have introduced strict and early lockdowns to counter these disease outbreaks? Many of them were, at one point or another, talked up as extinction-level events by at least some public-health scientists. According to Hancock's precautionary principle, the Covid restrictions should probably have been extended to counter the monkeypox epidemic, too.
While it is certainly a relief that Hancock is no longer anywhere near power, his authoritarian thinking has not gone away. You could see this at the Covid inquiry this week, where the former health secretary's lunatic demands for never-ending lockdown went totally unchallenged by his inquisitors. Indeed, the Covid inquiry seems to have already settled on the narrative that the UK's lockdown was too late and too light (and, bizarrely, that Brexit may also have been to blame for Britain's Covid death toll).
We may have escaped the Covid lockdowns, but the threats to our civil liberties remain. Lockdown legitimised authoritarianism on a terrifying scale. It turned political pygmies, like Matt Hancock, into would-be tyrants. We must never let them lock us down again.
To enquire about republishing spiked's content, a right to reply or to request a correction, please contact the managing editor, Viv Regan.