What was a topless trans TikToker doing at the White House?
The Biden administration's zeal for all things LGBTQ is utterly baffling to the average American.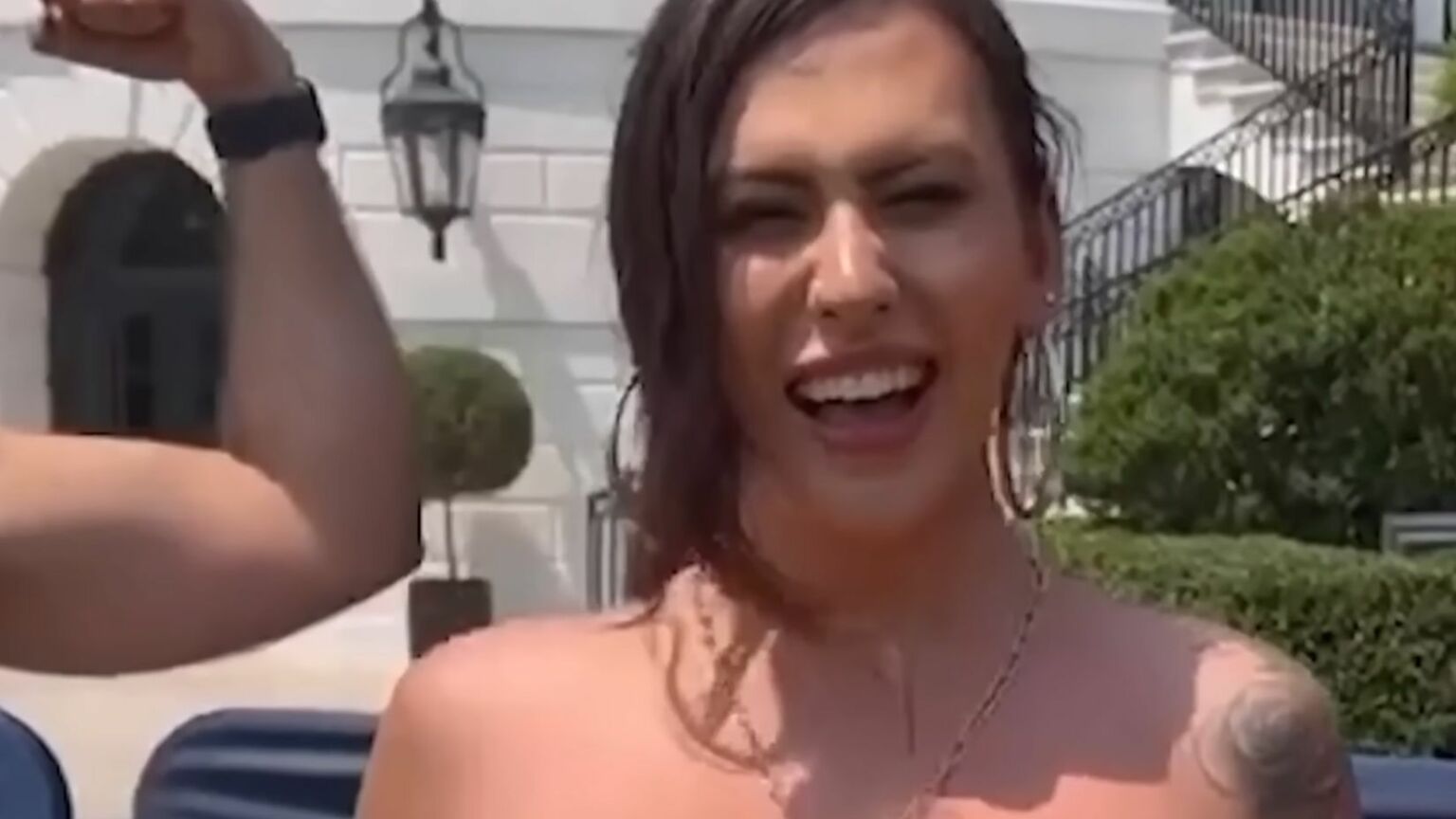 In the US, the month of June hosts a number of important celebrations. It is ushered in by Memorial Day, the bank holiday on the last weekend of May, which solemnly commemorates America's war dead. It also includes Father's Day, Flag Day and the anniversary of D-Day. Yet for the Biden administration, all of these events pale in significance to that other all-important June event – namely, Pride Month.
Enter trans-identified model and social-media influencer Rose Montoya, who posted a video on Instagram and TikTok this week of him meeting Joe and Jill Biden. The video then cuts to a shot of Montaya, where he pulls down his dress and flashes his breast implants.
Montoya is, to borrow a phrase from JK Rowling, a 'penised individual' who identifies as a woman. He once complained that airport-security scanners are transphobic because apparently they once picked up his bait and tackle. (I thought they only scanned for metal objects, but what do I know, I'm just a uterus-haver.) Nevertheless, in the eyes of the Biden White House, not only is Montoya literally a woman – his 'activism' also marks him out as someone deserving of an audience with the president.
And so Montoya was invited on to the White House lawn to celebrate Pride Month. To commemorate the occasion, the president mumbled some platitudes about love and 'advancing equality'. However, thanks to Montoya's topless display, despite his buxom enthusiasm for the Biden administration, he has now been banned from the White House for this 'inappropriate and disrespectful' behaviour.
This is hardly the first 'misstep' the Biden administration has made by promoting questionable LGBT activists. Before Rose Montoya there was trans TikTok influencer Dylan Mulvaney. He was invited to the White House last year to discuss his transition and his desire to be a mother. Since then, his promotional partnership with Bud Light managed to almost single-handedly sink the reputation of what was once America's most popular beer.
Before Dylan, there was Demetre Daskalakis, the president-appointed monkeypox adviser, who appeared at an HIV prevention summit in April wearing a leather harness and flanked by two scantily clad men. Before Demetre, there was Sam Brinton, the dress-stealing, bald 'nonbinary' fella with a side job in nuclear policy at Biden's Department of Energy.
When Biden talks about 'advancing equality' I wish someone would ask: what kind of equality, exactly, does the LGBT crowd lack? To me, it looks very much like some are becoming more equal than others. When the 'Progress Pride' flag, which represents the ideological beliefs of a tiny activist minority, can be hung at the White House alongside the Stars and Stripes, which is supposed to represent all Americans, you do have to wonder.
This is no laughing matter. But for those who find this relentless focus on sexuality and gender identity to be unsettling, I think mockery is the only cure. And in that, the Brits have the edge, because Americans are far too sincere and earnest. I was reminded of this by a brilliant conversation between Douglas Murray and Julie Bindel from earlier this week. Murray, himself an openly gay man, expressed his distaste for Pride marches, saying:
'What I massively dislike is seeing a bunch of disco gays, on top of a bus, waving to the public as if they're celebrities. Sorry love, you're not a celebrity, you're just gay. That's all. And you shouldn't treat the general public as your audience, waiting for them to celebrate the magnificent, wonderful you.'
If Trump does succeed in dodging the multiple felonies the US government is throwing at him, and makes it all the way to the Republican convention, I suggest he change his campaign slogan to 'Make Sex Private Again'. Okay, maybe it's not as catchy as MAGA, but it would certainly get my vote.
Jenny Holland is a former newspaper reporter and speechwriter. Visit her Substack here.
Picture by: YouTube / NBC News.
To enquire about republishing spiked's content, a right to reply or to request a correction, please contact the managing editor, Viv Regan.