Will Pride ever end?
Canada has now extended its Pride Month to a full-blown Pride Season. God help us.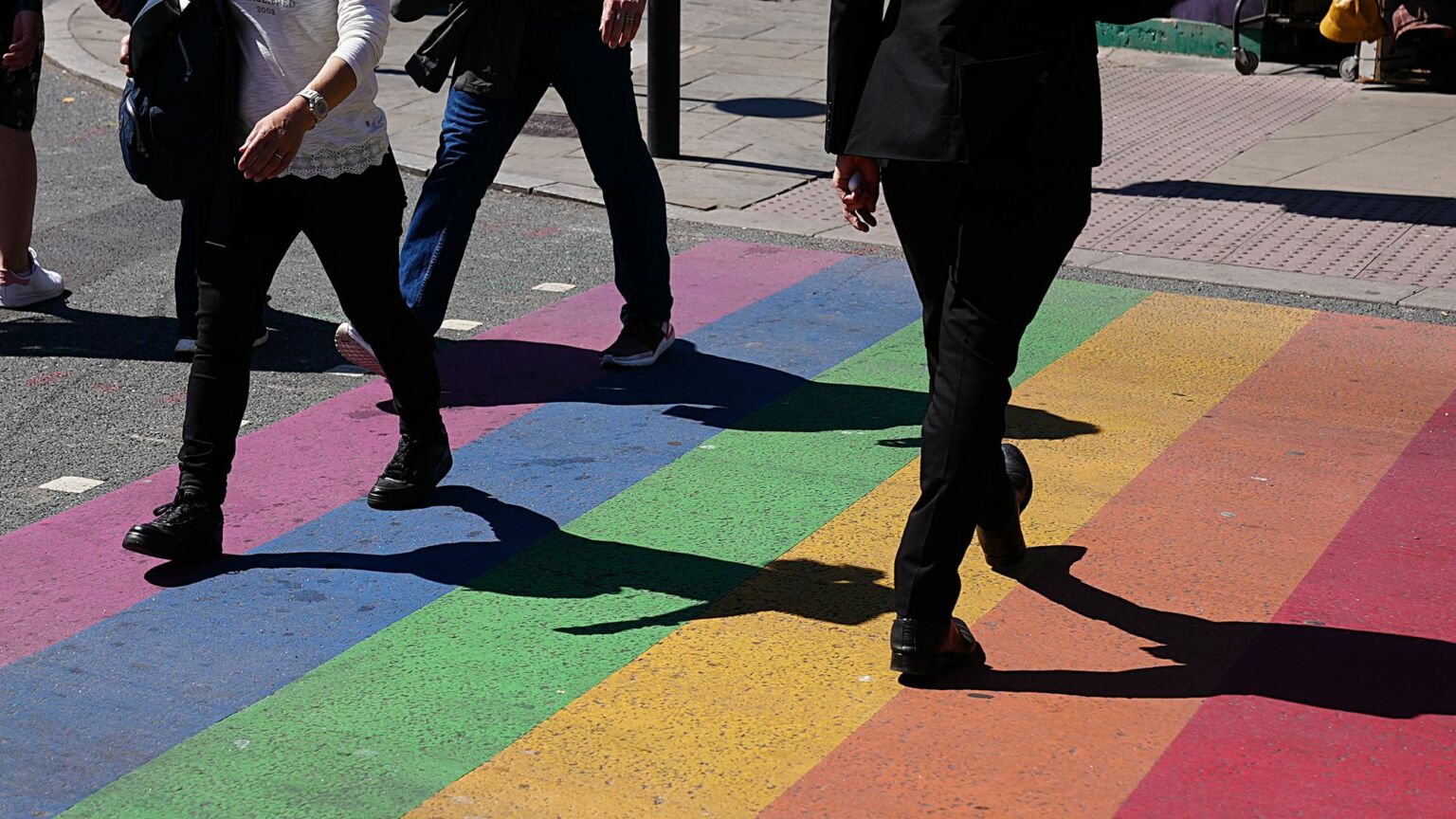 Pride Month is upon us. What was once a protest demanding an end to discrimination against gays and lesbians has morphed into a state-mandated celebration of gender ideology. And much like the facehugger from Alien, it is now inescapable.
In Canada, displaying the rainbow flag is no longer optional, it's effectively mandatory. Public schools, for instance, have Pride displays in their libraries, where kids can read books like Seeing Gender: An Illustrated Guide to Identity and Expression and Being Jazz: My Life as a (Transgender) Teen.
Seeing Gender teaches kids they can alleviate their problems 'by socially transitioning (changing pronouns or name), changing style, or physically changing through surgery or hormones'. Being Jazz is a children's picture book co-written by American reality-TV star Jazz Jennings, who transitioned as a child. He has undergone four 'sex reassignment' surgeries and has suffered painful complications with each. Today, the 22-year-old struggles with eating disorders and depression, and will likely never experience sexual pleasure or be able to have children. His tragic story should serve as a warning, but instead the adults in charge are celebrating the destruction of this young person's body and life. They are selling these medical interventions as 'solutions' to the perfectly natural feelings of confusion and discomfort experienced by many young people as they enter puberty and their bodies change.
Pride has become big business, too. Every bank, corporation, sports team and charity now drapes itself in the rainbow flag to celebrate an invented 'community' of people subsumed under the ever-lengthening umbrella of '2SLGBTQI+' (short for two-spirit, lesbian, gay, bisexual, trans, queer and intersex). In truth, this has gone far beyond the celebration of these identities, as those who fail to submit to the rainbow doctrine are vilified as hateful and dangerous, much like those heretics who were once cast out, executed and burned by the church.
While we have not yet come to public executions, Canadian society seems to have accepted the notion that those who refuse to participate in the rainbow parade are guilty of hate speech and are not worthy of respect or rights. When National Hockey League players and teams (including the Toronto Maple Leafs) declined to participate in 'Pride Night' in March this year, opting out of wearing rainbow-coloured jerseys, they were called 'bigoted' and 'gutless' by the mainstream media.
This year, it became clear that Pride's tentacles have extended far beyond the month of June. Back in March, Hershey Canada put a man named Fae Johnstone at the centre of its International Women's Day campaign. When women called for a boycott of the company in response, they were labelled as far-right extremists. Thanks to trans ideology, women can't even have their own day anymore. Nor are we allowed our own word. A high school in Ontario has replaced the word women in its communications with 'non-men', while lesbians are redefined as 'non-men who are attracted to non-men'.
In its race to the Pride peak, this year the Canadian government rebranded Pride Month as Pride Season, which lasts from June until September.
On 1 June, Marci Ien, minister for women and gender equality and youth, issued a statement to mark the start of the season: 'While it is important that we take the opportunity to recognise the hard-earned victories of the Pride movement, we must continue pushing back on the sharp rise in anti-trans hate and anti-2SLGBTQI+ legislation, protests at drag events, the banning of educational books in schools, and calls against raising the Pride flag.' She then went on to announce that the Liberal government is 'moving forward with the development of a new Action Plan to Combat Hate – that will address hate faced by 2SLGBTQI+ communities and, specifically, hate faced by trans people'.
I have seen no 'hate' directed at '2SLGBTQI+ communities' in Canada. I have seen no 'educational books' banned in Canadian schools, either. I have, however, seen some pushback against mandatory Pride celebrations in school. Specifically, I have seen just one report of a single school board – the York Catholic District School Board in Ontario – voting against flying the Pride flag at the York Catholic Education Centre. So, by my count, there is perhaps only one educational institution that won't be raising the Pride flag. As for anti-LGBT hatred, I have seen reports of a few protests against Drag Queen Story Hours at Canadian libraries, none of which has included acts of 'hate'.
The last time I checked the Canadian Charter of Rights and Freedoms, Canadian citizens still had freedom of expression, as well as the right to protest. The Canadian government is also supposed to be prohibited from forcing any particular religion on citizens, but this is essentially what it is doing when it makes gender-identity ideology and Pride celebrations mandatory in schools.
Indeed, just ahead of Pride Month, staff at the Ottawa-Carleton District School Board received an email from higher-ups informing them that they are required to indoctrinate students into trans ideology. The email read: 'Staff have a professional and legal responsibility to cultivate an inclusive and accepting environment for 2SLGBTQ+ students and families… This includes embedding resources that accurately reflect and honour 2SLGBTQ+ identities into curriculum subjects and the overall learning environment, from Kindergarten to Grade 12.' Teachers are instructed to use students' 'preferred names and pronouns' in order to 'affirm 2SLGBTQ+ identities'. What's more, the email also specified that 'opting out' of '2SLGBTQ+ learnings' is not an option for students.
All of this is happening whether parents like it or not. Earlier this year, the National Post reported that Canadian schools are socially transitioning kids behind their parents' backs. 'Boards of education, education ministries and even the Public Health Agency of Canada are urging schools to both automatically honour a transitioning student's request to change their name and pronouns – and to keep that information from parents if requested', Tom Blackwell reported in January.
This week, Ien announced yet another 'anti-hate' measure, pledging $1.5million in emergency funding 'to ensure Pride festivals stay safe across Canada'. Ien perhaps has failed to notice that it is not those engaged in Pride-pushing who are most at risk, but those women who dare speak out about the conflict between gender-identity-fanaticism and women's sex-based rights.
I have personally required private security and bodyguards, as well as a police presence, at every single event I have spoken at in defence of women's rights in Canada. The venues that have hosted me have received bomb threats. The staff, volunteers, attendees and I have all been threatened with violence. Yet not once has a Canadian politician spoken out about these threats. Certainly none has ever offered up 'emergency funding' to support and protect women who now have to pay inordinate security costs out of their own pocket, just to ensure they aren't attacked for saying that women are adult human females.
Canada doesn't need a Pride Season. It doesn't need a Pride Month. It needs to stand up for women and for Canadians' free-speech rights. The '2SLGBTQI+ community' is already celebrated with every breath by every politician, institution and corporation in Canada. We need to stop all this hyperbole over an imaginary wave of hate and get back to living in reality.
Meghan Murphy is a Canadian writer exiled in Mexico. Follow her writing and podcast on Substack.
To enquire about republishing spiked's content, a right to reply or to request a correction, please contact the managing editor, Viv Regan.