The summer doesn't need a health warning
These new 'heat-health alerts' show that climate alarmism is out of control.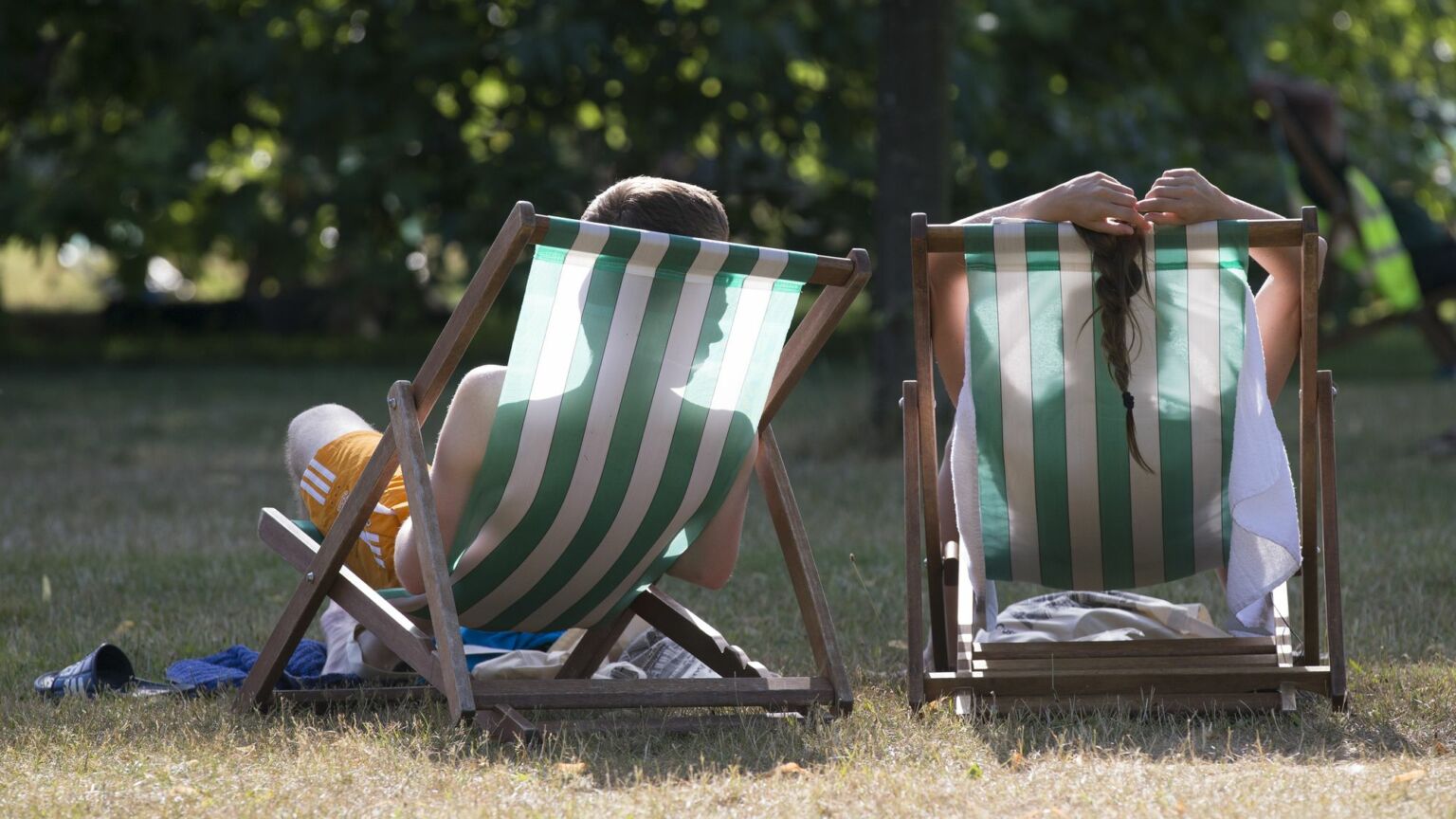 Warm weather during a British summer used to be something to enjoy. Not least because it's often so fleeting. But it seems the UK authorities now have other ideas. They want to frame a spell of what used to be known as 'nice weather' as a problem, a risk, a threat. Even summer, it seems, is now to come with a health warning.
This week, the UK Health Security Agency (UKHSA) and the Met Office have issued something called a 'heat-health alert' for England, ahead of this weekend's warm temperatures. This alert has been coded 'yellow' for most of the country, which apparently means that the 'vulnerable' are at risk. For the Midlands, the south-east, south-west and the east of England, this has been upgraded to 'amber', which means that high temperatures 'could affect all ages and impact the health service'.
An official warning of some sort might be understandable if we were set to endure some truly unprecedented weather event this weekend. But we're not. These warnings are being issued because temperatures might touch 30 degrees Celsius, and even then only in some parts of the country. That hardly sounds like cause for alarm, does it? After all, it's June, a month when even our rainy isles often enjoy a warm spell. In fact, June has been witness to some of the highest temperature ever recorded in the UK – with 35.6 degrees recorded in June 1957 and in June 1976.
Not that long ago, scary warnings from state agencies about warm summer days would have looked ridiculous. So why does officialdom today feel the need to issue these alarmist missives, alongside statements of the bleeding obvious masquerading as 'safety advice', such as 'exercise or walk your dog at cooler times of the day' and 'wear suitable clothing if going outside'?
Partly it's because the British state in the past didn't infantilise its citizens in the way it does today. It didn't act as if we needed protection from just about everything, including a bit of nice weather.
But it's also because, over the past few decades, as the narrative of climate change has been taken up by our elites, the weather has ceased to be the weather. Instead, it has come to be seen as something else, a symptom of manmade climate change, a problem to be worried about, to be feared, to be taken heed of. And this has now culminated in the current bureaucratic attempt to consciously reconstruct the Great British Summer, of all things, into something to be frightened of – as another warning sign of our impending planetary doom.
This began in earnest in June 2021, when the Met Office launched its so-called Extreme Heat National Severe Weather Warning System, replacing its far less dramatic, two-decades-old Heat Health Watch system. This new system allows the Met Office to issue scary-sounding 'extreme-heat warnings' – as it did to much fearful fanfare during last summer's heatwave. Before then, warm and even hot weather was just that – warm and hot weather. It was a source of heat, perhaps even enjoyment, rather than alarm.
But it seems that the UKHSA and the Met Office have decided that their fear-mongering last year didn't go far enough. So, earlier this month, they came up with this new 'colour-coded' heat-health alert system, to provide 'an early warning when adverse temperatures are likely to impact on the health and wellbeing of the population'. With this, they can now classify merely warm weather as worthy of a 'yellow' or, in the case of this weekend's temperatures, an 'amber' warning. And just in case they really want to terrorise the public, they have a 'red' warning in reserve.
Both the UKHSA and the Met Office have justified this catastrophising approach to warm weather in terms of protecting the vulnerable – or in the case of amber and red warnings, protecting everyone. But this hardly seems justified. We've 'survived' warm weather in the past without the clothing advice of the UKHSA or the Met Office.
No, what we're seeing here is officialdom's determination to transform, through bureaucratic means, relatively normal weather into a sign of the climate apocalypse to come. As Dr Agostinho Sousa, head of extreme events and health protection at the UKHSA, put it last summer, high temperatures are a 'wake-up call about the very real effects of climate change and the serious impacts it will have on our health'. The UKHSA is effectively trying to turn the weather into a teachable moment for the British public. It's not to be enjoyed, with a beer, in the sun. It's a lesson to be learned from, with 'suitable clothing' on.
Or as London mayor Sadiq Khan put it, while promoting the heat-health alerts this week, 'global temperatures are rising, and there's more hot weather on the way this summer'. It's a telling conjunction. A few years ago, 'there's more hot weather on the way this summer' would have been a cheery sign-off from a weather forecaster. But prefaced by 'global temperatures are rising', it becomes ominous, a sign that something is wrong, a portent of the day of judgement heading our way. It's enough to ruin a sunny weekend.
This is absurd. Our climate-change-obsessed officials and politicians are now trying to take the pleasure out of a bit of warm weather. So ignore the doomsters. Crack open a cold one – and enjoy the sun.
Tim Black is a spiked columnist.
To enquire about republishing spiked's content, a right to reply or to request a correction, please contact the managing editor, Viv Regan.