Prince Harry: deluded and dangerous
The ridiculous duke remains the poster boy for the elite's war on press freedom.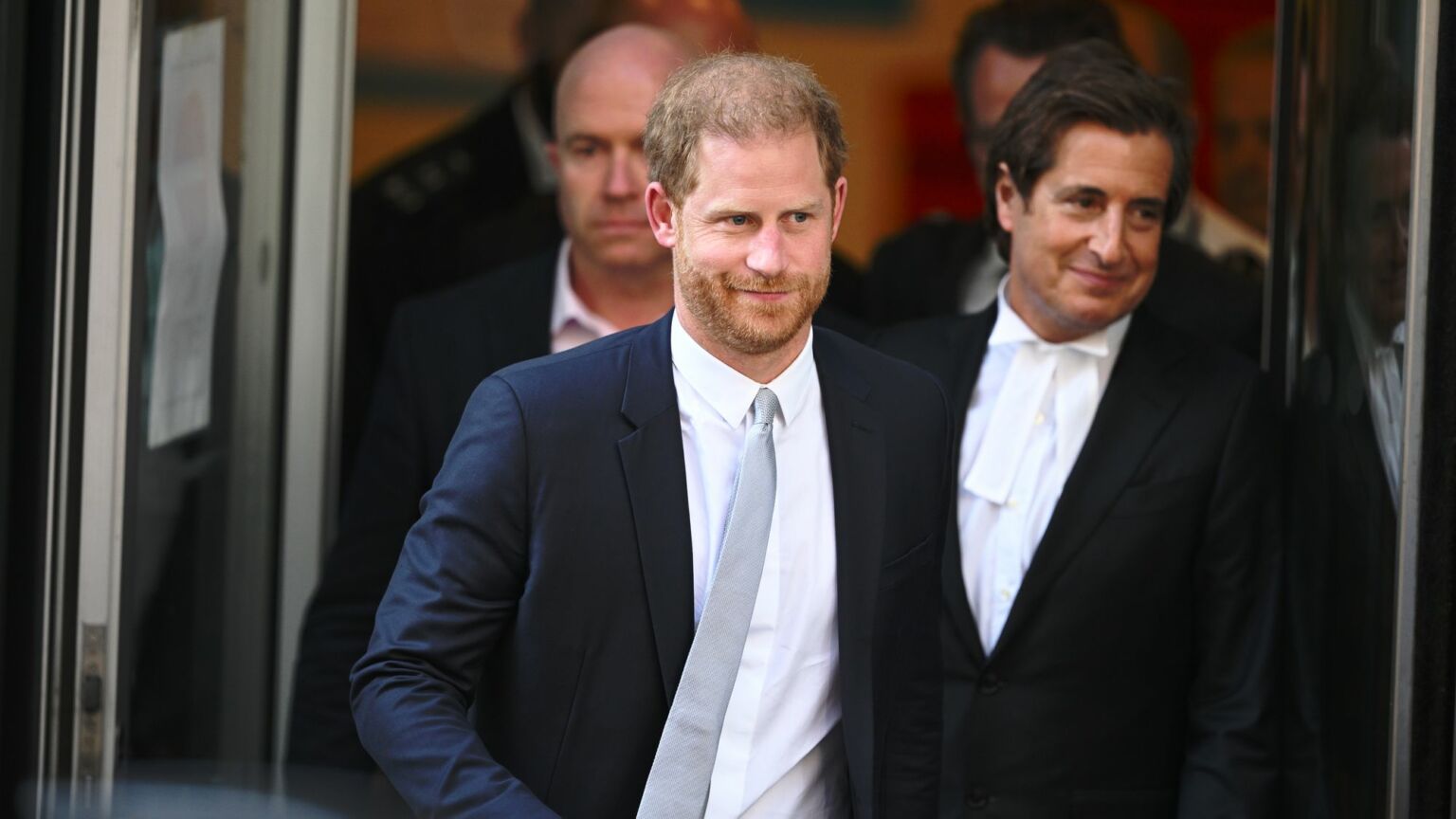 When Prince Harry entered the witness box in London's High Court this week, he should really have sworn to tell 'My truth, my whole truth, and nothing but my truth'. In his memoir, Spare, Harry memorably insisted that 'There's just as much truth in what I remember and how I remember it as there is in so-called objective facts'. His testimony in court captured that princely disdain for anything as vulgar as so-called facts.
Harry is suing Mirror Group Newspapers (MGN) for breaching his privacy. He claims that, between 1996 and 2011, the Mirror titles published some 140 articles about him based on information obtained using illegal means, primarily phone-hacking. Yet as MGN's barrister Andrew Green KC observed in his opening statement: 'There's no evidence to support a finding that any mobile phone owned or used by the Duke of Sussex was hacked. Zilch, Zero, Nil, De Nada, Niente, Nothing.'
As spiked's editor Tom Slater noted, the prince's evidence proved that he was right about one thing: as Harry says, he really is paranoid about the press, which he blames for everything he doesn't like. Under cross-examination, the prince repeatedly had to admit that information he claimed had been gathered illegally actually came from official palace statements, previous media reports, and even interviews with him or his mother, Princess Diana. None of that made the slightest difference to his wilful belief that he must have been hacked throughout his life.
'It could have been happening on a daily basis, I simply don't know', Harry declared, as if his ignorance was evidence. But did he know of a scrap of actual, factual evidence to support his claims? 'No', said Prince Harry, 'that's part of the reason I'm here, my lord'. Which sounds like a novel basis on which to launch a multimillion-pound court case: sue first, look for evidence later.
We were left with the ridiculous spectacle of an overgrown adolescent having a long tantrum, accusing tabloid newspapers of inciting hatred, harassment, violence and suicide, and demanding: 'How much more blood will stain their typing fingers before someone can put a stop to this madness?'
Prince Harry clearly sees himself not only as the 'someone' to end the madness of a free press (having previously declared it his life's 'mission' to transform the UK media), but also as the royal superhero who can save British democracy, saying in his witness statement: 'Our country is judged globally by the state of our press and our government – both of which I believe are at rock bottom.'
It might even be funny if it weren't so serious. But this is no laughing matter. Rumours suggest that Harry and his wife, Meghan Markle, have fallen out of favour with California's celebrity elite. Yet as the would-be slayer of tabloid dragons, Prince Harry remains the poster boy for a powerful elitist lobby that fears and loathes the popular media and the populace who consume it.
Harry rather gave the game away when he was asked if he thought there was a public interest in the press reporting his use of illegal drugs as a teenager, when he was third in line to the throne. Certainly not, replied the prince: 'There's a difference between public interest – and what interests the public.'
This is the line repeatedly trotted out by the tabloid-hating elites. They insist that they believe in 'public-interest journalism' – just so long as the public interest is not decided by the common public. Instead, what is in the public interest should be defined by the likes of High Court judges and high-minded middle-class media types – such as the Guardian and BBC journalists, who admitted during the 2012 Leveson Inquiry that they had also hacked phones and used private detectives to target people, but only 'in the public interest', m'lud.
Harry's court case is inevitably supported by Hacked Off, the campaign for state-backed press regulation that has been fronted by celebrities from Hugh Grant to John Cleese. For Hacked Off and its supporters, Harry's 'courage' in taking on the tabloids must be backed by government legislation to bring the press to heel. They complain that the Tories have failed to enforce the system of press regulation recommended by Lord Justice Leveson. A future Labour government may well be more willing to listen.
Nor should we imagine that any lack of evidence in Harry's case will dim the elites' ardour. Their crusade against the dirt-digging tabloid press has always been fuelled more by visceral hatred than hard facts.
Of course, tabloid phone-hacking did happen in the past, and nobody has tried to defend it. But the phone-hacking scandal that erupted in 2011, and led to the Leveson Inquiry / Inquisition into the press, was fuelled by all manner of allegations as mad as anything Harry claimed this week. Many of the tabloid-bashing allegations accepted as good coin by Leveson – such as, for example, Charlotte Church's claim that the Sun published a countdown clock in the run-up to her 16th birthday – were simply untrue.
The worst allegation of all was the Guardian's claim that News of the World journalists had not only hacked into the phone of missing schoolgirl Milly Dowler, but crucially had also deleted some of her messages, giving the murdered teenager's parents 'false hope' that she was still alive. That scandalous story led directly to Rupert Murdoch closing the News of the World, Britain's most popular newspaper, and Tory prime minister David Cameron setting up the Leveson Inquiry. Yet we soon learned that it was not true.
But no matter, the tabloid-haters never let the facts get in the way of a good story. They turned phone-hacking, real and imagined, into the pretext for Leveson's far wider probe into the entire 'culture, practice and ethics' of the UK media, which ended with the demand for state-backed regulation of the press. More than a decade later, Harry's privacy case shows they are still using tired allegations of historical phone-hacking to demand less press freedom.
Evidence or no, it has become commonplace to, like the paranoid prince, try to blame the tabloid press for everything, from racism to climate change. Even while Harry was giving evidence this week, Just Stop Oil, which we might understand as the provisional wing of the green establishment, issued a wild statement accusing 'the fossil-fuel criminal elite and its tabloid media' of causing genocide. That sort of, to use Harry's word, 'madness' will not be stopped by any apparent holes in the prince's case.
The privacy laws at the centre of Harry's case are now in the front line of the war on press freedom. No such laws have ever been passed by the UK parliament. Yet Britain's top judges, using the 1998 Human Rights Act introduced by Tony Blair's New Labour government, have effectively imposed an ever-expanding regime of privacy rules. These judge-made laws have become the favourite weapon of the rich and powerful seeking to kill news stories that they don't want us to read or hear. Like Prince Too-Much-Information Harry, they seek not privacy but control.
The outcome of Harry's case against MGN remains to be seen. But either way, it should not be up to a judge to decide 'on the balance of probabilities' what journalism is legitimate and which stories the public should be allowed to see or hear. And either way, the elitist war on press freedom will continue.
In a display of ignorant aristocratic chutzpah that was impressive even by his and Meghan's standards, Prince Harry used his witness statement to give us a lecture on the shortcomings of democracy. 'Democracy fails', pronounced the duke, 'when your press fails to scrutinise and hold the government accountable'. Thanks, your grace. Democracy will certainly be in jeopardy if we allow the ability of the press to expose the powerful and hold governments to account to be further curtailed at the behest of freedom-hating snobs and their princely poster boy.
Mick Hume is a spiked columnist. The concise and abridged edition of his book, Trigger Warning: Is the Fear of Being Offensive Killing Free Speech?, is published by William Collins.
To enquire about republishing spiked's content, a right to reply or to request a correction, please contact the managing editor, Viv Regan.