Gender ideology can harm trans people, too
Doctors are misdiagnosing and mistreating patients by ignoring their biological sex.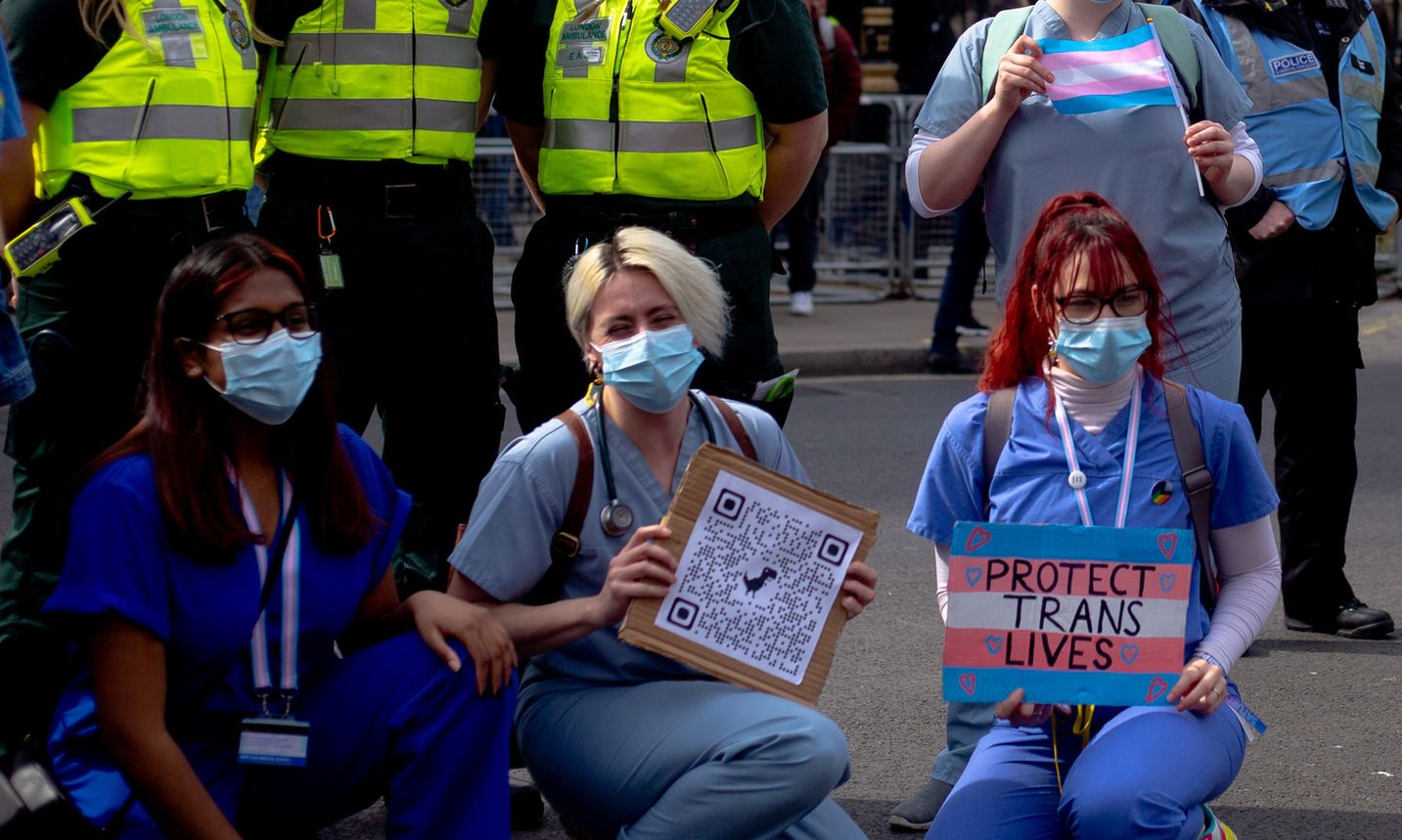 Earlier this month, the Guardian warned that the NHS's treatment algorithms are 'not taking transgender patients into account'. This, it said, is putting trans people in the UK at risk of being given the wrong treatments or potentially even being denied treatments they should be eligible for.
Similar pronouncements have recently been made in the US. In January, the Biden administration promised to build on a previous executive order to 'expand the federal collection of data about sexual orientation, gender identity and sex characteristics ("SOGI data") and advance equity for LGBTQI+ Americans'. The aim, it said, would be to 'illuminate disparities' and 'improve the health and wellbeing of LGBTQI+ people'. In April, an article on popular medical blog Kevin MD lamented that 'in a world where sex and gender exist on a spectrum', medicine is currently 'harming millions' of what the piece referred to as 'gender expansive' patients.
These initiatives and warnings might be well-meaning, but they all share one problem in common – namely, they confuse and conflate gender identity and biological sex. Worryingly, this confusion, promoted by trans-rights activists, has now become embedded in medical discourse. The problems gender ideology can pose for women in healthcare settings have rightly received a lot of attention. But what is often overlooked is how this can lead to real harms for trans patients, too.
It's important to say that LGBT patients can face discrimination in healthcare. A 2017 survey in the US found that one in five transgender patients reported that clinicians had directed harsh or abusive language at them during a visit. But well-meaning attempts at 'inclusivity' come with their own risks.
A 2017 video produced by the UK's General Medical Council (GMC) illustrates some of these problems. It advises doctors on how to show courtesy to trans patients, such as by asking for their pronouns to avoid causing offence by misgendering them. Doctors are also told that it is well within trans patients' rights to request for their medical records to be updated to reflect their preferred gender identity. It also says: 'You should treat the gender status or history of transgender and gender-diverse people with the same confidentiality as any other sensitive information.'
Sensibly, the GMC cautions that 'changing the gender on a patient record could mean they will not automatically be contacted regarding current or future screening programmes… Similarly, it may mean that they're automatically invited for screening that they do not need.' It recommends doctors discuss the implications of this with patients – for example, if patients are born biologically female and their charts now record them as male, they may miss out on cervical smear tests. Or if they were born male but are now recorded as female, they risk missing out on prostate cancer screenings.
Unfortunately, failures to be called for cancer screenings are only the start of it for trans patients. Biological sex differences exist and can be highly consequential for patient care. Moreover, human sex is binary – 99.98 per cent of the population is straightforwardly biologically male or female (including the vast majority of people who identify as trans). Your sex can profoundly influence the presentation of symptoms and diseases – including pain, heart disease, cancer, autoimmune illnesses, diabetes, psychiatric illnesses and more. Our biological sex even affects how we respond to treatments. Yet throughout the GMC's advice pages, the word 'sex' seldom gets a nod. This is a gross oversight. A failure to acknowledge biological sex differences places patients at greater risk of diagnostic and treatment errors.
In a similar sleight of hand, the word 'sex' is completely absent from the Guardian's article, too. Citing the work of the Trans Gap Project – a new initiative aiming to better protect the health of the trans community – the Guardian claims that, 'Many metrics and thresholds in medicine, including ideal body weight, alcohol-clearance rates, kidney function and risk of cardiovascular disease vary by gender'. But this is false: these metrics depend on biological sex, not on how a patient self-identifies their gender.
Put simply, biology matters for trans people no less than for other patients – and not only because of the sex they are born into. Taking synthetic hormones – including so-called puberty blockers and cross-sex hormones – may also impact the diagnosis and treatments of many diseases. It could also impact how drugs are metabolised. In fact, medical research is only just beginning to investigate the potential risks of taking cross-sex hormones.
What all this means is that, if a patient successfully passes as the opposite sex and their records have been changed to reflect their new self-identified gender, then they are at an increased risk of life-and-death clinical misjudgments. Consider, for example, the 32-year-old transgender man who appeared at an emergency department with abdominal pain in 2019. 'Sam' was observed by clinical staff to be an overweight man. They missed the fact that Sam was actually in labour. The baby was later stillborn.
Good bedside manners build trust. This has been sorely lacking for some trans patients accessing healthcare. But rather than encouraging doctors to stick their heads and stethoscopes in the sand, the GMC and other medical bodies should encourage respectful and honest conversations with patients. This can and must extend to discussions about why biological sex matters, and to the sizable gaps in knowledge about how cross-sex hormones affect disease risks. Doctors not only have a duty to do no harm – they also have a duty of candour. Doctors who avoid these difficult conversations are falling short of their professional obligations. Ironically, by unthinkingly embracing trans ideology, the medical profession is causing needless harm to the very patients it claims to be helping.
Charlotte Blease is a research affiliate in digital psychiatry at Harvard Medical School and Uppsala University, Sweden. Follow her on Twitter: @crblease
To enquire about republishing spiked's content, a right to reply or to request a correction, please contact the managing editor, Viv Regan.