So what if the royals are 'terribly white'?
​​Adjoa Andoh's coronation comments revealed the ugliness of racial thinking.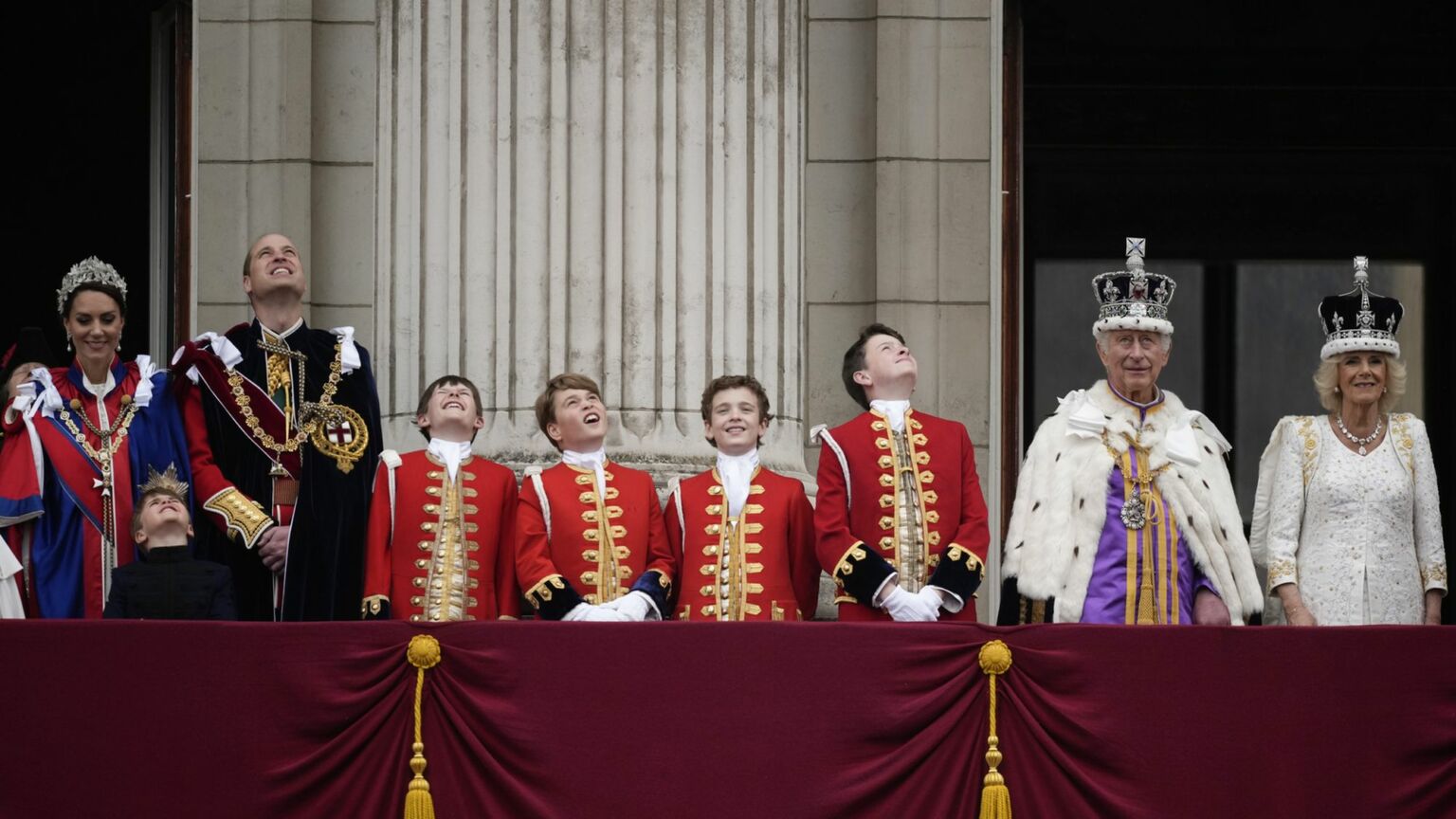 Two questions preoccupied the media in the run up to the coronation of King Charles III: how 'multicultural' should the coronation be? And should the royal family atone, or even make financial recompense, for its role in slavery? Last month, the king himself refused to rule out paying reparations for the transatlantic slave trade. Then, on the day of the coronation, we had Bridgerton star Adjoa Andoh complaining on ITV that the royal line-up on the Buckingham Palace balcony felt 'terribly white' and unrepresentative of modern Britain.
These questions around diversity and reparations speak to two of the main concerns of our times: culture and race. The desire to implement multiculturalism, to give 'representation' to different races and religions in both the cultural and political spheres, has been a concern of our elites for decades. The question of how to recognise historical racism has also been around for a long time, although it has been turbocharged recently by the arrival of American-style wokery.
The problem is that advocates of multiculturalism and racial awareness both assume that cultures and races are essential, immutable entities. They think we can divide and classify cultures and races into hermetically sealed, timeless organisms with impermeable boundaries. We no longer seem to understand or accept that cultures and groups blend, borrow, fuse, mutate and cross-breed to produce category-defying hybrids.
The idea that cultures are fluid, not fixed, used to be accepted wisdom among liberals in the recent past, not least in the humanities in academia. Sociologists and anthropologists would enthuse about the fragile, contingent and compound nature of cultures, which were never as static and eternal as those chauvinistic champions of racial exceptionalism would have us believe. Cultures and nations were composed merely of 'imagined communities', they said. Left-wing historians would join the conversation by stressing the 'invention of tradition' in regards to supposedly ancient customs, which were often only invented a century or so ago.
These voices were mostly right. Cultures do indeed change over time and space. British culture is not what it was 200 years ago, when attitudes towards women, Catholics, the Irish, the mentally ill and animals were vastly different from today. Even in our own time, British culture in the home counties is not what it is in the central belt of Scotland or in northern England.
The way liberals and the left think about culture changed significantly with the advent of identity politics in the latter part of the 20th century, when cultural difference and diversity began to be fetishised. Then we had the emergence of woke in the 21st century, which started, once again, to treat race as a real, meaningful way of categorising people into human subspecies. 'Black' thus became capitalised, while 'whiteness' came to be seen as a determinant of all bad social behaviour.
The fiction of eternal, incorruptible cultures has emerged in tandem with this re-essentialisation of race. This is the rationale behind calls for reparations for slavery. It's a view of the world that says white people are and have always been bad, and black people and their ancestors have only ever known oppression. This is despite the fact that racial mixing has gone on for centuries. The majority of African-Americans in the United States are more light-skinned than black Africans for a simple reason: they are also recently descended from white people, too. Even the freed slave, Frederick Douglass, was half-white. Go back far enough in time and none of us is a 'pure-breed' – and all of us are descended from both 'oppressors' and 'victims'. I don't even have to delve far back at all. My father was English, my mother is Irish. By the logic of those who call for reparations, I should both demand recompense for the Potato Famine, and be expected to tearfully atone for it.
Either way, the whole business is utter nonsense. By reifying racial and cultural divisions, identity politics and wokery have taken us back decades, if not centuries.
---
Climate alarmism is terrifying the young
Apparently, schools should teach children to feel a 'Goldilocks level' of anxiety about climate change, so that they can lead greener lives without succumbing to debilitating dread. This is the conclusion of Britt Wray, as reported in The Times last month. Wray is a mental-health researcher at Stanford University in California, who believes that pupils should be taught how to cope with 'eco-anxiety', as studies show more young people are reporting a sense of doom about the planet's future.
The American Psychiatric Association first recognised eco-anxiety as a mental-health condition in 2017, describing it as a 'chronic fear of environmental doom', with symptoms including sleeping problems, panic attacks and suicidal thoughts. 'It's a serious mental-health threat', says Wray. 'There's a kind of existential weight on the shoulders of many young people.'
This shouldn't surprise us. Many teenagers and young adults are utterly terrified for the future of Earth because for years their vulnerable minds have been fed a diet of environmental catastrophism. The mainstream climate narrative warns relentlessly of inevitable disaster, but it seldom points to viable solutions beyond self-punishment and bleak austerity. This anxiety has given rise to the likes of Extinction Rebellion and Just Stop Oil, whose hysterical and apocalyptic campaigning only adds to the doom and gloom.
The answer to 'eco-anxiety' is not to treat it as a mental-health issue. Turning inward and dwelling on problems often make things worse. It would be far better if politicians, activists and the media would stop their doom-mongering. We should instead look at the ways humans can practically deal with climate change and solve the problems of the future. We are nature's best problem-solvers, after all.
---
Woke publishers are not 'too big to fail'
There have been numerous accounts recently of counter-cultural, anti-woke authors having their works rejected or contracts cancelled by big publishing houses. Most recently, Nigel Biggar's Colonialism: A Moral Reckoning was 'cancelled' by Bloomsbury, which chose to pay Biggar off rather than publish his book, because of its narrative that the British Empire was not wholly evil. It has since been published by William Collins and become a Sunday Times bestseller. Similarly, Helen Joyce's Trans was rejected by every publisher she tried bar one.
I wonder how much these big publishing houses are now regretting their decisions – decisions partly informed, one must assume, by the assumption that they could spurn potentially lucrative books because they can withstand the missed revenues. They think they are too big to fail.
Yet arrogance and complacency can be a dangerous combination. Big business behemoths don't always last forever. Consider the fate of those beasts of yesteryear: Pan Am, Borders, Compaq and Woolworth's. As the recent Bud Light advertising campaign reminds us, following modish mores can be a precipitous enterprise. Ever since Bud Light teamed up with trans TikTok influencer Dylan Mulvaney, sales of the watery beer have plummeted.
All bloated empires are doomed once they believe themselves invincible and immortal. Pride comes before the fall.
Patrick West is a spiked columnist. His latest book, Get Over Yourself: Nietzsche For Our Times, is published by Societas.
To enquire about republishing spiked's content, a right to reply or to request a correction, please contact the managing editor, Viv Regan.