Never trust a politician who can't say what a woman is
'What is a woman?' is the most important political question of our times.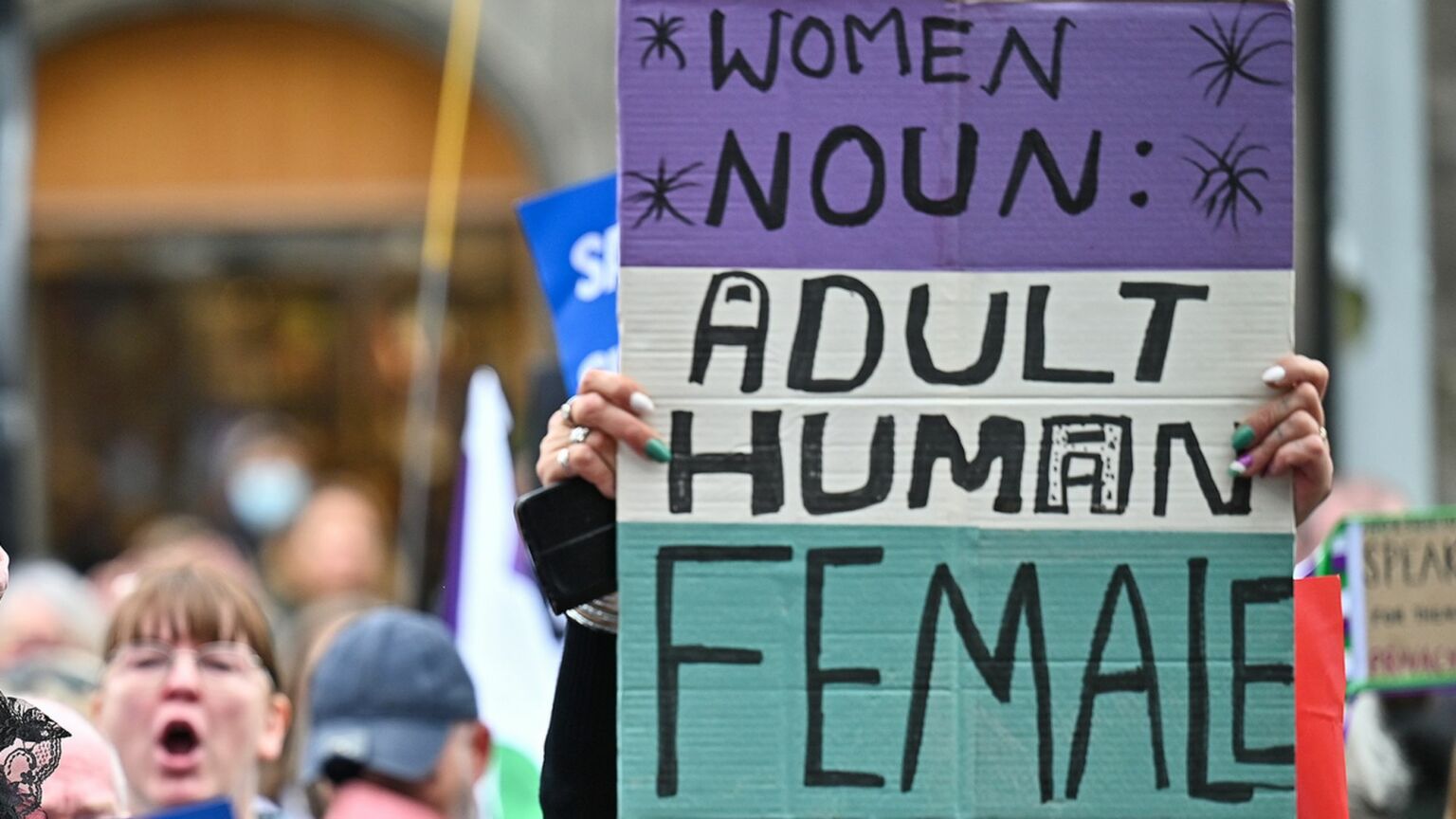 Politicians used to be formidable characters. A citizen would really need to know his stuff if he wanted to pin down any of the big dogs of politics. Not anymore. Now it takes a measly four words to reduce a politician to a mumbling wreck. Try it next time one of them crosses your path. Say these four words: 'What is a woman?'
The latest politician to be stumped by this simplest of queries was Naomi Long, leader of Northern Ireland's Alliance Party. She got into a Twitterspat last week during which someone hurled that bizarrely incendiary question her way. 'What is a woman, Naomi?', the tweeter asked. Cue terror in the Long camp. 'You don't know?', Long replied, clearly buying time. 'It's a simple question, Naomi… what's a woman?', her tormentor continued. Long repeated herself: 'Simple answer: why are you asking? Do you not know?'
Back and forth it went, with sarcasm aplenty from Long, but no effort to answer the question. It hit the headlines in Northern Ireland. 'Naomi Long has declined to answer the question "What is a woman?" during an extended argument on Twitter', reported the News Letter, in understandably bewildered tones. Its intrepid reporters pursued this curious tale of a woman who can't say what a woman is, but with no luck: 'The News Letter today asked the Alliance Party if Mrs Long can, for the record, say what a woman is. No response had been received at time of writing.'
It used to take a tough question about a major economic screw-up or some personal indiscretion to send a politician scurrying into hiding. Now you just have to ask a question about biological sex that most human beings over the age of five could answer. The awesome power contained in this simple question, its ability to turn clever politicians into wide-eyed buffoons who wish the ground would swallow them up, is intriguing. Yes, it confirms that gender ideology has its hands around the throat of the political mainstream, but it also suggests that reason and truth-seeking, the most basic intellectual interrogation, is enough to expose this ideology's fallacies, and the political class's cowardice. 'What is a woman?' is the most essential political question of our times.
Long joins a long list of politicians who have broken into a cold sweat when asked to define a woman. Another politician in Northern Ireland – Matthew O'Toole of the Social Democratic and Labour Party – was struck dumb last year when Stephen Nolan of BBC Radio Ulster asked him if 'biological men dressed as women should be allowed to use communal changing rooms with teenage girls'. This is a ridiculously easy question to answer. Politicians of all parties, take note: the answer is, 'No. Of course men should not be allowed to undress in front of 13-year-old girls. That would be horrendous. It would be indecent exposure disguised as "trans rights".'
But of course Mr O'Toole couldn't bring himself to say anything as commonsensical as that. 'Erm, well, I don't really understand the qu… I, I'm not entirely clear what the question is', he said. Okay, here's a simpler version: should grown men be allowed to get naked in front of girls? Is that clear enough? Nolan pushed him: 'What is your definition of a woman?' O'Toole's rambling answer – lots of 'erms', awkward laughter, something about menstruation – is too long to reproduce here. Suffice it to say, he didn't say what he should have said: 'A woman is an adult human female.'
UK Labour leader Keir Starmer is infamous for crumbling upon being asked what a woman is. 'Is it transphobic to say only women have a cervix?', he was once asked, after one of his MPs, Rosie Duffield, was savaged by the woke mob for saying precisely that. It is 'something that shouldn't be said', Starmer replied. 'It is not right', he said. Yes it is. It is scientifically right to say only women have a cervix. Imagine if a politician was asked if the Earth was round and he said, 'That's not right. It's something that shouldn't be said.' This was as bonkers as that.
Starmer has tried to make amends for his mortifying failures to say what a woman is. Last month, he said that 99.9 per cent of women 'of course haven't got a penis', no doubt thinking he'd come off as more sensible this time, as someone who does know that, generally speaking, women don't have dicks. And yet his weird, woke mathematics would still mean that around 1 in 1,000 women have penises. This is lunacy. It is irrational, anti-science, sexist guff. Things are so bad now that it is frontpage news when a politician does know what a woman is. 'At last, a leader who knows what a woman is', declared the Daily Mail when prime minister Rishi Sunak said that 100 per cent of women don't have a penis.
It isn't much better across the pond. Who can forget when Judge Ketanji Brown Jackson, during her confirmation hearing for the Supreme Court, was asked if she could provide a definition for the word woman. 'I'm not a biologist', she said. As Kellie-Jay Keen has quipped, 'I'm not a vet, but I know what a dog is'. Last year, Fox News asked various Biden-administration agencies and think-tanks if they could say what a woman is. Most of them ermed and ahhed. 'I don't believe your question is one that we have ever explicitly researched, thus I don't have anyone who can speak to it. Sorry we can't be more help', said a spokesperson for the RAND Corporation. It doesn't take much research, guys. Just ask your mothers.
The woke feel growing fury with the Woman Question. Matthew O'Toole accused Stephen Nolan of asking him a 'gotcha question'. That's how the political class views this simple question – as an outrageous attempt to screw them over. Right-wing trolls have 'weaponised "gotcha" questions like "What is a woman?"', argues a writer for the Week. A Washington Post columnist says asking a politician 'What is a woman?' is an 'attack'. That the elites feel 'attacked' by this question is more revealing than they know. It confirms how rattled they are by reality-based lines of inquiry. Biological truth is their Kryptonite.
The establishment's fear of this question is proof of its political importance. It is not a daft question or a culture-war distraction, as talking heads would have us believe. It's the question that tells you everything you need to know about someone. For if a politician cannot tell the truth about sex, why should we believe he'll tell the truth about anything else? If he cannot say what a woman is, how can we trust he will defend women's rights, stand up for mothers, make sure girls enjoy safety and privacy? More importantly, politicians' answer to the question 'What is a woman?' tells us which side they're on in the 21st century's great clash between reason and hysteria. If they balk at this biological query, it means they've thrown their lot in with the eccentric bourgeois agitators of the woke elite and have squarely turned their backs on the reasoned masses who know very well what a woman is. An unwillingness to define 'woman' is the clearest sign one could ask for that a person has rejected reason, truth and trust in ordinary people, in favour of staying on side with the new elites and their post-truth orthodoxies.
So keep asking it. Ask every party campaigner who knocks on your door. Ask every political operator you encounter. 'What is a woman?' If they squirm, don't vote for them.
Brendan O'Neill is spiked's chief political writer and host of the spiked podcast, The Brendan O'Neill Show. Subscribe to the podcast here. And find Brendan on Instagram: @burntoakboy
To enquire about republishing spiked's content, a right to reply or to request a correction, please contact the managing editor, Viv Regan.