Macron is waging an all-out class war
Opponents of his pension reforms are being brutalised with impunity.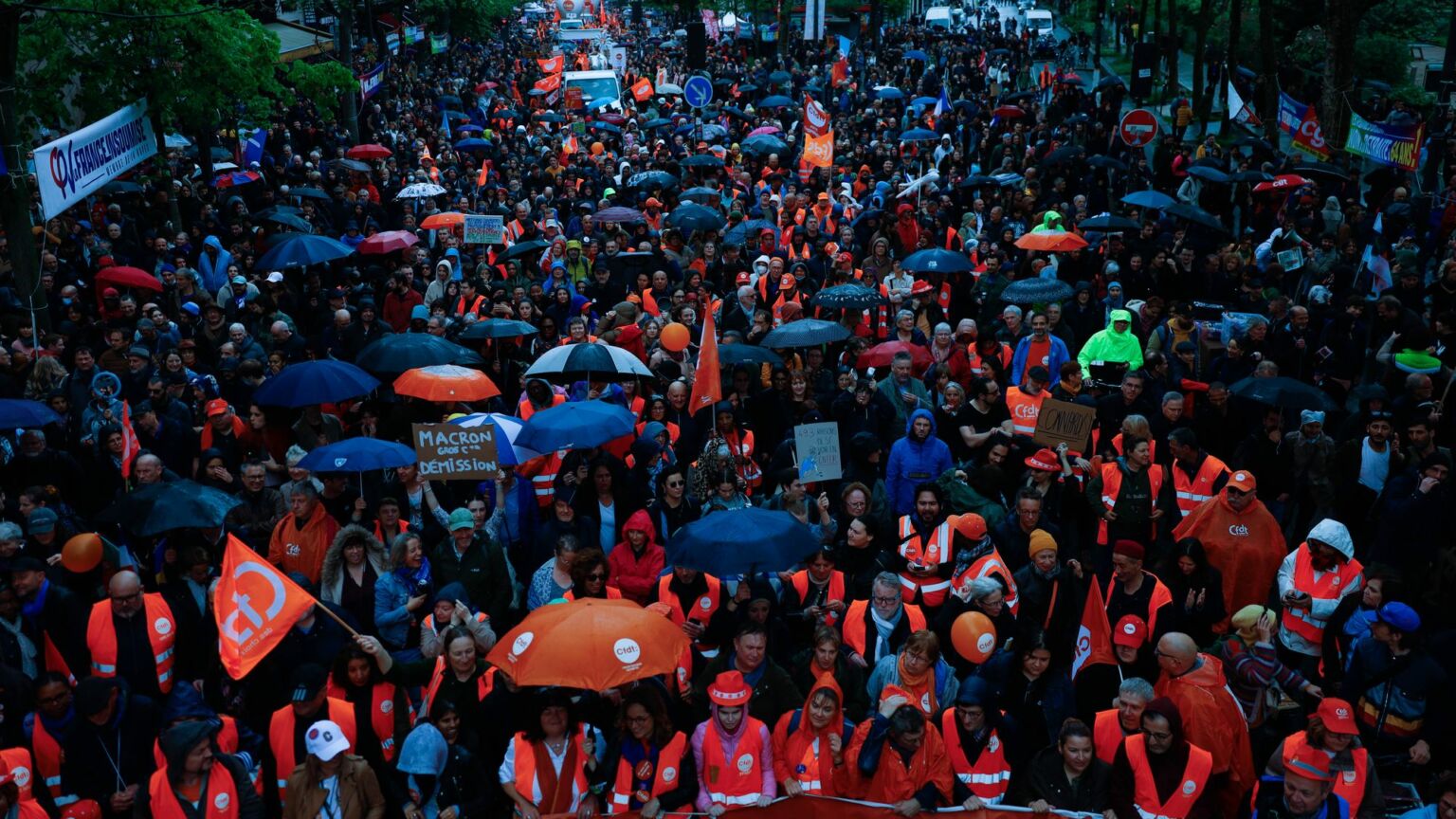 May Day is meant to be a celebration of working people. In France, 1 May is a public holiday. It's a reminder of the fact that workers' rights were first achieved through struggle and can only be maintained through continuous action.
This May Day, protesters were in the streets across France in large numbers – around 2.3million of them, according to a trade-union source. The main impetus for Monday's protests was Emmanuel Macron's notorious pensions reforms. These have now been passed into law, but they are still opposed by the majority.
The public sees these reforms as a form of class warfare. This is because raising the retirement age from 62 to 64 only really affects those who started working earlier in life – that is, the working class. Under the old pensions system, most graduates – in order to clock up enough years contributing into the system after university – already had to wait until 65 to retire on a full pension. The burden of Macron's reforms falls mainly on the least well-off. So it's no wonder that people are angry. Protests against the reforms have now lasted for several weeks, and show no signs of abating.
May Day has always been marked by protests in France, but these were once relatively joyful occasions. May Day protesters could often be seen playing music, chanting and eating street food. But since Macron took power, protesting has become a lot more dangerous. The police have been given free rein by interior minister Gérald Darmanin to brutalise protesters with impunity.
The police claim that their heavy-handed tactics are necessary to tackle the 'black blocs' – a loose term referring to a fringe of anarchist protesters. Images of burning bins are being played on a loop on 24-hour news networks, painting a picture of the protests as violent and chaotic. But the videos from protests that are circulated on social media tell a different story. They show that indiscriminate violence is often used against peaceful protesters. On occasion, this has resulted in serious injuries, such as the maiming of limbs or the loss of an eye.
Riot police have several weapons at their disposal. The LBD-40 ball-launcher, which propels a rubber 'ball' at high velocity, is classified as a weapon of war by its Swiss manufacturer and has blinded many protesters in the past. Tear-gas grenades are also used to push back protesters and disperse crowds. On Monday in Nantes, someone lost a hand from a grenade explosion. The United Nations Human Rights Council has since criticised France for its disproportionate use of police violence.
The root of the conflict here lies in France's authoritarian constitution. What has angered French people most is Macron's use of Article 49.3. This constitutional provision allows the government to pass laws through parliament without a vote. Macron, who failed to secure a parliamentary majority following his election last year, knew that his pension reforms would be defeated in a vote. And so he used Article 49.3 to force them through. That is what many in France are rising up against – the fact that Macron is ruling by executive decree.
Deprived of a parliamentary means to challenge Macron, the French people have taken matters into their own hands. They have been banging pots and pans to drown out speeches given by ministers. Workers have also used 'Robin Hood tactics' to bring the government to heel: the General Confederation of Labour (CGT), one of the largest and most radical unions, has organised power outages in areas where government ministers live. At the same time, it has also sabotaged electricity and gas meters in working-class areas to give residents discounts.
Macron has since been trying to appease workers, to try to bring the unrest to an end. But even the most moderate of trade unions, like the French Democratic Confederation of Labour (CFDT), have said that there can be no negotiations without a repeal of the pensions reform.
Many fear that the tensions between Macron's government and huge swathes of working-class France are playing into the hands of Marine Le Pen. Her hard-right National Rally has certainly been rising in the polls. It hopes to secure first place in the European elections next year. Le Pen's personal approval rating has also soared to 39 per cent, while Macron's has plummeted to 26 per cent, the lowest level since 2017 when the gilets jaunes protests were at their height.
Above all, these recent protests have shown that democracy is a value cherished by the French – and they are clearly willing to fight for it.
Charles Devellennes is a senior lecturer in political and social thought at the University of Kent and author of The Gilets Jaunes and the New Social Contract, published by Bristol University Press.
To enquire about republishing spiked's content, a right to reply or to request a correction, please contact the managing editor, Viv Regan.