How anti-Semitic tropes crept back into the mainstream
The Guardian is just the latest outlet to publish dodgy cartoons of Jews.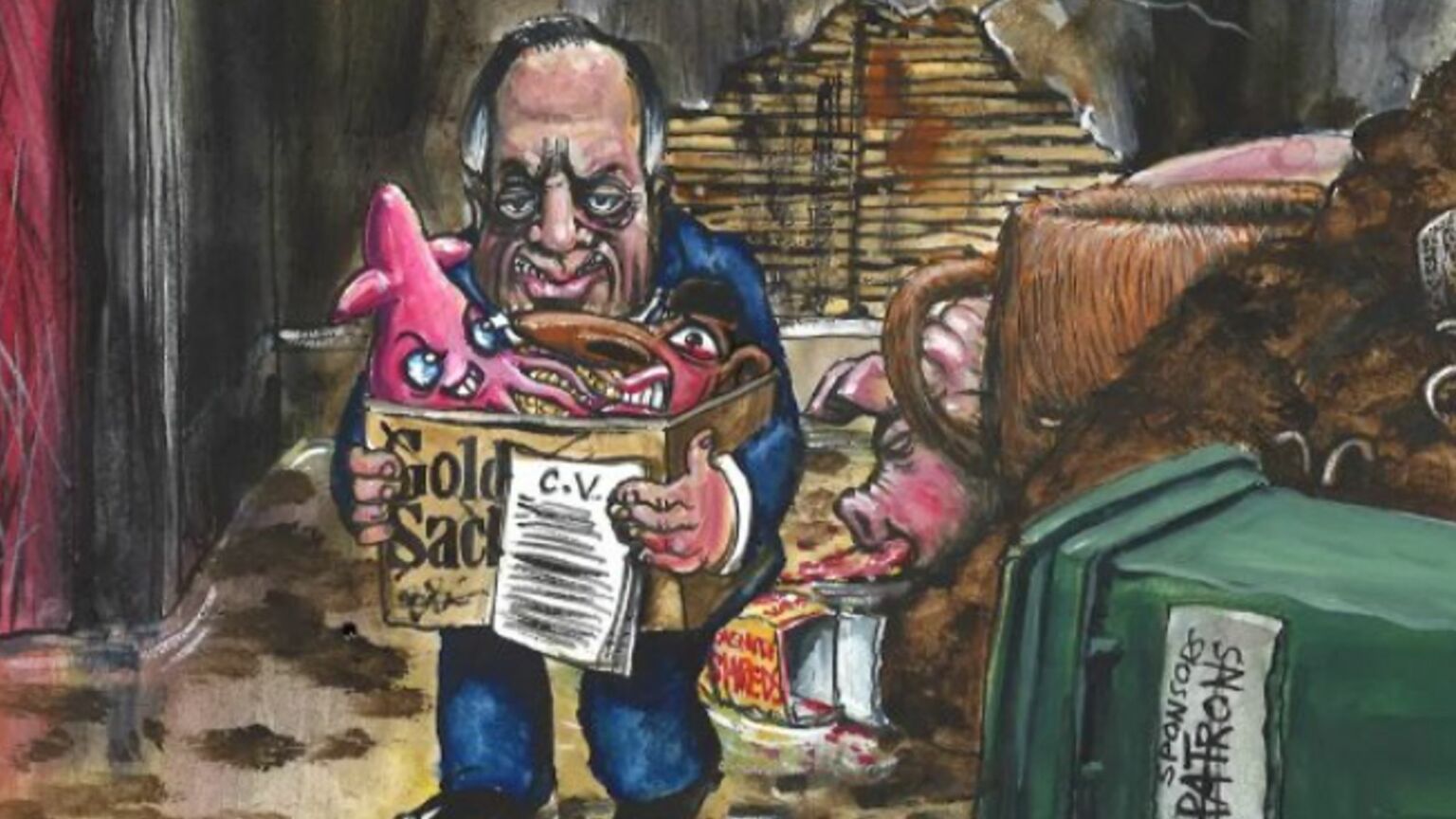 The Guardian has apologised for its cartoon of former BBC chairman Richard Sharp, which has been widely condemned for containing anti-Semitic tropes. Martin Rowson's cartoon depicted Sharp with an impossibly large nose, clutching a box marked 'Goldman Sachs', containing a puppet of UK prime minister Rishi Sunak and what appears to be money. It essentially painted Sharp as a grasping Jewish puppet-master.
At the weekend, the Guardian removed the cartoon from its website and issued a mealy mouthed apology. It was the kind of apology that was clearly scripted by in-house legal advisers. The cartoon, the Guardian said, 'did not meet our editorial standards'. The newspaper made clear it 'apologises to Mr Sharp, to the Jewish community and to anyone offended', but it has not explicitly acknowledged that the cartoon features anti-Semitic tropes. As for Martin Rowson, he tweeted to say that he 'screwed up pretty badly'. He later published a lengthy apology / explanation on his website. 'This is on me, even if accidentally or, more precisely, thoughtlessly', he wrote.
What I find most disturbing about this affair is not so much the sight of yet another grotesque depiction of a Jewish person, or the use of classic anti-Semitic tropes. Rather, it is the casual manner in which such incidents are treated. You could easily get the impression that the cartoon is really no big deal. The Guardian seems to think that a perfunctory half-apology will be enough to put things right. Rowson, while effusive in his apology, has only really admitted to being careless.
The Guardian's cartoon is not a one-off. The same thing keeps happening again and again in left-liberal outlets. In the past, anti-Semitic tropes were peddled by reactionary and far-right media outlets. Nowadays, supposedly 'progressive' publications keep 'accidentally' publishing cartoons showing Jews as grotesques with big noses.
Back in 2002, the then editor of the New Statesman, Peter Wilby, was forced to apologise for a front-cover cartoon showing the Jewish Star of David piercing the Union flag. The image was accompanied by the headline, 'Kosher Conspiracy'. 'We (or more precisely, I) got it wrong', Wilby said in the next edition. Apparently, Wilby also merely screwed up.
Echoes of the 'Kosher Conspiracy' cover appeared years later in 2019, in a New York Times cartoon. It showed Israeli prime minister Benjamin Netanyahu as a guide dog wearing a Star of David collar, leading a blind Donald Trump wearing a kippah. This was another classic trope – powerful Jews leading the world's politicians astray. The New York Times then apologised. 'The image was offensive, and it was an error of judgement', it said in a statement.
These apologies – 'I got it wrong', 'It was an error of judgement', 'I screwed up badly' – are curiously lightweight. They reveal the fundamental lack of seriousness that is attached to anti-Semitism today. Such indifference is especially pronounced in the media.
Worse still, sometimes there is no apology at all. Take the case of a 2003 cartoon by Dave Brown, which appeared in the Independent. It showed Israel's then prime minister, Ariel Sharon, eating the head of a Palestinian baby while saying: 'What's wrong? You never seen a politician kissing babies before?' This time, there was no perfunctory 'error of judgement' apology, despite the fact that the cartoon had reproduced the racist trope of Jews sacrificing non-Jewish children. Instead, it won the 2003 Political Cartoon of the Year Award. An Independent article celebrating Brown's win described the cartoon as featuring a 'controversial depiction of Ariel Sharon'. 'Controversial' is quite the understatement.
We live in a time when even the slightest hint of racism can lead to uproar from the media. Yet the dehumanisation of Jewish people is treated as simply 'controversial'. The condemnation of these kinds of cartoons, if it comes at all, tends to be relatively tame and muted.
Partly, this is because, as far as the media are concerned, anti-Semitism is a problem confined to men in brown shirts sporting swastikas. The liberal-left media, in particular, find it difficult to spot anti-Semitic tropes, especially when they emanate from within their own ranks.
Then there is the fact that these sections of the media are implacably hostile to Israel. They are so eager to condemn Israel for all the evils of the world that they tend not to notice when they cross a line from criticising Zionism to racism against Jewish people.
The response to anti-Semitic tropes is often so casual because the people who now peddle them see themselves as the good guys. Good guys who just make honest mistakes from time to time. It never seems to occur to anyone on the liberal-left that there is a serious blind spot when it comes to Jews and anti-Semitism.
Modern anti-Semitism may manifest itself very differently to old-school Jew hate, but that is no excuse for this level of indifference.
Frank Furedi is the executive director of the think-tank, MCC-Brussels.
Picture by: The Guardian.
To enquire about republishing spiked's content, a right to reply or to request a correction, please contact the managing editor, Viv Regan.