Sanity will prevail in the gender wars
Women will not be stopped from speaking out about their rights.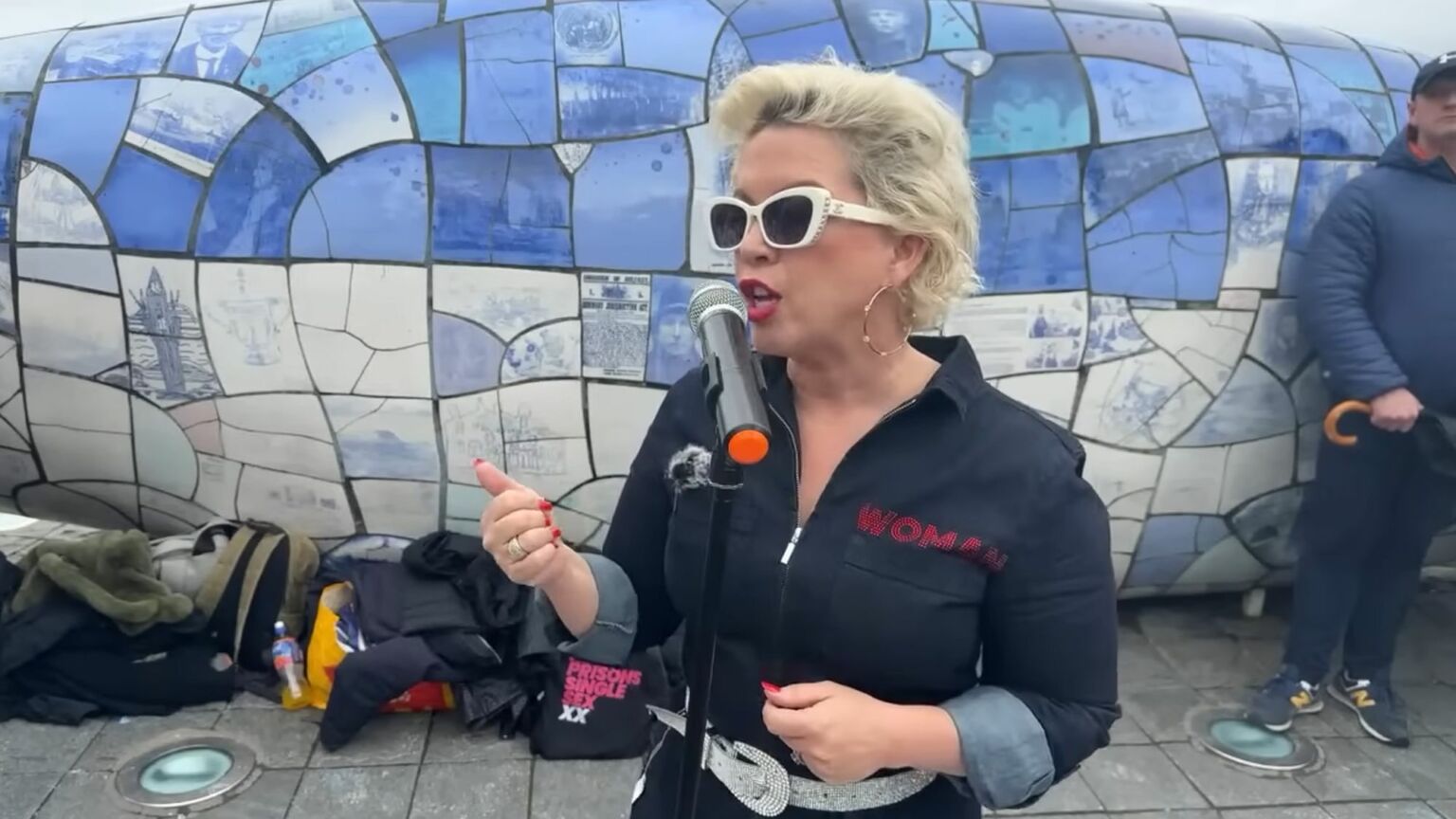 Last Sunday, I went to see women's rights campaigner Kellie-Jay Keen in Belfast at a Let Women Speak rally. These rallies have been held all over the world, giving women a platform to speak out about trans ideology and its impact on women's rights. Given the violent reception Keen had in Auckland, New Zealand just a few weeks before, where she was surrounded by a crushing mob and doused with liquid, I had no idea what to expect.
The rally, held by the River Lagan on Sunday, could not have been more different to the frightening scenes in Auckland. It did attract a lot of trans-rights counter-protesters, but the police kept them firmly at bay. Keen and many other women (myself among them) were able to take to the microphone to spell out why our sex-based rights are vital and must be protected.
Not that the counter-protesters were listening. Instead, they blared music from loudspeakers and tried to drown us out. Compared with the violent mob in New Zealand, they kept it relatively light. There were several brightly dressed, clown-like figures, a few flags with Communist insignia and lots of screaming.
However they present themselves, their message is still terrifying. They believe that women who want to change into swimsuits in private, people who don't want children to be sterilised, and gay people who don't want to have their sexual preferences deemed bigoted, all deserve to be silenced, attacked and shamed. Unable to present any true rebuttal to the women's rights rally, the Belfast counter-protesters fell back on the chant of 'Nazi scum, off our streets'. Most people in the surrounding area were not buying it.
My own father, Jack Holland, was a Belfast man. Twenty years ago he wrote a book called A Brief History of Misogyny. Growing up in working-class, Catholic west Belfast, he had seen how the oppression of women was sanctioned by a society hardened by poverty and ruled by a strict religious dogma. In the book, he wrote that misogyny is pervasive and shape-shifting. He died shortly after finishing it, but nothing has proved him right quite like the arrival of trans ideology, which wears the thin skin of woman-face, stretched over a cauldron of hatred for the female sex.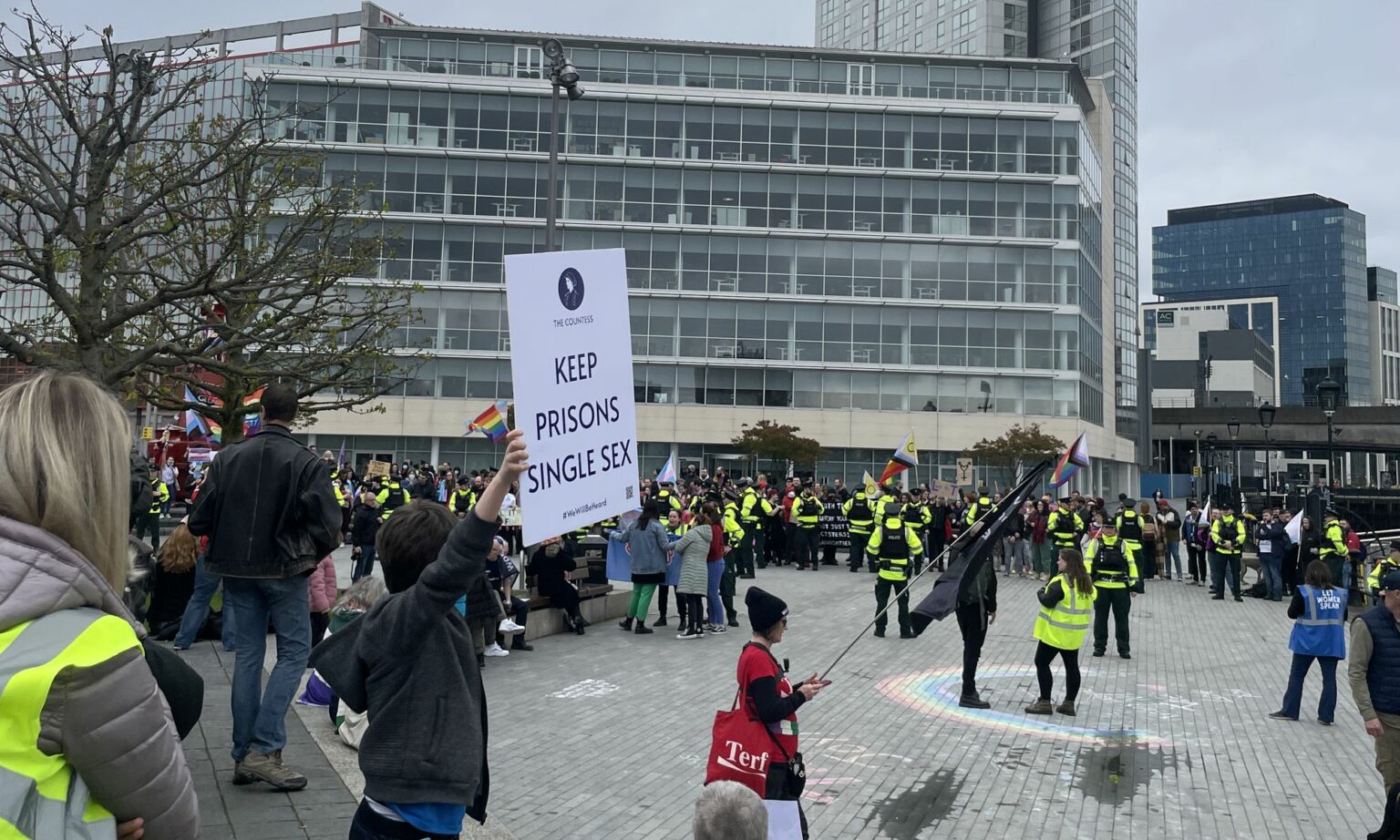 The real nastiness on Sunday happened after the rally. One speaker was outed as gender-critical to her employers, who were tagged in a tweet which showed a photograph with her at the microphone. This is an all-too-common tactic of the woke cancellation mob.
Even worse, after the rally, a gay man wearing a t-shirt with the phrase Adult Human Male on it claims that he was head-butted by someone who objected to his views. Of course, the keyboard warriors of Twitter were out in force celebrating this alleged attack on a gay man. These trans-activist tweeters proved once again that 'Be Kind' only applies to how they want to be treated, not how they are willing to treat others. I did not see the alleged attack mentioned in any news coverage of the rally.
Such attacks have only strengthened people's resolve to restore sanity to the gender debate. The mood on Sunday was buoyant, but utterly determined. No one was prepared to mince words or spare feelings, and none of the speakers did. There were women of all ages and all socioeconomic classes.
One secondary-school student from the Republic of Ireland delivered an incendiary poem she had written:
'I am not a dress to be worn on a whim.
A man in a dress is nonetheless a him.
Women are not simply what we wear.
If this offends you, I do not care.'
A young lesbian spoke about how she had been shamed for only wanting to date other women. (Like so many other lesbians throughout history, she was essentially told she just hadn't met the right man yet.) She also called out LGBT groups for fuelling 'some of the worst homophobia that we are now experiencing'.
An older woman, who spent her youth working as a labour activist, a nurse and a purveyor of contraception and abortion information, defiantly told the crowd: 'We need no lectures from the people over there about care and love. We give it every day of the week.'
A black English woman spoke of the pain of needing a double-mastectomy to treat her breast cancer: 'I still can't put into words how it felt to lose the breasts that fed my children… When I hear about these young children who are deliberately having these mastectomies… It's unthinkable.' Her voice and hands shook as she spoke. Meanwhile, the trans-rights activists could be heard screaming into megaphones just on the other side of the police cordon.
The youngest speaker said: 'I'm 11 years old, and I can understand that women are women and men are men. So why can't they?'
I was deeply moved by the experience. I was surprised and relieved that so many of the people in the crowd were men. There was even a young boy holding up a sign that read 'Keep prisons single sex'.
For the first time in a long time, I felt that sanity might just prevail.
Jenny Holland is a former newspaper reporter and speechwriter. Visit her Substack here.
To enquire about republishing spiked's content, a right to reply or to request a correction, please contact the managing editor, Viv Regan.