Racial identity politics has no place on the picket line
The new boss of the National Education Union seems to think teachers are fighting a 'brutally racist state'.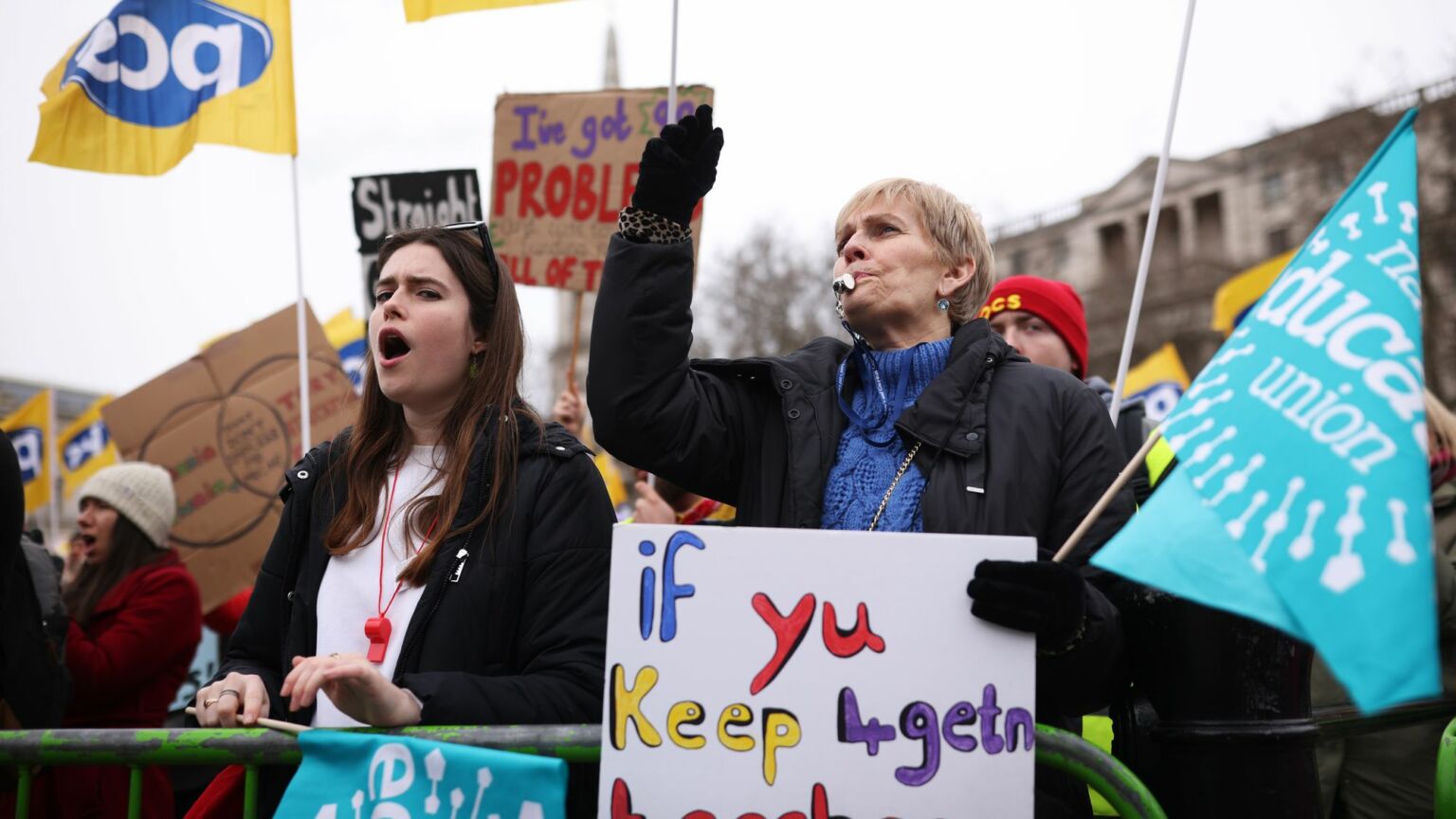 Teachers in the UK have already staged several days of strike action this year. Last week, Members of the National Education Union (NEU), the UK's largest teaching union, voted again to reject the government's latest pay offer. This means that there will likely be five more days of strike action during the summer term.
According to the NEU, the strikes are solely about improving teachers' pay and conditions. But it seems that Daniel Kebede, the NEU's president-elect, has different goals in mind. As far as he's concerned, strike action is a means to overthrow the 'racist' British state.
Kebede's position may not affect this summer's strike wave – he is not due to replace the NEU's current joint general secretaries, Mary Bousted and Kevin Courtney, until September. But from then on, the NEU will have a dyed-in-the-wool identitarian as its leader. Under Kebede's leadership, it seems that strike action will form part of an activist agenda inspired by critical race theory.
Indeed, as the Telegraph revealed last week, Kebede believes the national curriculum is based on a 'little-Englander, white-saviour narrative' that is 'fundamentally and institutionally racist'. Kebede made these comments at the Socialist Workers Party's Marxism conference last July. At the same conference, he also said that when teachers strike, 'it's much more [than] about the issue of pay. It's about reorganising society where we are free from racism.' Striking, he continued, is about 'taking back control of an education system from a brutally racist state'.
Kebede has long been spouting such views. At another conference in 2019, he said that 'the British education system is fundamentally and institutionally racist' and 'organised by powerful white men'. At a conference last year, co-organised by Labour MP Diane Abbott, Kebede is also reported to have said: 'The reality is, we are lying to our children on an industrial scale when it comes to Britain's history and role in the world.'
None of this is true, of course. The education system is not dominated by 'powerful white men' – government statistics show that over 75 per cent of UK teachers are women. As for the idea that British schoolchildren are being lied to on an 'industrial scale', they are frequently taught about the harm done by the British Empire.
Activists like Kebede aren't interested in the truth, however. They're interested in peddling a narrative that paints Britain as a deeply racist society shaped by a deeply racist state. Kebede's hysterical and incendiary language may play well with identitarian activists. But it won't help teachers striking for better pay. Their case should be made rationally, on the grounds that better pay is fair, reasonable and commensurate with the vital role that teachers play in society. Not on the grounds that striking is the first stage in the reorganisation of society around the tenets of critical race theory.
Kebede's posturing is also likely to undermine solidarity among striking teachers. Some NEU members currently supportive of industrial action may well become less so if it is turned into a woke crusade. What's more, Kebede's comments are a gift to the government. Ministers unwilling to negotiate over pay can now paint the NEU as identitarian militants. And they can do so knowing full well that the vast majority of the British public reject Kebede's absurd view that we live under the thumb of a 'brutally racist state'.
Thankfully, most rank-and-file teachers disagree with Kebede. They clearly don't think the education system is institutionally racist – if they did, they wouldn't have wanted to become teachers in the first place. Instead, many thousands are attracted to teaching as a vocation. They see it as an opportunity to improve children's lives and contribute meaningfully to society.
That said, unions and other organisations are clearly spending a lot of time and effort trying to convince teachers otherwise – that they are in fact part of a racist state. Back in 2021, for instance, the NEU itself claimed in a report that every aspect of the school day perpetuates racism. Similarly, Teach First, an organisation which trains graduates to become teachers in disadvantaged schools, has claimed that the school curriculum, culture and even workforce are part of 'the racism problem'. Meanwhile, the Runnymede Trust, a race-relations think-tank, reported in 2020 that 'racism is deeply embedded in schooling'. As a result of this insistence that education is institutionally racist, there is now a raft of organisations providing so-called anti-racism training to schools, from Educate Against Hate to Tell MAMA and Show Racism the Red Card.
Teachers must hold the line. They must not give in to this cynical identitarian narrative. They must remember why they became educators in the first place. And during this wave of industrial action, they must remember that they are arguing for better pay and conditions, not overthrowing a supposedly racist state.
It's time to kick racial identity politics out of education.
Gareth Sturdy is a physics adviser and former teacher.
To enquire about republishing spiked's content, a right to reply or to request a correction, please contact the managing editor, Viv Regan.