Nigel Lawson: the last Conservative chancellor?
It's little wonder today's Tories seem nostalgic for the late chancellor's heyday.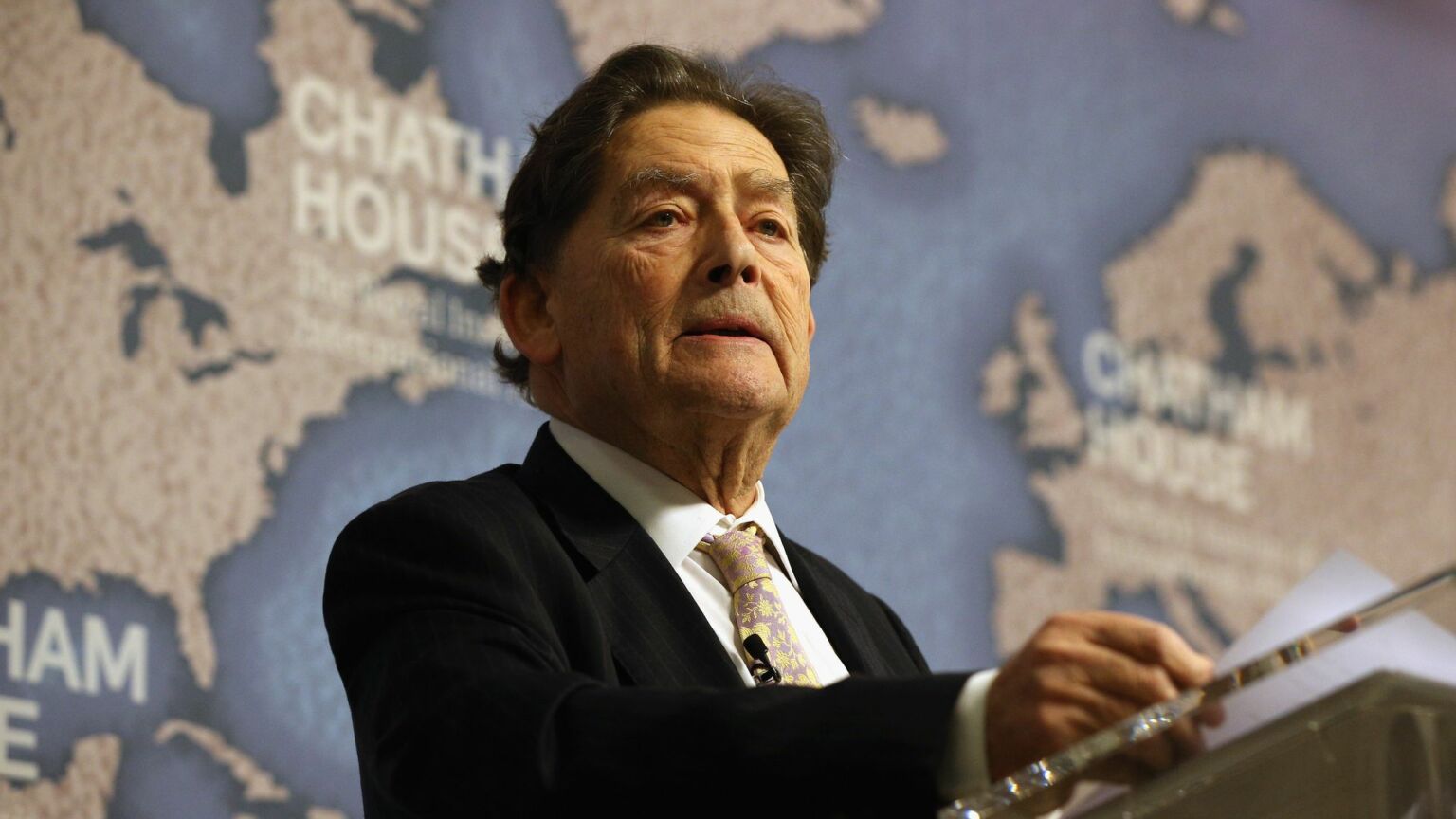 There has been a wistful air about the more sympathetic obituaries for Nigel Lawson, the former Conservative chancellor of the exchequer who died this week, aged 91. Lord Lawson of Blaby, as he later became, has been hailed as a 'giant' (by Boris Johnson), a 'hero', a 'brilliant chancellor', the 'architect of Thatcherism' and 'that rare thing – a true political giant'.
From the Daily Telegraph to the Wall Street Journal and beyond, editorials and columns have urged today's hapless, pessimistic Tories to 'learn from Nigel Lawson', wishing aloud that they could have 'followed his Thatcherite common sense'. (On the flipside, Lawson's death was greeted online with predictably tasteless vitriol and even celebration from the Thatcher-hating rump of the old left, still trying to restage the battles lost in the 1980s.)
It is little wonder that many Conservatives look back with nostalgia upon Lawson's years as Margaret Thatcher's longest-serving and most successful chancellor (1983-89). Compared to the principle-free technocrats and pathetic excuses for Tory politicians who run the country today, somebody like Lawson can indeed look like an intellectual and political colossus.
With his consensus-breaking policies of first restricting the money supply and then slashing taxes, it could even be argued that Lawson was the last properly Conservative chancellor to be in charge of the UK Treasury. Every Tory MP who has succeeded him as the occupant of No11 Downing Street has followed the mundane tax-and-spend model established in the 1990s by New Labour's Gordon Brown – who, in the Tony Blair era, took Lawson's record as Britain's longest-serving postwar chancellor. Although Lawson and Thatcher fell out bitterly in the end, she would still remember him in her memoirs as deserving a 'leading place' on any list of 'Conservative – even Thatcherite – revolutionaries'.
After working as a journalist on the Financial Times and Sunday Telegraph, Lawson was sacked as editor of the Spectator magazine while campaigning to become a Tory MP in 1970. Elected to parliament in 1974, Lawson soon became a key economic adviser to Thatcher, the new Conservative Party leader who would first be elected prime minister in 1979.
Lawson was this week credited by The Times as a main 'architect of her policy of using monetary discipline to restrain inflation' during her first term, when he was financial secretary to the Treasury. In human terms, that policy – dubbed 'monetarism' and largely imported from Ronald Reagan's America – involved clamping down on public spending, raising interest rates and decimating unprofitable state-owned industries. Unemployment rates soared in the Reagan-Thatcher era of 'money's too tight to mention'.
After Thatcher was re-elected prime minister by a landslide in the post-Falklands General Election of 1983, she appointed Lawson as her chancellor, putting him in charge of the public purse. Lawson set about slashing taxes for corporations and individuals, cutting the top tax rate from 60 to 40 per cent. He enthusiastically promoted the policy of privatising state enterprises, and oversaw the 'Big Bang' that deregulated financial services and saw the City of London prosper.
The chancellor was hailed for rescuing Britain from its ailing economic status as the sick man of Europe, and supposedly allowing 'popular capitalism' to blossom. But the 'Lawson boom' had lost its bloom even before his departure, with the financial crash of Black Monday in October 1987 followed by the deep recession of the early 1990s.
Lawson's financial shenanigans had failed to address the underlying weaknesses of the UK economy that have dogged British governments ever since. Nevertheless, Tories stuck in a rut with current chancellor Jeremy Hunt's impression of a somnambulist accountant can surely be forgiven for looking back with longing to the apparent boldness and dynamism of the Lawson years in No11.
Before he became chancellor, Lawson had served as energy secretary in Thatcher's cabinet from 1981, after her first purge of the old-school Tory 'wets'. In that role he did a thorough job of, as Thatcher later said, 'building up coal stocks for the inevitable struggle with the miners'. When that conflict finally broke out, in the bitter, violent year-long Miners' Strike of 1984-85, the well-stocked government was in a strong position to defeat the divided National Union of Mineworkers. A key factor in the 'inevitable' crushing of the strongest industrial trade union was that Thatcher, Lawson and Co had fully prepared for an all-out civil war, unlike Arthur Scargill's NUM and its left-wing supporters.
When Lawson eventually fell out with Thatcher, it was, like most recent Tory infighting, over the UK's relations with Europe. Theirs, however, was not a clear-cut Leave vs Remain dispute; the word Brexit did not exist in the 1980s. Thatcher, the ardent Eurosceptic, was also an architect of the European Single Market. Lawson wanted Britain to join the European Exchange Rate Mechanism (ERM) as a tool for imposing economic discipline, but he did not share the rampant pro-EU prejudices of fellow cabinet rebel Geoffrey Howe.
Thatcher called her chancellor 'unassailable'. When Lawson resigned in 1989, followed by Howe and then Thatcher in 1990, it was the end of an era. Neither Conservatism nor capitalism has ever appeared as 'popular' since, though the party has won successive elections against the useless Labour Party.
Lawson, meanwhile, seemed to become more radical and committed once he had retired as an MP. He took up arms against 'alarmist' warnings about climate change, writing a staunchly critical book and launching a think-tank, the Global Warming Policy Foundation, in 2009. He also became an ardent Brexiteer, certain that the increasingly centralised EU was interfering in Britain's precious national sovereignty.
Lord Lawson of Blaby became a key lobbyist in persuading Remainer Tory prime minister David Cameron to call the 2016 referendum, which would enable the biggest anti-establishment revolt in modern British history. Even those of us Brexiteers who were on the opposite side from Lawson in the struggle with the miners have reason to be grateful to him for that, at least.
Several obituaries referred to Lawson as a 'contrarian', usually a term of abuse which suggests somebody takes controversial stances for the sake of it. Lawson, however, saw it more as a matter of constructively questioning what was taken for granted. 'I'm always on the alert when there is a consensus', he said. 'There is no debate. That's lazy.' We could surely do with more political leaders of any stripe willing to question the current lazy consensus, not least on economic issues.
Where are the political giants bestriding the stage today? Our political life is now shrunken in stature, led by political pygmies. Some news outlets even felt obliged to report the death of a leading Tory statesman of the 20th century through the prism of the celebrity culture attached to his TV chef daughter. 'Nigella Lawson's dad has died', declared the headlines. Unassailable no more.
Mick Hume is a spiked columnist. The concise and abridged edition of his book, Trigger Warning: Is the Fear of Being Offensive Killing Free Speech?, is published by William Collins.
To enquire about republishing spiked's content, a right to reply or to request a correction, please contact the managing editor, Viv Regan.