Trump's great crime is to have stood up to the elites
This incoherent indictment makes a mockery of the law.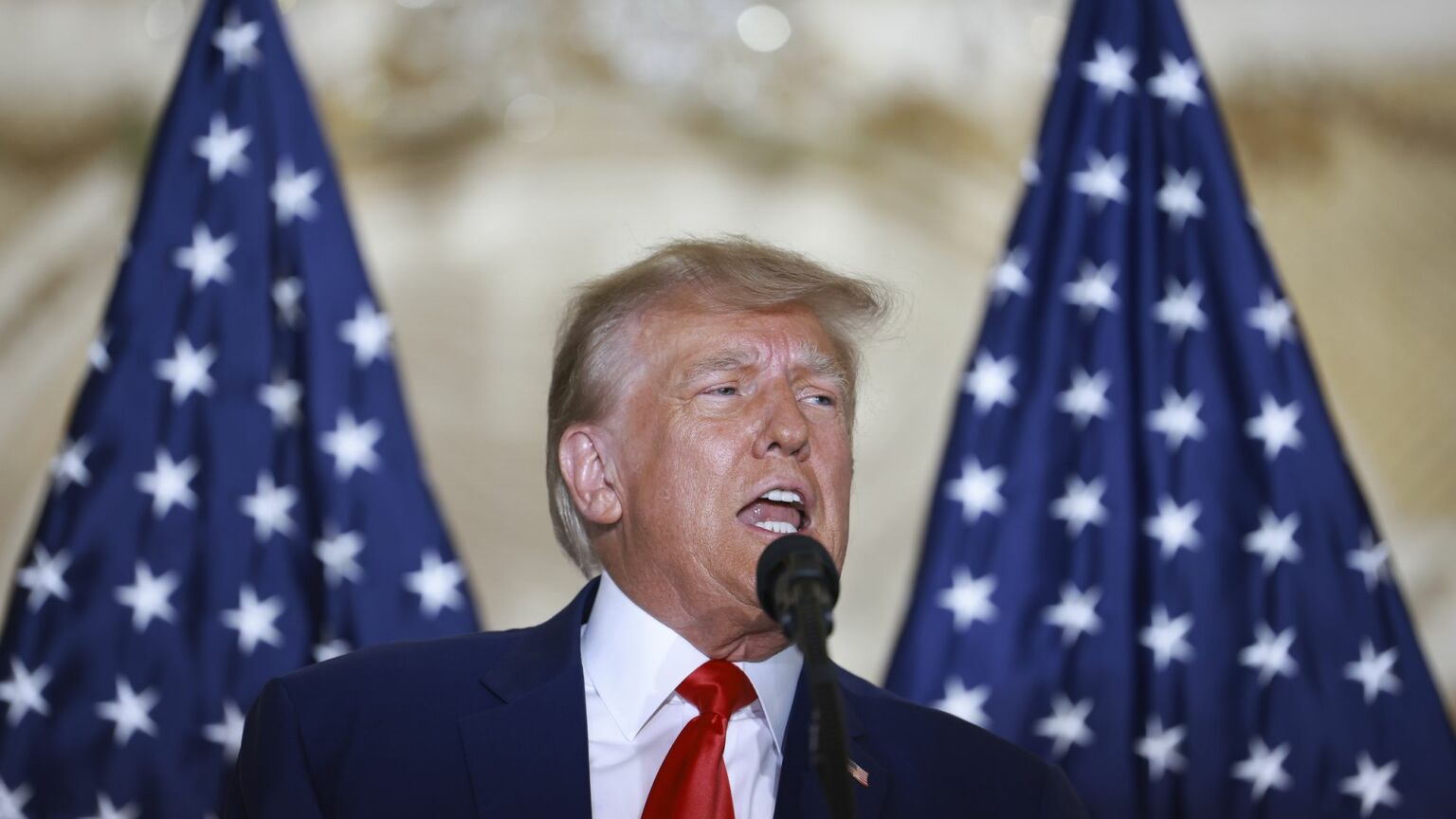 Ever since New York City district attorney Alvin Bragg secured a grand-jury indictment for former president Donald Trump last week, those of us who believe in America's democratic institutions and the impartiality of its judicial system have collectively held our breath. We have waited for the list of charges that might justify this unprecedented prosecution. Word on the street was that the indictment would be tied to Trump's alleged $130,000 hush-money payment to adult-film actress Stormy Daniels, which Trump and his team had misclassified in business records as 'legal expenses'. Falsifying records is a misdemeanour under New York law, so in order for it to be prosecuted as a felony, it needs to be done with intent to hide another crime. Because paying off a porn star is not in any way criminal, it was this other crime we were all hoping to learn of on Tuesday, when Trump was arrested and charged.
Maybe, just maybe, this other alleged crime was so great that it would justify Bragg's actions – to take this out of the realm of politics and into the realm of justice.
Reader, it was not. According to the statement of facts released with the indictment, Trump 'repeatedly and fraudulently falsified New York business records to conceal criminal conduct that hid damaging information from the voting public during the 2016 presidential election'. And what was that criminal conduct? 'From August 2015 to December 2017, the defendant orchestrated a scheme with others to influence the 2016 presidential election by identifying and purchasing negative information about him to suppress its publication and benefit the defendant's electoral prospects', reads the statement. 'In order to execute the unlawful scheme, the participants violated election laws and made and caused false entries in the business records of various entities in New York. The participants also took steps that mischaracterised, for tax purposes, the true nature of the payments made in furtherance of the scheme.'
Let's break this down. The alleged crime of falsifying documents can only be bumped up to a felony worthy of prosecuting Trump if the documents were falsified to conceal a crime. What was that crime? It appears to be 'a scheme… to influence the 2016 presidential election by identifying and purchasing negative information about [Trump] to suppress its publication'. But that is not a crime, either. Like paying off a porn star, the practice of 'catch and kill' – buying the exclusive rights to a news story to make sure it is never published – is a common practice. How could the crime Trump was trying to hide not be a crime? Well, Bragg explains, in order to do this otherwise legal act, Trump and his team 'violated election laws' by, you guessed it, falsifying business records.
In other words, the second crime which is supposed to justify the first crime being bumped up to the level of a felony is… the first crime. 'The scheme violated New York election law, which makes it a crime to conspire to promote a candidacy by unlawful means', Bragg explained at a press conference on Tuesday. 'The $130,000 wire payment exceeded the federal-campaign-contribution cap and the false [business] statements… violated New York law', he added.
But, as we've established, the 'unlawful means' by which Trump promoted his candidacy was a misdemeanour at best, like the falsified business records. Nevertheless, this is the 'crime' that Bragg alleges was being illegally covered up.
As ABC news contributor Sarah Isgur put it, we now 'need a third crime' in order for this 'charge to work'.
It's nonsense. I'm no legal expert, but it's clear you can't have two felonies that rely on each other to exist as such. Of course, more evidence of greater crimes may come out during trial. But based on what we know now, and based on Bragg's press conference, there is no felony there.
Bragg keeps insisting that no one should be above the law, not even Donald Trump. But this looks like the kind of legal shenanigans that would only be configured for Donald Trump – the foe of the over-credentialed elites.
How could this have happened? Republicans eager to put Trump in the rearview mirror see Bragg's overreach as a ploy on behalf of Democrats to get Trump elected as the Republican nominee for the 2024 presidential election. Many Democrats certainly think he will be easier to beat than someone like Florida governor Ron DeSantis. And it's true that Trump's legal troubles are boosting his poll ratings. But I don't think the Democrats are as coordinated as that.
More likely, in Bragg's case, we have a man eager to forgive the crimes of real felons – who amid a historic surge in crime, temporarily downgraded illegal gun possession and robbery from felonies to misdemeanours – inventing a new felony to fit a political foe. As the progressive elites 'decarcerate' career criminals, they are criminalising the people who stand up to them. For me, Bragg's insouciance in the face of real crimes is as much of an outrage as his invention of felonies.
The Democratic elites have finally gone too far. After the indictment was unsealed, even CNN spent the afternoon and evening queasily admitting it wasn't all they had hoped for.
I don't think this indictment will automatically make Trump the Republican nominee, however. People vote on what's urgent to them, and sadly, there are too many urgent matters for a witch-hunt like this to take centre stage. Trump won in 2016 because he told forgotten Americans: 'They've taken everything from you.' He won't win in 2024 by saying, 'They've taken everything from me', as he did throughout his televised address on Tuesday night. While many feel a sense of loyalty to Trump, I don't see this indictment outweighing the crises of inflation, crime, immigration and housing.
To enquire about republishing spiked's content, a right to reply or to request a correction, please contact the managing editor, Viv Regan.