The petty tribalism of Billy Bragg
The self-proclaimed trans ally is tripping over himself to be PC.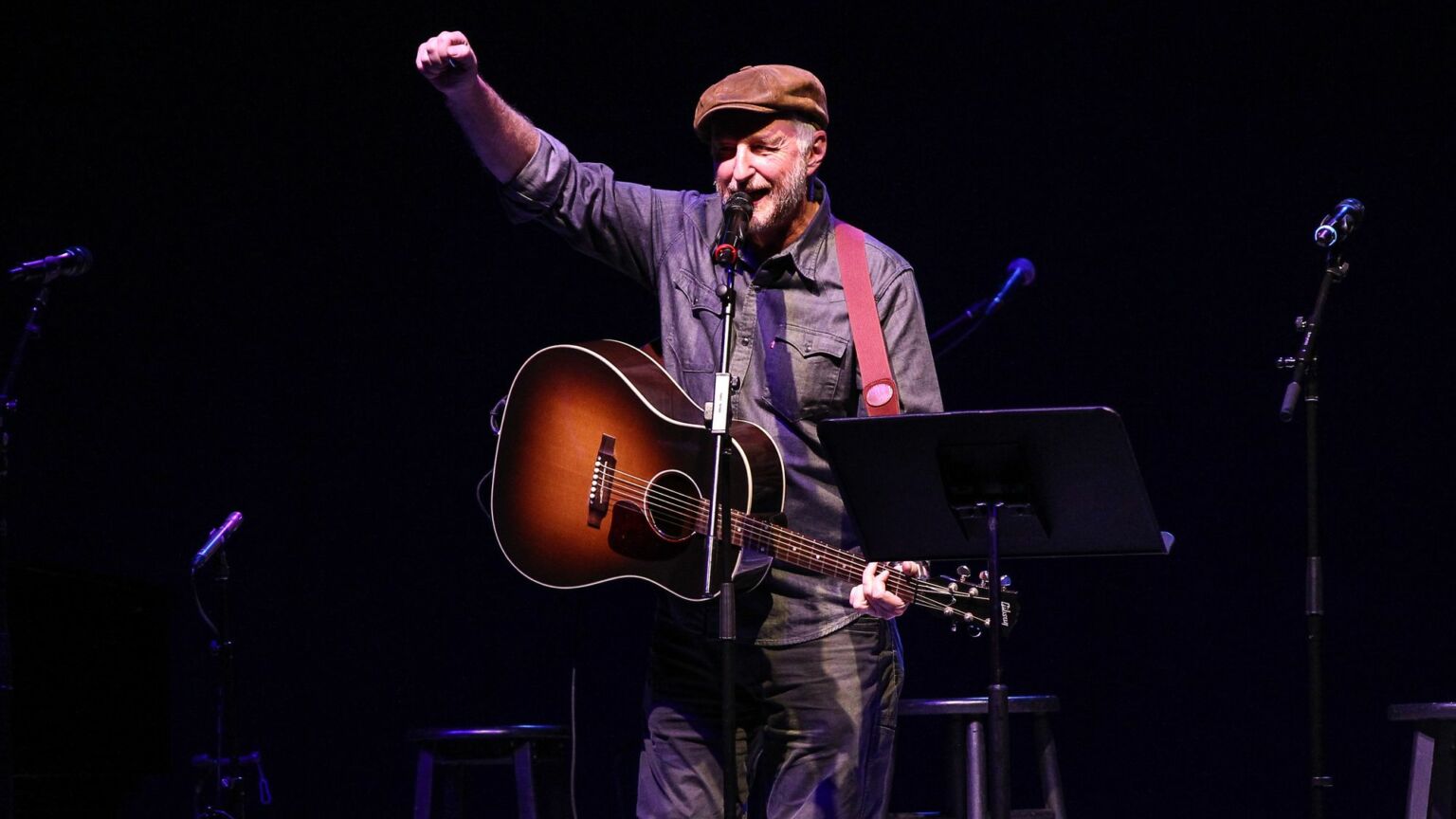 The Tube was one of the very first shows that launched Channel 4. It was a teenagers' magazine show that leaned heavily on short live performances by visiting pop-music artists. In between songs from the likes of the Thompson Twins and the Fall – for The Tube was nothing if not eclectic – there were sometimes little comedy bits, from punk poet Mark Miwurdz or from two funny girls called Dawn and Jennifer, whose schtick was that they tried to get into the studio every week without tickets. I remember tuning in one Friday night in 1983 and seeing a new comic turn, a musical spoof of middle-class lefties who put on an overdone cockney accent and rant about 'Fatcha'. Quite funny, I thought.
It was only when I mentioned him to friends that they set me right. 'He's a serious act', they told me. 'And Billy Bragg is his real name.'
Nevertheless, Billy Bragg has been providing quality laughs ever since. He is one of those working-class people that middle-class lefties simply adore, fitting exactly the first category of their two rather bizarre fantasised versions of their 'inferiors' – the cheeky but honest-as-the-day-is-long, salt-of-the-earth victim (the other being the knuckle-dragging, racist gammon). Who can blame the likes of Billy Bragg, Kathy Burke, Maxine Peake or Angela Rayner for playing along? This is a great way – perhaps now the only way – for the 'lower' orders to get on in public life.
Conceptually, Billy Bragg is a great idea. An urban, working-class, British folk singer / songwriter with a talent for wordplay. But there is more truth in one song tossed off by the Jam, the Kinks or the Streets than in whole albums of Bragg, whose rigid worldview serves up reminders only of poorly attended SWP meetings, with the whiff of photocopier fluid and inky fingers. He was a key figure in the embarrassingly disastrous attempt to get young people to vote Labour in 1987, Red Wedge, which sounds like something your GP would discreetly prescribe you a course of antibiotics for.
Though all of that is horribly unsexy, whenever I think of Bragg, I think of 'Sexuality', his No27 smash hit of 1991. A Johnny Marr tune that, in its first seconds, chimes and glides and grooves and then soars up, and just when you think Morrissey is about to take flight with words that could only be his own, the dread voice of Bragg blasts out like a fart from a foghorn. (Not for the first or the last time, you think of Marr, 'You left the Smiths for this?') It quickly becomes the least sexy song imaginable. It has all the erotic allure of a GLC pamphlet.
And before the first verse is out – it happens. The lyric that causes your entire body to convulse in embarrassment: 'And just because you're gay, I won't turn you away / If you stick around, I'm sure that we can find some common ground.'
How considerate, Bill. Ta very much. But what exactly does he mean by finding common ground? Sharing our animus for the Tories or some light frotting in a doorway? Experiencing this lyric is rather like standing on a platform when a huge non-stopping freight train passes through a station: Here it comes, here it comes / AAAARRRGHHH / Oh, thank God, it's gone.
Now I'm not one for showing work-in-progress to all and sundry, but on this occasion, why didn't Bragg maybe just run it past someone? And why stop there? 'And just because you're a Turk, I won't call you a berk', or 'Just because you're deaf, I won't call you Mutt and Jeff', or 'Just because you're bi, I won't say you should die' – okay, I'll stop now.
Inevitably, trans ally Bragg has since 'updated' the lyrics, changing 'gay' to 'they'. Explaining the move in 2021, he said: 'Times changed. Anyone born since the song was released would wonder why it's a big deal to find common ground with a gay man.' We wondered that back then, in 1991, Billy. He then added: 'The frontline now is trans rights.'
Nowadays, Bragg no longer makes 'passes at women of all classes', but picks fights with them instead, mainly by comparing sex-realist women's rights campaigners to Nazis. Last week, he amplified the blatant lie from Australian media that Kellie-Jay Keen (aka Posie Parker) is in cahoots with far-rightists. He tweeted that Australian MP Moira Deeming, who attended one of Keen's Let Women Speak events, 'spoke at a Posie Parker rally, which Nazis turned up to support'. Because this is 'the frontline' now. And so Bragg the socialist is just fine with being in solidarity and standing for 'trans rights' with, among many other corporate behemoths, those famously marginalised and penniless outsiders Bayer AG, Jaguar, Unilever and the Walt Disney Company.
This is grim stuff, but it is psychologically fascinating. Bragg cannot accept the reality of his gender-critical opponents – a movement notably led by left-wing women – so he has to invent the opposition he would prefer to have. And so he invokes the Holocaust and Nazism. Although we should remember, at the height of Corbynism, this was the man who told Jewish people that they had 'work to do' to get back in Labour's good books. At a recent concert in Brisbane, he banged on about male violence, while – at the very same time – his mainly male crowd shouted down a single female dissenting voice saying 'stop calling women Nazis'. He even tetchily addressed her as 'madam'!
Bragg keeps smashing into the wall of cognitive dissonance – between what is socially expedient versus what is consistent and logical – again and again. All he has is his tribal allegiance. Billy's tribe cannot be wrong. Removing that precept would be like taking a vital brick out of a Jenga tower. His self would disintegrate.
Whatever nonsense his overwhelmingly middle-class masters say, man of the people Billy Bragg will agree with it.
Gareth Roberts is a screenwriter and novelist, best known for his work on Doctor Who.
To enquire about republishing spiked's content, a right to reply or to request a correction, please contact the managing editor, Viv Regan.