Is Germany persecuting lockdown sceptics?
The arrest of Querdenken leader Michael Ballweg raises some troubling questions.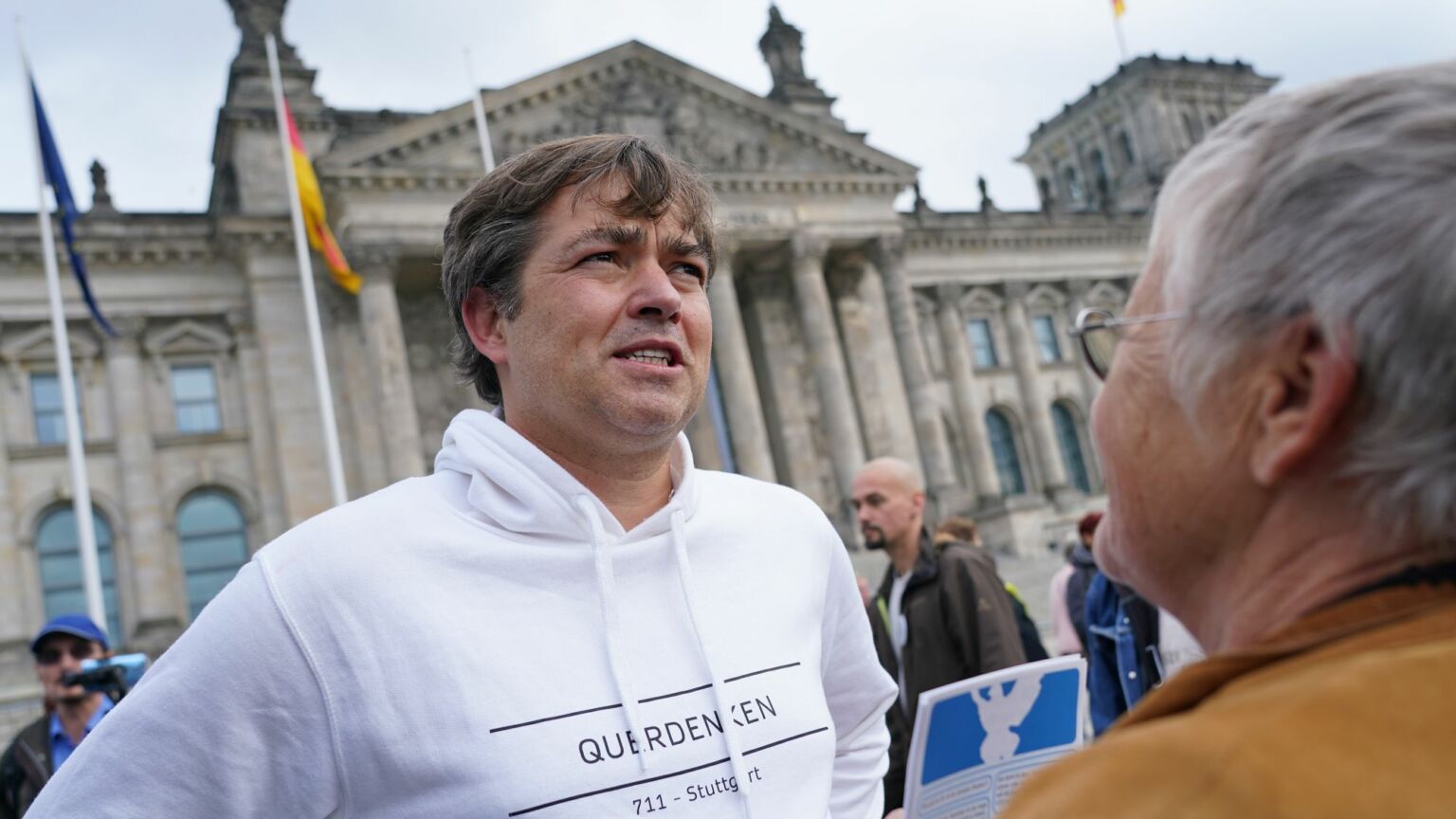 For much of the pandemic, Michael Ballweg was a thorn in the side of Germany's pro-lockdown establishment. Now, the 48-year-old businessman has become one of Germany's most famous prisoners.
Ballweg came to public attention in spring 2020 as the face of the protest movement against the government's strict Covid policies. His organisation's name, 'Querdenken' (thinking outside the box), quickly became synonymous with opposition to lockdown. Even today, as the Covid measures imposed by then chancellor Angela Merkel are coming under increasing scrutiny, the term Querdenker, which refers to followers of the Querdenken movement, continues to be used as a slur against anyone deemed too critical of the restrictions.
In June last year, Ballweg was arrested on suspicion of committing serious fraud. He was then detained in police custody for almost 10 months. Two weeks ago, the prosecution decided to formally charge him. And this week, he was finally released pending trial.
I spoke to one of Ballweg's lawyers, Dr Reinhard Löffler, about his client's plight. According to Löffler, Ballweg has now been charged with attempted serious fraud (in 9,450 cases), money laundering (in four cases) and attempted tax evasion (relating to an amount of over €500,000). In a worst-case scenario, the charges could result in five years' jail time.
There is more than a whiff of politics about this arrest and prosecution. As Löffler, who insists he is not a Querdenker himself, tells me: 'It stinks.'
Ballweg stands accused of using half of the €1million worth of donations to Querdenken to enrich himself. According to the indictment, which Löffler showed me, only about half of the money Ballweg collected was used for activities relating to Querdenken. The rest has remained in his various private accounts, or has been withdrawn in cash. Ballweg's lawyers deny all the allegations.
As Löffler explains, the original accusation of serious fraud has been downgraded to 'attempted serious fraud'. And the charge of tax evasion has only recently been added. Löffler regards the new charge as particularly questionable. Ballweg was unable to file his tax return because he had already been arrested and jailed. He had no way of accessing his documents or a tax adviser.
The reaction to Ballweg's prosecution among Germany's political and media elites also suggests that politics is at play. His pro-lockdown opponents have exulted in his travails. They have presumed him guilty right from the moment of his arrest. 'These people must be deprived of the resources that allow them to fight our democracy', said one Social Democrat politician last year.
Ballweg's supporters, however, see him as a victim of a politically biased justice system. The unusually long detention without charge – of over nine months – certainly seems to confirm this. According to German law, pre-trial detention should end after six months. But the authorities consistently rejected Ballweg's lawyers' attempts to have him released until court proceedings could begin. The authorities claimed he was a flight risk, even though, as Löffler explains, Ballweg has already had his passport confiscated. According to the indictment, a container with Ballweg's belongings was seized in the port of Hamburg, around the time of his arrest – it had been destined for Costa Rica. But this week, the courts decided that the risk of him absconding is low and he has been released from custody under certain conditions.
Ballweg, a respected businessman before the pandemic, may well have wanted to use his anti-lockdown fame to make money for himself. But, as Löffler confirms, none of the people who donated money to Querdenken has accused him of fraud.
For most people, supporting the Querdenken movement was a statement of defiance. When so little dissent was permitted on lockdown, many were simply thankful that somebody was prepared to put his neck on the line to challenge it. He struck a nerve at a time when many felt betrayed by the pro-lockdown political and media class. The government then responded to this rising lockdown scepticism by having the Querdenken movement monitored by the secret service, from at least spring 2021 onwards.
In the eyes of many of Ballweg's supporters today, the scales of justice are weighted heavily against him. The authorities' decision to keep him in custody for so long has only reinforced their view. Regardless of the verdict of any trial, the damage to public trust has already been done.
Sabine Beppler-Spahl is spiked's Germany correspondent.
To enquire about republishing spiked's content, a right to reply or to request a correction, please contact the managing editor, Viv Regan.