The authoritarian crusade against the car
The elites are deliberately making driving more difficult and expensive.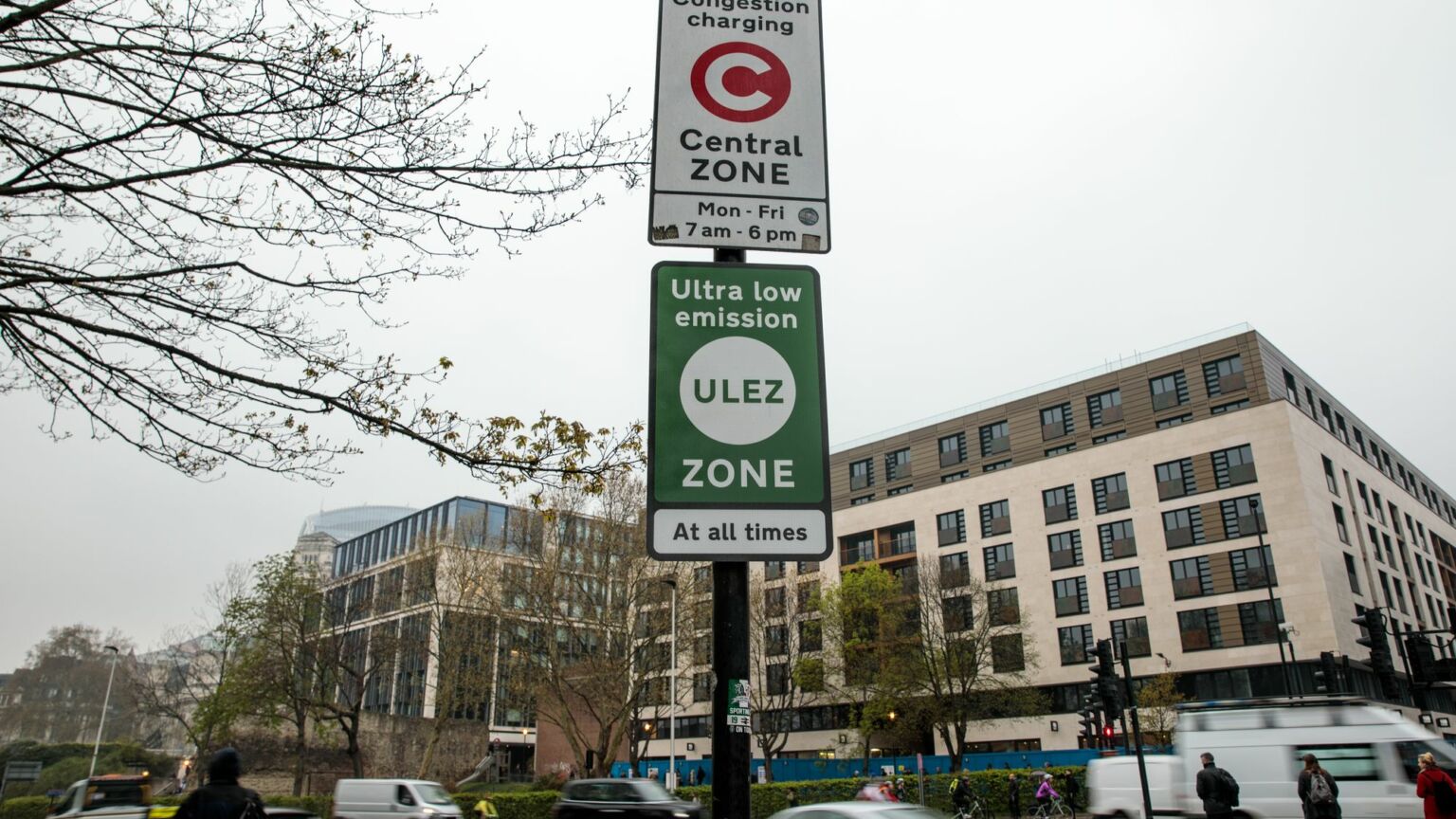 Drivers are getting a bad deal these days. Whether it is because of exorbitant emissions-zone charges, road closures under various low-traffic neighbourhoods (LTNs), or just poorly maintained infrastructure, one almost gets the sense that there is a concerted attack on our ability to get around by car.
In fact, in the UK, the war on the car has a long history. Back in 1989, Margaret Thatcher's Conservative government published a White Paper titled 'Roads for Prosperity'. In an effort to invigorate personal car use, it promised 500 road schemes at a cost of around £23 billion. Her bold proposal was described as 'the largest road-building programme since the Romans'.
The trouble was, it would have meant JCBs ploughing their way through a number of areas of natural beauty, which prompted widespread opposition. In 1991, several thousand people organised to halt the planned expansion of the M3 at Twyford Down in Hampshire. In 1994, environmentalists joined residents of Newbury in Berkshire to protest against a planned bypass around the town, which would have run through three sites of historical interest. Organisations like Reclaim the Streets soon formed to challenge the dominance of the car in transport policy. Anti-car rhetoric hardened.
When in opposition in the mid-1990s, Labour leader Tony Blair spotted an opportunity to contrast his party with the Tories by allying with this emergent environmental movement. By the time Labour took power in 1997, Blair was pledging to 'put concern for the environment at the heart of Labour policymaking'. To this end, Blair's Integrated Transport White Paper in 1999 set out a framework to reduce urban congestion, pollution and environmentally damaging emissions. This came alongside similar proposals from the European Union, calling for reductions in car use. This targeting of road users was presented as a necessary step for meeting the government's statutory duties under the National Air Quality Strategy and the Road Traffic Reduction Act 1997.
Yet, by this time, air pollution in Britain had already fallen significantly, thanks largely to the abandonment of coal power and to deindustrialisation more broadly. By the time Blair took office, industrial emissions had fallen by 50 per cent compared with 1970. Nevertheless, the anti-car bandwagon had already started rolling.
In 1998, deputy prime minister John Prescott promised that he would give 'public transport priority over private transport'. Undermining the centrality of the car became such a major priority for Blair's first term in office that Prescott was put in charge of the first transport and environmental superministry. There he famously announced: 'I will have failed if in five years' time there are not many more people using public transport and far fewer journeys by car.'
In the years since, a veritable industry of car-reduction campaigns flared up across Europe, like the 'Open Squares' initiative, the Clean Cities Campaign and World Car-Free Days. During this period, investment in public transport was generally only approved if it could be shown to have a detrimental impact on car use. Drivers were to be inconvenienced out of their dirty habits and prodded on to alternative modes of transport. As a result, by the late 2010s, motorists had to contend with congestion charging, parking restrictions and ever more speed cameras. Anti-car, 'demand management' policies had become mainstream.
It didn't work. The number of cars on the road rose substantially between the early 1990s and the pandemic in 2020. This is partly due to the inadequacies of public transport. What this predominantly shows, however, is that personal mobility remains important to the public, despite all the policies that are so hostile to driving. The fastest growth in driving was among women, only 30 per cent of whom had a driver's licence in the 1970s compared with 71 per cent by 2019. Driving is, for many people, a form of liberation.
As social and environmentalist contempt for drivers has grown, the desire to 'reduce dependency on the car' has spawned a whole host of illiberal experiments in curtailing personal mobility. The pandemic gave the government and local authorities a unique opportunity to push through many of these measures, unhindered by any democratic scrutiny. In February 2020, as Covid started looming into view, prime minister Boris Johnson announced a funding package of £5 billion for 'active travel' schemes across the country – active travel being the government's favoured euphemism for non-car-based mobility. In London, during the first lockdown in March 2020, many LTNs were installed almost overnight. Just as people were confined to their homes under lockdown restrictions, streets were closed off to cars and bollards were installed. Any motorist violating the LTNs was subject to fines. In 2021, transport secretary Grant Shapps declared his ambition for half of all journeys in towns and cities to be made by walking or cycling by 2030.
The similarity between the technocratic authoritarianism of the lockdowns and the anti-car movement is no mere coincidence. 'The Future of Mobility', a 2019 government report that championed a 'behavioural science' approach to transport policy, was edited by the UK government's chief scientific adviser, Patrick Vallance. Meanwhile, England's chief medical officer, Sir Chris Whitty, is currently senior adviser to the government's 'walking, wheeling and cycling' active-travel strategy. As we all know, both Vallance and Whitty were also central to the government's top-down approach to controlling the public's behaviour during the pandemic.
It seems anti-car policy always comes cloaked in technocratic euphemism. Active Travel England, a quango set up in July 2020, has been granted £2 billion of funding over five years with the aim of making England 'a great walking and cycling nation'. These 'active travel' schemes gift money to cash-strapped local authorities with the express demand that highways be constricted and car access be limited. This year, it has pledged £33million to create a national network of active-travel experts to advise councils on these schemes – essentially on how best to screw up traffic. Any councils protesting will have that money rescinded.
An open, critical discussion is needed on the future of mobility. Yet, where 'active travel' is concerned, these policies are pushed through without debate. Most of these restrictions on car use are marketed as 'improvements' to local areas, but that depends on what you classify as an improvement. Hackney Council, for example, is planning on closing 75 per cent of its road space to cars – a decision it has made with no discussion, no mandate and no apologies. Meanwhile, mayor of London Sadiq Khan stands accused of 'manipulating' a public consultation to make Londoners appear more favourable to the expansion of his ULEZ congestion-charge scheme. In a move reminiscent of the lockdown injunctions, Oxford council is planning to fine residents who make what it deems to be 'unnecessary journeys by cars'. Councillors have said this proposal is 'going to happen, definitely', regardless of public opinion.
It is clearly not progressive or democratic to impose – sometimes literally in the dead of night – restrictions on mobility. All road users are now feeling the pinch of this draconian anti-car crusade. In many urban areas, families are no longer able to drive to do their weekly shopping. Taxi routes are lengthened and made more costly. Care workers often cannot navigate a speedy route to a patient. And pensioners are taking longer to get to GP surgeries. The list goes on.
The benefits of the car are greatly underestimated by our green elites. The authoritarian trend for imposing road closures, transport restrictions and financial penalties on drivers is causing real anger in local communities. Many feel like they are being treated with contempt, but their frustration is met with sneers by the authorities.
Opposition is growing to these severe constraints on the freedom to drive. Some motorists, such as in Birmingham, are refusing to pay fines for entering the city's Clean Air Zone. Local demonstrations are kicking back against low-emissions zones, LTNs and other anti-car schemes in London, in Oxford and elsewhere. Hopefully, democracy can soon return to the driving seat.
To enquire about republishing spiked's content, a right to reply or to request a correction, please contact the managing editor, Viv Regan.