Sunak's cruel crackdown on the homeless
The new anti-social-behaviour plan will do nothing to better our communities.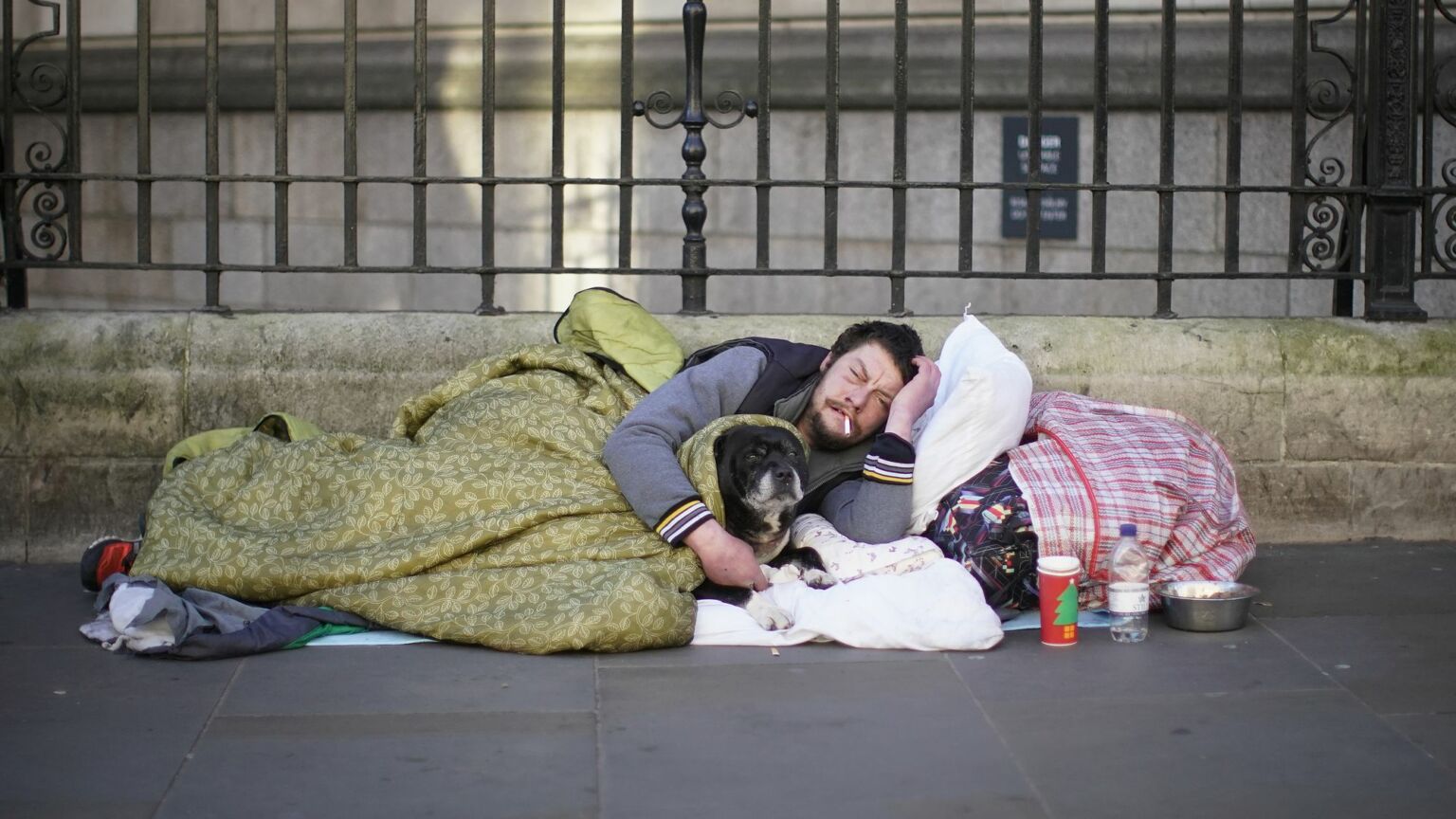 UK prime minister Rishi Sunak has announced plans to give police and councils new 'tools' to combat so-called anti-social behaviour. This includes increasing their powers to move on 'nuisance beggars', making it easier for the public to report anti-social behaviour, increasing fines for fly-tipping and littering, and ordering miscreants to perform community service, with victims getting a say in any punishment.
Such announcements have been a regular feature of political life since the Anti-Social Behaviour Order (or ASBO) was launched under New Labour in 1998. In a similar vein to past governments, Sunak claims that his crackdown will create 'strong communities built on values'. The idea is to make people feel safe and at home, and to defend them against a small minority who are supposedly selfish, thoughtless and who lack respect. Such initiatives always come couched in the same language – Sunak is promising a 'zero-tolerance' approach to misbehaviour, and to empower officials with new 'tools' to effect 'immediate justice'. What this always means is officials will have the power to move people on, fine them, confiscate their property and issue other legal orders.
In other words, while all the rhetoric surrounding these policies is about defending the 'community', what they really entail is an increase of the state's power. This generally results in officials being given arbitrary powers that are rarely exercised with proper checks and balances.
The truth is that the police already have ample powers to move on homeless people, or anyone else for that matter. Since dispersal orders were first introduced in 2003, it has been possible for the police to ban anyone from a given area for 24 hours. In 2014, this power was expanded, allowing police to declare dispersal areas in advance or on the spot. The necessary conditions for issuing these orders were also lowered, requiring only that the dispersal area 'may be necessary for the purpose of removing or reducing the likelihood of… members of the public in the locality being harassed, alarmed or distressed'.
In 2014, local councils were also granted additional dispersal powers with the arrival of Public Spaces Protection Orders (PSPOs). These allow police and council officers to bar homeless people from large areas of town on a flimsy basis, and to fine them if they return. Many local authorities use these powers to ban begging, rough sleeping or sitting in doorways. Councils and police have also used Community Protection Notices (CPNs) to ban homeless people from town centres, or forbid them from 'loitering' or from accepting donations.
There are few towns or cities in the UK where homeless people cannot already be moved on. Indeed, the life of a homeless person is one of being constantly hassled by officials, having your alcohol or possessions confiscated, or being banned from parts of town.
So why does Sunak feel the need to introduce a new raft of powers of his own? One reason is that, in announcing new powers, politicians can give the impression that they are 'doing something' without actually investing money or providing anything concrete, or even going to the bother of changing the law to introduce a new criminal offence. After all, ensuring that there are sufficient hostel places for homeless people – not to mention systems to move them into jobs and permanent housing – would be a more expensive and difficult task. Instead, politicians prefer to create 'new powers' that don't even need to be given too much thought. In this way, persistent social problems like homelessness and poverty are turned simply into a matter of 'nuisance begging' – behaviour that can be tackled by new dispersal orders.
This is not to say that Britain faces zero problems when it comes to community breakdown, anti-social behaviour, littering, rudeness and a general attitude of disrespect. These are very real problems, which both parties are clearly keen to talk about. Indeed, Labour has recently proposed creating 'Respect Orders', which would allow the police to arrest those repeatedly engaged in anti-social conduct. This new power, Labour claims, would solve such problems once and for all.
But such problems cannot be solved merely by giving the state more powers to use as it pleases. It is wrong to believe that such orders can build a sense of 'community' or create 'respect'. These days, state coercion is seen as the only means of collective action. But as sociologist Max Weber noted, 'collective order' is 'only to a small extent the result of an orientation towards legal rules'. The greater part of order comes from a public sense of morality and our informal obligations towards one another.
Nevertheless, today's authorities believe they can instil respect by council decree. To this end, some PSPOs even forbid swearing and being annoying – offences punishable by an on-the-spot fine. Such petty behavioural rules are not only ineffective – they are also downright counterproductive. The more we report our fellow citizens as 'nuisances' to a council hotline, the less we will feel able to negotiate relations and disagreements among ourselves. When the state intrudes into these disputes, it does so at the expense of any genuine sense of community.
Sunak's new powers are more worrying still. They will be particularly harmful to homeless people. When homeless people are moved on, it further disrupts their lives and increases their problems, while adding to their distrust of officialdom. Existing 'moving on' powers often separate homeless people from their networks of support. I know of several cases where homeless people have been banned from areas where they had community ties, including people who would give them food and occasionally a bed for the night. Under the latest powers, a person bedding down in a doorway can be classed as a 'nuisance' and forced to move to a colder or less sheltered spot. This is needlessly cruel.
Rishi Sunak may see his anti-social-behaviour initiative as a cheap and easy way to present himself as tough on law and order. But it will come at a great cost to the homeless – and our already fraying sense of community.
Josie Appleton is director of the Manifesto Club civil-liberties group.
To enquire about republishing spiked's content, a right to reply or to request a correction, please contact the managing editor, Viv Regan.