Hands off our Elf Bars!
Banning flavoured vapes would be a spectacular own goal.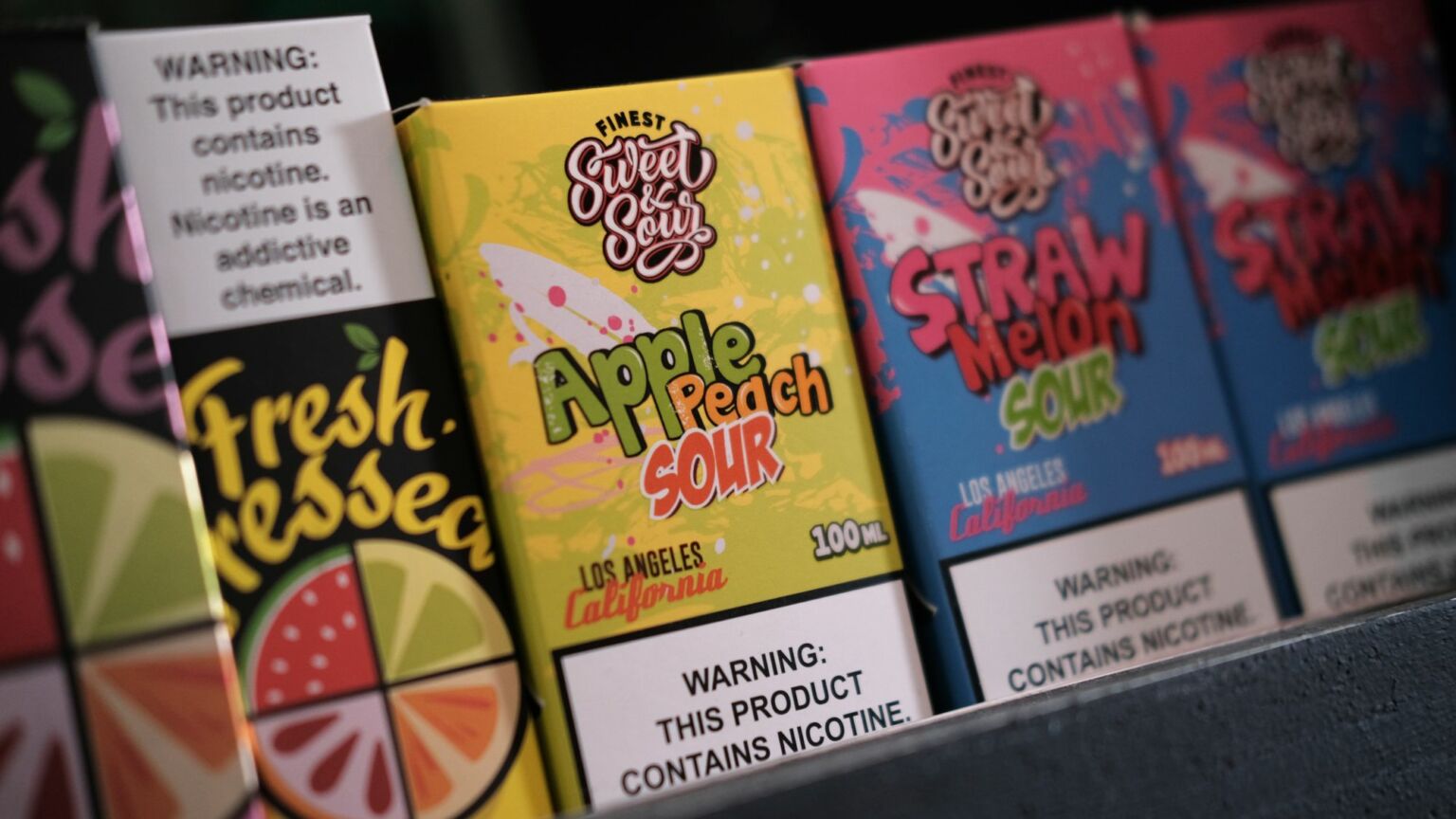 According to several headlines today, the UK government is on the verge of banning disposable e-cigarettes. It may even be thinking of banning some e-cigarette flavours. This is all just speculation for now. The only word from the government is that it will be launching a public consultation to ask what, if anything, it should do about an apparent rise in youth vaping.
On the face of it, the scale of underage vaping does not seem too alarming. The most recent figures are from 2021 and they show that the proportion of secondary-school pupils who have ever tried an e-cigarette was 22 per cent. This is no higher than it was in 2014, although the proportion who said they were regular vapers rose from four per cent to nine per cent in the same period. Of these regular vapers, only one per cent had never smoked a cigarette. In other words, only 0.09 per cent of secondary-school children regularly vape and have never smoked.
As for smoking, it has virtually disappeared among people under the age of 16. Since vaping became popular in 2012, the proportion of regular smokers aged between 11 and 15 has dropped from four per cent to just one per cent. Fears of a 'gateway effect' leading teenagers who try vaping to move on to smoking have been shown to be unfounded. Why would anyone switch from e-cigarettes to a product that is much more expensive and vastly more dangerous? A more reasonable assumption is that a lot of teenagers who would have smoked are vaping instead.
That has clearly happened in the US, which had its own panic about teen vaping a few years ago. High-school kids took up Juul, an e-cigarette that was simultaneously described as looking like a USB stick and being sexy. Vaping rates among US teenagers are relatively high, but smoking rates are almost certainly much lower than they would have been, as the graph below shows. Unless you want to make the perfect the enemy of the good, this seems like a public-health win.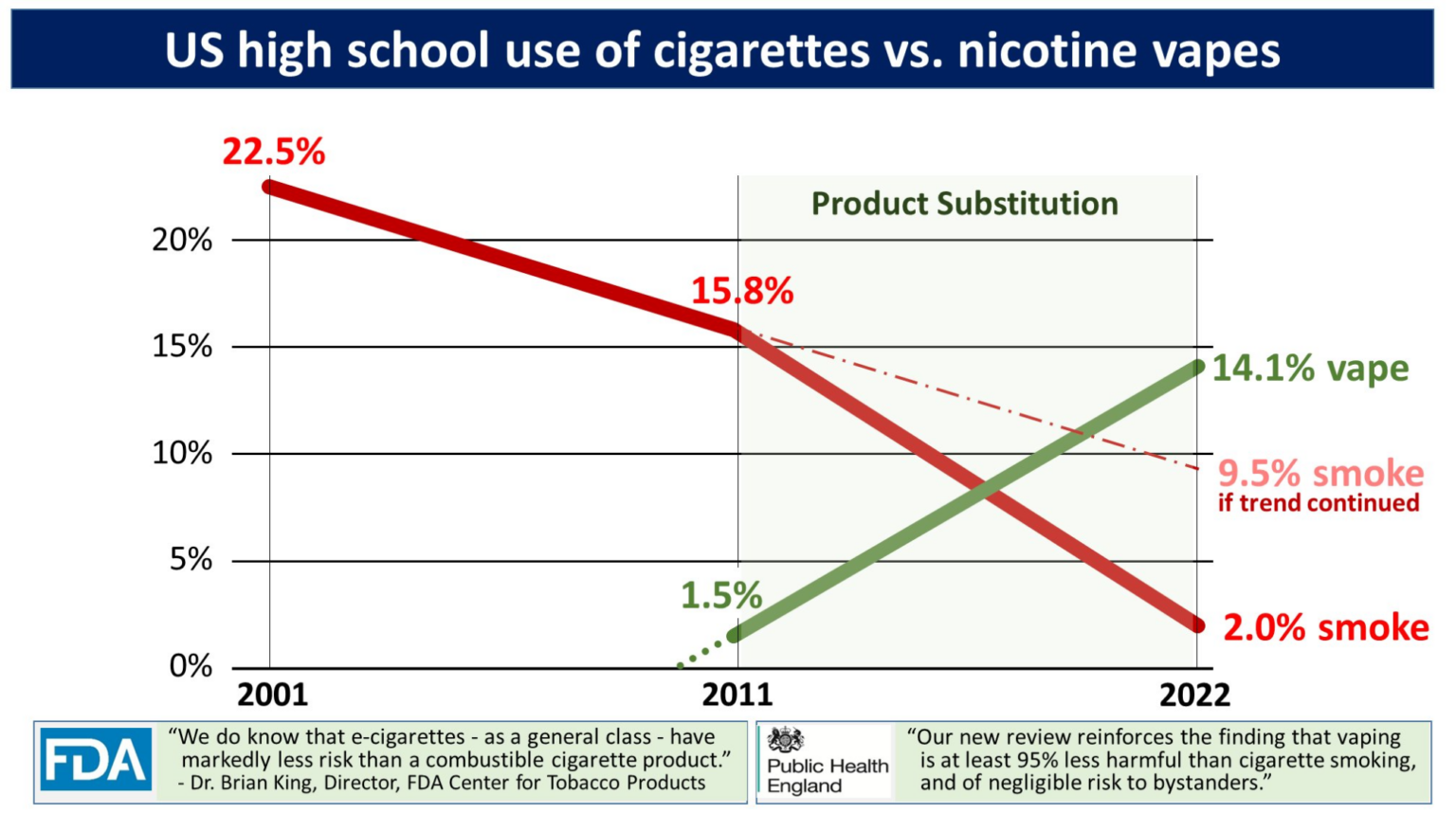 Nevertheless, there is a sense that things have changed in the UK since 2021, and that youth vaping has risen significantly. This is seemingly thanks to disposable e-cigarettes in general and Elf Bars in particular. Elf Bar is a Chinese-owned company that came out of nowhere to capture over two-thirds of the UK's disposable vape market. Its products are brightly coloured and look rather like highlighter pens. From what I've heard from teachers and teenagers, there is something of a craze for Elf Bars at the moment, aided and abetted by another dubious gift from China, TikTok. Some schools have even started limiting when their students can use the toilets, in an attempt to stop groups of kids vaping in them.
What, if anything, the government decides to do about this remains to be seen. There is a real risk that the public consultation will be hijacked by prohibitionists who never liked e-cigarettes in the first place. The billionaire nanny-statist Michael Bloomberg has given hundreds of millions of dollars to pressure groups worldwide to campaign against vaping, including $160million for a campaign against e-cigarette flavours. Some of this filthy lucre has made its way to Britain. Bath University's Tobacco Control Research Group recently got a share of a $420million Bloomberg slush fund.
Opponents of vaping love flavour bans because they are the backdoor to prohibition. For people who don't understand vaping – which sadly includes many policymakers – flavours sound like an unnecessary add-on. Sweet flavours in particular sound like they are aimed at children. The truth is that e-cigarette fluid has to taste of something. Unflavoured fluid is rarely consumed by vapers and savoury flavours barely exist. 'Tobacco' flavour only vaguely resembles the taste of smoked tobacco. And many vapers, including me, don't like it. The evidence shows that a range of flavours is important in getting smokers to switch from smoking to vaping, and that sweet-flavoured vape juice is the preferred choice for vapers of all ages. People who don't smoke are not very interested in e-cigarettes, no matter what flavours they have, but smokers like them. A ban on e-cigarette flavours in San Francisco even led to an increase in smoking among young people. As a general rule, anything that makes e-cigarettes less appealing makes smoking more appealing.
Rather than unleash a torrent of fresh regulation on e-cigarettes, the government should enforce the laws that already exist. It has been illegal to sell e-cigarettes to a person under the age of 18 since 2015, and yet children seem able to buy vapes much more easily than they can buy vodka or cigarettes. What we need is a crackdown on retailers – including online retailers – selling e-cigarettes to underage people. Since vaping is much less harmful than smoking, some shopkeepers may think that it is a lesser crime. That would soon change if Trading Standards started dishing some fines out.
The measure of a good government is not how many laws it makes, but how well it enforces the laws it already has. Tinkering with the packaging and colours of e-cigarettes isn't going to make any difference to youth vaping. Meanwhile, banning disposable vapes and restricting flavours would be actively harmful. If the problem is e-cigarettes being sold to people who are underage, then enforce the law against underage sales. Just don't ban e-cigarettes for the rest of us.
Christopher Snowdon is director of lifestyle economics at the Institute of Economic Affairs. He is also the co-host of Last Orders, spiked's nanny-state podcast.
To enquire about republishing spiked's content, a right to reply or to request a correction, please contact the managing editor, Viv Regan.