How lockdown exposed our illiberal elites
Three years ago today, authoritarianism came to Britain – and our 'liberal elites' cheered it on.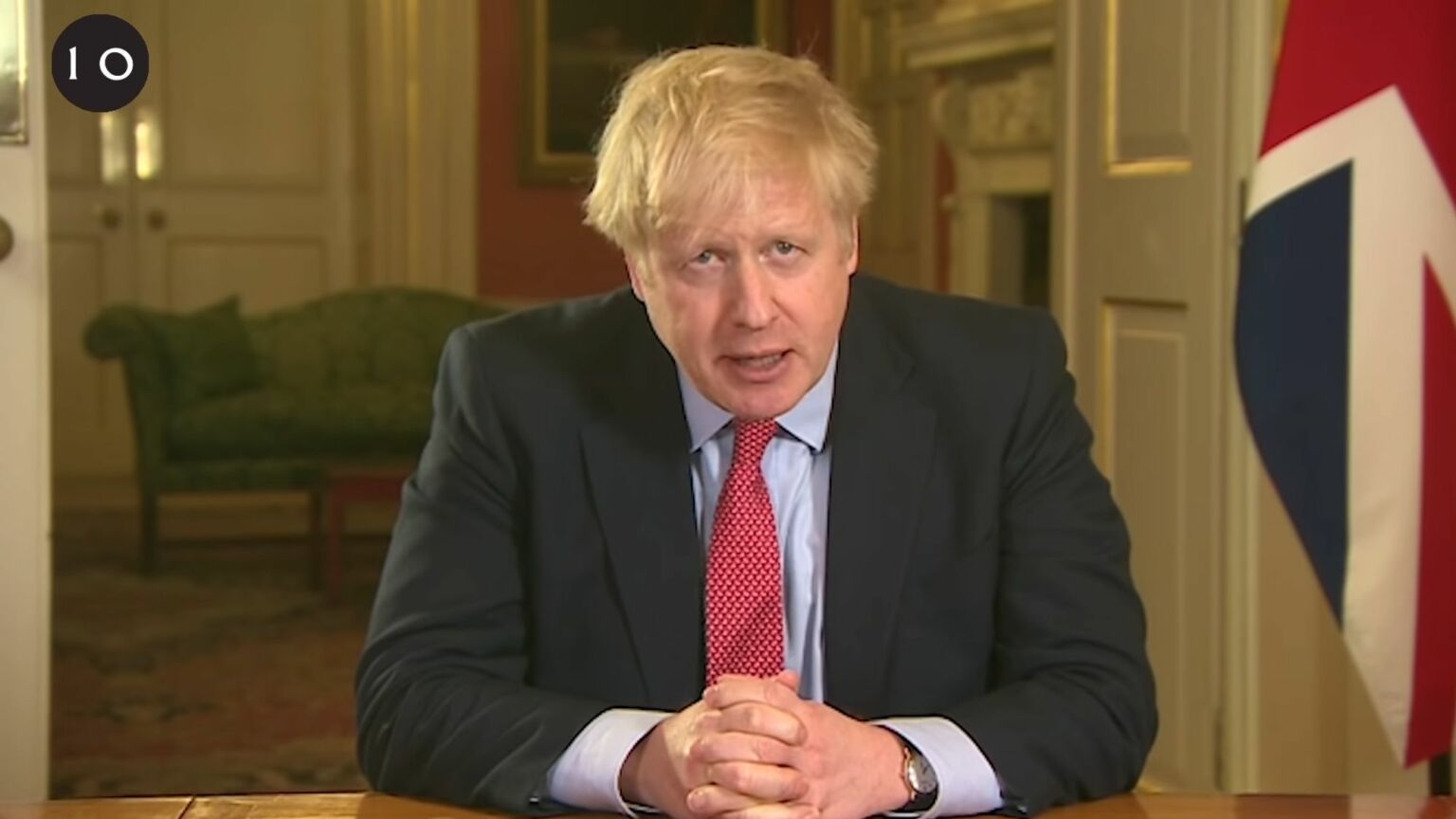 Few events have exposed the warped priorities of Britain's liberal establishment quite like yesterday's interrogation of Boris Johnson. The former prime minister was quizzed for almost four hours on whether he had misled the House of Commons over Partygate. This 'is a matter of great importance', intoned an imperious Harriet Harman, who presided over the proceedings, in her opening remarks.
You could be forgiven for thinking that Johnson's lockdown-breaking 'parties' had barely been remarked upon before. In truth, by the time of yesterday's hearing, they had already been examined more forensically than the majority of violent crimes. They had been investigated by the police. They had been investigated by top civil servant Sue Gray. The Privileges Committee, which grilled Johnson yesterday, had spent 10 months gathering its evidence against the ex-PM. Tens of thousands of column inches, thousands of broadcast hours, and even a major ITV podcast series, have been devoted to establishing Johnson's guilt. Everyone is surely now aware that, as Britain languished in lockdown, Johnson once served some Union Jack cake and orange squash, and toasted his colleagues with a tin of Estrella. And yet the inquisition never ends.
Coincidentally, this parliamentary session of 'great importance' took place the day before the third anniversary of the UK's first lockdown – when Boris Johnson first ordered the nation to 'stay at home', on 23 March 2020, three years ago today. That was a day that would change all of our lives utterly. Yet this wholesale shutting down of society has not received nearly a fraction of the scrutiny that Johnson's rule-breaking has. There has been no reckoning whatsoever with the rules themselves and their consequences for society.
This is strange, to say the least. Our establishment – in party politics, in the civil service, in the media and in the legal profession – likes to make a great show of its commitment to liberalism and human rights. It is also keen to pose as being on the side of the 'most vulnerable' in society. And yet lockdown took a wrecking ball to our most fundamental civil liberties, and the destructive impacts of it were felt most keenly by the poor and isolated. Why has lockdown been given a free pass?
England was put into full lockdown on three occasions. It was illegal to leave the house without a valid excuse for seven gruelling months, between spring 2020 and summer 2021. The period of lockdown represented, in the words of one Court of Appeal judge, 'possibly the most restrictive regime on the public life of persons and businesses ever' – more restrictive, that is, than even those infamous Blitz-era curfews. The liberal assumption that we are free to do whatever we please unless the law expressly forbids it was turned on its head. Instead, we were banned from doing anything outside the home, unless an exemption was specifically granted.
Even outside of full lockdown, the state's micromanagement of everyday life was extraordinary. There were bans on singing, casual sex and 'mingling'. There were curfews. There were rules on where you could sit or stand, and on which foodstuffs constituted a 'substantial meal'. We ceased to be a free country.
Clearly, our 'liberal elites' are anything but liberal. Because, during the Covid era, these stringent rules elicited barely a peep of protest from them. It was the same when parliament was shut down and declared 'non-essential' at the beginning of the pandemic. When health secretary Matt Hancock began imposing new rules by decree, the objections were minimal. On the contrary, liberals learned to love the lockdown and all that it represented.
The opposition Labour Party – led by former human-rights barrister Keir Starmer – similarly refused to oppose the measures. Labour grandee Harriet Harman, who is leading the parliamentary inquiry into Johnson's rule-breaches, was once the legal officer for the National Council for Civil Liberties (today known as Liberty). Did she have anything to say about the house arrest of every healthy man, woman and child in the nation during lockdown? Of course she didn't.
What of the damage caused by this experiment in authoritarianism? The economy now lies in ruins. In lockdown, the UK economy experienced its largest fall in output since the Great Frost of 1709. Inflation, prompted in part by aggressive quantitative easing during lockdown, is now through the roof. The poorest in society have paid the largest price.
Lockdown also delivered a devastating blow to education. Months of schooling were disrupted and exams were cancelled. An estimated 140,000 'ghost children' are now classed as 'severely absent' from school – more than double the number pre-lockdown. Tens of thousands of kids simply disappeared from classrooms during lockdown and never returned.
Health has suffered, too. Turning the National Health Service into the National Covid Service meant that patients went unseen and illnesses went undiagnosed and untreated. Today's record-long NHS waiting lists and our extraordinarily high levels of excess deaths can be traced right back to the lockdown period.
So, why did so many liberals abandon liberty? And why did so many 'progressives' not seem to care about the harm lockdown would cause? They would claim that they were 'following the science'. But that just doesn't cut it. Lockdown was not simply unprecedented when it was brought in three years ago – it was unthinkable. It was not envisioned in any of the pandemic plans drawn up before 2020. And Sweden, which refused to lock down, has come out of the other side of the pandemic with some of the lowest excess deaths in Europe.
Besides, as the Telegraph's 'Lockdown Files' has since revealed, so much policymaking was decided on the hoof and was driven mainly by political considerations. WhatsApp messages between Matt Hancock and his colleagues reveal that, on the rare occasions that the scientific experts advised a more liberal approach, they were sidelined. Hancock pushed back on chief medical officer Chris Whitty when he suggested the 14-day isolation period should be cut. Hancock feared the change would 'worry people and imply we'd been getting it wrong'. English schoolkids were forced to wear facemasks, purely to avoid a row with Nicola Sturgeon, who had already foisted them on Scotland's schools. The arrival of the more transmissible Kent strain of Covid was only announced when it suited the government, timed to ensure it would 'frighten the pants off everyone' and thus encourage compliance.
The irony in all this is that our not-so-liberal elites have spent years now warning about the threat posed by authoritarianism. Ever since the Brexit vote they have claimed that the UK is in danger of drifting ever rightwards and away from liberal, democratic values. They have somehow interpreted the mass vote to leave the illiberal and anti-democratic EU as a harbinger of an illiberal and anti-democratic shift in British electoral politics. And yet, when an authoritarian moment actually arrived in Britain, when basic civil liberties and democratic norms were upended overnight, they all either stared at their shoelaces or actively cheered it on.
Even the very fact that lockdown was imposed by Boris Johnson – the liberal elites' Brexit bête noire – did not wake them up to its authoritarian reality. The kind of people who, in 2019, had denounced Johnson's pledge to 'Get Brexit Done' as a 'threat to our hard-won rights and freedoms' were more than willing to give up their rights and then some by March 2020, all at Johnson's say so. As one Guardian columnist memorably put it when the first lockdown was announced: 'Never thought I'd be relieved to be placed under house arrest along with millions of people under a police state by a right-wing Tory government.'
What all this reveals is that the real danger to liberal democracy comes not from Boris, but from the 'liberal elites' themselves. It's high time we retired that label. After their behaviour over the past three years, these people do not deserve to call themselves liberals.
Fraser Myers is deputy editor at spiked and host of the spiked podcast. Follow him on Twitter: @FraserMyers
Picture by: YouTube / 10 Downing Street.
To enquire about republishing spiked's content, a right to reply or to request a correction, please contact the managing editor, Viv Regan.