What was the point of interrogating Boris Johnson?
The Privileges Committee inquiry is not going to change anyone's mind about Partygate.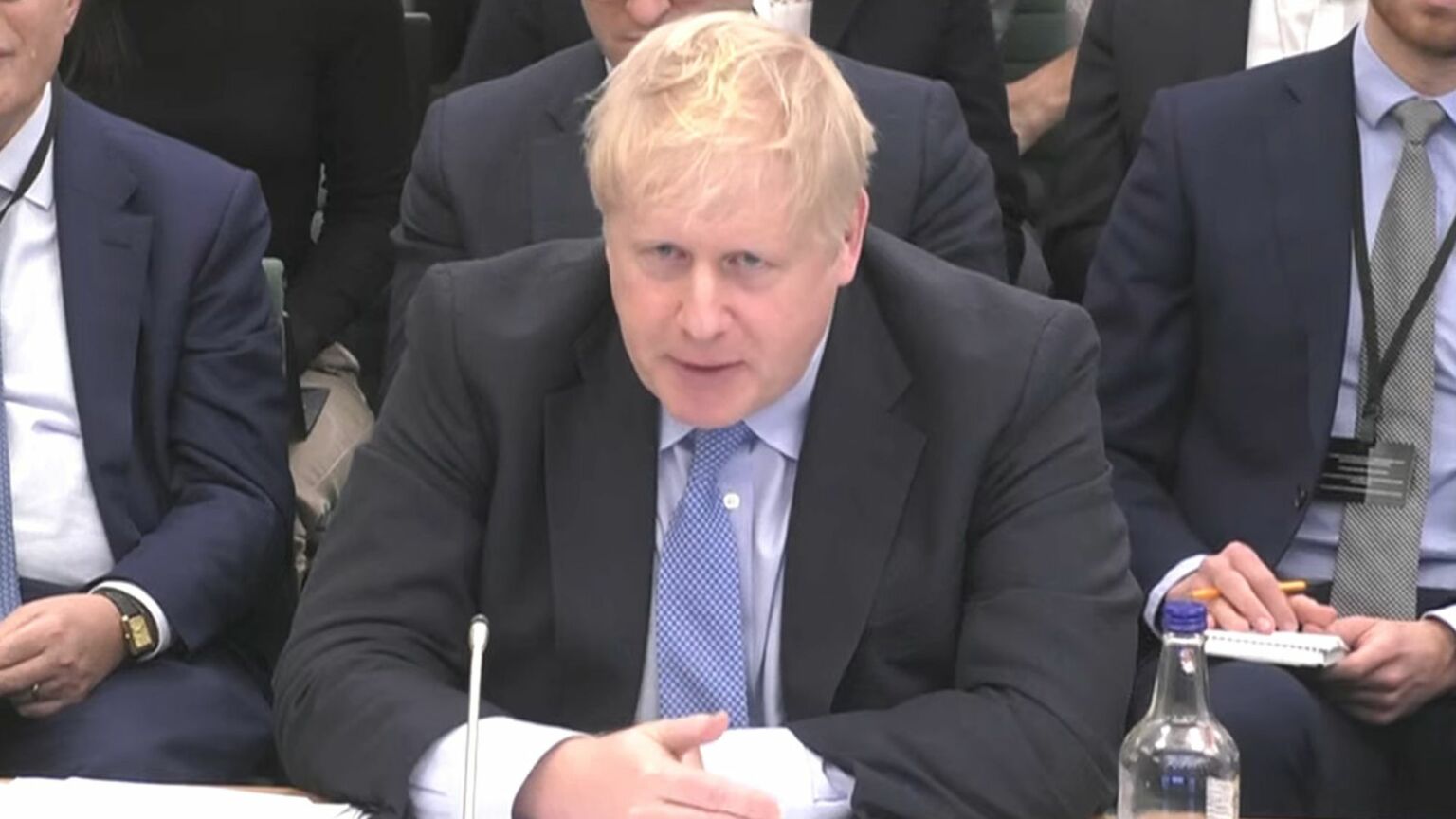 Can there be a single person in Britain who has not yet made up his or her mind about Partygate? Earlier today, former PM Boris Johnson was hauled before parliament. MPs were tasked with figuring out whether he had 'deliberately misled' the Commons when he said his lockdown gatherings had not breached any Covid rules.
To his diehard Tory supporters, the Privileges Committee session was a kangaroo court, convened by the establishment Remainer tendency from outside their party and within it, too. In this regard, it was neat timing that his cross-examination coincided with an opportunity for the blond bombshell to lead a Conservative rebellion against the Windsor Framework – Rishi Sunak's renegotiated version of the Northern Ireland Protocol, which Johnson has branded a sell-out of Brexit.
Meanwhile, Johnson's diehard detractors are irked that anyone should even still be wondering if he lied to the Commons. It is blindingly obvious that he lied, they say.
Likewise, there are those who believe that Johnson will escape from this tight procedural spot in true 'greased piglet' fashion. And there are also those who believe it will inevitably lead to the end of his political career (a harsh punishment from the committee would trigger the recall procedure, which could then lead to a shaming by-election defeat). Today's testy evidence session between Johnson and the committee pointed to something in between being the most likely outcome.
Johnson's line as to why he thought the rules and guidance were followed was basically that it was too difficult to achieve perfect social distancing in a 'cramped, narrow 18th-century townhouse' like No10. And, he said, the Covid hygiene framework allowed for this. The very stubbornness with which Johnson defended this line will make it difficult for MPs to say for certain whether he deliberately misled the Commons. Even though they clearly don't believe him.
As Johnson pointed out, the only smoking-gun evidence MPs have comes from the testimony of former chief adviser Dominic Cummings. Since leaving No10 in late 2020, Cummings has waged a vendetta against his former boss and so, according to Johnson, has 'every motive to lie'.
Yet were MPs to accept that Johnson misled the House only inadvertently, that would be widely interpreted as an exoneration. The way would then be clear for a Johnson relocation back to the cramped townhouse. So it is telling indeed that the committee has included a third, intermediate category of culpability in its remit – the idea that Johnson could have misled the House 'recklessly'.
When Johnson told the committee about all the logistical difficulties that prevented No10 staff observing rock-solid social distancing, and how important it was for him to thank staff for their work at occasional gatherings, Sir Bernard Jenkin replied that if he had furnished the Commons with all that context at the time, then there might have been no need for an inquiry. But he had not. Instead, Johnson had given an unqualified denial of any breaches, insisting all rules and guidance were followed at all times.
When asked by a committee member why he hadn't acknowledged parties took place at the earliest opportunity, Johnson declared for the umpteenth time, about an umpteenth gathering, that: 'In my mind at the time, these did not seem to me to be improper or offensive events.'
Was this reckless? After listening to several hours of Johnson deploying all the evasive manoeuvres set out in his favourite movie, Dodgeball ('Dodge, duck, dip, dive and dodge'), there can be little doubt the committee will find that yes, it was.
As a long-time observer of British politics, this points me to a likely outcome: Johnson will indeed be found guilty of 'recklessly' misleading parliament, if not 'deliberately'. The committee report will be damning. It will imply that there is a high possibility that this was also deliberate mendacity, but it will say this cannot be proven. It will recommend a stiff punishment, but not one quite stiff enough to clear the way for a recall petition and a by-election. MPs will vote by a majority for this outcome.
Johnson will slink away for a suspension of a week or so, maybe cramming in another lucrative speaking tour, before coming back to Westminster permanently wounded, but not quite out for the count. From a position on the backbenches, surrounded by fellow malcontents, he will continue to be a brooding and threatening presence for Rishi Sunak, right up until the next election.
If he holds his Uxbridge and South Ruislip seat in the next General Election – and don't bet against that happening – then he is bound to entreat his colleagues to give him another go as party leader. They will not want to do that. Then again, most didn't want him as leader the first time around, but felt compelled to pick him when more conventional approaches had failed.
It would take something extraordinary to bring Boris Johnson back to the very top of politics. But as we have learned in recent years, extraordinary events cannot be ruled out.
Patrick O'Flynn is a former MEP.
To enquire about republishing spiked's content, a right to reply or to request a correction, please contact the managing editor, Viv Regan.