'Students should be able to invite who they like'
Claire Fox on being disinvited from campus for retweeting a Ricky Gervais joke.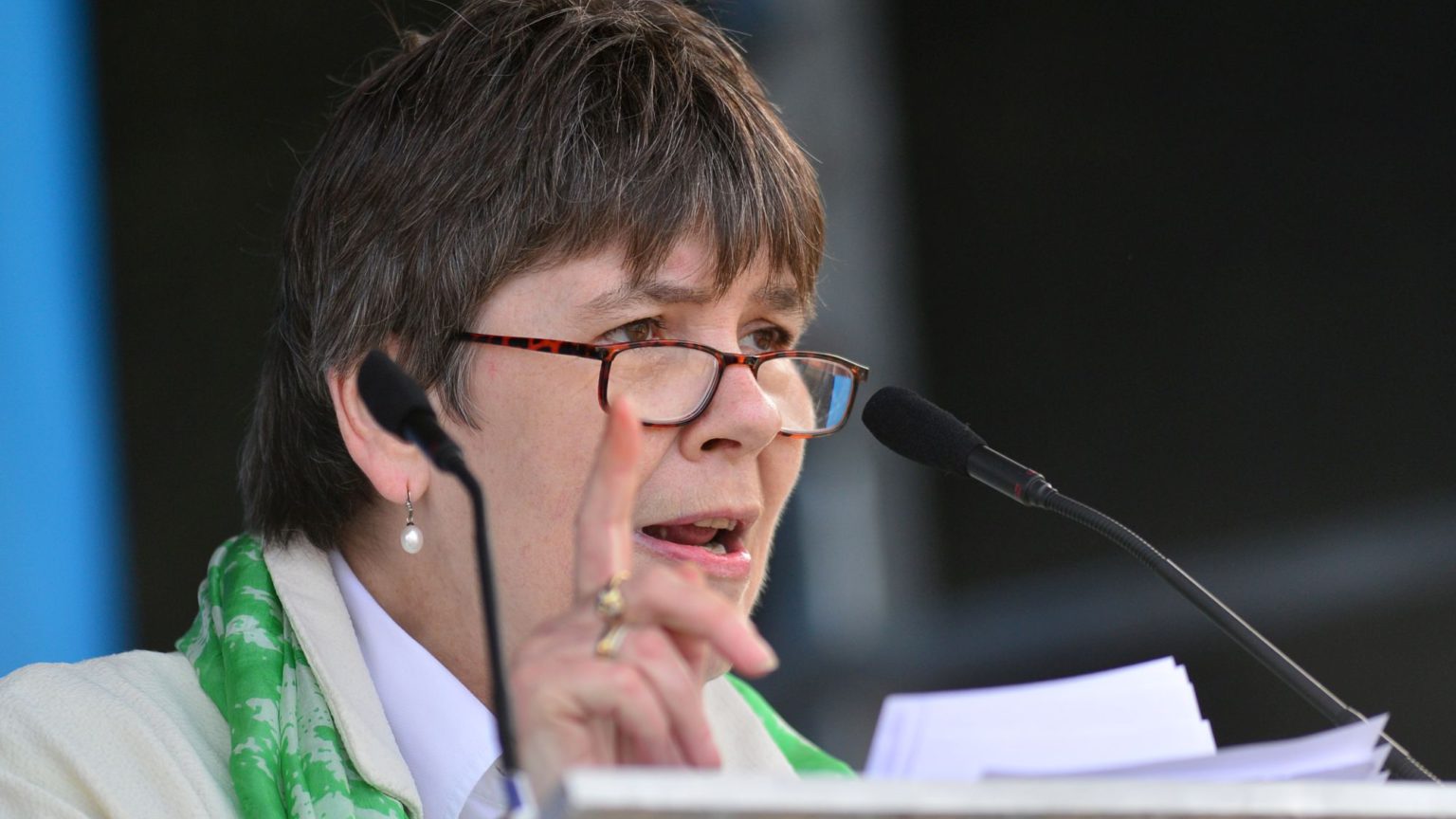 Could this be the most absurd case of campus censorship yet? Claire Fox, founder of the Academy of Ideas and independent member of the House of Lords, was recently disinvited from speaking at Royal Holloway University in London. Her crime? She had retweeted a joke from Ricky Gervais' Netflix stand-up special, in which he pokes fun at gender ideology. spiked caught up with her to find out more about her disinvitation and the broader problem of campus censorship.
spiked: What led to your disinvitation from Royal Holloway?
Claire Fox: I was invited to speak months ago by Royal Holloway University's debating society, on the topic of the importance of debate. And they wanted to talk about my career, both at the Academy of Ideas and also in the House of Lords. Quite uncontroversial, you'd have thought. Nevertheless, the students from the debating society ended up having to go through this terrible process of form-filling, thanks to all these bureaucratic rules and regulations imposed on them by the Student Union – just to check on my suitability as an external speaker. Finally, I was accepted. We got our date sorted, all was well.
Then the society started to advertise the event. Out of nowhere, six societies objected and lobbied the Student Union against the invitation, saying that I was 'transphobic' and a bigot, and that I would make students feel unsafe if I was allowed on campus. The evidence for this was that I had retweeted a Ricky Gervais clip from his Netflix stand-up set, where he skewers the conflation of sex and gender. I thought it was very funny, as did millions of others around the world who shared it. I shared it, too, and apparently that was all the evidence they needed.
The Student Union agreed immediately that it was terrible, and wrote formally in quite an aggressive fashion to the society, saying my presence would make trans students feel unsafe on campus. Behind the scenes, a huge amount of pressure was placed on the debating society to cancel the event. They were told that inviting me would be really terrible for the debating society's reputation.
One of the students said their WhatsApp groups were full of people shouting at each other complaining that I shouldn't be invited. So it was quite a hairy time for the debating society. Eventually, its president succumbed to the pressure. It was too relentless. So a week before the event, having had it booked for months, it was cancelled.
The problem here is not so much that I've been a victim of cancel culture. I want to go and encourage young people to debate, of course. But in a sense, it's no skin off my nose not to go and talk to a group of students at Royal Holloway, as I already have a platform.
But for the students, this is a big deal. It's the cancelling of their right to invite who they want and to listen to who they want. I met some of the students who were really annoyed about me being cancelled, and one of them doesn't agree with me at all. She was annoyed because she was looking forward to having an argument with me. She said she'd been really looking forward to this. She'd been reading all my stuff, so she could really take me on.
The moral of this story is that for students who want to hear a variety of views on campus, it should be the most basic right for them to invite people as a student society. But instead they first had to go through this ridiculous pallaver to get the invitation agreed. And then even after that, there was all this pressure on them to disinvite me. This makes inviting guests a miserable experience. The students are the ones who have lost out. Not because they're not hearing me, but because their right to invite who they want has been completely undermined.
spiked: Could anything have been done to allow the event to go ahead?
Fox: There were other members of the debate-society committee who wanted to fight this. So I put them in touch with the Free Speech Union, and letters were written to the Student Union and the university authorities. But that's when the whole thing became particularly unsatisfactory, because the reply from the principal of the university was really quite dismissive. It effectively said: 'The debating society can do what it wants if it wants to disinvite you – this isn't a free-speech issue. The Student Union says it didn't put the debating society under any pressure. Nothing to see here, go away.'
That really upset me. Because if you were a principal of a university, and you heard that there was this controversy, wouldn't you want to encourage the debating society to have this speaker, make sure they don't panic and reassure the students who think their reputations are on the line? Instead, the response was completely complacent and technocratic. It indicates that academic freedom is nothing more than a box to tick as far as that principal is concerned.
spiked: The Higher Education (Freedom of Speech) Bill is currently passing through parliament. Do you think this will help tackle some of the censoriousness on campus?
Fox: This is a very important moment in that bill's life.
One of the things a lot of pro-free speech academics are keen on having in this bill is the ability to use the civil courts as a last resort. This would mean academics could threaten to sue their university if they lost a job, or lost a big research grant because of their views. The idea is that if you're denied access to your work, or your reputation is completely damaged for exercising your academic freedom, then you should have some recourse in the law. This was originally part of the bill. But the Lords ended up kicking out even a moderate version of that ability to sue – it completely got rid of it. And the Lords is not an elected chamber – it is anti-democratic. What right did peers have to do that?
The Commons has perfectly reasonably reinstated this statutory-tort provision back in the bill. Yesterday, it was back in the Lords, and I was ready to congratulate the government on having developed a free-speech backbone. But only half an hour before we were due to have the debate, the ministers who represent the government in the Lords compromised, and put in a much softer version. This amendment was enthusiastically welcomed by all the people in the Lords who are vice-chancellors and principals of colleges – the Lords is packed with these types. And these are the people who, throughout the bill's passage, have said that there isn't a problem with free speech on campus, or that if there is a problem, we don't want too much regulation or intervention.
Why would that be? Because they are the ones failing in their duty to defend academics and students whose free speech is being attacked. So they want to minimise what they might have to deal with in future. The government lost its nerve right at the last minute.
Whatever you think about those students at Royal Holloway giving in under all that pressure, government ministers gave in merely at the sight of a few lobbying vice-chancellors on the red benches. That's an outrage.
The legislation wouldn't change everything. But I do think that if it had gone through, particularly with this deterrence factor, it would at least give university management pause when they allow speakers to be shut down. So it's a real shame the bill has been watered down.
Claire Fox was talking to Laurie Wastell.
To enquire about republishing spiked's content, a right to reply or to request a correction, please contact the managing editor, Viv Regan.