The liberal hypocrisy over Scott Adams
His ugly, segregationist comments are the mirror image of what the woke set has been saying for years.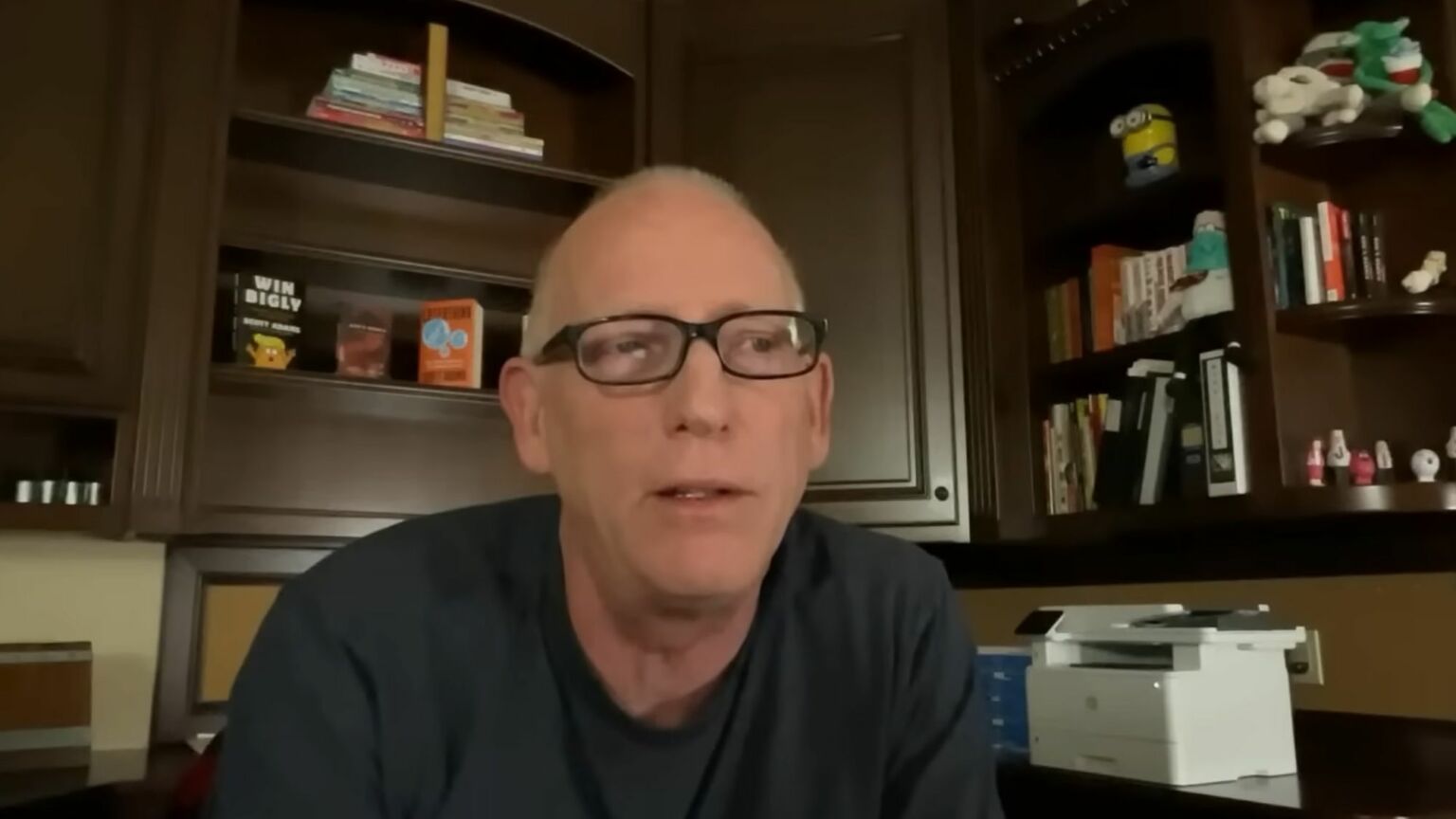 Until last week, I was only vaguely aware of author and cartoonist Scott Adams. That all changed when I, like many others, saw the now infamous clip of him reacting to a poll on race.
American respondents had been asked by pollsters Rasmussen Reports if they agree with the statement, 'It's okay to be white'. Fifty-three per cent of black respondents agreed, 26 per cent did not, and 21 per cent said they were 'not sure'. The poll was published on 22 February and Adams almost immediately took to a YouTube livestream to vent his response. 'If nearly half of all blacks are not okay with white people, according to this poll… that's a hate group', he said.
It got worse. 'The best advice I would give to white people', Adams continued, 'is to get the hell away from black people. Just get the fuck away. Wherever you have to go, just get away… because there's no fixing this. This can't be fixed.' He sounded almost like he was prepping for the coming race war.
My jaw dropped. After years of what you might call racism inflation in both the mainstream- and social-media ecosystems – where supply has been vastly outstripped by demand – here was something that really did fit the criteria of racist. Here was somebody advocating what sounded very much like racial segregation.
Sure enough, the internet was soon aflame with outrage. And then the cancellations started rolling in, with Adams' internationally syndicated comic-strip, Dilbert, dumped by media company after media company.
Few would want to defend Adams' remarks. His was a dark and sinister position to take. He has since said that he 'owed the world a clarification' in a two-hour interview with self-described 'former extreme black nationalist', Hotep Jesus. Adams told Jesus he was adopting an extreme position in order to 'extend the conversation' on race. He also professed support for affirmative action and said he was actually left-wing. People can judge the merits of that defence for themselves.
Still, it is worth pondering the Rasmussen poll itself. It was clearly a provocative question to ask. And that's because it was based on the assumption – widely held by the pampered chattering classes – that it's not okay to be white. That it is in fact racist to be okay with being white.
This is now an assumption held by many among our cultural and political elites in both the US and the UK. And anyone who even slightly disagrees is likely to be hounded into obscurity as an irredeemable racist. Grotesque terms like 'white tears' and 'white fragility' have become acceptable ways of dismissing any white person who refuses to feel guilty about being white.
The new racial thinking, like gender ideology, has made hitherto normal statements seem unacceptable. So just as it has become verboten to say 'a woman is an adult human female', so it has also become completely toxic to say 'it's okay to be white'. It doesn't matter that, in our regular lives, the vast majority of men and women of all races know this is all nonsense. They daren't say it publicly.
Yes, some have claimed that 'it's okay to be white' is some kind of code used by actual white supremacists. But white supremacists (who make up a tiny proportion of the overall population) do not own the copyright to those words, used in that order. It really shouldn't be a problem to be white.
We have seen a definitional shift in the meaning of racism over these past few years. A racist used to be a person who hates or mistrusts another person because of his race or ethnicity or who feels that his race is inherently superior. But now, among our illiberal-liberal elites, racist has just become synonymous with being white.
This shift allows for rank liberal hypocrisy. On the grounds that whiteness gives rise to racism, woke white liberals can get away with advocating exactly the kind of racial segregation that Adams is rightly being hauled over the coals for. Take white author Robin DiAngelo, who has made a fortune out of hysterical race-baiting. She took part in a panel discussion this week in which she said: 'I think people of colour need to get away from white people.' Will she also be cancelled, as Adams has been? It's doubtful.
One of the many things Adams got wrong in his outburst is that he blamed African Americans for driving this segregationist, identitarian logic. He should have looked closer to home. It's white liberals, like DiAngelo, who are fomenting racial divisions. They're the ones really attached to separating whites from blacks. They're the ones who think people should be segregated according to the colour of their skin.
'A significant amount of white people', DiAngelo said recently, choose to 'collude with white supremacy'. DiAngelo is actively encouraging – and profiting off of – the illusion that the majority of white people hate black people so much that they need to be kept apart. That people of colour need to get away from white people.
The sad reality is that American liberals have a deeply conflicted and unhealthy attitude towards race. The best thing Americans of all political stripes could do is to simply stop listening to these media figures, stop scrolling through Twitter looking for the latest outrage, and concentrate on the people in front of them.
Jenny Holland is a former newspaper reporter and speechwriter. Visit her Substack here.
Picture by: YouTube / Real Coffee with Scott Adams.
To enquire about republishing spiked's content, a right to reply or to request a correction, please contact the managing editor, Viv Regan.