What planet does the White House live on?
The Biden administration has utterly beclowned itself in its response to the UFO crisis.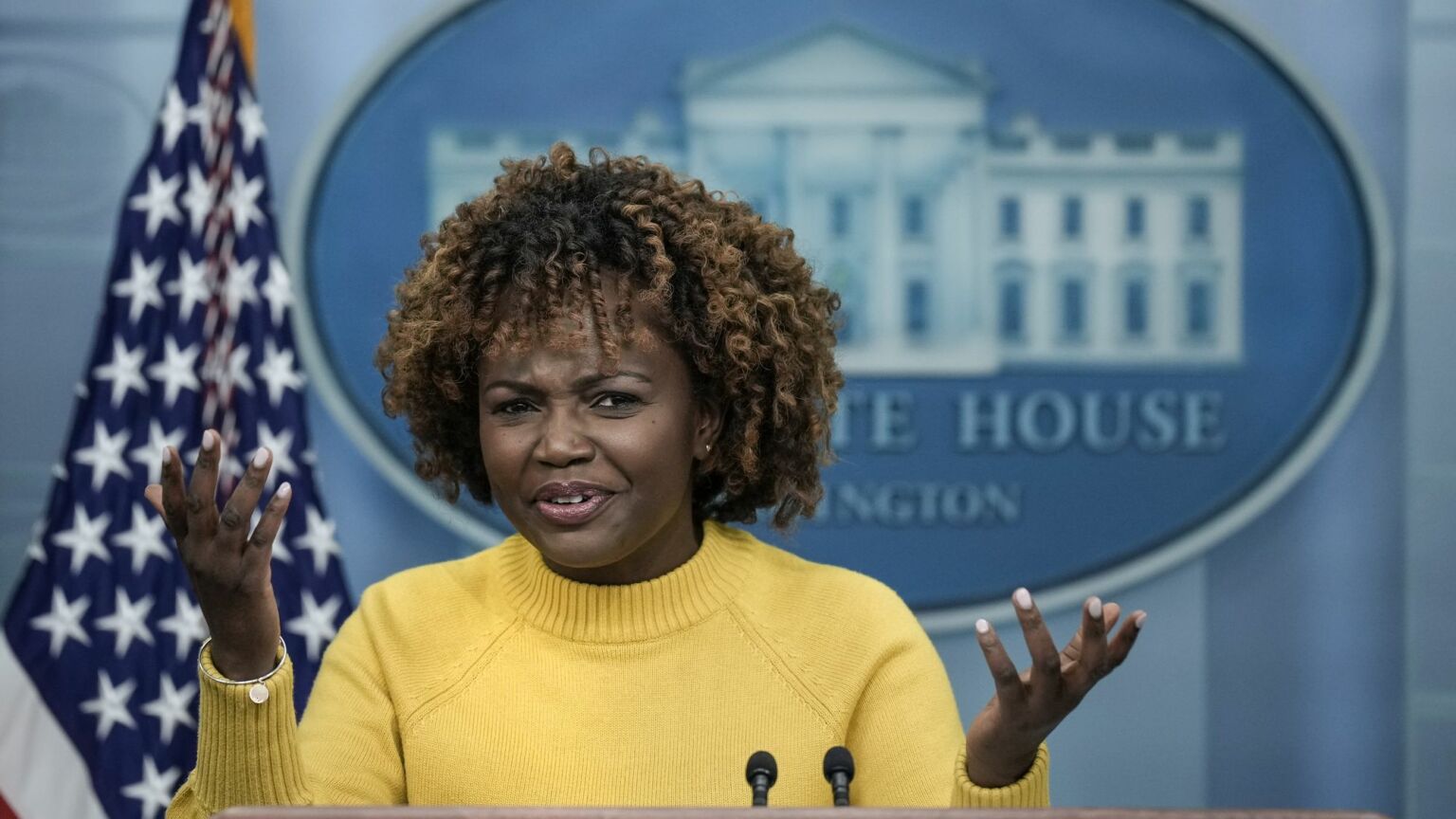 On Monday evening, I was in the car heading to dinner with my family when the hourly news came on the radio. I wasn't really paying attention, until these words were spoken by White House press secretary Karine Jean-Pierre: 'Again, there is no indication of aliens or extraterrestrial activity with these recent takedowns.'
Jean-Pierre was valiantly attempting to clean up the mess made in a press briefing on Sunday by General Glen VanHerck. VanHerck is the four-star general in command of NORAD (the North American Aerospace Defense Command), the joint military command between the US and Canada that monitors threats in the skies and at sea.
VanHerck has had a lot on his plate recently. Late last month, a Chinese surveillance balloon floated into US airspace. The balloon reportedly housed various pieces of high-tech equipment and was, according to the State Department, 'likely capable of collecting and geo-locating communications and other sensitive information'. Seven days after it was first spotted, the balloon was shot down by a US fighter jet off the coast of South Carolina.
Since then, there have been multiple confirmed sightings of unidentified objects in the skies over the US and Canada, four of which have been shot down so far. During VanHerck's briefing, he refused to rule out the possibility that the objects being shot down had, in fact, been sent by aliens.
Admittedly, I did not have 'alien invasion' on my bingo card for 2023. As if on cue, the political class and the press became consumed by the possibility of extraterrestrials in US airspace. Politico, summing up the mood, ran the headline: 'UFO fever grips Washington.'
What on Earth is going on? I suppose I'll feel a bit silly if the aliens prove to be real, but I am sceptical to say the least. Only time will tell.
Still, whatever the cause of the UFOs, it would be nice to be reassured that the White House has the matter firmly in hand. Unfortunately, the Biden administration doesn't seem to have a grip on even the most basic matters of state.
Press secretary Jean-Pierre was interviewed on Sunday about the most recent unknown object that was shot down, this time over Canada. Why, a journalist asked, did US aircraft shoot at something over the Canadian border?
Her response was halting, at best. She started out bravely enough: 'Because it's part of NORAD.' As she spoke, she made exaggerated hand gestures as though she were gripping two bouncy balls.
Things only got worse for Jean-Pierre from then on. 'There is… the NORAD is part of like a… part of uhh… it's a…', she soldiered on, as if she were trying to sum up something infinitely complex. 'It's what you call a coalition… a consortium…' The journalist intervened to save her, offering: 'A pact of nations?' 'Exactly', she said, gratefully accepting the help.
Jean-Pierre then went on to confidently assert: 'We did it, clearly, in step with Canadia (sic).'
Yes, you read that right. Not only did Jean-Pierre not know how to describe NORAD at a time of heightened tension in North American skies, but she also fumbled the name of America's neighbour to the north.
Remember all that talk around the time of Biden's inauguration, of 'the grown-ups' being 'back in charge in Washington'? It hasn't aged well.
Of course, the only people drawing attention to this car-crash interview with a senior government official were on the right. The 'vote-blue-no-matter-who' legacy media seemed to ignore it entirely. In their telling, the stunningly incompetent Biden administration is actually doing just fine.
I would laugh, but it's not that funny. Now would be a really good time to have a robust fourth estate to monitor the ineptitude of the government class.
For weeks now, ordinary Americans on social media have been demanding answers to a truly frightening environmental catastrophe in Ohio. Earlier this month, a train carrying dangerous chemicals derailed and caught fire. Government officials subsequently ordered a controlled release of the toxic fumes, prompting footage to spread of a huge black cloud of noxious gases towering over the small community of East Palestine. In response, state and federal officials said 'so far, so good' and that the burning poison was 'no[t] concerning'.
Earlier, I checked the New York Times homepage to see if it had sent a squad of reporters to cover this potentially catastrophic situation. The only mention of it was buried at the bottom of the homepage, underneath hard-hitting articles like 'A brief history of hating my face' and 'What the world can learn from gay-straight friendships'. The potentially dangerous incompetence of the governing classes doesn't seem to warrant much attention from the liberal press.
For some reason, I've had that song, written by great American composer Stephen Sondheim, going round my head all day, specifically the lyric:
'But where are the clowns?
Quick, send in the clowns,
Don't bother, they're here.'
Jenny Holland is a former newspaper reporter and speechwriter. Visit her Substack here.
To enquire about republishing spiked's content, a right to reply or to request a correction, please contact the managing editor, Viv Regan.