Greta vs the working class
Her protest against a coal mine reveals all that is wrong with the environmental left.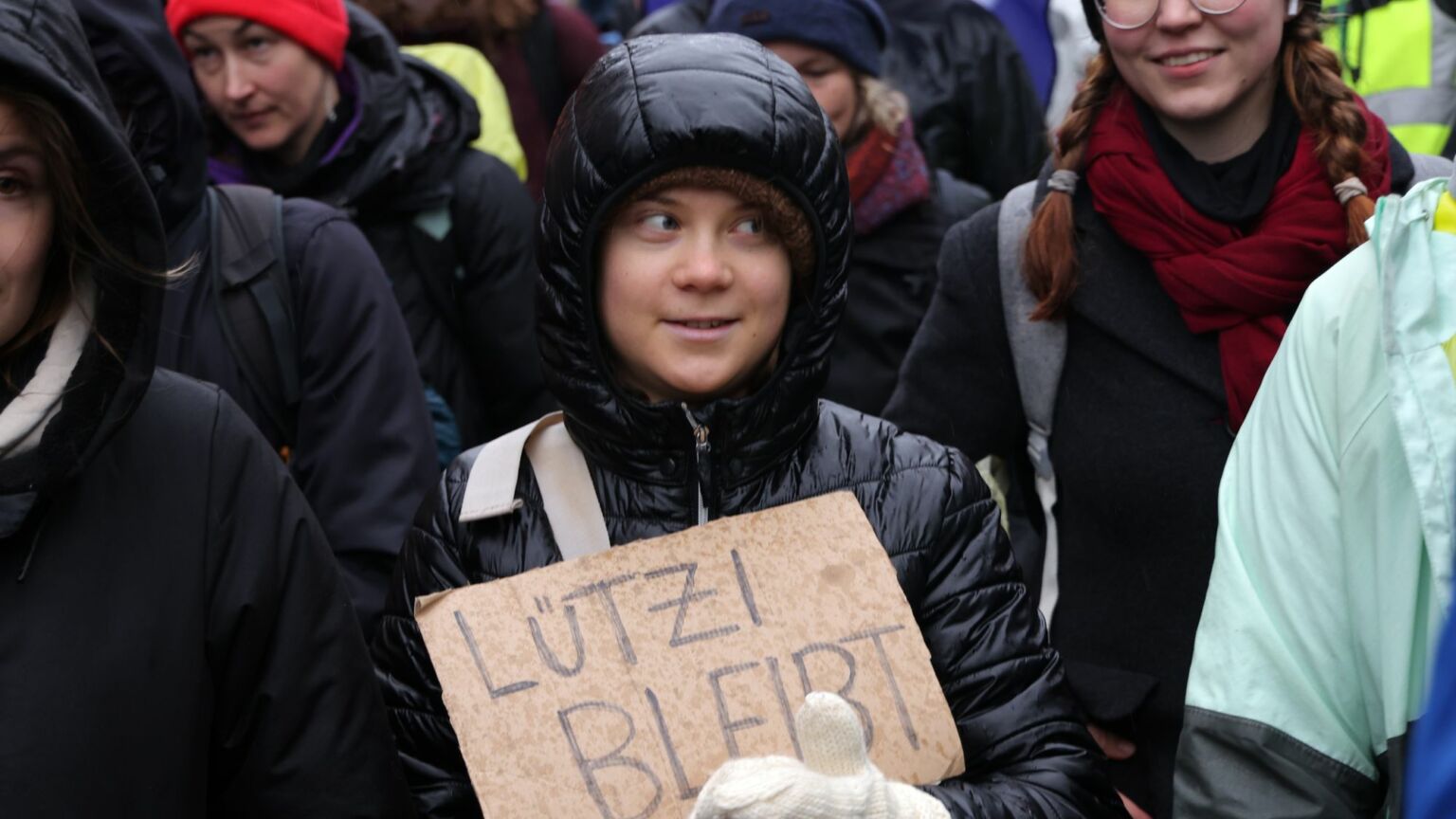 At a time when Europe is reeling from catastrophic energy shortages, when millions are struggling to afford to heat their homes, it takes a fair bit of brass neck to insist that people ought to keep on suffering. Because make no mistake, that is the message of climate campaigner Greta Thunberg and the thousands of green activists who gathered in Lützerath in western Germany at the weekend to protest against the expansion of a coal mine. Greta, the 20-year-old prophetess of doom, was even dragged away and detained by police, after refusing to leave the area when ordered to.
Lützerath has become a flashpoint in the climate wars. The German government has granted energy giant RWE permission to expand its coal-mining operations, which will also eat up the village of Lützerath. Environmentalists have occupied the otherwise uninhabited village for two years in order to block the mine's expansion, even building elaborate treehouses for themselves. Somewhere between 6,000 and 10,000 demonstrators, including Greta, arrived in Lützerath last week to prevent the police from breaking up the encampment.
So desperate is Germany's energy crisis that even Green Party ministers in the coalition government, usually implacably opposed to all things fossil fuels, are on board with the mine's expansion. This is 'the wrong symbol to protest against', said Germany's Green economy minister last week, arguing that the mine was needed to make the energy crisis 'manageable'.
However, the energy crisis has done nothing to dampen the zeal of most environmental campaigners. Greta was pictured in Lützerath holding up a sign demanding to 'keep [the coal] in the ground'. 'Stop what's happening here immediately, stop the destruction', she said in a message to the German government while at the camp. No allowance is made for the energy emergency or the economic and social costs it has led to.
For greens, CO2 emissions continue to trump all other considerations – including ordinary people's ability to heat and power their homes. The needs, wishes and aspirations of the public are viewed as insignificant compared to the alleged ecological armageddon coming down the tracks. It's a position that reveals an extraordinary level of privilege and detachment from everyday life. As the French gilets jaunes protesters famously said of their nation's green elites: 'You worry about the end of the world. We worry about the end of the month.'
More absurd still is that this well-heeled green activism is what passes for 'left-wing' and 'progressive' these days. Forty years ago, the left was fighting alongside miners to keep coal pits open – not just for the jobs they provided, but also for the energy they produced to power heavy industry and manufacturing. Today's Greta-worshipping left may pose as radical and anti-establishment, but it is pointedly not on the side of workers. It is fighting as ferociously as any Thatcherite to ensure that every last coal pit is closed down. Keeping the black stuff in the ground matters far more to the cosseted green left than the fate of the industrial working class.
The green movement's sense of entitlement is astonishing – and not just for its indifference to ordinary people. Germany has arguably done more than any other European country to indulge the whims of green activists. It has already spent well over €500 billion on the transition to renewable energy. And it has even heeded the greens' demands to phase out Germany's nuclear power plants, despite nuclear power having no carbon footprint.
The so-called Energiewende (energy transition) has resulted in catastrophe. Even before the invasion of Ukraine exposed Germany's dangerous dependence on Russian gas, the energy transition was pushing up prices, while doing little to actually reduce carbon emissions. Bourgeois greens have still not reckoned with this failure. And yet their demands keep on coming.
On the rare occasions when greens acknowledge the energy crisis at all, they view it as an opportunity to push for further cutbacks in energy use. The cost-of-living crisis that has ensued is essentially being treated as a dress rehearsal for a more austere future.
This is 'what people power looks like… what democracy looks like', Greta said to her acolytes in Lützerath. She could hardly be more wrong. What those protests really look like is a temper tantrum of the entitled upper-middle-classes, who believe they can impose hardship, austerity and restrictions on the lives of the masses. It's time we started to stand up to their arrogance.
Fraser Myers is deputy editor at spiked and host of the spiked podcast. Follow him on Twitter: @FraserMyers
To enquire about republishing spiked's content, a right to reply or to request a correction, please contact the managing editor, Viv Regan.