Is Leo Varadkar finally seeing sense on the protocol?
The system the EU has imposed on Northern Ireland is intolerable – and everyone knows it.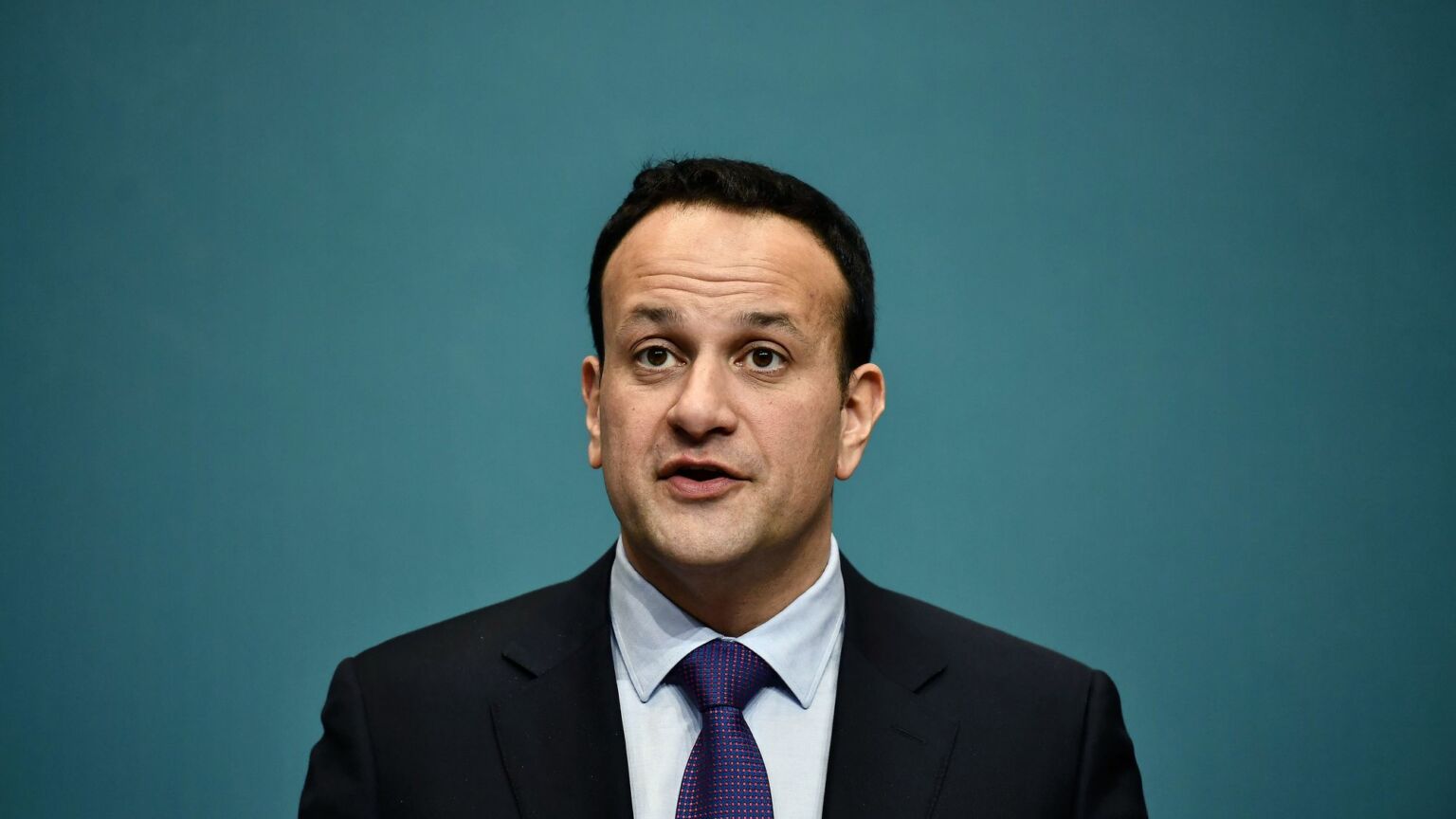 There has been a notable change of tone on the Northern Ireland Protocol from Irish Taoiseach Leo Varadkar in recent days. On Tuesday, he acknowledged that Northern Ireland's post-Brexit trading arrangements are 'too strict'. Plainly, this isn't a full admission of past wrongdoing. For instance, he is yet to apologise for when he used the threat of IRA bombs for political leverage during the Brexit negotiations. Nevertheless, it is a start.
And so, while I do not believe we should embrace the comments as a moment of great healing or be foolish enough to believe that Mr Varadkar has had a Damascene conversion, it is nevertheless notable and significant that he has now acknowledged 'mistakes' on his part. He has also recognised, having long tried to pretend otherwise, that the protocol raises serious problems for the UK constitution and diminishes the British identity of pro-Union citizens in Northern Ireland.
No fair-minded person could ever have suggested that the protocol did anything other than diminish British identity in Northern Ireland. It subjugates the Acts of Union and treats Northern Ireland like a third country vis-à-vis Great Britain. It has caused the UK government (to its eternal shame) to go to court and to make the argument that the UK 'is no longer a unitary state'. The government has even said in court that the term 'UK' in protocol regulations should be read as meaning 'GB', with Northern Ireland treated as part of the EU's territory. If that isn't a constitutional issue, then what is?
Next week, the Centre for the Union's constitutional-studies group will publish a paper, which will seek to put forward proposals and draft legislation as a suggested way forward. I look forward to engaging with those ideas, and hope that both the UK and Irish governments consider the paper and understand Unionism's red lines.
The EU and the Irish government have spent years gaslighting and patronising the pro-Union community in Northern Ireland. They have tried to arrogantly dismiss our concerns, and fool us into accepting the plainly erroneous narrative that the protocol has had no impact on Northern Ireland's place in the Union.
These efforts have failed, and much of their failure is down to the various legal challenges brought against the protocol that have forced the UK government to face up to what it has done in signing up to it. We now have a series of legal judgements that set out, in explicit terms, the pernicious impact of the protocol on the constitutional status of Northern Ireland.
Perhaps Varadkar concluded this week that there is no point in further gaslighting. Put simply, the jig is up. Unionists have made clear that there can be no return to power-sharing in the Northern Ireland Assembly until the protocol is removed.
There is no 'compromise' for Unionism to make on this most fundamental constitutional issue. The protocol was an unjust robbery of our most cherished constitutional rights. If a burglar breaks into your home, plunders your most precious possessions and makes off with them, you do not 'negotiate' with the thief, nor would any sensible person think it a 'good deal' to receive just some of the possessions back.
Rather, the initial act should never have happened in the first place, and only a full remedy – and return of the stolen possessions (in this case, Northern Ireland's sovereignty as part of the UK) – can put things right.
Leo Varadkar has taken the first steps towards acknowledging the wrong done by the Northern Ireland Protocol. That is welcome, but it is not a solution, and for now it remains only words. If Mr Varadkar genuinely wants to atone for the unjust imposition of the protocol, and the harm it has caused to the pro-Union community and the Belfast Agreement, then he must accept that it is only by restoring Northern Ireland to its rightful place in the United Kingdom that this egregious wrong can be righted.
That would take an act of statesmanship and leadership. It would mean genuinely reaching out the hand of friendship. If Mr Varadkar can do that, then he can go some way to repair the relationships that he – and his colleague Simon Coveney – damaged so badly with their appallingly aggressive behaviour during the Brexit negotiations.
It set a worrying and dangerous precedent when Varadkar, in 2018, showed a picture of a bombed-out customs post to the EU, to illustrate what might happen if trade is disrupted between Northern Ireland and the Republic of Ireland. In doing so, he legitimised the threat of violence for political leverage and gave it a seat at the negotiating table.
Political solutions must be delivered to restore the delicate balance at the heart of the Belfast Agreement. If Leo Varadkar's initial steps towards contrition and understanding are a step along the path to a solution (which can only mean restoring Northern Ireland to the UK), then we may well look back and view this as an important changing of attitudes. Time will tell.
Kate Hoey is a member of the House of Lords and a former Labour MP for Vauxhall.
To enquire about republishing spiked's content, a right to reply or to request a correction, please contact the managing editor, Viv Regan.