The curious case of the 'nonbinary' priest
Too many serious institutions are indulging this infantile nonsense.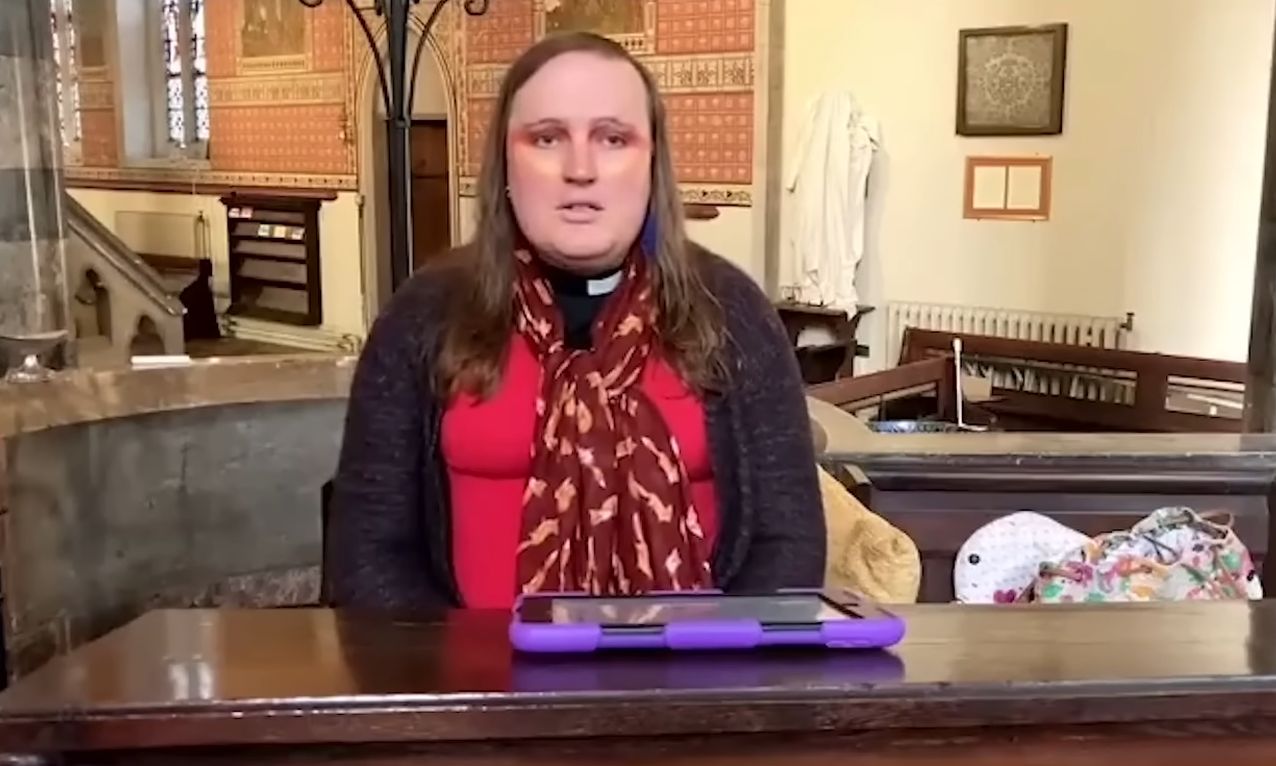 Many have pinned the beginning of the 'Great Awokening' – the transition of the venomous cocktail of extremely niche Tumblr culture and naff identity politics into the mainstream – to 2013. As we move into this 10th anniversary year of raving teenage internet nonsense being taken seriously in the real world by grown adults, perhaps we need a spiritual guide to lead us in our celebrations?
Step forward the Rev Bingo Allison, vicar of a church in a Liverpool suburb, and apparently both 'nonbinary' and 'genderqueer'. (We do not learn from Bingo's New Year's Day interview in the Liverpool Echo if Bingo is actually his – sorry, Them's – real name-o.)
As ever, working out what the terms nonbinary and genderqueer actually mean is like knitting butter. In the case of the Rev Bingo, it seems from what he says and from the pictorial evidence in the Echo that this has something to do with wearing very, very badly applied cosmetics and regaling anybody silly enough to listen with cut-and-paste boilerplate, like 'the history of biblical interpretation is littered with the opinions of rich, white, straight, cisgender, able-bodied, neurotypical men' – basically, ChatGPT with eyeshadow applied à la Black+Decker.
I've recently been wondering why so many men with a lady soul are so bad at the application of make-up – both the Rev Bingo and cyclist Emily Bridges seem to have particular difficulty with eyeliner. Applying cosmetics well is not that difficult. In my brief teenage flirtation with the crossover point between New Romantic and Goth, I mastered the art while travelling into London on the very bumpy stretch of the Metropolitan Line between Moor Park and Harrow-on-the-Hill. (It was fatal to even attempt androgyny while still in Hertfordshire, particularly if the end result just made you look like a very camp Herman Munster.) I'm beginning to realise that the wonky slap is an essential part of the non-illusion, of the passive-aggressive, male status display that is at work. It is saying: 'I'm not even going to try and you still have to kneel to me.'
'Jesus loves sparkly eyeshadow', Bingo told his Insta followers recently. I have news for the Rev. Us lads can wear sparkly eyeshadow too with no effect on our bodies or souls. It does not change your sex. It just makes you a man wearing sparkly eyeshadow, like the Sweet doing 'Block Buster' on Top of the Pops – although in Bingo's case there is, owing to a very binary dose of male-pattern baldness, a more marked resemblance to Brian Eno in his Roxy Music days, with a hint of Max Wall in there, too.
Bingo also claims to have been guided by God to his new identity. Now, I am no theologian, but I do wonder if God really has the time and the energy or the inclination to interest Himself in such minutiae. Yes, I know that He is omnipresent in ways that we cannot understand, and exists outside time and space as our minds comprehend them. But it seems to me that He is a frivolous deity indeed if He can't be arsed to act on the prayers of millions praying for peace in Ukraine, but can find the time to steer people in Norris Green towards the Revlon counter in Boots.
I should mention at this point that Bingo is married to a woman and is the father of three children. We have known for a long time that a sizeable minority of married heterosexual men like to call themselves Suzie and wear lovely lanky thigh boots. Once they did this in the privacy of their own homes, but now they like to do it everywhere. This is apparently what it means for them to become, as Bingo says, their 'authentic selves'. Bingo reports that his wife found the situation 'difficult' at first. 'You marry what you think is a straight guy and suddenly things are more complicated than that', he said. I wonder if it really is any more complicated than that at all.
The thing with Bingo, and a lot of the gender stuff in the mainstream news, is that it is funny. It gives us a never-ending silly season. Watching institutions and right-on people capitulate instantly to narcissistic straight men for fear of being seen to be 'nasty' is hilarious. These stories are served up in the papers sans comment. Not long ago the headline would have been 'LOOK AT THIS NUTTER', although 'LOOK AT THIS NUTTER' is still written between every line.
What all this jollity conceals, however, is a particular kind of goading, of male territorial display. The new sacralised is occupying the holy sites of the old – women's toilets, infants' schools and now the church. And you say one word out of line or make the tiniest objection to this – well, these new, terribly marginalised and frail and upset men-who-somehow-aren't-men, they will have you.
Gareth Roberts is a screenwriter and novelist, best known for his work on Doctor Who.
Picture by: YouTube / GBNews.
To enquire about republishing spiked's content, a right to reply or to request a correction, please contact the managing editor, Viv Regan.