Why there will be more Andrew Tates
Until the issues affecting young men are confronted some will go looking for answers in all the wrong places.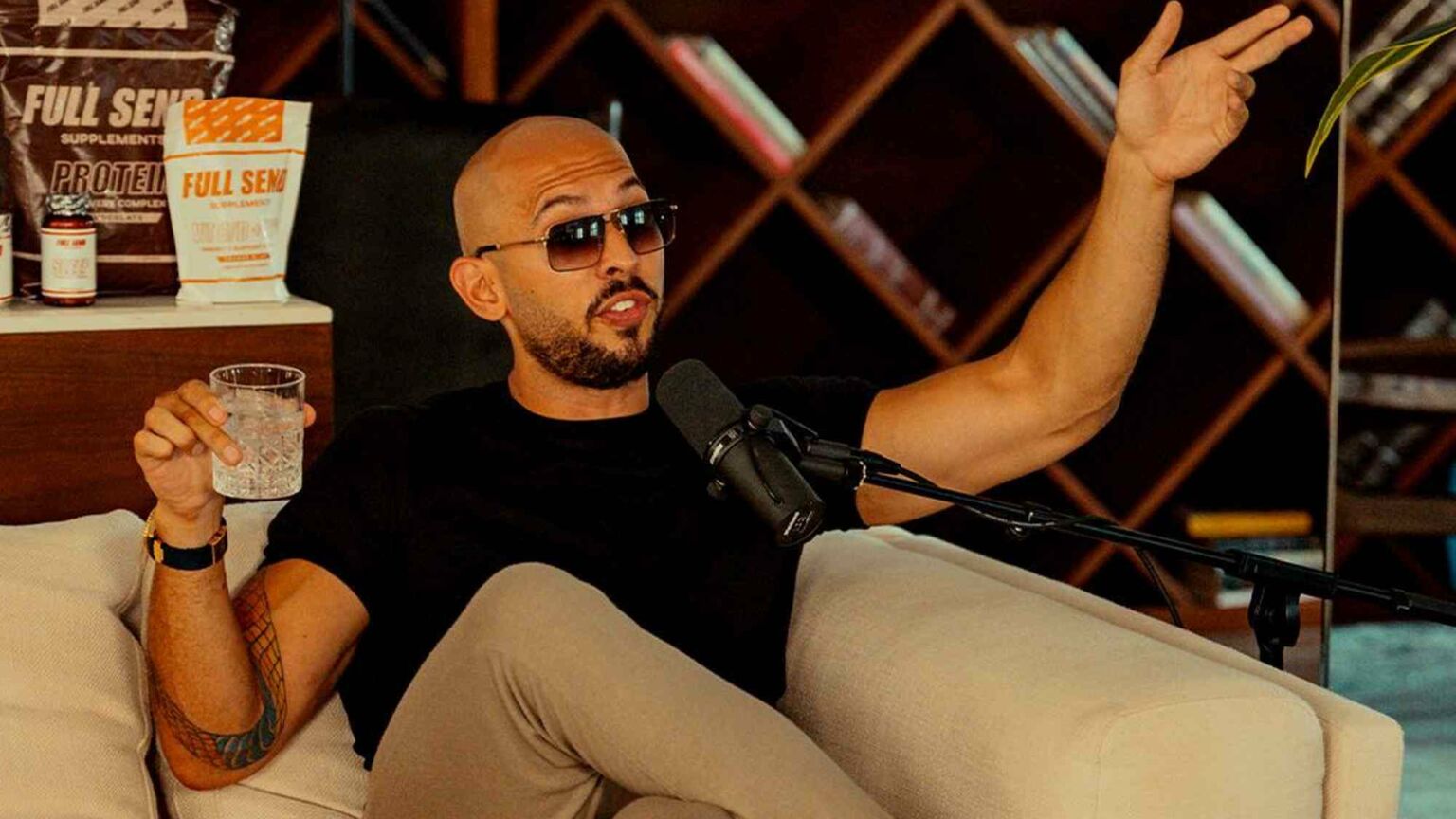 Few lefties – or indeed women – will have enjoyed any more satisfying gifts over the Christmas break than seeing Andrew Tate arrested in Romania, for alleged human-trafficking offences.
Better still, his arrest last week came just after a bruising exchange on Twitter with climate activist Greta Thunberg, one in which the diminutive eco-scold was widely perceived to have laid him out cold. Rarely can so many little hands have been so warmed over a single dumpster fire. The events that led up to Tate being cuffed and detained were among the more surreal that confronted us in 2022 – mad even by the standards of the lurid demi-monde of online celebrity.
Tate's brand is largely defined by a series of TikToks of him issuing ludicrously provocative observations about the 'true' nature of male-female dynamics, and Instagram images of him fuelling, driving or just sort of grooming high-end sports cars. These are the kind of supercars whose sheer engine volume their own designers have underestimated, necessitating last-minute swellings in the bonnet area, very much like Robert Plant's early 1970s trouser arrangements.
Tate decided to bring these bulgings to the attention of Thunberg, presumably to overwhelm her principled and previously impregnable opposition to such temptations, and activate her hitherto dormant feminine susceptibility to his implied virility. He also offered to expand on the threat their 'emissions' present to the environment.
The reaction to Thunberg's casual swat – 'Yes, please do enlighten me. Email me at smalldickenergy@getalife.com' – was perhaps a little excitable. It was hailed by Rebecca Solnit of the Guardian as 'one of the greatest tweets in history'. Really? Better than Wellington's 'I don't know what effect these men will have upon the enemy, but, by God, they frighten me. LMAO'? Greater than Martin Luther's infamous 'Here I stand' thread? Pithier than Caesar's #Winning precursor, '#Veni, #Vidi, #Vici!', from right back at the dawn of the medium, when tweets were still written on vellum by specially trained scribes and returned to Rome on horseback to be read aloud to the senate?
Whether it was really quite that good, I'm not sure. There is a nagging suspicion that, for the joke to work, it shouldn't really be her email address, but his. But then I suppose nagging and suspicions are as much a part of the Thunberg brand as bulging bonnets are Tate's. Anyway, it certainly crossed the line in the eyes of the world. There is no referee on Twitter, let alone VAR, and all decisions are made on the terraces. The 286million impressions, four million likes and 572,000 retweets of Thunberg's comeback tell their own story.
It was Tate's curiously pitiful follow-up video that many initially believed to have proven his undoing. Working with another of his key signifiers, a large cigar, smoked without adequate ventilation in a small wood-panelled room, Tate patiently explained why he had not in fact been owned. It was here that Tate took delivery of two pizzas whose boxes, according to the rumours on Twitter, alerted the Romanian authorities to his location. (The Romanian authorities have, however, since denied using the pizza boxes as evidence.)
Full disclosure: I recently met Andrew Tate, very briefly, at the GB News studio in London. He seemed charming, quite shy and softly spoken, and very polite. He was wearing those trousers that are oddly tight around the calf and short enough to confirm he had no socks inside his Prada-style slippers – an affectation against which I have an instinctive prejudice. But other than that, he seemed remarkably inoffensive. He certainly gave off none of that toxic air he projects so determinedly in his TikToks. It was rather disconcerting.
It is all, clearly, an act. And as far as acts go, it has to be admitted, a largely successful one, making him the most searched man on the internet. This popularity – or at least notoriety – is despite the very serious criminal allegations that have been swirling around Tate for some time now. Clearly, there is a market for his brand of tosh. Why?
Tate has created a new, more pungent strain of a familiar drug. It might be seen as a hybrid, a cross-fertilisation of key learnings from Donald Trump and Jordan Peterson.
Tate has taken Trump's ability to personify his own brand with a brash, unapologetic commitment to the bit. Upsetting though it is to admit, this works. Garish and absurd when separated by a sufficiently large body of water, the Trump hallmark in America clearly added glamour to everything from online universities to casinos, obviously contradictory though those two propositions surely are, long before it did so to a presidential candidate. And of course, being a tall, lean, shaven-headed and successful kickboxer dispenses with one or two of the humbling physical limitations with which the Don was and still is working.
And Tate has taken from Jordan Peterson the message, which certainly fell on fertile ears, that the modern world does not have young boys' and young mens' best interests at heart. Tate's version of this goes further – into much darker and stranger territory. In his telling, men and boys have to contend with forces that are little better than the machine intelligence behind the Matrix, designed to sap them of their masculine energy and natural vigour, to which a series of illusions and mental tricks keeps them oblivious until it is too late. This also draws on the idea of the 'red pill', a term also taken from The Matrix, which has been circulating in the clumsily named 'Manosphere' for some time. The game is rigged, it says, and it's every man for himself.
In reality, this is not the whole story, but it's not entirely a lie, either. Young men are falling behind, in absolute record numbers. They are not being shafted by young women, as the Manosphere claims, not collectively, nor by some conspiracy of their elders. It is, as most of the more troubling things in the world are, an emergent phenomenon. But the fact is that Tate has identified one or two of its more glaring manifestations. And he takes them on with a certain panache, however wrongheaded and ugly some of his conclusions are.
For the removal of doubt, I do not endorse Tate's 'woman, a dog and a walnut tree' mindset as the solution to the murky waters of modern dating. But clearly there is a gap between the bland, palliative and thoroughly unconvincing messaging coming from government, the education system, shaving brands and the overwhelming majority of the media on one hand, and the world as most people experience it on the other. This creates the space for a handful of charismatic online grifters to offer their version of how to play the game of life to win. Unless and until we can close that gap, we won't have seen the last of Andrew Tate and his like. The next strain, I fear, might be even more pungent.
Simon Evans is a spiked columnist and stand-up comedian.
To enquire about republishing spiked's content, a right to reply or to request a correction, please contact the managing editor, Viv Regan.