A Canadian dystopia
Justin Trudeau's 'liberal' government is riding roughshod over liberty.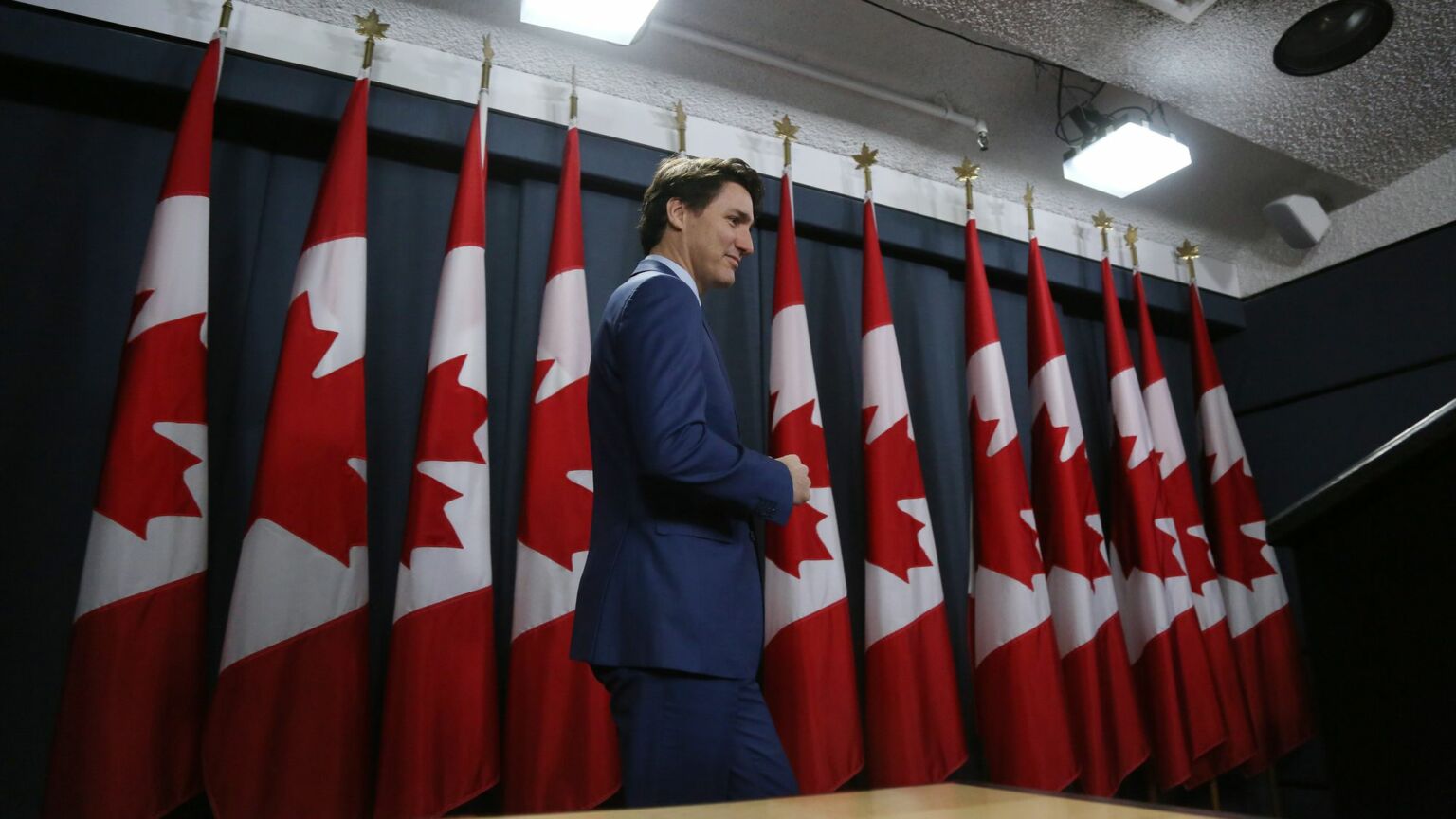 Donate to spiked this Christmas, and help keep us free, fearless and independent.
Bored of its reputation as inclusive, open-minded and accepting, Canada opted for an authoritarian rebrand last year.
That, at least, seems to have been the intention of prime minister Justin Trudeau. Over the past year, he has led the way towards making authoritarianism great again, forcing thousands of Canadians to live as second-class citizens, while vilifying those who remain fond of their rights as dangerous bigots who should be cut off from society.
Our beta test for Tyranny 2.0 began with the Covid lockdowns in 2020. Would Canadians agree to stay at home, mask up, abandon their elderly loved ones to die alone in hospitals and long-term care homes? Would they ostracise family members who dared to suggest a funeral for grandma? Would they shut down their businesses, host virtual cocktail hours and pretend that banging pots and pans from their windows equates to some kind of community-building exercise? Would they scream at strangers who dared to breathe too close to them on a hiking path, or who took off their masks for a bike ride? Would they turn their neighbours in to the police for hosting Christmas dinner? Why, yes they would!
After Canadians passed that test, the Liberal government pushed Covid restrictions further in 2022. At the start of the year, Canadians had to sign up to one app in order to leave the country and to return, and use another app to access restaurants, bars, gyms and sporting events. Kids were kept out of schools – indefinitely, it seemed back then – ensuring an entire generation fell behind in their education, mental, social and emotional development.
In the meantime, while everyone was distracted by Zoom meetings, or was furiously tweeting about anti-vax Nazis giving out free hot dogs in the streets, the Canadian government moved on to rolling back women's rights in the name of 'trans rights'.
Male prisoners claiming to have a female gender identity have been housed in women's prisons for several years now. But in 2022 this was made official prison policy all across Canada. A federal directive in May stated: 'Offenders will be placed according to their gender identity or expression in a men's or a women's institution, if that is their preference, regardless of their sex (ie, anatomy) or the gender / sex marker on their identification documents.'
This has led to rapists in wigs being moved over to women's prisons for safekeeping. It's surely no coincidence that 50 per cent of transfer requests from men seeking to be moved to female prisons involve sex offenders. Perhaps the government thinks women prisoners, many of whom have suffered abuse in the past, won't mind a few more rapists, murderers and paedophiles in their lives.
Some Canadians have pushed back against Trudeau's 'liberal' tyranny. In January, for instance, Canadian truckers, clearly fearing that the restrictions, lockdowns and vaccine mandates introduced during the pandemic might not be temporary, formed a 'Freedom Convoy'. This convoy then drove across Canada, right to the prime minister's door in Ottawa, as protests convened outside parliament. Trudeau, our brave leader, responded to the sight of bouncy castles and Canadian flags by fleeing the capital.
In a last-ditch effort to stop the protests, Trudeau began freezing the bank accounts of Freedom Convoy leaders and supporters, correctly discerning that not having access to money cuts people off from the means to live. The government clearly thought the truckers and their supporters deserved such a punishment for having the audacity to demand their constitutional rights be respected.
After the government's stand-off with the truckers, which did ultimately put a stop to the Covid restrictions, the Liberals set about finding other, more creative ways to restrict Canadian citizens' liberties. They eventually came up with the idea of taking away people's hunting guns and trucks.
Introduced in November, the Liberals' Bill C-21 is an amendment to Canada's gun-control legislation that, if enacted, will end the onslaught of gun violence against birds and deer. This proposed ban on hunting arms would constitute the largest gun ban in Canadian history. And it would leave Canadians even more dependent on big-box grocery stores and imported meat, protecting corporations and billionaires from the ever-encroaching threat of geese hunters.
This still left the government with the problem of trucks. So in December, the Liberal government's environment minister, Steven Guilbeault, proposed new regulations that would mandate one-fifth of all new vehicles sold be electric. These regulations are part of a long-term plan to ensure that all passenger vehicles sold in Canada are electric by 2035. It's not hard to see how this will limit truck and car ownership. A move to replace old-school petrol-powered vehicles with electric ones makes owning a truck or a car much more expensive, and limits journeys to shorter distances. Guilbeault's parliamentary secretary, Julie Dabrusin, explained that the new electric-vehicle mandate 'was about making sure that Canadians have access to the vehicles they want'. And, as far as the government is concerned, what every good Canadian citizen wants is access to no vehicles at all. Perfect for staying at home!
At this rate, Canada's poor and working class will soon no longer need to concern themselves with the stress of autonomy at all. Because there will be no choices for them to make.
As far as the government is concerned, it is merely trying to keep Canadians safe and sound. But the result is dystopian. Trudeau and Co are creating a society in which all lack basic freedoms, and women are deprived of their rights. A society in which individuals will be stuck at home, waiting on Amazon orders, while plugged into the Metaverse and choosing which Japanese anime porn character to be.
And if you find that vision of the future too depressing – remember, in Canada, euthanasia is always an option.
Meghan Murphy is a Canadian writer exiled in Mexico. Follow her writing and podcast on Substack.
To enquire about republishing spiked's content, a right to reply or to request a correction, please contact the managing editor, Viv Regan.