Selling suicide
A dystopian Canadian infomercial presents euthanasia as an aspirational lifestyle choice.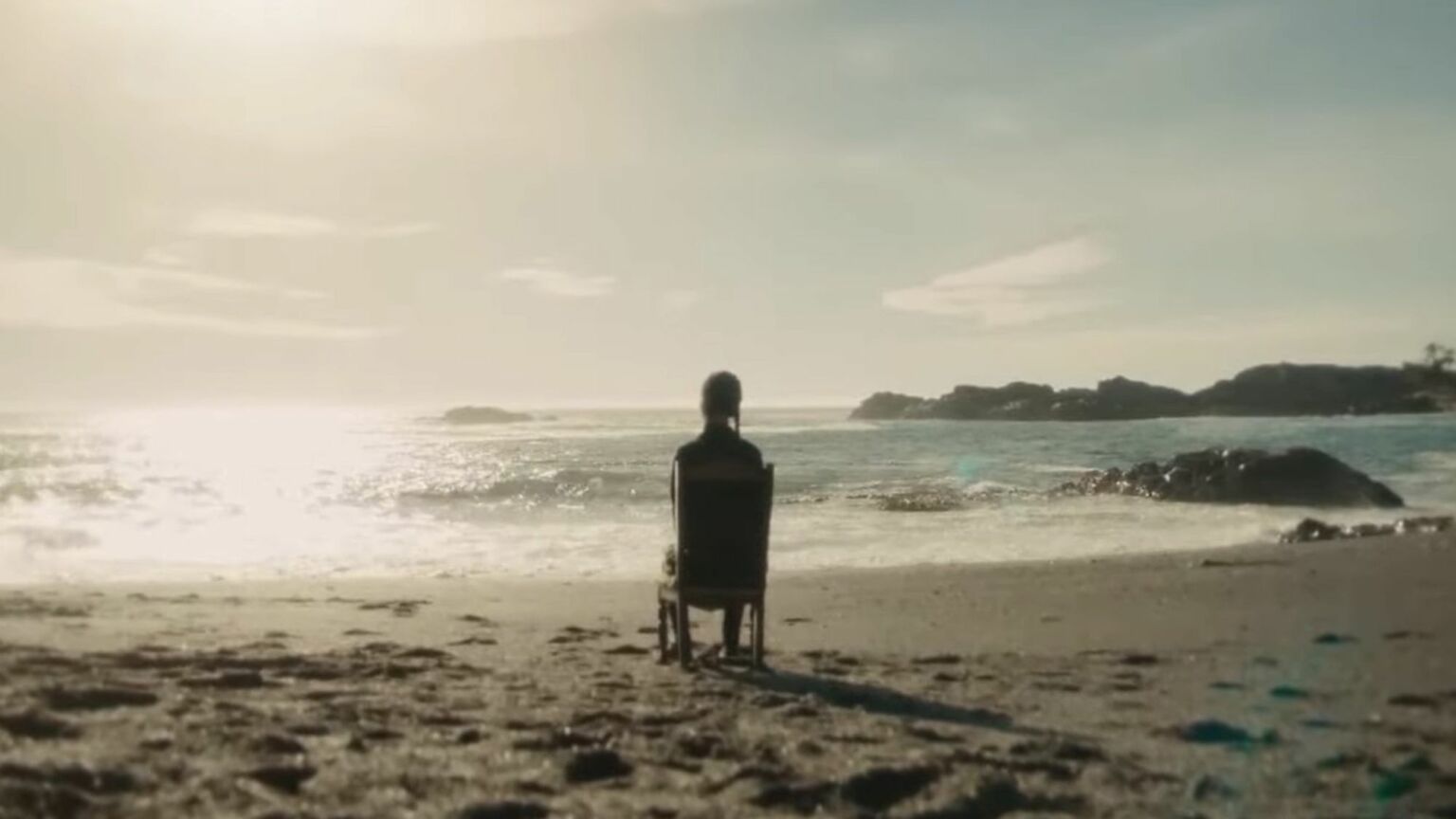 La Maison Simons, a fashion house in Canada, has produced an infomercial promoting euthanasia. The advert presents an assisted death as 'the most beautiful exit'. 'Dying in a hospital is not what's natural. That's not what's soft. In these kinds of moments, you need softness', the narrator says.
'Last breaths are sacred', we are told. Dancers holding paper lanterns accompany an attractive young woman in a wheelchair – the narrator – on an idyllic beach. Bubble wands, dinner and cheesecake with close friends, luminescent whale and jellyfish puppets, singing and being on the ocean. These all feature as time shifts between night and day. The beautiful imagery is accompanied by the kind of inspirational music you usually hear in documentaries about whales. The film ends with a dedication to the young woman at the centre of the story: 'Jennyfer Hatch – 1985 to October 2022.' The advert finishes with a small logo of La Maison Simons. It was released one day after Hatch's death. She was just 37 years old.
Hatch was not terminally ill when she sought euthanasia. She suffered from complications and chronic pain associated with a diagnosis of Ehlers-Danlos syndrome, a group of inherited disorders that affect the connective tissue. Since the video was released, it has emerged that Hatch had struggled to find treatment for her rare condition. And she was not even offered palliative care. After battling for years to access healthcare, she was approved for an assisted death within weeks.
Such details don't seem to have troubled the filmmakers. Jay Chaney, chief strategy officer for the advertising agency that made the video, spelled out its purpose: 'We had to look at this as we're helping somebody facilitate societal change in some way… That's the goal of advertising – to shift people, to get them to change the way they see the world.'
The advert was released just as an increasing number of Canadians are growing uncomfortable with the euthanasia regime. Canada now has the dubious honour of leading the world in assisted dying. The advert's release also comes at a time when the Canadian government is preparing to once again expand the availability of euthanasia. From March 2023, people suffering with mental-health issues as their sole health condition will be able to apply for the medical assistance in dying (MAID) programme. Two members of the expert panel on MAID and Mental Illness resigned in protest at this change earlier this year. Adding to the public's disquiet are the many emerging stories of Canadians who have opted for MAID primarily to escape poverty.
Last month, Canadian justice minister David Lametti made it clear that MAID is essentially for people who want to commit suicide but are unable to. When an interviewer expressed reservations about the upcoming expansion of MAID to those suffering from mental illness, Lametti asked her to remember: 'Suicide generally is available to people. [But there] is a group within the population who, for physical reasons and possibly mental reasons, can't make that choice to do it themselves. And ultimately, [MAID] provides a more humane way for them to make a decision they otherwise could have made if they were able in some other way.'
Euthanasia has always been a difficult sell to the public. The modern debate around euthanasia dates back to the late 19th century, and has always expressed two aspirations – compassion for those who are suffering and economic efficiency. Samuel Williams, one of euthanasia's earliest proponents, embodied these two goals when, in 1870, he defended taking away a life 'that has ceased to be useful to others, and has become an unbearable infliction to its possessor'.
Comparisons to Nazi Germany are usually hyperbolic – those who favour and implement euthanasia in Canada and elsewhere no doubt have humane motivations. None of them seeks to eradicate any group in society. Yet it is still useful to look at how the Nazis sold euthanasia to the German people. They found that appeals to compassion were a much more effective way to sell the destruction of human life than appeals to efficiency.
The Nazis wanted to rid Germany of expensive mental patients and 'cripples'. And so psychiatrists began by purposefully opening up asylums to horrify people into supporting their deaths. A series of propaganda films was commissioned by the Office of Racial Policy. As one of these films intoned: 'The sums which have hitherto been expended upon the insane, who are incapable of a real life, would have provided the start-up housing capital for 40,000 poor families, rich in children.' Yet ultimately, this efficiency argument failed. People were afraid that these measures could be extended to encompass the elderly or the injured.
In an attempt to reassure the public, Joseph Goebbels commissioned the film, Ich klage an (I Accuse). In the film, a beautiful young wife suffering from multiple sclerosis pleads with doctors to kill her. Her husband, a successful doctor himself, gives her a fatal overdose and is put on trial. This compassionate scene was, of course, far removed from the reality of the German euthanasia programme, in which between 275,000 and 300,000 institutionalised mentally and physically disabled people were killed from 1939 to 1945.
After the Second World War, in the Nuremberg 'doctors' trials', Dr Karl Brandt, Hitler's personal physician, defended mass euthanasia by saying that he was 'motivated by absolutely humane feelings'. His sole wish was that 'the painful lives of these creatures were to be shortened'.
Although compassion is at the forefront of today's euthanasia advocacy, lurking in the background the question of economic efficiency is still disturbingly present. For instance, in 2020, the Canadian parliament commissioned a cost estimate for the expansion of MAID. It revealed that the Canadian state stood to save tens of thousands of dollars in healthcare costs for each MAID patient.
As the rest of the world stands aghast at Canada's euthanasia programme, we should probably expect there to be many more 'infomercials' like that commissioned by La Maison Simons. Advocates of euthanasia will continue to sell it as something progressive, cool and modern – rather than as a cost-saving measure that frees up hospital beds, by eradicating the least convenient in society. Yet all the bubble wands and luminescent puppets in the world cannot hide the disturbing undercurrent to the push for euthanasia.
Kevin Yuill is the author of Assisted Suicide: The Liberal, Humanist Case Against Legalisation.
Picture by: YouTube / ADdiction.
To enquire about republishing spiked's content, a right to reply or to request a correction, please contact the managing editor, Viv Regan.