No, Jesus was not trans
A Cambridge academic reckons the son of God had a 'transgender body'.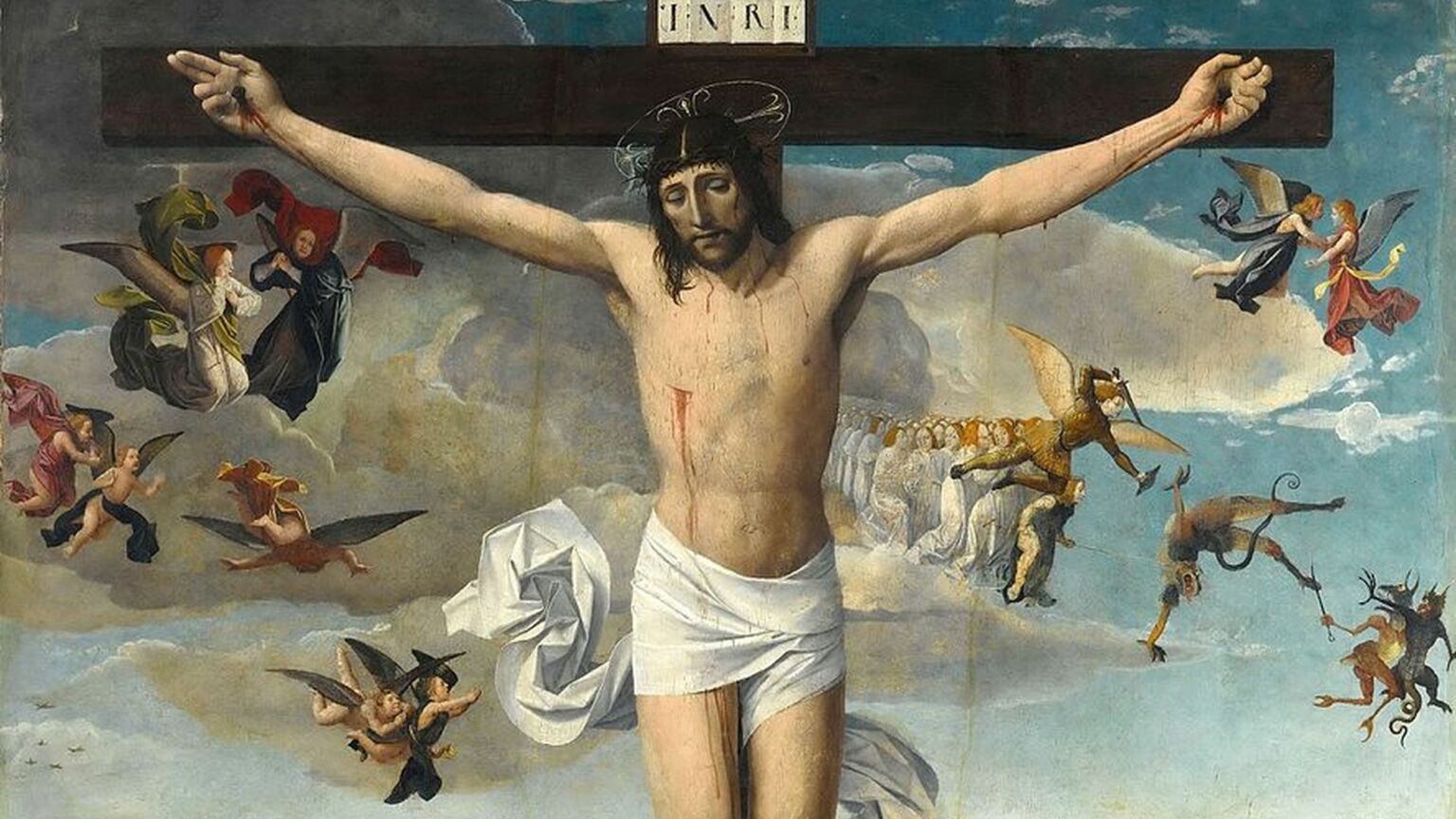 Joshua Heath is a junior research fellow at the country's leading bullshit factory, formerly known as Cambridge University. And one of the fellows he has been researching is Jesus, formerly the country's divinity of choice and the son of God. Last Sunday during evensong, Heath delivered a sermon at Trinity College chapel, into which he slipped some of his research findings – that artistic depictions of the side wound delivered to Jesus by a Roman soldier look a bit like a vagina. He also suggested that paintings showing Jesus's penis 'urge a welcoming rather than hostile response towards the raised voices of trans people'.
Heath sermonised that in a picture from the 14th-century Prayer Book of Bonne of Luxembourg the side wound, which got a panel all to itself, took on 'a decidedly vaginal appearance'. Now I've had a look at this image, and I have to say that though I'm far from being an expert in either Renaissance brushwork or female anatomy, I think young Joshua must've seen some pretty bloody odd vaginas in his time. You might equally claim on this 'evidence' that Jesus represents the Eye of Sauron or a slice of watermelon.
The very idea that a vagina is a bleeding wound or a cut – somehow incomplete, an injury to a male body – is horribly, in fact definitionally, sexist. In that sense at least, the idea fits in with the modern gender movement.
Joshua ended his set with a blinder: 'In Christ's simultaneously masculine and feminine body in these works, if the body of Christ as these works suggest the body of all bodies, then his body is also the trans body.'
Throughout the sermon there was apparently plenty of rustling of sweetie wrappers, embarrassed side-eyes and coughing from the congregation. But this final payoff engendered cries of 'Heresy!'. It's somewhat reassuring to know that people still do that. Inspiring, too – 'Heresy!' has a fine declamatory ring to it, where I would've just muttered 'oh, piss off'.
Heath's spicy trans take was backed up by Dr Michael Banner, the dean of Trinity College, who a little light googling tells me is also currently 'a member of the Ministry of Defence's Advisory Committee on Less Lethal Weapons'. Nice work if you can get it. One pictures him sipping a cup of tea and saying, 'Now, how about a smaller bomb?' or 'Is that a less lethal weapon in your pocket or are you just pleased to see me?'. He is also a contributor to Radio 4's Thought for the Day, the BBC's long-established project to make Christianity sound utterly trivial and ridiculous. So he has form.
The wider issue here of course is our old friend, the supposedly non-existent culture war. And Heath's routine speaks to a key element of it – the theatre of status.
The script goes something like this. You say or do something blatantly stupid and annoying. The Telegraph picks it up. You annoy the Daily Mail – and gosh, that's difficult, well done there, very brave, quite the achievement. A display and a reaction, bish bosh, job done. The content is immaterial. The point is to goad your opponents, to display your own power and their own powerlessness. Remind them who's the Daddy.
Christianity and trad Christians are easy game. Bearding them in their own den is predicated entirely on it being a very safe bet that they won't reply in kind.
Picking on those who cannot or will not fight back – ironically the very definition of bullying, supposedly a cardinal sin of the new creed that includes 'trans' – must make people like Heath feel dead hard. Of course if the sermon had suggested something along the same lines about Islam or its prophet, Heath would now be in hiding, living under a new identity and being ignored by Labour MPs.
In the wake of this brouhaha, in walked fellow good tribesman Dr Matthew Sweet with a Heath-supportive tweet. Sweet admirably exposed the barmy Naomi Wolf live on radio, and has justifiable gripes about some of Mark Steyn's guests on GB News. But Sweet is one of those whose nonsense detector somehow fails to go off when it is not expedient (see also the Guardian's former pet debunker of bad science, Ben Goldacre, who is also remarkably reticent to say anything when it comes to sub-GCSE level human biology). The idea that men can become women is as absurd as, if not more than, Naomi Wolf's chemtrails and sloppy research. But it is the new orthodoxy, so that's okay then. In fact, it's just great.
Absurd ideological statements are really just tribe signals. Saying that centuries-old depictions of Jesus somehow relate to the surgeries performed in modern times to produce 'the trans body' is obvious nonsense. As is saying that men can become women. But it is supposed to be. It is code for 'I am a member of the powerful tribe, and the other tribes must fear me'.
It is interesting that so much of this stuff is coming from Oxford and Cambridge. It is engaging in debate in the same way that smashing up a restaurant and saying 'and what are you gonna do about it?' is. Because this is Bullingdon 2.0 – posh berks smash stuff up (figuratively like Joshua Heath, or literally like Just Stop Oil) and they get away with it, all to remind the little people that they can't.
The message under the message is loud and clear. Bow to your new masters! Same as your old masters.
Gareth Roberts is a screenwriter and novelist, best known for his work on Doctor Who.
To enquire about republishing spiked's content, a right to reply or to request a correction, please contact the managing editor, Viv Regan.